My last meal / USA
Taste for adventure
Celebrated explorer Richard Wiese's many expeditions across the globe have taught him the virtue of tactile eating, the benefit of a good appetite and the belief that cooking is a universal language. He shares his favourite dish with us.
"My father was an airline captain for Pan Am so I grew up with free travel as a kid. Probably my favourite food memory is going to Rome in 1968 with my grandparents, sisters and parents. That is my earliest memory of sitting around a table and just thinking, 'Wow, this food is great.' At that age I was eating calamari, scungilli [sea snail], all sorts of stuff. I've often thought that people's passion for food has a direct correlation to their passion as a person. I am a very tactile eater. I like having my fingers on the food. I have been to certain places, especially India and some Middle Eastern countries, where lots of chefs believe that touching food actually adds to it. I am not afraid to get my hands in there and mix things around.
We were filming [Wiese's TV show] Born to Explore in Horcon, Chile, with the only commercial fisherwoman in Chile, and at the end of the shoot she made this dish for us out on the beach. She used conger eel, a Chilean white fish, which I am substituting with cod. I can make it without having to look at a recipe. It is not exact but the beauty of it is that it's very basic. You start with browning chicken, throw some onions and garlic in, put cilantro over the top of it and pour some mussels and clams over with a little white wine. It's also so much better the next day.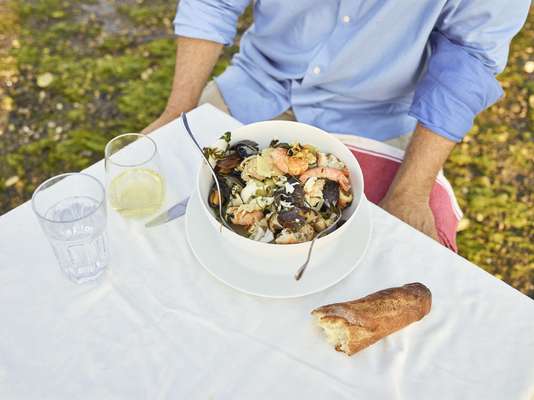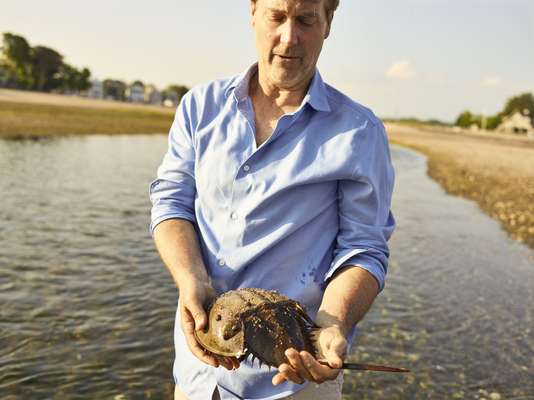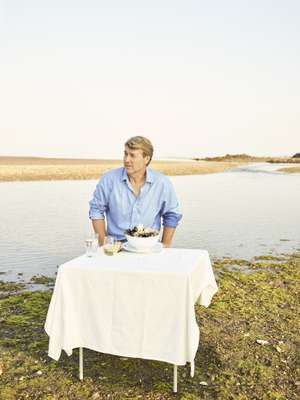 Cooking is a universal language – you don't have to be communicating in the same verbal language to still understand one another. There is nothing more universal than sharing a meal with somebody. If you asked me about my five-star dining experience, it was either in the desert with nomads or another time in the Namib desert. To me, the ambience far outweighs the quality of the food. Even a bowl of the most mundane noodles taste good at the end of the day if you're on a mountain.
It's definitely true that the best recipe for a good meal is a good appetite. One of my most memorable meals was on Christmas Day 2003, on the deck of an icebreaker having dinner. It was relatively warm, we were in sweaters, and just looking at these massive glaciers on the Antarctic Peninsula. I think we had a pasta dish; I remember the scenery more than the ingredients.
The main ingredient that explorers have is curiosity. You see these kids walking on the sand flats: they are just curious to see what's here. I was very lucky: I had two really great role models. My father was the first man to solo the Pacific Ocean in an airplane; my uncle is a nuclear engineering scientist at mit and ever since I was a kid he has had time for me. Whenever I had a question about something science-related I would give him a call, and sometimes he would put me in touch with a Nobel laureate.
I find when you go to people's homes, they tend to congregate around the kitchen. I find the best conversations I have had in my life have happened either hiking, walking, or in the kitchen cooking. Doing an activity frees people's minds. Food is one of those things that no matter if you are rich or poor, you can make a great meal – and there's a ritual with it. I like the idea of sitting down to a meal with my family and talking about the day."
Profile
New York-born and Connecticut-based explorer Richard Wiese has been adventuring since he was a child. The son of an explorer and airline pilot, he climbed Mount Kilimanjaro when he was 11. After graduating from university he criss-crossed the globe on expeditions to Mount Everest and the North Pole, travelling with Bedouins, and even scaled an unclimbed mountain in Alaska. In 2002 he became the youngest president of the prestigious Explorers Club, an office that he has held again since March this year. Since 2011 he has hosted his own TV show on PBS, Born to Explore.
Venue
Wiese chose the wild as the location of his "final feast". He cooked his own meal on a camp burner at low tide on a tidal flat in Westport, Connecticut, near his home. He comes here a lot, hosting games of cricket and bringing his children to explore the shells and horseshoe crabs found in the retreating surf. On a clear day he can see the town he grew up in across the Long Island Sound.
To eat
Main course: Chilean Fisherwoman's stew of chicken, mussels, clams, cod, and scallops; baguette
To drink: Sancerre Comte Lafond 2016 (for cooking and drinking); San Pellegrino sparkling water