Hospitality and retail / Copenhagen
02. Insider guide: Copenhagen
Buying gifts in the Danish capital this Christmas? Local purveyor of shoes, bags and accessories, Yvonne Koné, has an itinerary.
"What my favourite places have in common is that you enter their universe when you walk through the door," says designer Yvonne Koné, seated in her eponymous shop on Store Strandstraede in the heart of Copenhagen. "The strength of the city for shopping is that it has all the big retail brands, of course, but it's much easier to start something new in Copenhagen than other capitals, so there is room for places that are not so corporate."
Koné started her label specialising in leather bags and shoes in 2011 and opened her shop just around the corner from the much-photographed Nyhavn canal in 2014. "Having a physical shop is very important; online is not enough," she says. "The contact between our customers and staff is crucial. We get so much feedback and people like to just come and feel part of our world.
"We get a lot of men coming in at this time of year to buy gifts, particularly the Italian cashmere scarves we get every autumn. This year we've expanded that to cashmere blankets." And what of her own Christmas wishes? "Always crisp bed linen, scents of all kinds and inspiring books." Here, Koné takes us on a tour of her favourite Copenhagen spots.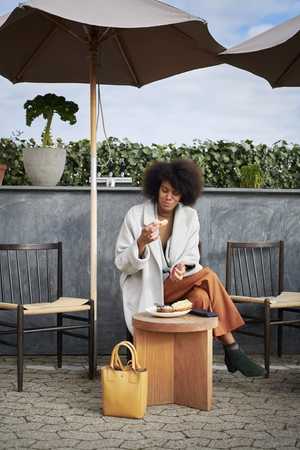 Though the coffee here is by acclaimed Norwegian barista Tim Wendelboe, this is not the reason Koné makes the trip across the harbour bridge to this side project of restaurant 108. "I come for the pastries and the rolls with homemade butter. Delicious." We'd go a step further and say that these are the best pastries in Copenhagen.
108.dk
Friend and neighbour
Mark Kenly Domino Tan
"Mark is a perfectionist and it shows when you wear his clothes," Koné says of her friend, couturier Mark Kenly Domino Tan. Tan opened his first boutique next door to Koné's on Store Strandstraede this year to expand his ready-to-wear line. Tan's clothes inhabit that category above and beyond the catwalk. "They are expensive but you know you can wear them for years to come."
mkdtstudio.com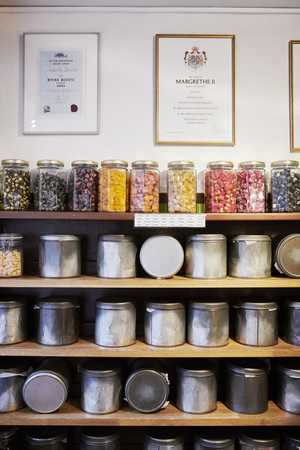 Sweet symphony
Sømods Bolcher
By appointment to the Royal Danish court, Sømods Bolcher's colourful boiled sweets have been challenging Copenhagen's dentists since 1891. They have 74 types but Koné goes for the classic liquorice and enjoys coming to watch the confectioners working in the on-site factory.
soemods-bolcher.dk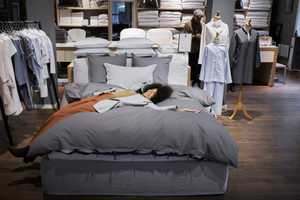 "It's about know-how and tradition, like a Rolex watch," says shop manager Kirsten Fleming Nielsen of the Danish bedding brand. Geismars is unknown outside the country but for Danes it's the epitome of quality. "That's what you pay for," says Fleming Nielsen. As well as the long-fibred Egyptian cotton sheets, pillows and duvets (many stuffed with wild Icelandic eiderdown), Geismars carries an enticing line of linen tea towels. A perfect gift that anyone would be delighted to find beneath the tree.
geismars.dk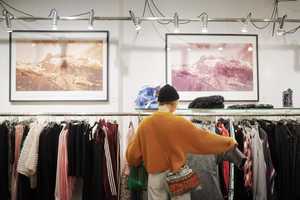 This third-generation family-run men's and womenswear store is a Copenhagen institution. As well as a selection of international brands, Nørgaard has several own-label staples, such as its Skagen sailor knits and Icelandic sweaters. "The stripy 101 T-shirt is a genuine Scandinavian design classic," says Koné.
madsnorgaard.com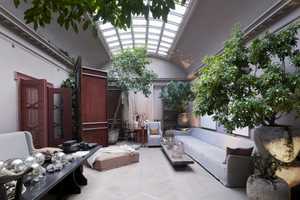 Heaven scents
Oliver Gustav Studio
"A lot of people try to copy Oliver but he has his own style. I call it 'soft Gothic'," says Koné of her good friend, interior designer Oliver Gustav. "At the end of November he does a wild Christmas installation." Gustav's atelier is housed in a former art museum, a forgotten neoclassical building situated next to the British embassy in Østerbro. Particularly eye-catching are the limpet-encrusted jars salvaged from a 15th-century South China Sea shipwreck – but slightly more affordable are his distinctive Christmas decorations and room scents. "Saffron Officinale is our signature," says Gustav. "They are made by a couple in France. They are very discreet scents."
olivergustav.com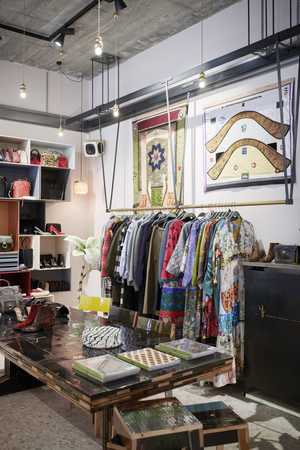 Different class
Holly Golightly
Copenhagen's most charismatic multibrand womenswear shop has a new space created by director Lars von Trier's set designer Peter Grant. It remains the place to come for high-end fashion labels from Chloé to Marni and Dries Van Noten, as well as vintage kimonos, jewellery and accessories. "They have things you don't find anywhere else. I love their body products," says Koné. "And they have really nice own-label sweaters that would make good gifts."
hollygolightly.dk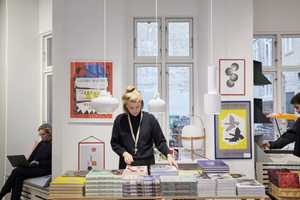 "This is a great gift shop because you really feel everything has this Danish style," says Koné of the rapidly expanding Stilleben homeware brand. "I really like their cups and teapots, which are made on [the Danish island of] Bornholm." Stilleben's founders, designers Jelena Schou Nordentoft and Ditte Reckweg, have branched out into textiles, furniture, jewellery and stationery.
stilleben.dk
Grape escape
Ved Stranden 10
A monocle favourite and one of Koné's too. "In summer I like to sit outside and watch the boats go by on the canal. I'm not that knowledgeable about wine but the staff are so patient." Wines here are predominantly natural, biodynamic and from small producers, mostly in France, Germany and Austria, and rarely seen in these parts. You can buy by the glass – or the bottle.
vedstranden10.dk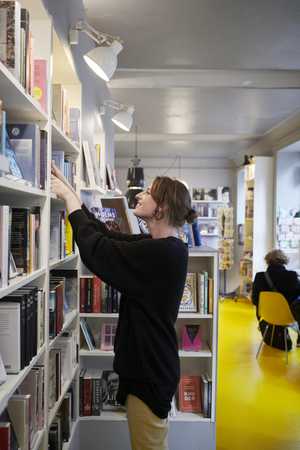 Champion of the word
Thiemers Magasin
"I love that it's not a chain," says Koné of Copenhagen's most charming independent bookshop. Owner and journalist Rikke Viemose has turned Thiemers into one of the city's literary hubs, with regular events, writing groups and book clubs. "You are entering Rikke's personal style; it's like her living room. And the staff always have the answer for what you are looking for."
thiemers.dk
Where to stay
Hotel Sanders
Tucked behind the Royal Danish Theatre in the centre of town, this boutique hotel designed by studio Lind + Almond has 54 bedrooms, a retro bar and all-day kitchen that lures in Copenhageners and travellers alike. "I come here every morning. They have a cosy bar too, which serves excellent cocktails," says Koné.
hotelsanders.com