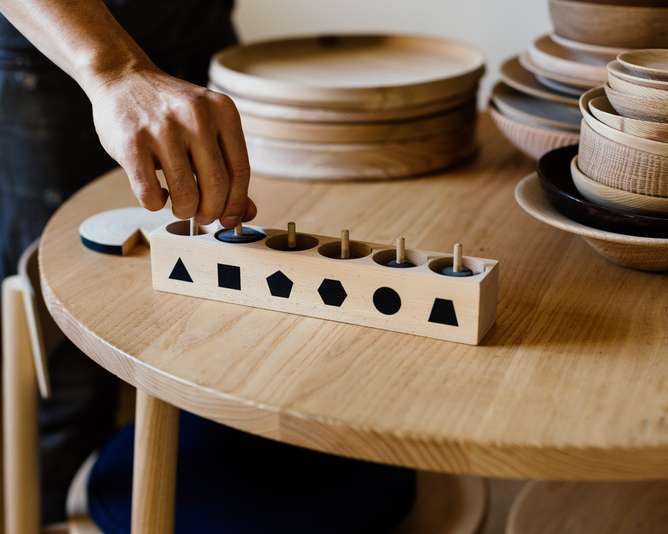 "If you're looking at the architecture or at the uniqueness of the neighbourhood, Gastown is like no other," says Saager Dilawri of Vancouver's oldest district, with its rows of Victorian buildings, cobblestone pavements and resilient businesses. Dilawri is the founder of Neighbour, a benchmark of Gastown's (and, indeed, Canada's) fashion retail scene. Dilawri and his partner Karyna Schultz handpick everything that enters all three of their boutiques for menswear, womenswear and, most recently, homeware.
The two-minute walk separating Neighbour's three locations is filled with independent shops ideal for gift shopping. "It's easy to navigate and you know that all the places you visit are connected and supportive of each other," says Dilawri. Here he picks out his favourite retailers on Vancouver's east side – including some places where you can treat yourself along the way.
---
Where to stay
Exchange Hotel
The newly opened Exchange Hotel occupies the first 11 floors of the Stock Exchange Building, established in 1929. A year before the 202-room hotel opened it earned Harry Gugger Studio and Iredale Group Architecture the 2017 American Architecture prize for Heritage Architecture. Named after the Greek island of Hydra, the bar and restaurant serve local beer and Mediterranean fare.
exchangehotelvan.com
---
Little Italy
Di Beppe Caffé
"This has turned into my cappuccino place. I wasn't a cappuccino person until I started coming here. They've also got a great affogato, if you're into that. During the day you can get sandwiches by weight. It's really got this old Italian feel to it," says Dilawri. Di Beppe's panettone – a Milanese Christmas treat – is not to be missed.
dibeppe.com
---
Reading material
Inform Interiors
You could be forgiven for missing Inform's well-stocked publication selection amid the array of handsome furniture and design objects spread throughout the lofty space. But Dilawri suggests taking a closer look. "From a design perspective, the book collection is the best in the city but is often overlooked. I've picked up a tonne of magazines here but also some architecture, design and fashion books." Dilawri has his eye on architect John Pawson's colourful photography book Spectrum.
informinteriors.com
---
Time machine
Stranger Showroom
This is a small piece of otaku culture in Vancouver. Owner Yonghoon's obsession with a specific space and time results in a tight and thoughtful edit. The showroom is open from Wednesdays to Sundays between midday and 17.00. "Everything is from Yohji Yamamoto and Comme des Garçons, with a focus on stuff from the 1980s and 1990s. I have been eyeing a Yohji Yamamoto railway shirt that they have," says Dilawri.
Medical Arts Building, #312 825 Granville Street
---
Simple pleasures
Old Faithful Shop
Co-founder Walter Manning used his grandparents' general stores as inspiration for his own business, which stocks a diverse and generous offering of products united in their goal of bringing joy to everyday activities. The store is furnished with vintage display cabinets showcasing feather dusters, linen aprons, plants, plush blankets and scented candles made by Manning. It also offers a great selection of beautifully illustrated greeting cards.
oldfaithfulshop.com
---
Eye to eye
Roden Gray
"Roden Gray is one of the original Gastown menswear stores. We're really close with it and we're very complementary businesses. It always has a great selection of designers from all over the world," says Dilawri of the multibrand retailer founded by Ken Wai, Davie Fernandes and Rob Lo. "It typically has a good assortment of small leather goods from various designers, as well as an extensive sunglasses selection." Dilawri recommends picking up a pair of shades from Belgian designer Dries Van Noten.
rodengray.com
---
Who's counting
One of a Few
Michelle Rizzardo's womenswear boutique has been a staple of Gastown for well over a decade and still feels distinctively current. It inhabits a bright and breezy space near the tip of the flatiron-shaped block where Water Street and West Cordova converge. "There is a new sweater from the brand Apiece Apart which would make a great gift," says Dilawri, browsing the shelves.
oneofafew.com
---
Pottering about
Nathalee Paolinelli Ceramics Studio
"My work has changed so much since I moved into this new studio with all of its plants and light," says Nathalee Paolinelli. Her leafy atelier occupies the back of a friend's residential lot in Strathcona. Her current works boast daringly thin edges and curvaceous forms and often incorporate a sprig or flower she's found nearby. Her ceramics are also available at Neighbour's newest location at 51 Powell Street.
nathaleepaolinelli.website
---
Touch wood
A/I Studio
Joji Fukushima's studio-cum-shop is lined with everything from handmade stools and tables to cedar coasters, geometric spinning tops (which Dilawri has picked as a potential gift) and incense diffusers. Nearly all of Joji's works are created with wood from British Columbia, using both modern and traditional Japanese woodworking techniques.
i-divides-a.com
---
True original
Haven
To Dilawri, Haven is the original high-end streetwear store. "It carries hard-to-find Japanese designers and has grown its assortment over the years so you'll always find something." Check out its biannual Intelligence Magazine, which explores culture, fashion, art and design.
havenshop.com
---
Food with flowers
The Birds & The Beets
"This is our go-to lunch spot in the area; it's great for pastries, sandwiches and coffee," says Dilawri, ordering the hearty Miso Barley Bowl, complete with pickled vegetables, spiced pumpkin seeds, mashed avocado and pulled pork, topped off with a savory ramen egg. You can also buy festive bouquets at the entrance on Powell Street.
birdsandbeets.ca
---
Picture perfect
Catriona Jeffries Gallery
Drop in to Catriona Jeffries' new gallery at 950 East Cordova to see the work of Canadian artists such as Liz Magor, Brian Jungen and Raymond Boisjoly. "It has always supported great up-and-coming artists, some of whom are world-renowned," says Dilawri, who points out the gallery's expanding art-book selection.
catrionajeffries.com