Awards / Global
After the prize
What happens to writers, artists and film-makers who receive their craft's most coveted gongs? We discover how plaudits can bring both success and challenges.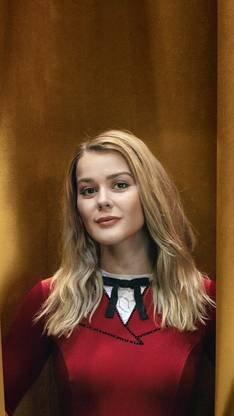 Emmelie de Forest
Won: Eurovision Song Contest
When: Five years ago
Back in 2013, on an unusually warm May evening in the Swedish city of Malmö, Danish singer Emmelie de Forest dropped to the floor during an impassioned performance of her ballad "Only Teardrops". Everybody in attendance – including MONOCLE – knew she was the favourite to win that year's Eurovision Song Contest. When it came to the final, her song was indeed victorious. A tearful De Forest accepted the prize and (as tradition dictates) once again performed the ballad, standing shoeless on a floor covered in gold glitter.
Five years on, De Forest has an even more moving stage presence: these days she can be spotted dancing on television show Vild Med Dans (the Danish version of Dancing With the Stars). Airing on channel TV2, it's one of the most-watched programmes in the country: more than 850,000 viewers tune in every week. When she meets us on set, De Forest is busy rehearsing with her dance partner Frederik Nonnemann.
"Last Friday I had difficulties with the cha-cha-cha. I prefer ballroom dancing," she says. Whether she will make it through to the final remains to be seen but being crowned champion would have nowhere near the same impact as her Eurovision win.
"It changed things in an unimaginable way," she says. "The life I'm living now is because of Eurovision. I was only 20 when I won. Before that I was just a schoolgirl who moved to Copenhagen to study singing."
According to De Forest, awards such as the Eurovision trophy still matter immensely but she recognises they have the potential to close some doors too – some Danish radio stations would never play her songs, for example. "I see countries like Sweden and Germany giving more attention and respect to the contest than in Denmark," she says. Winning the contest, however, did give De Forest a boost in the music industry. Her debut album was released by Universal Music just over a week before Eurovision and she found success again with follow-up single "Rainmaker", which topped the Danish charts.
For all the good that came from Eurovision, De Forest has declined our invitation to show off her crystal microphone-shaped trophy. But that's only because the precious memento is being repaired after she accidentally dropped it (images leaked to the Danish tabloids horrified Eurovision fans). As for the fact that she's probably always going to be associated with Eurovision, De Forest has no regrets. "If it was now and for the first time, I wouldn't do anything differently," she says. "I'm not scared of being labelled."
In fact, De Forest is currently writing new material and preparing for a Danish tour early next year. Will there be some dancing? "I guess, a little bit," she says, laughing. But perhaps not the cha-cha-cha.
Wong Chun 
Won: Hong Kong Film award
When: One year ago
Hong Kong-based film director Wong Chun had a particularly good 2017. He took home the award for best new director for his debut title Mad World at the Hong Kong Film awards. The low-budget film about a young professional's struggle with mental illness, enjoyed a eight-fold return on its $258,000 (€225,000) production cost. "Normally a story like this would fall short at the Hong Kong box office," says Chun, who worked on the script alongside his (personal and professional) partner Florence Chan. "It turned out quite well commercially – and raised social awareness."
The film also raised the 30-year-old director's profile across Asia. "Prior to the awards, I was nobody," he says. "But I am cautious about this instant fame and success; I know I am not good enough." Such humility is probably fuelled by the fact that, before bagging the prizes, Chun was stuck in an awkward position in the region's cinematic canon: too commercial for the indie circle – and vice versa.
Chun kicked off his career soon after graduating by penning the script for action blockbuster The White Storm. But his earlier 6th March is what got him the job in the first place. Based on his own experience of being arrested for protesting against the government, the short film struck a heartfelt chord.
The awards have come with myriad commercial opportunities and a lifestyle change. "I had to learn how to do interviews and promotional screenings," he says. The transformation could have been even more radical if Mad World had obtained a nomination for Best Foreign Language Film at the Oscars – of which it came just shy. Yet Chun seems relieved that the big jump didn't happen. "The resources required for doing roadshows to get Hollywood to notice the film would outrun the production cost," he says.

After a year of travelling across different continents, Chun is finally taking the time to write his next film at his own pace. "I am a slow worker," he says with a smile. The director and Chan may only have needed 16 days to shoot the award-winning film, but preparatory and post-production work lasted four years. "Every story requires a solid three to five-year commitment to one issue," says Chun. Any more fame would come with added pressure and throw that working rhythm off; as well as prevent him from finding time for the small-scale independent projects he's keen on. That's why Chun is in no rush to speed through the process – for the sake of his private life too. "We don't live our early thirties again."
Dana Priest  
Won: Pulitzer prize
When: 10 years ago
Dana Priest has won plenty of accolades over her three-decade-plus career as an investigative journalist, including the George Polk Award for National Reporting. But it's only her two Pulitzer prize "not quite a triangle" gongs writing for the Washington Post that have made it into the living room of her DC home.
Priest won her first Pulitzer in 2006 for a weighty piece that uncovered the CIA's secret prisons. She admits it was "an amazing experience" to be recognised by the illustrious committee that oversees the prize. Two years later she won in the public service category for a report on the neglectful conditions at Walter Reed National Military Medical Center.
"[It] had such an impact and that was the fun part of doing the story," she explains. "Congress started investigating and then they had the commission – and there was all this money that was spent on soldier care. The best thing is that people in the armed services still thank me."
Priest says that after the 2008 win, journalism doors were opened, from speaking events to job offers, although she adds that, while feeling validated as a reporter, it also proved a "double-edge sword". She has felt a constant need to attain the same heights, which meant she felt she could never do "regular" stories anymore. "People are really supportive of what you've done but, really, they expect your stories to be of that calibre," she says. "And when they're not – and maybe this isn't true but it's how I feel – then you feel like you've somehow let everybody down."
Ultimately the prize caused her to reassess her work. While she still writes for the Post, she also teaches at the University of Maryland and sits on the board of a small Virginia newspaper. A decade after winning her last Pulitzer, she still sees the humour in the fact that for all the prize's stature, it was her time reporting on television news that seems to have had more of an impact. "I definitely got treated differently once I was on TV; it was like all of a sudden I became more important to people who had worked with me for a long time," she laughs. "And this actually made me mad!"
Thomas Demand
Won: No Limit award
When: 15 years ago
German photographer Thomas Demand remembers the night he received the coveted No Limit award at the Rencontres D'Arles photography festival in 2003, as much for the surprise of winning as for the oddness of the ceremony itself. "Instead of a big gala dinner, there were plastic chairs arranged along a train track. There were freight trains rolling by," he recalls, laughing. "Every place setting had a plastic plate with a single boiled tomato in the middle of it. And that was it."
Like other arts festivals in the South of France that year, the 2003 edition of Rencontres D'Arles had become a crucible for strike action over working conditions by the region's event-contractors. For the five hours leading up to the announcement, union members regaled the crowd (including another of that year's nominees, William Eggleston) with their demands to the government. "The ceremony itself lasted about five minutes, at 01:30 in the morning," he says.
That didn't diminish Demand's excitement at winning one of the most prestigious accolades in photography. "I felt very honoured," he says, from his spacious studio in Culver City, Los Angeles. "Especially because I didn't really feel connected to the world of photography at that time; I didn't have friends there. I couldn't even say thank you to the members of the jury because I didn't know who they were."
Nowadays, Demand's photographs of his hand-built, still life models of spaces and interiors recreated in paper are represented at major galleries around the world. "I realise how naively I just walked through the sunlight back then," he says. "I felt that I was going places but it was all a discovery for me as well."
Rachel Whiteread
Won: Turner prize
When: 25 years ago
When the group of visitors turns the corner and catches the first glimpse of Rachel Whiteread's new commission, the usually composed artist breaks into a beaming smile. Deep in Dalby Forest in Yorkshire in northern England, the Nissen hut is the latest in her series of "shy sculptures". It may be almost camouflaged among the trees but the Nissen hut is a hulking beast, a huge grey half-cylinder modelled on shelters initially used by soldiers in the First World War. No matter how reserved her sculptures – and the artist herself – may be, Whiteread's work has rarely gone unnoticed since, 25 years ago, her cast of "House" got London debating the city's housing policies and helped her become the first woman to win the famous Turner prize.
"The furore around 'House' [the local council eventually had the sculpture of the Victorian terrace destroyed] contributed to people's awareness of me," she says. "I think it had started to really happen for me anyway at that point – the whole Young British Artist thing had certainly swung into action. It was a combination of the two."
The media coverage and controversy around her win also helped the Turner prize get its reputation for being a contentious award. But nowadays Whiteread would rather avoid the fanfare and has turned down some of the other prizes she's been offered.
"Sometimes awards are about publicity. It gets to a point where you need to be able to concentrate on your own work." Whiteread's oeuvre has stayed noticeably consistent – at least in technique – over the course of a quarter of a century. "I've been trying to work very intentionally along very similar themes for many, many years now," she says. "It's kind of self-referential and it has to be. To mine the same seam is a very important thing."