Aviation / Riga
Aiming high
AirBaltic, nosediving not so long ago, is now filling European skies with its lime-green livery – and it has its sights set on becoming an international jetsetter.
When Martin Gauss glances up from his desk, one of the first things he sees is a neat display of 80 tiny models of Airbus a220s, the total planned fleet of AirBaltic. Just out of the window he spies the tarmac at Riga International Airport and a sea of life-sized plane tails in AirBaltic's signature lime green. It's a scene that visibly fills the Latvian airline's CEO with pride, encapsulating both how far the company has come and how much further it wants to go.
A German native who started out as a pilot with BA's subsidiary DBA before moving on to managerial roles at a number of European airlines (including EasyJet and Air Berlin), Gauss took over AirBaltic in 2011. At the time, the majority state-owned company was on the brink of insolvency. He got the carrier back in the black within two years, posting profits of €4.6m in 2017, and in doing so has transformed it into a regional symbol of hope. It's also helped to put tiny Latvia and its Baltic neighbours squarely on the (flight) map.
"We grew by 600,000 passengers last year, 500,000 this year, and we'll probably grow by another 600,000 next year," says Gauss, as he glances out at a company Bombardier Dash-8 Q400 on the move, buzzing as it heads for the runway. "These are big numbers for a country of 1.9 million people. There is no other [local] brand which is as well known as us outside of Latvia. We're exporting the culture as well. We are Latvia."
Though still small compared with the major airline groups of Europe, this otherwise marginal regional airline has ambitions to become a global player. Riga sits at the crossroads, both culturally and geographically, between Europe, Russia and post-Soviet states. AirBaltic wants to capitalise on this by turning the city into a bridge between East and West. On top of growing passenger numbers, which this year are expected to top four million, Gauss wants to use interline and codeshare agreements to put Riga within one stop of any major city in the world.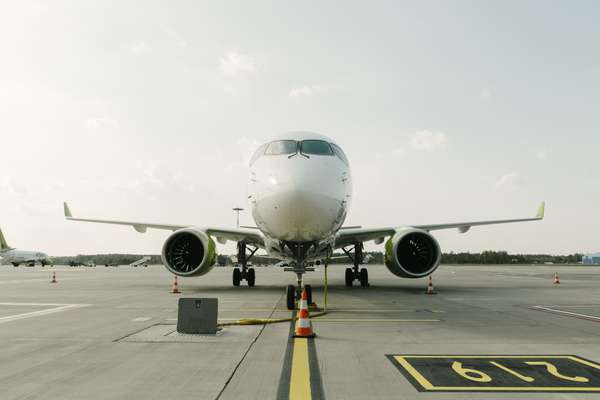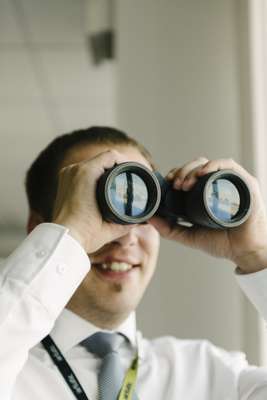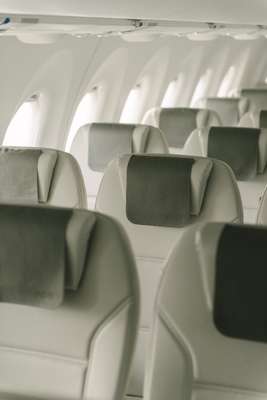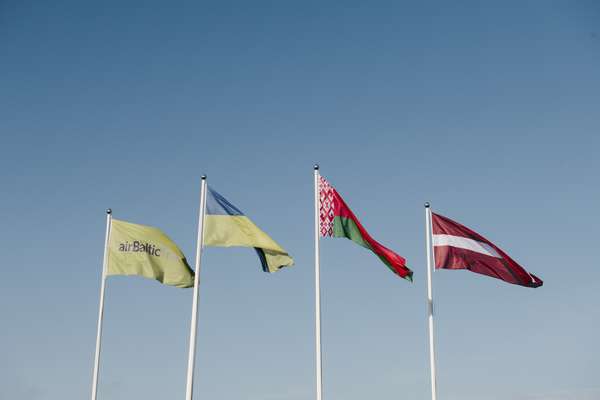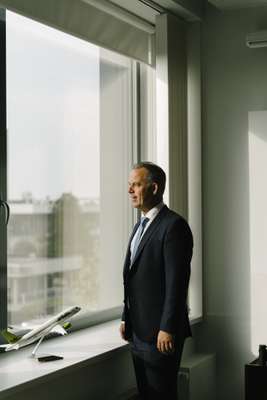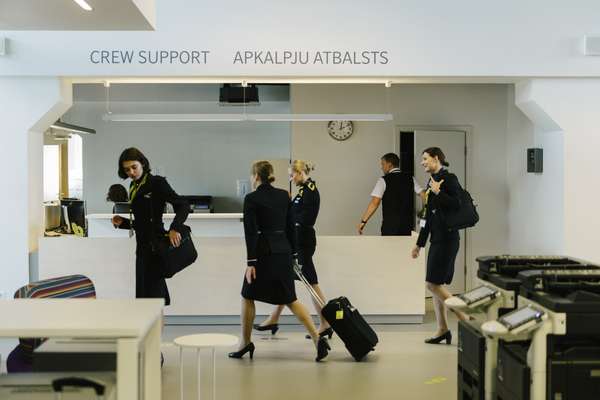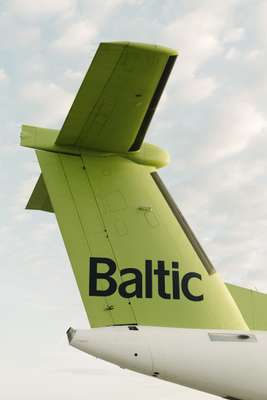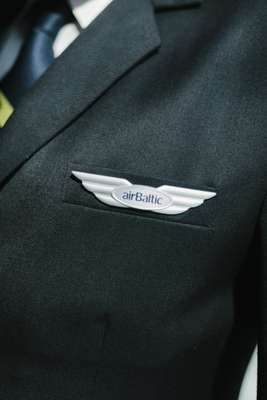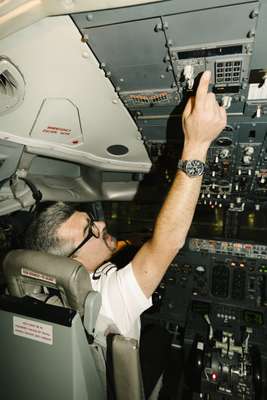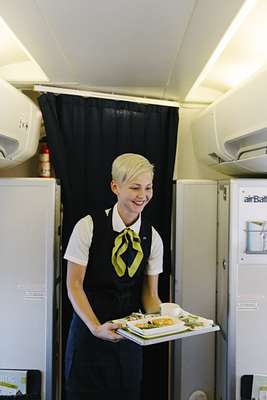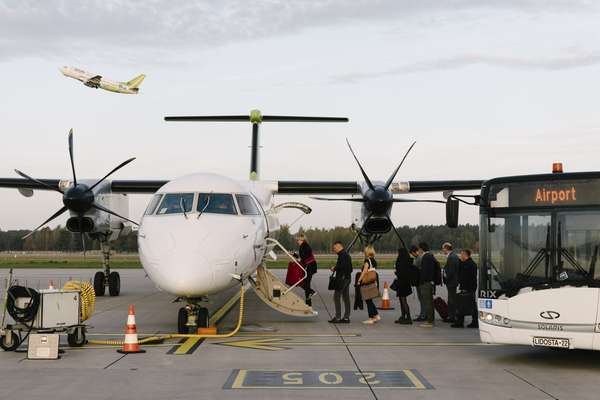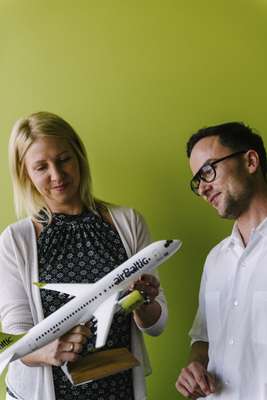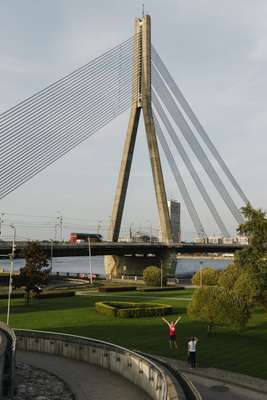 Crucially, AirBaltic is busy building a fleet that will support growth. It had already ordered 20 Airbus A220-300s, the larger of the popular single-aisle aircrafts designed by Canadian manufacturer Bombardier Aerospace, and in May bought 30 more (along with options for a repeat order). The plan is to have retired all other types of aircraft in its fleet by 2022. Built to burn less fuel and emit less CO2 and NOx, the a220-300 is relatively small, with up to 140 seats. Combined with a range of about 6,000km, it allows the airline to open up routes to smaller, underserved cities further afield. New destinations added include Lisbon, Malaga, Almaty and Abu Dhabi. That's helped AirBaltic achieve aircraft utilisation rates that are among the highest in the industry for narrow-bodies.
The importance of this airplane for AirBaltic's aspirations is clear from conversations with staff around the carrier's gleaming new headquarters, where model aircraft presented by partner airlines decorate nearly every corner. "Before, we couldn't fly beyond about a four-hour range," says Wolfgang Reuss, senior vice-president of network management, as he sips an espresso. "And onboard it's worlds apart from the old 737 experience. We're very proud of that."
The a-220 has become a symbol of the AirBaltic brand. The aircraft's light-filled and airy cabin has been outfitted entirely in pale greys and whites. There are also no text markings in the cabin, making it their first aircraft to use only pictograms to deliver basic information, from the location of life vests to the need to turn off electronic equipment. It's modern and internationally oriented, a key part of AirBaltic's brand messaging.

"In everything we do we want to be independent, quick, interesting, young and fresh but deliver each message in a straightforward way," says Elina Prave, vice-president of marketing. "That's true of where we come from and we want to tell people about it. We're very proud that we're from this region. We are a small airline and we do realise there's lots to do so that people know us. That's the most challenging and interesting part."
Despite being residents of a small former Soviet-bloc nation, Latvians see themselves as having a European mindset and a global outlook (all of AirBaltic's crews speaking Latvian, English and Russian). Part of its international strategy involves connecting its secondary flight bases in Tallinn and Vilnius with cities in western Europe, essential to the brand's promise to be an airline for the Baltics.
"You can go by train [from here] to China but not to Germany because we're not on the European track gauge," says Gauss. "Our road system doesn't take you where you want to get seamlessly, and we have a ferry system, but the fastest connection is 18 hours to Stockholm. So if you look at how you get here, plane is by far the best means of transport."
There is also the domestic effect. Gauss estimates that AirBaltic contributes about 2 per cent to Latvia's GDP by creating jobs and bringing in tax revenue, not to mention boosting exports, citing a Boston Consulting Group report from a few years ago. That does not account for indirect effects such as the various ways an airline can be a catalyst for both business and tourism.
"I know that AirBaltic is something our neighbours in Lithuania and Estonia are jealous of," says Latvian finance minster Dana Reizniece-Ozola, who is taking 15 minutes between back-to-back meetings in her wood-clad office, situated on a quiet street in Riga's old town. "All countries try to show that they are at the centre of the world, that they're the best connected. But AirBaltic really makes Latvia into the hub for the region."

As AirBaltic continues to grow, the infrastructure will have to keep up. The airport, an older building that has been expanded and modernised over time for a kind of late-Soviet-meets-Nordic aesthetic, is refreshingly small but only has two baggage belts. Thankfully, plans are already afoot. The latest phase of terminal expansion work – which will add more check-in areas, parking and luggage-handling facilities – is scheduled to be finished by 2022. There is also the construction of an intermodal train station equipped to handle the future Rail Baltica, a high-speed railway line that will run from Talinn through the Baltic capitals and on to Warsaw once it is completed in 2026.
AirBaltic is also investing in its workforce. Previously there was nowhere in Latvia for people to train as pilots. Hopefuls had to undertake expensive stints in flight schools abroad, a tall order in a country where salaries remain comparatively low by European standards. To tackle this, in 2017 Air Baltic opened its own Pilot Academy housed in a striking building of glass and wood, just across from the airport. Here, cadets are put through their paces during an intensive two-year course. Some 24 students are currently enrolled, with the first crop expected to join the AirBaltic crew in 2020.
When Monocle visits, a class of young Latvians have just started out. Dressed in uniform, they sit in three orderly rows taking notes, their navy epaulets notably empty of stripes. It's a scene filled with potential. A few hundred metres away, out on the tarmac, the early-evening rush is getting going; the hum of tugs, baggage carts and aircraft engines is growing by the minute as planes are readied and pushed back. One after the other, those lime-green tails disappear into the blue skies above Riga. Just another day in AirBaltic's, and Latvia's, ascent.
Above the clouds
Comment
By Sanita Jemberga
Celebrating its centenary this year, Latvia has its eyes on the horizon. Upon emerging from 50 years of three brutal occupations (Soviet, Nazi, Soviet again) in 1990, we threw ourselves into capitalism and consumerism. And since small nations next to Russia do not fare well alone, we dreamt of joining the EU and Nato – and did, in 2004. It has not been smooth sailing. About 18 per cent of the population left in search of a better life in the West. The 2008 crash slashed GDP by 21 per cent and exposed social inequality, while Russia's 2014 occupation of Crimea reminded us how fragile our illusion of security is. Add to that an ageing population and hostility towards migration and things do not sound promising. But we've never had it so good. Since adopting the euro in 2014, exports are up and technological advances have increased wages. Meanwhile, October's election went smoothly (although populism is on the rise) and the pace of life in Riga is relaxed. That horizon isn't looking so bleak after all.
Jemberga is executive director of the Baltic Center for Investigative Journalism