Hospitality / Global
Chefs at work
Looking to clinch a difficult deal? Take a cue from the companies that know the value of taking lunchtime very seriously indeed.
When negotiating a €1m project, sometimes it's the little things that count. So much comes down to how someone feels on the day and sharing a good meal in an intimate setting can be the perfect way to wow a new client or smooth over a tricky meeting, making the difference between a reluctant "yes" and a firm "no". At companies where corporate hospitality is a key part of the business, there are often in-house chefs dedicated to creating seemly environments that clinch deals. And these aren't just your run-of-the-mill canteen cooks: they're people who are able to represent the company's values and culture in culinary form. Having such people on staff makes business sense in other ways too – employees are always happier with a good lunch inside them.
In the following pages, we sit down at the table with some of the companies that go the extra mile. From one of the world's biggest shipping firms to a prestigious Brazilian architecture practice and an Italian fashion firm, they've invested in fantastic chefs, restaurant-quality canteens and truly welcoming dining areas and are reaping the rewards. Tuck in.
---
Studio mk27, a slick Brazilian architecture practice in São Paulo, has an unusual, deal-clinching secret: its dining table. "First come people, then comes food – and then the architecture," says founder and director Marcio Kogan, standing in the company's sunny patio garden, bordered by lush South American ferns.
Food is an essential part of doing business in São Paulo, where Arabic, Japanese and Lebanese immigrant communities and a staggering uptick in culinary schools have turned the city into the food capital of the region. Although it wasn't part of the original thinking behind hiring in-house chef Lia da Silva, being able to offer a three-course menu to visiting clients has proved a boon for business.
"I remember one German client we had. He enjoyed the event of sitting around this table so much that it brought us many more projects and good memories," says Kogan, gesturing at the large wooden table surrounded by framed architecture plans that occupies the centre of the studio.
Clients who first arrive at Studio mk27, which designs everything from large-scale projects to furniture, are taken through to either the indoor dining room, or (Kogan's preference if the sun is shining) to the patio. When Monocle visits, Da Silva, 44, is cutting sprigs of rosemary from the garden to add to a garnish for a meal that she will be serving later to Kogan and a client. "Marcio and I go through recipes together at the beginning of each week," she says. "As it's a hot day today I'm serving a lighter Brazilian dish, cuscuz Paulista [a cornflour cake with prawns and vegetables], typical of São Paulo."
Cookbooks full of vegetable-heavy recipes by chefs such as Yotam Ottolenghi and Mari Hirata Sensei are neatly stacked on a kitchen shelf. "It's important the menu is healthy," she says. Three years ago, 66-year-old Kogan had a health scare and decided to make a serious lifestyle change. "It was no use being strict with my diet at home only to order in deep-fried food at work," he says.

"We'd tried out a few guest chefs [such as Luciano Nardelli and Filipe Leite] for special events," says Kogan. But they didn't quite fit. What he needed was someone in-house whom he could speak to more easily. The answer was right in front of him: Da Silva, the company's long-time housekeeper.
Da Silva grew up in Minas Gerais, the agricultural heartland of Brazil, and at a young age started preparing meals for her nine siblings while her mother was at work. "I didn't go to cooking school. What I did have was plenty of experience making meals for big groups," she says.
Since taking up her new role she has been on several cookery courses. Now, on top of twice-weekly client lunches, each Thursday she prepares finger food for the company's Happy Hour, where the architects come together for evening drinks. She can be "a bit greedier" with the ingredients then, she says, cooking up creamy croquetas and mini fried pasties to soak up fresh-fruit cocktails. She also cooks for the 30-strong staff once a month, bakes birthday cakes and packs sumptuous lunches for staff when they go to visit projects.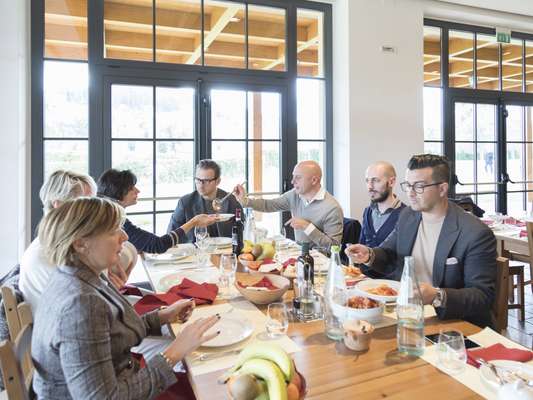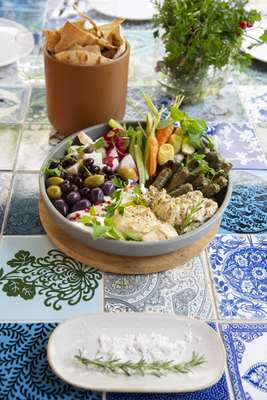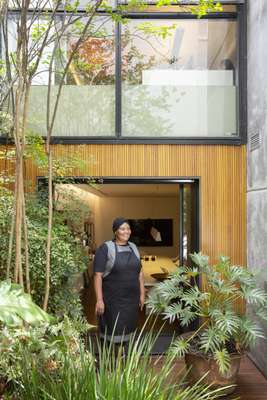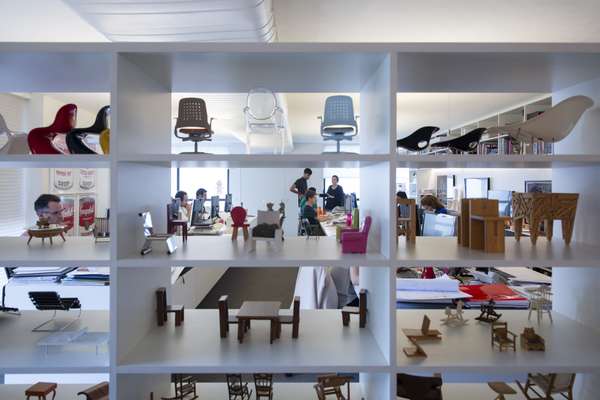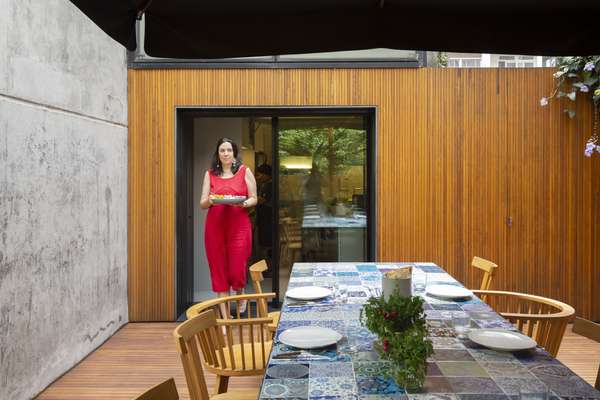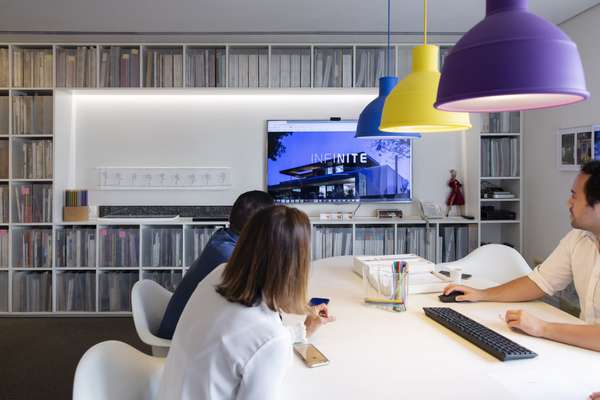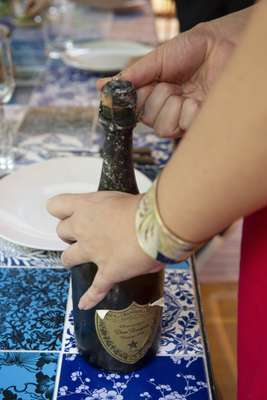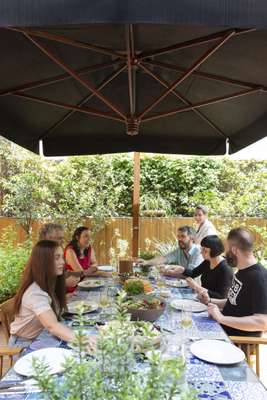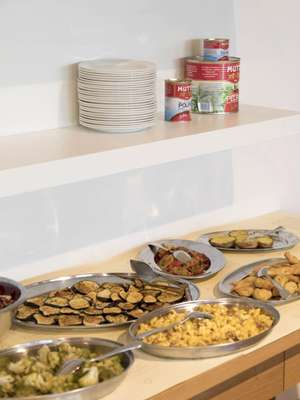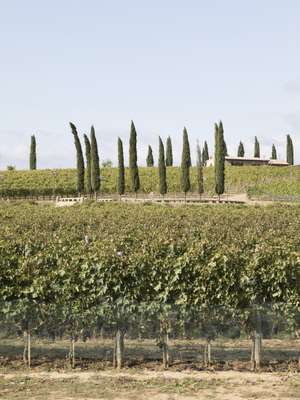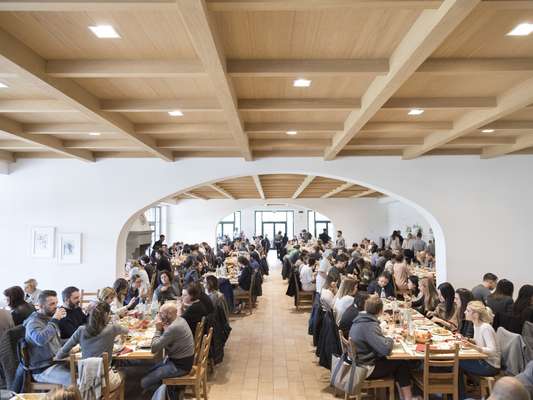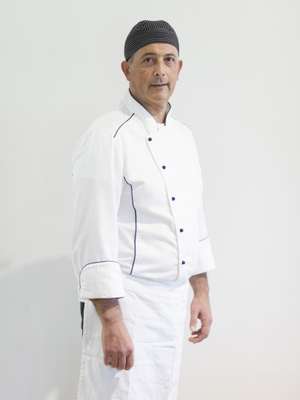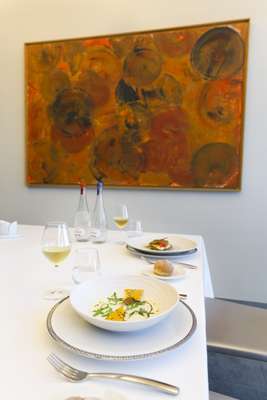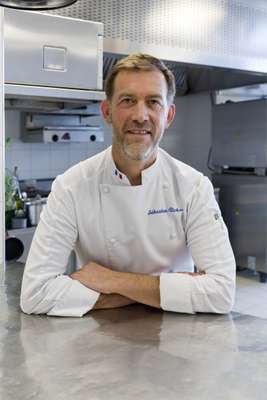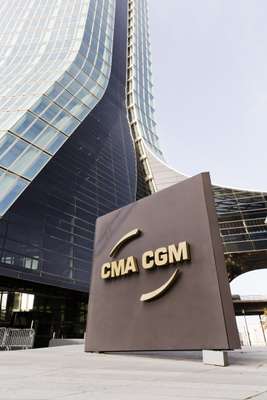 It's had a clear effect on staff. "Having a kitchen does give a greater sense of family," says architect and director Mariana Simas. Once they start at the studio, she notes, very few employees ever decide to leave.
1998 Moved from Minas Gerais to São Paulo in her twenties to work as a housekeeper and cook for a family
2004 Began working at Studio mk27
2015 Taken on as in-house chef
---
Menu:
To start Brie and fig salad with sweet balsamic dressing
Main Cuscuz Paulista: traditional cornflour cake mixed with prawns and vegetables, served cold
Dessert Tapioca pudding topped with fresh mango
To drink Lemon and tamarind iced tea or mate
Brunello Cucinelli
Solomeo, Italy
The Brunello Cucinelli canteen in Solomeo, a medieval Umbrian village restored by the brand's founder himself, is a sprawling double dining room with fireplaces, long wooden tables and floor-to-ceiling windows.
By 10.00, head chef Moreno Alunni Proietti is busy preparing a typical lunch for employees and guests: slices of fresh veal and pasta pomodoro. As he stirs washbasin-sized pots of tomato sauce, he'll boil up 30kg of rigatoni and hand-knead 70 loaves of torta al testo, the region's flat griddle-baked bread. Around him, his 13-person team, all Umbrian, set about preparing grilled aubergine, roasted cabbage, radicchio with balsamic vinegar and a medley of other seasonal vegetables and salads for the buffet.
"Brunello wants food that's simple and not overly elaborate – three flavours maximum, otherwise you can't grasp the quality of these top-choice ingredients," says Alunni Proietti. As he speaks, the day's vegetable delivery arrives from a nearby grower. The butcher also delivers twice a week and the local shepherd brings his farm-made ricotta once a week. There's an old-style artisanship to the whole thing that Cucinelli stubbornly refers to as "normalcy".
Since he first tried his hand with a collection of brightly coloured cashmere sweaters in 1978, Cucinelli's company has grown from a four-person operation to a business employing more than 1,000 people, with an annual turnover of more than €500m in 2017. His products sell a lifestyle – long meals and fireside chats in the undulating Umbrian hills – and his company headquarters are a living embodiment of this idea, with food playing a central role in communicating his values when people come to Solomeo.
"It's essential that our visitors, even the very important ones, eat Umbrian food, our cucina povera, our humble cuisine," says Alunni Proietti, who has worked there since the expanded canteen opened in 2013. "That's how they understand our lifestyle here."
Key to this vision of hospitality is a sense of equality. Investors, analysts, bankers, private clients – all of Cucinelli's business guests end up here in the canteen, breaking bread with his employees. Everyone is served the same menu, the only difference being that visitors are allowed alcohol with their meal. Today, as the hall fills with the scent of roasted rosemary, a table of buyers from shops around Italy who have come to learn how to merchandise the brand's products share a bottle of Umbria's Montefalco red wine with their pasta.
Around them about half of the company's onsite employees are settling at tables set with bisque-coloured ceramic plates, terracotta bowls of fresh bread and wood boards of sliced pecorino and prosciutto. The history of Solomeo is printed on the thick, felted paper of the placemats and there's no plastic in sight; the olive oil is made from Umbrian Dolce Agogia olives, which this year Cucinelli began pressing in his own mill. "This isn't a cafeteria," says one visitor. "It's a restaurant."
But the canteen is not just to wow guests. It's a core part of Cucinelli's philosophy of "humane sustainability", which involves investing heavily in the well-being of his employees, his town and the surrounding lands, with an emphasis on an excellent lunch. The lunchbreak from 13:00 and 14:30 is sacrosanct and his staff eat a subsidised farm-fresh meal for just €3.20.
Sitting in the head office overlooking his factory, the grapevines, the olive groves and the village he has lovingly restored, Cucinelli, 65, scribbles concepts onto loose sheets of white paper. "I want to maintain things of great quality. Every detail merits attention," he says, pointing to the red-lined inner pocket of his cashmere blazer. "That's our taste, our know-how as Italians. That's why I've never considered producing abroad. The details are just as important as fresh bread and prosciutto."
1981 Chef at the Casa del Pellegrino hotel and restaurant in Roccaporena, Umbria
1982-1988 Summer chef at the Royal Grand Hotel in Viareggio, Tuscany, and winter chef at the Casalpina hotel in Canazei, Trentino, later cooking at the Altavilla Hotel in Spello, Umbria
1990 Began working as chef at the Relais San Clemente in Bosco, Umbria
2014 Started as chef at the Brunello Cucinelli canteen
---
To start Rigatoni with tomato sauce
Main Roasted veal with rosemary. Assorted vegetables
Dessert Chocolate and ricotta crostata. Clementines. Walnuts
To drink Montefalco red wine. Still and sparkling water
"A lot of things are decided over a meal," says Sébastien Richard, the in-house firm chef for worldwide shipping company CMA CGM. He smooths out his crisp white chef's jacket, which is adorned with a tiny French flag on the neck and his name embroidered upon the chest, before adding, "That is for certain."
A restaurant chef by training, now Richard caters to executives and their guests at the company's Marseille head office: a sleek, asymmetrical glass tower perched on the edge of the Mediterranean, designed for the company by Zaha Hadid. Founded in 1978, CMA CGM is now the largest private employer in the southern French city and serves over 420 of the world's 521 commercial ports with a fleet of 509 vessels. Employing around 30,000 globally and with profits of more than €615m last year, the firm is the third-biggest carrier behind Maersk and MSC.
"Having an in-house chef cooking for management and guests is important when you do business at a high level and receive high-profile guests," says executive officer Tanya Saadé Zeenny. "It allows us to offer our guests a unique experience when they come to the CMA CGM Tower – food of high quality that is the essence of French hospitality."
In the dedicated VIP dining rooms, visitors are given the white-tablecloth treatment with a three-course meal served by waiters. This level of hospitality has become a key part of the brand. "CMA CGM has strong humane and family values and it is in our culture to make our guests feel welcome," says Saadé Zeenny.
Richard's day starts at 07.00 when he prepares the day's meals. His menu changes daily and is heavy on local products, especially fish and seafood. His most requested dishes by Rodolphe Saadé, the president of CMA CGM, are his black-tomato gazpacho with mozzarella and braised, salt-crusted seabass. A short list of French wine pairings accompany lunch, while the still and sparkling water is from the company's own source in the Pyrénées.
"It's a possibility to show them not only French cuisine but French lifestyle," he says. "People get an image of the company, specifically the Marseille arm, and they deepen it through [my use of] Mediterranean products. That's the leitmotif of the management."
1988 Apprenticed at Michelin-starred Tours restaurant La Roche Le Roy under chef Alain Couturier
1991 Began working as chef at Lucas Carton in Paris
1998 Opened La Table de Sébastien and received a Michelin star in 2010
2016 Began working as private chef at CMA CGM
---
To start Cauliflower velouté with lobster jus, dollops of lemon gel, Kalamata olive paste and crushed squash and shallots
Main Fillet of pan-seared sea bream with quinoa and tomato confit
Dessert Fruit tartlets
To drink Château Grenouille, La Chablisienne, 2011