Briefing / Global
Culture
Briefing
A lease of new life in Kuala Lumpur's venues, a concrete option for Irish cinema-lovers and the return of a German literary review.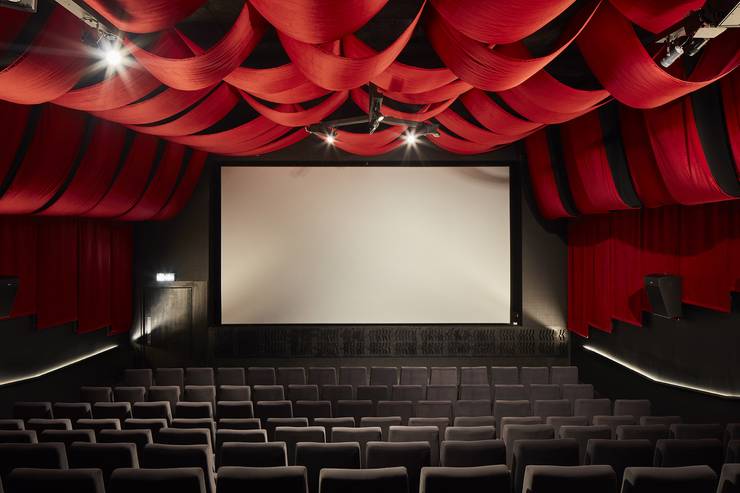 Screen time
Galway, Ireland —
Cinema
Galway's Pálás cinema is no humdrum multiplex. Designed by Irish architecture firm DePaor and run by Dublin-based (and Oscar-nominated) production company Element Pictures, the concrete-cast venue is a sleek new landmark in the city's medieval heart. What was originally a Georgian merchant's house has been turned into the cinema's box office; step inside and a labyrinth of stairways will lead you into three plush viewing screens. The programming spans the best of international arthouse and independent films, with classics on show too.

In its architectural details, Pálás nods to cinema's golden era: there's red neon lettering on the exterior, old-school box-office lightbulbs and velvet upholstery made by French designer Quinette Gallay. The venue's blue, amber and red resin-coated windows by Irish artist Patrick Scott add a warm glow to the interior.
palas.ie
---
History repeating
Kuala lumpur —
Heritage
A century of industrial use has left a patina on the walls of Kuala Lumpur's Sentul Depot, once the largest railway-maintenance workshop in Malaysia. "The neighbourhood would not be what we know today without the depot," says Pei Teeng Yeoh, director of YTL Land and Development, an organisation working to turn the complex into a cultural venue.
Thousands of people now come to the cathedral-like space for events such as the depot's inaugural festival: a two-day jamboree featuring a retail and food market, workshops and concerts. To get inspiration, Yeoh looked everywhere from the Xintiandi entertainment district in Shanghai to New York's Meatpacking District.
In the past, many of Kuala Lumpur's abandoned buildings would have been demolished. But now a hankering for repurposing characterful spaces has taken root in the Malaysian capital as a younger generation of developers take over. "They've experienced life in other cities that value their heritage and, when they come back here, they realise that our heritage is going and it's our job to keep it," says Jia Ping Lee of Think City, an urban-regeneration agency that's backed by Malaysia's sovereign wealth fund.
Based in a former bank, Think City provides grants for regenerating historical structures: one of them is Zhongshan Building, a 1950s block that was awarded RM200,000 (€42,000) to turn it into a space for creatives. Many of Zhongshan's original features – mosaic floors, louvred windows and the Chinese calligraphy on the façade – have been retained. The airy central courtyard has become a meeting place for tenants. "There's something there for everyone," says Lee. "A little piece of Malaysia that we thought we'd lost."
A short drive away, KongsiKL is an expansive venue that has also recently been repurposed. Its first event was a dance performance that explored the ruins of the building's previous incarnation as a metal factory. "We want people to see the effort," says Doris Quek, KongsiKL's curator. Barely changed since its former life, the venue was established by nine people – artists, designers and architects – who negotiated a three-year rental agreement with the owner. While it's a temporary contract for now, the team at KongsiKL have no intention of letting go of the past.
---
Q&A
Maria Ana Pimenta
International director Fortes D'Aloia & Gabriel
Lisbon
Since 2001, Fortes D'Aloia & Gabriel has been showcasing a stellar roster of Brazilian and international artists from its two exhibition spaces in São Paulo and one in Rio de Janeiro. To establish a foothold in Europe, the gallery has decided to open an outpost in Lisbon's prestigious Praça Luís de Camões. We speak to director Maria Ana Pimenta to find out if there's more than a Lusophone connection to the gallery's location choice.
What is Fortes's strong point?
The gallery has a long history of representing Brazilian artists abroad, and international artists in Brazil. We have always had the privilege of that exchange.
Why come to Europe?
It happened very organically; an act of being present with our collaborators, artists, collectors and curators.
And why Lisbon?
Europe has some of the biggest art centres in the world. Lisbon is still a comparatively small market but it can offer two things: a growing market with many interesting young collectors and a big influx of people moving here. Lisbon is undoubtedly having a moment.
fdag.com.br