At the front / Global
Editor's letter
Wrangling with deadlines in the run-up to Brexit leaves our editor in chief feeling sympathy for Santa Claus. Luckily before all that, he's got our Christmas markets to look forward to. He'll see you there.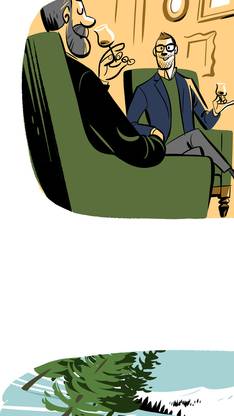 A few days before this issue was bundled off to the printer a select group of editors, distribution experts and logistics geniuses gathered in my office for a slightly surreal discussion about scenario planning. With charts unfolded across tables, laptops flipped open and diaries and erasers at the ready, we went through the very real exercise of plotting what happens when an international magazine that sells a good portion of its copies within a customs union soon faces being outside that union – yet will still have to function swiftly and efficiently to get tens of thousands of copies into that market.
"What happens if the ports turn into bottlenecks and we're faced with massive delays getting copies to France and Germany? Do we shift our print deadlines?" asked one colleague. "That's not really an option as we need to be as timely as possible," offered an editor. "We must assume it's going to be a mess, which it already is, and work from there." Another asked: "Would we look at printing in a couple of places? Perhaps splitting the print run?"
For two hours we went over the options, spun the globe a couple of times and in the end landed on a decision that will ensure we can get copies where they need to be on time and in a manner our readers expect. We'll have more on the topic of paper and printing over the coming issues but in the meantime I couldn't help but think that the exercise we'd just been through cut to the very core of why the UK should have chosen to remain within the EU. It also made me think about how complex Santa Claus's global logistics must be – but then again he's based in Finland and firmly within the EU.
Speaking of Santa, he'll be making the trip from his little village in Finland's high north to Midori House in London on 1 and 2 December for his annual twirl at our Christmas Market. As ever he'll be joined by the Swedish choir for some jolly rounds of carols, snorting reindeer, assorted animals that might have had relatives hanging out in the manger in Bethlehem, plenty of raclette and wine being served by the Swiss Embassy and lots of stands bursting with finely made treats to make your Christmas shopping that little bit more enjoyable. If you can't make it to London, we'll also be doing a smaller market at our HQ in Zürich on 8 and 9 December. We're not going to be trying our luck with the Zürich authorities with the reindeer but there will be plenty of other surprises at Dufourstrasse 90, so we look forward to welcoming you along for the start of a new tradition in the city's Seefeld district.
If we don't catch you in London or Zürich then we do hope to see you at one of our events in 2019. You might have already noticed that we announced our Quality of Life Conference will be heading to Madrid at the end of June but before that we're launching our first ever Monocle Winter Weekender at Schloss Elmau. As you might expect, our Alpine summit will involve lots of cakes and cream, hearty German wines and, of course, a series of intimate discussions on topics that range from "How to prepare for battle" to "The collapse of forgiveness" and "How to make better media". In between we'll have talks with a couple of outstanding authors and this will be accompanied by some jazz and fireside chats with editors, contributors and regular readers. For more information on the Weekender series, drop a note to one of the addresses at the end of this letter.
Keeping with our snowy theme, the start of December will also see the Monocle Winter Weekly newspaper return every Thursday for four weeks. For the Christmas 2018 season we're going to be letting the articles run a bit longer, adding some fiction as well as some bigger interviews for you to enjoy while stretching out on the sofa.
As usual, we'll be working throughout the Christmas period as Monocle 24 radio doesn't sleep. Our editors and regular presenters will be delivering another solid two weeks of programming designed to keep you up to date on all you might have missed while also offering a view into 2019. Of course there'll be plenty of good music for keeping spirits cosy too.
This past year was another big one for us as we turned out a record number of print and broadcast editions; 2019 is likely to see more from us on paper, on air, in store and in a few other fresh formats. Stay tuned for announcements early in the new year. As we get back to our plotting and planning, I'd like to say a huge thank you from all of us in London, Zürich, Tokyo, Hong Kong, Toronto and now Los Angeles. We can't do what we do without dedicated, committed readers, listeners and customers, so thank you for your support. We wish you all the best for Christmas and a healthy, inspiring and prosperous 2019. And finally, you can find me at tb@monocle.com and my colleagues Hannah and Luigi at hg@monocle.com and lle@monocle.com. Cheers.