Cosy corner / London
Inner vision
The artist's studio overlooks a busy scrapyard but inside it's a pared-down sanctuary.
The divisions between work and rest are indistinguishable for sculptor Gavin Turk. Lying on a plush sofa in the lounge he has installed in his new studio in East London, he explains that the best ideas for his art arrive when he is thinking about something else entirely. This is why he has designed a private sanctuary affording him the space, comfort and stimuli that enables him to subconsciously happen upon the concepts that have made him one of the UK's most renowned artists.
Kicking off his shoes to get more comfortable, Turk looks across the room. It has the pared-back feeling of an artist's studio, but with added luxuries, the most prominent being the enormous House of Hackney couch on which he is currently lying. Elsewhere there are books, dioramas and drawings that inspire him when he is at rest. "These objects represent concepts, which I keep in sight," he says. "This room is a half-synthesised series of half-baked ideas."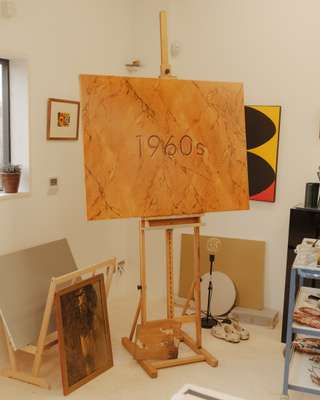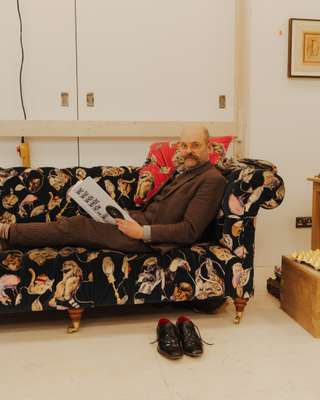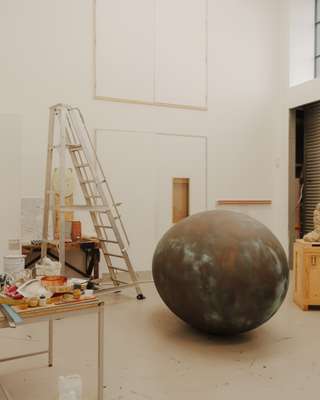 Turk's self-effacing manner belies a quicksilver talent that established him as a key figure in the Young British Artists movement of the early 1990s. He first gained notoriety in 1991 when he was refused a degree from the Royal College of Art. His final show, entitled "Cave", was a whitewashed studio space with a blue plaque reading "Gavin Turk worked here 1989-91." Since then he has been collected and shown by major galleries around the world.
Turk needs to seize moments of quiet when he can get them. He and his team are preparing to put together a number of large public sculptures in February 2019, one of which will be part of the redevelopment of Paddington Basin in London, and another at Cambridge railway station in the summer. Turk also has an exhibition opening at Maruani Mercier Gallery in Brussels in January 2019 and a smattering of shows to follow in Europe.
Downstairs, makers and technicians clad in overalls slurp tea and operate power-tools. It's a serious contrast to the atmosphere above. Turk's room offers panoramic views of the industrial landscape of Canning Town, a sight he finds curiously soothing. As an excavator outside lifts a bale of steel strips up towards a container, Turk stands at the window and admires its jerking choreography. "I have an intellectual investment in discard," he muses. "That's probably why my studio is in the proverbial arse-end of London."
Turk says that giving himself the space to properly switch off while in the studio nourishes the process and helps him avoid the stifling pressure that inhibits some creatives. In the midst of a prolific career, it is a technique he seems to have down to a fine art.
The CV:
1967 Born in Guildford
1991 Refused a degree by the Royal College of Art
1997 Included in "Sensation", Young British Artists from the Saatchi Collection, at the Royal Academy of Art
2011 Unveils "Nail", a 12-metre-long bronze sculpture outside St Paul's cathedral – the first of many public commissions
2016 Major survey show opens at Newport Street Gallery, London