Observation 2 / Ohio
Off the wall
Would you trust a student with a masterpiece? Oberlin College in the US has been renting out its collection since 1940.
At the start of the autumn semester, hundreds of students from Oberlin College, Ohio, queue along Lorain Street on the north side of the university's Allen Memorial Art Museum. The surrounding buckeye trees are showing the first signs of orange. It's bright, but summer is long gone. Students blow into gloved hands, sipping coffee poured from thermoses, and one resourceful young woman arrives with warm croissants to distribute to her friends. Many have been queuing for hours to be among the first to get into the museum when it opens. The whole scene has a similar energy to a streetwear product drop – except those assembled are more on the bookish side.
As the museum doors open the first undergrads rush through the lobby and up into the building's Ripin Gallery, where they set upon hundreds of framed works of art leant against the walls. Students squat or kneel down, leafing through. There is a squeal from a young man who has discovered a Picasso, and a collective "ah" when another group of happen upon a Goya.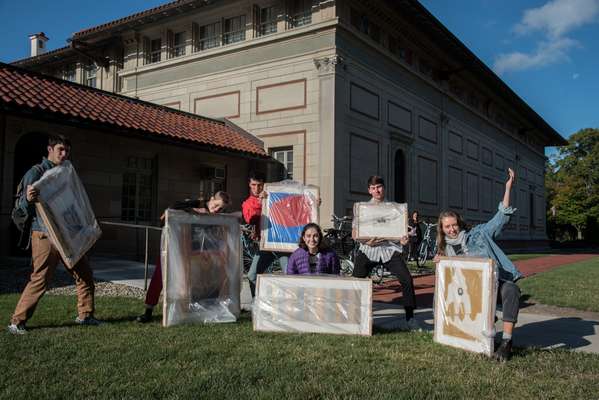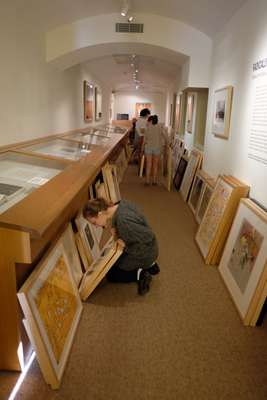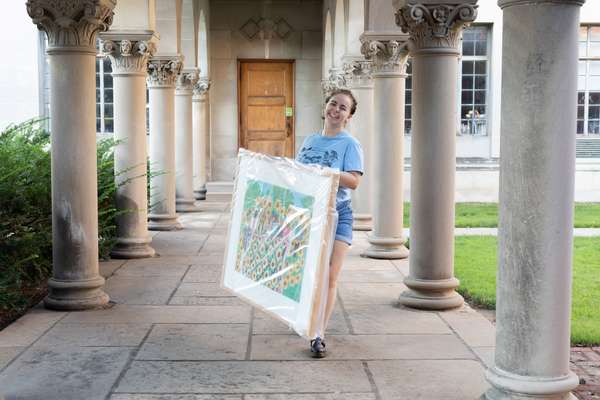 Every semester Oberlin College allows some 250 students and staff to borrow art from the museum, on a first-come, first-served basis. While buying (or even renting) these works of art can deplete even the largest bank accounts at Sotheby's and Christie's, at Oberlin, students pay $5 (€4.50) to take them home for the semester.
Aside from buying an amateur watercolour outside the British Museum, there are few affordable ways to buy art – let alone good art. It is exactly this inaccessibility that Ellen Johnson, an Oberlin College graduate, librarian and professor, wanted to fix. In 1940, with a few hundred dollars, she began buying art to lease to students to nurture their aesthetic sensibilities. The size and prestige of the collection grew thanks to the rental fees the students were paying.
The Art Rental collection is separate to the museum's permanent cache but no less impressive. Among its 400-strong catalogue, you'll find "Typewriter Eraser" a 1970 lithograph by Claes Oldenburg, and "Corps Perdu", a 1950 engraving by Picasso. The collection is always evolving and the $5 from each student goes towards buying more art.
Can students be trusted with works of art? Don't they throw parties? "They do," says Andria Derstine, the museum's director, adding that not one piece has been irreparably damaged since 1940. There is a respect for the programme and students are not forced to sign contracts. "It's about demystifying art and making it something that can be part of ordinary life," says Madi Goetzke, a second-year art-history student. "There is no red rope around my artworks."