Soft power survey / Global
Shake a leg
Our ninth annual survey of the nations whose softer tactics are getting results.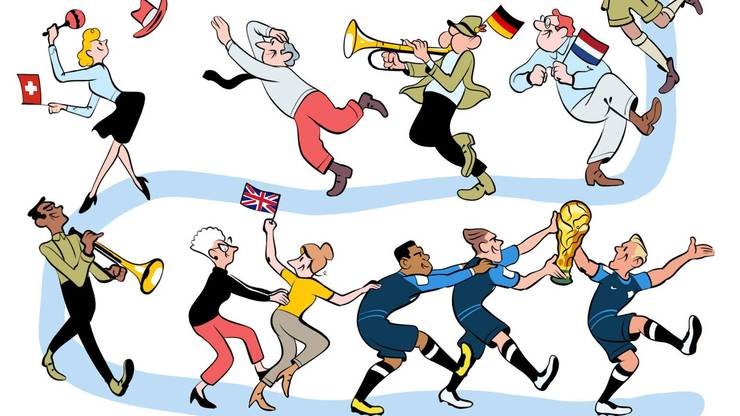 Though it can sometimes be difficult to tell when listening to speeches from certain state leaders, soft power is an increasingly popular – not to mention effective – tool for many countries around the world. When it comes to making friends and influencing others, smart nations know that they need to show off their softer side.
Instead of flaunting military might or doubling down on nationalist rhetoric, the countries that have done well in our ninth annual Soft Power Survey have leaders who make time for their counterparts. They have athletes who score big when the world is watching and a cultural output that garners fans from all over. These are the nations that attract tourists and foreign students alike, making serious investments in their diplomatic network abroad.
At a time when many relationships are in flux and nations are reassessing where they stand on the world stage, soft power is more important than ever. And, as this year's winner proves, a charismatic leader offers a boost that's hard to beat (a World Cup win helps too). To find this year's winner – and where your nation stands – read on.
---
01.
France
A soft-power offensive and sporting success send France to the top.
When, on 15 July 2018, a French teenager, born to a Cameroonian father and a mother of Algerian descent, scored a goal on a football pitch in Russia, he not only sealed his country's fate as the winner of the 2018 World Cup but also cemented his rising status as France's newest soft-power icon. Not only was 19-year-old Kylian Mbappé a fêted football star but, as the son of immigrants, he also demonstrated that one of France's greatest strengths in 2018 can be its cosmopolitanism.
It was a message that had long been championed by another French wunderkind. Since his 2017 election campaign president Emmanuel Macron (who was watching the game from the stands) has touted the importance of France's place at the heart of Europe and on the global stage by defying nationalists both at home and abroad. But while angling to be the face of global liberalism would have been a competitive game at one point, in 2018 there seem to be surprisingly few who want to take up that mantle. From Brexit to America First, populism and a desire to shut borders has become the modus operandi for governments around the world.
Unsurprisingly this has done much to shake up the way diplomacy is done – and not for the better. Old alliances have shifted and morphed, while new, sometimes worrying and occasionally shadowy bonds are being formed. Yet a few stalwarts of old-fashioned international relations remain and no one is more of an enthusiast than Macron. The president is indefatigable, racking up a lengthy list of international trips in a short amount of time – and hosting many foreign leaders too. He's unafraid of grand gestures; this is the man who gave China's president Xi Jinping a horse. He's able to hold his own against the most undiplomatic of counterparts; recall the aggressive handshake-off with Donald Trump, while also refusing to go back on his beliefs simply to make nice. Though his domestic popularity has flagged, internationally Macron is seen as a savvy statesman who has renewed his nation's global ambitions.
Aside from extraordinary events, such as a World Cup win and a fresh-faced leader, France is also going strong with its old faithful approach to soft power. The country is historically a cultural powerhouse but new blood is making waves. French recording artists such as Christine and the Queens have stormed charts internationally, while the English translation of French-Moroccan author Leïla Slimani's second novel Chanson Douce (Lullaby) has won rave reviews around the world and proved that she is a force to be reckoned with. A robust network of institutions, from Institut Français to Organisation internationale de la Francophonie, help spread the French language and culture abroad.
And following a dip in tourism after terrorist attacks in Paris and Nice, the number of visitors to France has rebounded. Last year saw a record 89 million tourists visit the country; 2018 is on track to see just as many.
What's more, the future looks bright for France. With the 2024 Olympic Games being awarded to Paris, the capital is preparing to be in the global spotlight (mayor Anne Hidalgo has long been implementing smart urbanism solutions to improve the city). While challenges remain both abroad and at home – the twin threats of terrorism and xenophobic nationalism can't be ignored – France has much to cheer about. Even off the football pitch.
In numbers:
Embassies: 166
Total international aid spend: $11.1bn
Olympic medals won at last Summer and Winter Games: 57
---
Good: Lending the Bayeux Tapestry to the UK raised France's profile.
Bad: Xenophobia still simmers in France and could boil over.
---
Monocle comment: France's textile industry is underappreciated abroad. Paris should be shouting about the nation's linen and craft industries.
02.
Germany
Despite turbulent times, Germany is holding on to its good name.
Angela Merkel has taken a hit at home politically. It took her months to form a coalition government with the Social Democrats earlier this year, which has weakened her on the world stage. Yet she remains, along with Macron, the face of European co-operation and liberal cosmopolitanism. The widely shared image of her and the French president facing off with a petulant-looking Donald Trump at the G7 meeting in Québec this summer summed up this dynamic perfectly.
Though Merkel will step down as chancellor in 2021, it's important to remember that not all Germany's soft power lies with its leader. Munich is building its innovation hub, while Frankfurt has started to benefit from London's loss ahead of Brexit and Berlin maintains its cool clout.
In numbers:
Embassies: 153
Foreign students: 374,951
Think-tanks: 225
---
Good: The media landscape in Germany remains robust.
Bad: Reports of far-right mobs rioting make for uneasy reading.
---
Monocle comment: Despite political headwinds, Germany is still recognised as a bastion of efficiency; it also has a strong economy and great quality of life.
03.
Japan
Top food and cultural exports mean Japan is hitting all the right notes.
Tourism to Japan is booming: in 2017 it welcomed 28.7 million visitors. And, as the 2020 Olympic Games approach, Japan is preparing to host even more people by improving infrastructure and building hotels.
Political stability has continued under prime minister Shinzo Abe and international spending is strong too: Japan is the second-largest contributor to the UN's development budget. The country's culinary prowess and design continue to appeal and cultural recognition is extending beyond anime and J-pop. This year saw Japanese film Shoplifters win the Palme d'Or at the Cannes Film Festival, as well as the international release of Haruki Murakami's latest book Killing Commendatore, which received widespread acclaim.
In numbers:
Embassies: 195
Total international aid spending: $16.8bn
Think-tanks: 116
---
Good: Japan continues to invest in infrastructure across Asia.
Bad: The country's resistance to accepting refugees hasn't eased.
---
Monocle comment: Cultural outpost Japan House – which shows off the best of the country's design and cuisine – is great for promoting Japan abroad.
04.
Canada
By no means perfect, Trudeau continues to shepherd his nation.
It's been a tough year diplomatically for Canada, though some troubles were of its own making. Justin Trudeau's tour of India saw the PM and his family parading the country in over-the-top traditional outfits, some of which were described as "too Indian even for an Indian", leaving the leader looking foolish.
But Trudeau – and foreign minister Chrystia Freeland – did many things right too. Between the G7 meeting in Québec and the renegotiation of Nafta, Canada managed to protect its own interests while also highlighting its commitment to protecting global stability. Despite the speed bumps it is an example of a country that not only cares about soft power but also (usually) knows how to use it effectively.
In numbers:
Embassies: 110
Total international aid spending: $4.3bn
Foreign students: 494,525
---
Good: Hulu's The Handmaid's Tale and CBC's Alias Grace brought renewed love for the Margaret Atwood novels.
Bad: CBC deserves a better international presence.
---
Monocle comment: From Drake to Shawn Mendes and The Weeknd, Canadian recording artists are well represented on charts around the world.
05.
Switzerland
The nation continues to be a reassuring presence on the world stage.
Switzerland is a nation that understands the power of an enduring brand: watches, pocketknives and Helvetica are all a tangible shorthand for Swiss excellence. What's more, Geneva and Zürich are home to some of the world's biggest businesses (ABB, Rolex, Nestlé) and international organisations (International Committee of the Red Cross, World Health Organisation).
The country is known for its political and economic stability, making it the perfect place to host major events such the World Economic Forum's annual meeting in Davos. Its cities are known for excellent quality of life and are home to people from all over the world, while its universities attract plenty of foreign students every year.
In numbers:
Embassies: 100
Total international aid spending: $3.1bn
Think-tanks: 76
---
Good: Art Basel has set the example of how to make an art fair into a global brand.
Bad: Tourism is still relatively low compared to its neighbours.
---
Monocle comment: The country isn't known for its cultural output, with too few contemporary singers, film-makers and writers catching attention abroad.
The far reach of France 
The Institut Français is a successful way for the nation to stay relevant in former colonies.
In the Lebanese city of Baalbek, near the Syrian border, calm reigns over a quiet courtyard of honey-coloured stone. A pretty Ottoman house stands beside a robust olive tree. This is the local branch of the Institut Français (IF). The network, part of France's Foreign Affairs and Culture Ministries, operates from about 100 centres worldwide. Many of them are in the former French colonial stomping ground of the Middle East and north Africa, including Lebanon, which was under French Mandate rule from the 1920s until 1943. 

Since 2010 the institutes have been the channel through which Paris has maintained a policy of spreading French culture, art and language. Today Samuel Même directs two of Lebanon's nine institutes, including the Baalbek outpost. The city is often portrayed as being overwhelmed by crime and unemployment and as a stronghold of Hezbollah. Yet Même explains that Baalbakis have a healthy appetite for all things Francophonie.
After Israel's withdrawal from south Lebanon in 2000, says Même, many Lebanese who had fled returned to cities all over the country. In Baalbek, many came back from Francophone countries in west Africa, where they had established successful companies. Eager to see their businesses in Africa prosper, they sign up their children for French lessons so they can take over the family firms.   
The IF operates in parts of the Middle East where other European governments do not invest in bricks-and-mortar cultural institutions – but there are challenges too. The Institut Français in Gaza City closed in 2014 after it was attacked by Islamist extremists. Still, it reopened in 2016 and is something of a haven for musicians, who have difficulty finding other practice spaces. Mousa Tawfiq played the oud at the IF before leaving the Gaza Strip for Paris in 2017. The doors that the IF opens to French culture are undeniable, he says; it's hard to imagine a more ringing endorsement of successful soft power. 
06.
The UK
The nation has set itself adrift as Brexit looms on the horizon.
Brexit has continued to hurt the UK's image on the world stage. By choosing to leave the EU, while at the same time positioning itself as an opponent of the bloc, it comes across as antagonistic, stubborn and undiplomatic to the rest of the world.
In spite of its political class, its cultural touchstones – which span everything from the Harry Potter franchise to Shakespeare and the Bond films – are still global goodwill generators. The British Council continues to work in more than 100 countries. The BBC World Service broadcasts in more than 40 languages and is a respected news source. Meanwhile, sport spectacles such as the Premier League and Wimbledon draw in devoted fans.
In numbers:
Embassies: 140
Total international aid spending: $18.1bn
Foreign students: 442,375
---
Good: A British education is still considered a globally appreciated asset.
Bad: The UK routinely fails to use its multiculturalism as a selling point.
---
Monocle comment: The royal family is once again a soft-power star: the wedding of Prince Harry and Meghan Markle was watched by some 29 million people.
07.
Sweden
The Swedish brand continues to thrive – despite the Nobel no-no.
One of Sweden's biggest soft-power assets suffered this year when the Swedish Academy announced that, for the first time since 1949, there would be no Nobel prize for literature awarded this year. The announcement followed on the heels of resignations and allegations of sexual misconduct and malpractice. To make up for it, the Academy promised to award two prizes next year.
Elsewhere, however, the Swedes continue to shine. The nation's pop heavyweights rule the charts, not least with popstar Robyn having returned with a new album after an eight-year hiatus. Meanwhile, big brands such as Volvo and Ikea thrive. Sweden is also one of the largest donors of international aid as a percentage of its GDP.
In numbers:
Embassies: 95
Total international aid spending: $5.4bn
Foreign students: 35,100
---
Good: The film The Square earned nominations at the Academy awards.
Bad: The nation isn't known for its sporting skills – even winter ones.
---
Monocle comment: The elections saw the political stability that characterised the country for decades suddenly turned on its head.
08.
Australia
A shake-up is needed for Australia to remain an attractive proposition.
The brouhaha over nationality, whereby more than a dozen politicians were ousted from office for holding dual citizenship, didn't paint Australia in a good light. That turmoil was followed by a new prime minister (the fifth in eight years). The country has frozen its foreign-aid budget and anti-immigration policies are being championed. A sporting snafu, when members of the men's cricket team were caught cheating against South Africa, was a humiliation.
Yet it wasn't all bad for sport diplomacy this year: the 2018 Commonwealth Games allowed the Gold Coast to show off its best side. The staples of Aussie soft power are still there and visitors have been keen to enjoy the nation's sun, sand and single-shot flat whites.
In numbers:
Embassies: 95
Total international aid spending: $2.8bn
Think-tanks: 29
---
Good: The previous government committed to an official review of the country's soft power.
Bad: It's unclear if that will now be a priority.
---
Monocle comment: The country is well covered in foreign media thanks to the number of international journalists and bureaux that are found here.
09.
The US
The US is squandering its soft-power wins – at what cost?
Can a Twitter account kill a nation's soft power? The US has fallen in our ranking, directly and indirectly due to Donald Trump's combative diplomatic relations. Whether attempting to rip up trade deals such as Nafta, trashing Nato or sounding off over "shithole countries", he has offended allies and potentially ruined relationships in the name of making America great again.
The good news is that much of the world realises that the US is about more than this administration. Its universities are among the best, innovation in Silicon Valley is second to none, it has produced more Pritzker and Nobel prize winners than any other and its music and films are enjoyed around the world.
In numbers:
Embassies: 172
Total international aid spending: $39.3bn
Olympic medals won at last Summer and Winter Games: 144
---
Good: American brands such as the nfl are attracting fans in London and beyond.
Bad: Reports suggest that there are fewer foreign students than before.
---
Monocle comment: A strong ambassadorial presence abroad would do wonders for the US but there are dozens of unfilled posts in the nation's embassies.
Get your skates on
The soft power of Canada's favoured sport – ice hockey – reaches far beyond its snowy climes.
At the Winter Olympics in Pyeongchang there was one team in attendance that was not part of the formal competition but for whom the headlines rolled regardless. Among the visiting delegations in South Korea were members of the Ice Lions, Kenya's only ice-hockey team, which was established in Nairobi in 2006. The team's presence in Pyeongchang as observers of the Games was intended as the starting point for its own shot at Olympic glory at the Winter Games in Beijing in 2022.

Behind the campaign to elevate the Kenya Ice Lions to Olympic athletes is Tim Colby, a Canadian ice-hockey coach who now lives in Kenya and coaches the 28-member team at east Africa's only ice rink at Nairobi's Panari Hotel.
Alongside an internet campaign to raise more than $250,000 (€220,000) over the next three years for equipment and training personnel, a video campaign was launched in conjunction with Canada's ubiquitous coffee chain, Tim Hortons. For the video, the team was flown to Canada to play its first competitive game.
Canada has long been aware of the soft-power potential of its winter sports. It was Montréal that offered training rinks to North Korea's figure skaters ahead of the 2018 Winter Olympics. At schools across Canada, where young refugees from Syria's civil war were resettled, Canada's biggest professional teams donated hockey skates and training sessions on the ice to acclimatise the new arrivals. And in 2017, Lebanon's first national ice-hockey outfit was established not in Beirut but in Montréal, where the Lebanese diaspora is large and the hockey infrastructure robust.
Hockey remains one of Canada's most potent soft-power assets overseas. As the Kenya Ice Lions said of their Olympic ambitions, "It's a big dream. But big dreams are cool." With Canadian support, that dream – and the aspirations of other nascent ice-hockey nations – may well, one day, come true. 
10.
Portugal
Sun-seeking tourists and foreign investors are more than welcome.
As UN secretary-general, António Guterres is one of Portugal's soft-power superstars on the world stage. Meanwhile, at home, Portugal's warm hospitality and quality manufacturing have won it an ever-increasing number of fans in the form of visitors and foreign investors. "Made in Portugal" has become synonymous with quality, whether it's traditional trades (such as shoe-making) or newer ventures (technology).
Tourists can't seem to get enough of the nation, from thriving capital Lisbon to the sun-drenched shores of the Algarve. Portugal also showed the world that it knows how to throw a party when it hosted the Eurovision Song Contest in May.
In numbers:
Embassies: 76
Cultural missions: Institution of Co-operation and Language of Portugal
Foreign students: 42,564
---
Good: Lisbon's Museum of Art, Architecture and Technology continues to wow.
Bad: A diplomatic spat with Angola over convicting Dos Santos-era ministers.
---
Monocle comment: Portugal isn't singing its own praises enough: the country needs to spread the word that it's no longer just a sleepy spot to catch the sun.
11.
New Zealand
The nation's charming prime minister is a boon at home and abroad.
Jacindamania has gone global. This little country continues to punch above its weight, largely thanks to its charismatic prime minister Jacinda Ardern (see page 94). The left-wing leader has made a splash with a number of headline-grabbing foreign trips, which included a visit to Buckingham Palace while heavily pregnant and dressed in a Maori cloak, and months later holding her infant daughter at the UN General Assembly meeting.
But it's not just photo ops: New Zealand has boosted its foreign-aid spend by almost a third, with funds primarily going to the South Pacific region. The move was designed to counter China's influence and came at a time when Australia was scaling back its foreign aid. The result? All win for New Zealand.
In numbers:
Embassies: 29
Foreign students: 106,000
Total international aid spend: $614m
---
Good: Maori culture has been given better recognition.
Bad: The country is a choice location for Hollywood films but could improve its own cinema output.
---
Monocle comment: Though Ardern's been a positive, having a single politician act as the face of a nation is a recipe for disappointment.
12.
Italy
Despite diehard leaders, Italy has held onto its good name – just.
Political stability has often been a problem for Italy at home and this year proved no exception. The country's new Eurosceptic, anti-immigration leaders haven't been doing it any favours on the world stage: soon after coming to power they turned away a migrant ship carrying hundreds of refugees; since then deputy PM Matteo Salvini has made a steady succession of headlines for his anti-immigration rhetoric.
Yet Italy has weathered controversial political leaders in the past. In spite of who's at the helm, the nation's culture and cuisine continue to give it a good name. Meanwhile, Milan is making its pitch to woo businesses spooked by Brexit and international events from Salone del Mobile to the Venice Biennale continue to draw crowds from all over the world.
In numbers:
Embassies: 127
World Heritage sites: 54
Tourists: 60 million
---
Good: A remix of Bella Ciao, Italy's most famous anti-fascist folk song, became Europe's unlikely summer hit.
Bad: Poor infrastructure mars the country and costs lives.
---
Monocle comment: The men's football team didn't qualify for the World Cup. But its women's team did; they should be supported in the 2019 competition.
13.
Spain
The country's new premier is a force for diplomatic good.
Despite the political turmoil over the Catalan independence referendum in 2017, tourists are still champing at the bit – not to mention the jamón – when it comes to visiting Spain to experience its nightlife and art offerings. Last year it was the second most visited country in the world.
The new prime minister, Pedro Sánchez, has proved he's more serious about diplomacy than his predecessor. In fewer than six months on the job, the 46-year-old politician has made a concerted effort to get face time with counterparts around the world including Emmanuel Macron, Evo Morales and Justin Trudeau. It's a promising indication that the leader will be just as concerned with foreign relations as he is with internal ones.
In numbers:
Embassies: 108
Foreign students: 95,000
World Heritage sites: 47
---
Good: Madrid-manufactured Loewe continues to impress.
Bad: In a pride-bruising turn, Spain's football team was defeated by Russia at the World Cup.
---
Monocle comment: Though the chaos following the Catalan independence vote has calmed down, underlying tensions remain and could boil over again.
Girl power
Arguably Argentina's most lovely soft-power icon comes in the shape of six-year-old Mafalda. 
Wander around the Sunday feria in the Buenos Aires neighbourhood of San Telmo and it won't be long before you see the image of a plucky six-year-old plastered on wares hawked by street vendors. Because, much as Argentinians like to tout footballer Lionel Messi and Pope Francis as being great symbols of national soft power, neither are as enduring as the little girl known as Mafalda, a cartoon first created in the 1960s.
Never without a bow tied in her hair and often dressed in red, Mafalda is still revered not just in Argentina but throughout Latin America, Spain and beyond. Tenacious, often pessimistic and a fervent hater of soup, Mafalda gets to the heart of how Argentinians see themselves: world-weary, humorous and deeply concerned by what is happening around them.
One of the reasons for its lasting appeal may be down to the brevity of the comic strip. Created by Mendoza-born cartoonist Joaquín Salvador Lavado – known by his pen name Quino – it was first published in 1964, moving from Primera Plana newspaper to El Mundo and finally the weekly magazine Siete Días Ilustrados during a lifespan that lasted until 1973. Quino has said that he couldn't keep drawing the character because of the political instability that gripped the region, including Pinochet's power grab in Chile the year he stopped drawing it, followed by the start of Argentina's military dictatorship three years later. Mafalda would have had to keep on commenting on what was happening around her, he has explained, and that would have forced him to leave Argentina (which soon happened anyway).
Despite the decades that have passed, Mafalda's gentle humour continues to resonate. Buenos Aires knows that it's a big tourism draw too. Alongside the maté gourd (traditional cup) that many visitors buy at the market, they'll probably be taking home an apron or a key ring with the ageless image of the girl who never grew up. 
14.
Denmark
Nordic cool continues to rule – and Denmark delivers yet again.
Danish design is still the byword for cool, the country is still a superstar when it comes to churning out extraordinary TV dramas and its quality of life continues to set it apart. Copenhagen – a staple top contender in our Quality of Life survey – is the birthplace of New Nordic cuisine and is attracting more tourists than ever. But it hasn't been completely rosy at home this year. A burqa ban led to protests and negative headlines around the world. Diplomacy abroad has been better. For a country of its size, Denmark has an ample number of embassies and consulates. It was also the first to appoint a technology ambassador to Silicon Valley.
In numbers:
Embassies: 68
Cultural missions: 7 offices of the Danish Cultural Institute across the globe
Total international aid spending: $2.3bn
---
Good: Lego is making an odd but interesting push to attract adults.
Bad: Despite being a Nordic country, it didn't win a single medal at the Winter Olympics.
---
Monocle comment: Bang & Olufsen continues to attract new fans and this year collaborated again with film director David Lynch on a new set of speakers.
Sexiness as soft power
While safety and prosperity are all very well, countries could also up their sex appeal.
Sex sells – we know that. It's a sensitive topic at the moment but sexy advertising, sexy clothes and sexy cars have long proven irresistible to people. Equally alluring – surely – are sexy countries. Yet when it comes to soft power, discussions of nations' "sexiness" are lacking. Travel sites and official rankings of desirable destinations list food, monuments and safety as key considerations. Of course, not being mugged is great – but we also want places with a heady atmosphere, where the streets and the locals that fill them have a joyful charisma. Possessing a quality of sensuality – in whatever form that may take – is a big draw.   
Perhaps the absence of chatter on this point is because it seems inelegant for nations to talk about themselves as "sexy". That said, there have been attempts to quantify this trait: the 2017 Best Countries US News and World report, which is done with the Wharton Business School and polls 21,000 people worldwide, included "sexiness" as a category.
The winners – Brazil, followed by Italy, Thailand, Costa Rica and Argentina – share certain attributes. They are sun-kissed, possess vast coastlines and, for the most part, celebrate a laissez-faire approach to life. In Italy and Argentina people drink, nap and stay out late; in Brazil they are body-proud and masterful at tanning (plus they can samba like nobody's business).
Others deserve a mention. With Beirut's grandiose crumbling buildings, fashion-forwardness and French-Arabic language hybrid, Lebanon is the seductress of the Middle East. And then there's France. Sure, it has all the ingredients – accent, fashion, liberal attitudes to sex – but it is also better than anyone at packaging its racy qualities. Case in point: French editorial and advertising rules are some of the most relaxed (especially compared to, say, the US), allowing for things such as nudity to be shown. A nation of décontracté style, skin and nonchalance? Can't get much sexier than that. 
15.
South Korea
The nation deserves a medal for its diplomacy at the Winter Olympics.
South Korea got an early start on splashy diplomacy this year, as Pyeongchang played host to the Winter Olympics in February. The nation's athletes performed capably, coming in seventh on the medal table. But the real story was the soft-power successes, like when the athletes from both North and South Korea walked the opening ceremony together. That set the stage for South Korea's next victory where president Moon Jae-in navigated several historic meetings with Kim Jong-un. Moon has largely been viewed as the mediator between North Korea's dictator and Donald Trump but his ability to steer through the first steps toward tentative peace on the peninsula was widely applauded.
In numbers:
Embassies: 118
Cultural missions: 32
Total international aid spending: $2.1bn
---
Good: K-pop boy band BTS stormed the world's charts.
Bad: Samsung faces fines for deliberately slowing down phones to boost sales.
---
Monocle comment: South Korea has long proved the value of exporting its culture as a soft-power strategy and it's nice to see formal diplomacy is catching up.
China's silver screen
As power shifts, China makes a bid for cinematic glory.
For about a century, Hollywood has been the US's most potent soft-power asset. But with tastes changing, key markets shifting and a scandal bringing down some of the industry's biggest heavyweights, Tinseltown has lost some of its sheen. Enter China. Over recent years Chinese megafirms and investors have poured money into Hollywood's smaller studios in order to bankroll films, keen to make money and boost soft power. But ever since the country cracked down on capital flight, investments have been going elsewhere, including China's own film industry.
And it's not just money that's flocking east. Some of Hollywood's biggest names have taken starring roles in blockbusters produced by China. Whether Chinese films will be able to attract audiences outside of the country will be the real test of the industry's soft-power potential. (The country's extreme censorship poses a hurdle to making appealing art.) But if China can get the world watching what it's producing, it could be a soft-power showstopper. 
16.
Netherlands
The Dutch lead the way when it comes to nation branding.
The European home to the likes of Netflix and Nike, the Netherlands is a country that is open for business. Progressive policies, excellent universities and an innovative technology sector hit all the right notes. The Hague continues to resonate around the world as the home of international justice while Amsterdam's art and culture offerings are top-notch. The Netherlands has been at the forefront of water diplomacy: it appointed the world's first diplomat focused solely on water in 2015. Dutch icons from Philips gadgets to tulips and bicycles continue to charm.
Monocle comment: The anti-tourism stance embraced by Amsterdam doesn't give the Netherlands the friendliest of faces to visitors.
17.
Finland
It would never shout about it but Finland is a soft-power maverick.
Finland is a nation that tends to fly under the radar when it comes to soft power, at least compared to neighbouring Sweden. But playing host to one of 2018's most publicised political powwows – between Donald Trump and Vladimir Putin – allowed the Finns to flaunt their feathers on the diplomatic world stage. More quietly, the country's education system is excellent, while sauna diplomacy – which Finnish ambassadors regularly partake in – is a brilliant way to remove barriers. And though Sweden may protest, Finland still lays the best claim to Santa Claus.
Monocle comment: People are still trying to make kalsarikännit – the Finnish word for "drinking at home alone in your underwear" – the new hygge.
18.
Norway
The nation needs to push on with its peace-keeping mission.
From awarding the Nobel Peace prize to actively brokering peace deals around the world, Norway plays a pretty strong hand in the soft-power stakes. But while it achieved soaring success with its involvement in negotiating the Farc peace deal, it has recently gone quiet at a time when bringing people to the table would be especially useful. Still, prime minister Erna Solberg has done much to bolster her nation's image, particularly when it comes to forging ties. She was honoured with the Global Citizen award by the Atlantic Council for her commitment to international development.
Monocle comment: The small nation of just five million scored top of the podium at the 2018 Winter Olympics in Pyeongchang with 39 medals.
19.
China
At times heavy-handed, China shows it can tread softly too.
There aren't many nations that invest in soft power as vigorously as China. From the rapid expansion of Confucius Institute, its cultural and language centres, to the growing Belt and Road Initiative that sees it building infrastructure around the globe, money is being used to buy goodwill and influence. Yet some of China's manoeuvres have been met with suspicion; the aggressive approach chimes a little too closely with its approach to military power. But it's the less insistent means of soft power – from panda diplomacy to tourism – that China does well.
Monocle comment: With some western nations disavowing globalisation, China has taken up the mantle of championing economic co-operation worldwide.
20.
Belgium
Its power to convene the world's powers is not to be underestimated.
It's a boon and burden to Belgium that Brussels is the capital of both the country and Europe. The nation benefits from hosting this seat of power but it also must deal with being associated with stifling red tape. This year saw the EU go head to head with the UK in Brexit talks in a series of high-profile meetings in Brussels. (Neither side can claim that they've gone well.) But Belgium is also home to Nato and Tintin, which are less fraught soft-power assets. Its football team also put in a thrilling showing at the World Cup, coming in third place.
Monocle comment: Belgium is more than just Brussels. More attention should be paid to charming cities such as Antwerp and Ghent.
21.
Singapore
The city-state wields more power on the global stage.
The Lion City has long been a bustling business hub that attracts players from around the world; the top-notch airport and first-rate F&B scene also help in that regard. But this year saw the city-state take a more formal role on the diplomatic stage. First, Singapore took up the chair of Asean for 2018, hosting two summits for the organisation that's made up of Southeast Asia's power players. What's more, the island's safe and secure reputation got a boost as it hosted an historic meeting between Donald Trump and North Korea's Kim Jong Un.
Monocle comment: Censorship holds back culture and media, which means that there's little to make waves about abroad.
22.
Ireland
The once ultra-conservative country is changing its ways.
The Republic of Ireland continues its march of progress: after legalising same-sex marriage in 2015, the country voted to legalise abortion in 2018. Though domestic, both of these policies have worked to signal that the conservative Catholic country is at last becoming socially progressive. Then there's taoiseach Leo Varadkar, who continues to charm on the world stage while also playing a central but calm figure in the tricky Brexit negotiations between the UK and the EU. The economy is doing well and, as ever, the vast diaspora is still enthusiastically promoting Irish culture abroad.
Monocle comment: They may be ubiquitous but they're in need of a rethink: the Irish pubs found around the globe, from Denver to Dubai, are too often dire.
India's stellar ambitions
What it lacks in budget, it more than makes  up for in brain power and scientific know-how.
India might not be a super power but it has no shortage of brain power or ambition. Team that with a prime minister who has a predilection for the grandiose and it's little wonder that India is now pledging to become the fourth country ever to launch a manned spaceflight.
While India was never part of the space race – it first pursued space exploration to enhance its communication, navigation and weather forecasting – its scientific prowess and ability to perform major feats on miniscule budgets have propelled it into the big league. "How to make use of space for the benefit of humanity – in a peaceful way – that's our mission," said Dr Kailasavadivoo Sivan, the chairperson of the Indian Space Research Organisation (ISRO). "We definitely like to have joint missions. They mean more knowledge, more wisdom, less cost."
ISRO operates on about $1.3bn (€1.1bn) annually, a fraction of Nasa's $19.1bn (€16bn) budget. Yet IRSO was the first to confirm evidence of water on the moon during its first lunar mission in 2009. Five years later India became the first to enter the orbit of Mars – on first attempt – never mind on the cheapest interplanetary mission budget ever (€64m) compared to, as PM Narendra Modi famously pointed out, the making of Hollywood space flick Gravity (€86.8m). ISRO has also become one of the major go-to satellite-launching facilities, with more than 250 of them launched for other countries. And in a classic soft-power play last year, ISRO created the South Asia Space Satellite Programme, offering its neighbours free satellite services, which Modi described as a "gift" to the region.
"We have established ground stations for many of our neighbouring countries, like Afghanistan and Bhutan, which is making television available for the first time in some of their villages," says Dr Sivan, who has become something of a soft-power icon himself. In many ways Sivan – a farmer's son – typifies India: humble but erudite, now reaching for the stars. 
23.
Austria
Although a cultural heavyweight, a political downturn is afoot.
The country continues to draw millions of tourists who are eager to take in the culture, cuisine and Alpine countryside. Few cities tick the quality-of-life boxes – think clean streets, verdant parks and thriving cafés – like Vienna. Yet Austria has hit a diplomatic rough patch as the country's right-wing coalition government turns increasingly inward. Anti-immigrant and anti-EU attitudes have thrived, both in and out of government. Meanwhile, as Chancellor Sebastian Kurz has criticised longtime allies such as Germany, the foreign minister's friendship with Vladimir Putin has raised eyebrows.
Monocle comment: The Austrian Culture Forum – with 30 branches around the world – is a smart way to capitalise on one of the country's biggest strengths.
24.
India
Despite pressing problems, India is finding it feet.
India is a country plagued with systemic problems: mass poverty, widespread corruption and horrific levels of violence against women. And yet several of its soft-power strengths have managed to penetrate anyway: yoga is mainstream worldwide, tourism is on the up and its films and food have global appeal. Then there's the country's space programme, which is gaining traction. And this year India snagged a bit of global prestige in the form of the Pritzker prize, which for the first time was awarded to an Indian architect, BV Doshi.
Monocle comment: Indian soft power hasn't made as much of an impact as one would expect. A concerted effort by the government could do wonders. 
25.
Brazil
The clock is being turned back – to the despair of many.
This year has not been an easy one for Brazil: political scandals continue and a far-right president was elected to the dismay of numerous people around the world. After hosting the World Cup in 2014, Brazil's football team failed to advance past the quarter finals at this year's event – a tough hit for the nation. But, dicey politics and sporting snafus aside, Brazil's brilliant beaches and arresting architecture continue to resonate. The country is also making a name for itself with its slick horror flicks, such as As Boas Maneiras (Good Manners).
Monocle comment: Unless political chaos and corruption are addressed once and for all, Brazil's international reputation will fall as fast as its economy.
Previous winners:
2017/18 — Canada
2016/17 — The US
2015/16 — Germany
2014/15 — The US
2013/14 — Germany
2012/13 — The UK
2011/12 — The US
2010/11 — The UK & France