Lighting / Global
The lowdown
In a world that's now too brightly and badly lit, we look to industry luminaries who fully understand the positive impact of subtle lighting.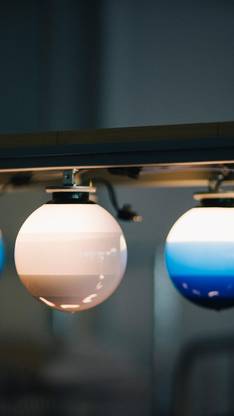 Problem: We miss the soft golden glow of incandescent light bulbs. Increasingly their successors, LED bulbs, are being seen as poor forms of lighting. Despite the fact that they're good for the environment we're not so sure that they're good for our wellbeing.
Solution: We present a manifesto on dialling things down a notch (or two) by profiling three companies that are mastering the art of good lighting and providing some tone-setting tips to better illuminate our lives.
---
Karlskrona Lampfabrik
Sweden
As winter envelopes Scandinavia, the region welcomes the darker days in a brighter manner than many of its European counterparts. The reason? The Skandis know how to illuminate their spaces in style and add an elegant level of cosiness to their homes, bars and restaurants with traditional forms of lighting. While candles are commonplace here, it's the warm glow emitted by old-fashioned oil burners that provides the most charming lighting levels. Quietly battling the onslaught of ultra-bright LED lighting across Europe, Sweden's best mood-enhancing lamps have been created in the same place (and in largely the same manner) since 1884.
Karlskrona Lampfabrik is based in its namesake coastal town, the hub of the Swedish navy since the late 17th century. Indeed, Karlskrona Lampfabrik's founder, Johannes Svahn, started off making fabric for the navy's uniforms but shifted to lamp-making to supply the booming railway industry with fixtures for its trains and stations. Today, under the guidance of Valdemar Skantze, the company wears its heritage proudly. Its products (kerosene lamps, pendant lamps, banker's lamps – you name it) are unapologetically traditional, which has turned out to be its saving grace.
One design function of its famous Koholmen paraffin lamp is a tactile turning knob that adjusts the brightness. This might seems simple enough but in a global arena where lighting is now turned up to the nth degree, the ability to soften the mood in homes is increasingly welcome. It's subtle touches like these that Valdemar has championed since joining the business in 2001, when he noticed that production values had slipped from its founding days. He and his wife Katarina set about resurrecting the high level of craftsmanship that earned Karlskrona its reputation in the first place. "We changed everything: the cables are now textile, the bulb holder inside is porcelain when before it was plastic. Many small details but it makes a better lamp," says Katarina.
The Skantzes' respect for tradition and quality turned the company's fortunes around. In 2015 the couple were able to buy the factory. Karlskrona Lampfabrik has boomed since the purchase, growing from eight to 21 employees.
The quality of the weighty fixtures now produced is telling. All the material is sourced from the EU: brass and porcelain from Italy and France, glass from the Czech Republic and Poland. And Valdemar is quick to explain that the brass arrives raw rather than assembly ready. "Seventy to 80 per cent of the value is added in the factory," says Valdemar, pointing to the machines. These appliances are of a certain vintage, the reason being that modern, electronic machines would require mass production (antithetical to company's values) to offset their cost.
In a corner of the Karlskrona workshop sits an enormous ceiling lamp, which resembles a miniature Saturn destined for the Grand Hotel in Stockholm. The hotel has commissioned three such fixtures as it gives its café a more classic look. "It's a lot of fun when we get those kinds of projects," says Katarina. "We get old black-and-white photos and ask, 'What was the designer of that lamp thinking?'"
---
"If you want to understand light, just look at nature," says Javier Marset, the third generation to head his family's Barcelona lighting firm, as he whisks monocle through his showroom – a polychromatic pantheon of iconic shapes and forms.
"A sunrise evokes a sensation of warmth but the day's light later becomes clearer, more energetic," he says. "Then the sunset starts to relax us. Good lighting often reflects this cycle."
Marked by its playful approach to light and shadow, Marset's vision transcends simple science. It's a brand that has embraced modernity but not forgotten its roots in the better lighting designs of the past. While today's LED lighting (coming in both bendy strips and bulbs) lends itself malleability, many are missing the point by focusing on wild structural forms and forgetting that the purpose of this product is to create comfort. Marset, however, continues to push playfulness in a manner that doesn't forget this simple value.
The family foundry manufactured its first lamp in 1976 and pivoted towards experimental, often eccentric but eminently practical, design in the mid-1990s This led to still-iconic lamps, such as the mushroom-shaped portable FollowMe or Christophe Mathieu's Discocó, which continue to inform the brand's aesthetic. "We like to say we take care of light," says Marset. "We're constantly refining the idea of the ideal intimate home – both outside and in – and exploring the use of different materials and also how we perceive light."
Embracing colour and collaborations with daring designers has gilded the firm's forward path. The Pleat Box series, a clay-textured collection with Catalan ceramics studio Apparatu, applies enamel paints on the inside to infuse lights with colour, while providing a pleasing glow. The design of Joan Gaspar's sobering, straightforward Djembé ceiling lamp generates controlled intimacy in larger spaces. Marset describes Jordi Canudas's psychedelic dipping lamp, meanwhile, as a "performance piece with a seductive glow".
As Marset continues to play with the creation of a particular light for every space, synergy with other like-minded design luminaries is a source of boundary-pushing. "It works because we are curious," he says. "It depends on how you view the world – being curious brings brighter fortunes."
The art of lighting
comment
By Sophie Grove
Dinners at mine are dimly lit. There are Skultuna brass tea-light holders, Iittala Tapio Wirkkala candlesticks with Cire Trudon stems and sometimes a few Secto wall lamps fitted with 15-watt incandescent bulbs. Guests have been known to use torches to find the salt.
This is, of course, my intention. Though we're eating, there is no need for forensic illumination. You can cook what you like – light is what matters. With a warm flickering focus, people talk, they are drawn into the evening, they relax in the same evolutionary way they might around a fire.
Snap on a bright overhead bulb and this conviviality is lost. We become more inhibited, more aware of the room. But worse: with the compact fluorescent bulb, we're actually flinching. Lights have become headache-inducing. A morning Eurostar with its overhead piercing strips is painful. A trip to the supermarket requires shades. Even the prolific "Edison bulb" makes you long for a lampshade.
The tone of familiar buildings is changing. My local library has morphed from an orangey hue to hard, white light. Even restaurants and bars that have relied upon the warmth and ambiguity of low-level light have started to screw in white compact fluorescent bulbs. The Brasserie Lipp in Paris where Hemingway dined now shines with a wattage that bathes its clients in a bright, cold, unforgiving luminosity.
Old London pubs with candelabras of fluorescents are not just inhospitable, they suddenly look scruffy. Imagine the money lost and romantic encounters scuppered by unforgiving illumination.
Perhaps the problem lies with the cliché of "romantic light"? The idea of an engineered "mood" is somehow indulgent, as if low lighting is a ploy to create a louche, soft-focus world. In fact, intelligent ambient lighting design is a human necessity. We know our screen's blue light can derail our circadian rhythms. It's time to look at how lighting affects social interactions and psychological health.
Of course we need to be able to read books in libraries. But we shouldn't squint, frown and recoil in public institutions or on trains and buses. We shouldn't unthinkingly replace warm golden tones with brash white ones. Light is not just a functional commodity but a human medium that should respond to our practical needs – and our instincts.
Lighting in Japan tends to veer between two opposing modes: dazzling convenience- store brightness and the dim, enveloping glow of a paper lantern. It was the second type that Japanese-American sculptor Isamu Noguchi was chasing when he started creating his now-classic Akari series in 1951: light sculptures made with Japanese washi paper on a delicate bamboo frame.

To make his lights, Noguchi headed to Gifu in central Japan, a city known for its traditional chochin lanterns. He went to Ozeki Lantern, a company that has been making lights since 1891. Chochin, which make up the bulk of Ozeki's business, are most associated with the summer festival of Obon, when they're said to guide the spirits of the dead.

Noguchi worked with Ozeki's craftsmen to create a new kind of chochin that borrowed the technique and materials of the traditional lanterns but turned them into sculptural table lights, pendants and standard lamps. He continued to visit Ozeki annually, adding new designs. By the time he died in 1988 there were about 200 different Akari; more than 170 are still in production.

Today the company is run by fifth-generation president Morihiro Ozeki and his son Toshihiko. Akari lights are sold in design shops all over the world but each one is still made in Ozeki's small Gifu workshop. They are made with Japan-made washi paper and bamboo, using the original wooden moulds created for Noguchi. It is detailed work and none of it is done by machine. "The bamboo frame is critical," says Toshihiro Ishikawa, one of the Ozeki craftsmen. "It has to have just the right tension and you can't go backwards if you make a mistake." The paper is sprayed with water and pasted onto the bamboo skeleton, the joins sealed with rice glue. Excess paper is cut with a razor. "You have to be careful with the blade. Too soft and the edge is fluffy; too hard and it scores the paper."

The final product is resilient and packs comfortably into a thin box. Others have tried to create similar lights but Tohihiko says it's hard for them to match the quality of Ozeki's materials and technique, skills that have been perfected through years of experience. The simpler Akari shapes are easy enough to mimic but the more complicated constructions are too much of a challenge for the copyists.

Inspired by Noguchi, other designers have teamed up with Ozeki to create their own lights. London's Edward Barber and Jay Osgerby created a series called Hotaru (firefly in Japanese). This year they released a limited-edition version, hand-painted by Ozeki's master painter Takamitsu Inohara, who also creates the exquisite flower designs on Ozeki's traditional lanterns. Swiss studio Atelier Oï came up with its Fusion light, which uses a double layer of silk and washi paper.

In his 1933 text, In Praise of Shadows, Junichiro Tanizaki bemoaned the prevalence of harsh electric lighting, saying that "the evils of excessive illumination" ran contrary to Japan's traditional preference for "murky light". An Akari light offers the antidote to the overlit interior, bringing an atmospheric warmth that Noguchi compared to sunlight filtered through shoji paper. As he once put it: "All that you require to start a home are a room, a tatami [mat] and Akari." 
The way forward
Tone it down
By Nolan Giles
Illustration Kyle Metcalf
The world has become too bright. Simply put, modern lighting is making us look bad. It's natural for people to want to brighten things up but there's something unpleasantly artificial about the way we now live by night. The chilly white glow of leds has a lot to answer for. Although we like the way they can reduce power use, the world has become too turned on by these cold lights. So here are a few tips to get the right glow in our homes, businesses and cities.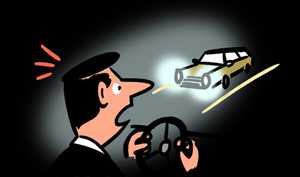 As the modernisation of cars continues, two thirds of drivers on British roads now complain of being regularly dazzled by oncoming headlights. This is no surprise considering modern led headlights are nearly three times as powerful as their perfectly fine halogen predecessors. Silent electric cars already trouble pedestrians and cyclists, so the added factor of blinding headlights is steering vehicle development in a dangerous direction.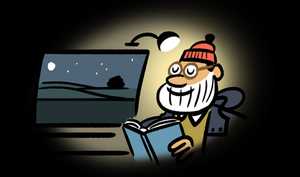 Ever sunk into your seat on the Eurostar only to pop on your shades to shield the icy glow of its laboratory-like lighting? Cabin lighting, whether on a train or plane, has a functionality factor but also plays a pivotal role in how comfortable we feel. Designers should take a cue from the soft, ambient lighting that makes a zippy journey on the French-Belgian Thalys high-speed train a pleasure. Another idea is to give passengers the option to dim their own seat lighting.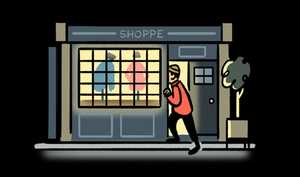 As bricks-and-mortar retailers face up to the challenge of luring shoppers away from their electronic devices, it's startling how few of them think about good interior lighting. Bigger brands that illuminate their shops like football stadiums should visit some of the cosy independents on London's Crawford Street in Marylebone. Here the calming play between light and shade in shops such as Perfumer H aids a more relaxed retail experience.
Creating a system of street lighting that provides mystique and security for night owls is a delicate art but do it correctly and a city's after-hours economy can reap the rewards. Copenhagen's modernist hanging street lamps offer illuminating night strolls, while Ljubljana in Slovenia is lit by the column-mounted 1920s streetlights of Joze Plecnik. Our city-planners need to find a balance between cutting carbon emissions and continuing to make our streets cosy.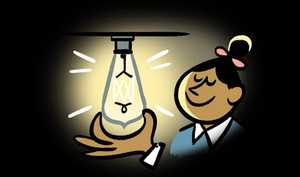 When lighting the home, fans of now-scarce incandescent bulbs might look to Switzerland's Righi Licht; those making the led switch can also pick dimmable options from brands such as London's Tala. Table lanterns can create a charming glow at the dinner table and uplighters will add a softer shine to walls. In Japan, the mirror lighting of Kaneka oled aims to emit a glow that is as close to the warmth of sunlight as possible.