Pilot show / Global
Expo 12: Airs apparent
From Ulan Bator to Accra, there's a global shortage of pilots – and schools to teach them. That's why business has taken off at Moncton Flight College in New Brunswick, Canada. It's home to 240 students who will one day be captains welcoming you aboard flights for Xiamen Airlines and Mongolia's Miat. But before they can get near an A380, there are 200 training hours to notch up in the Diamond Eclipse, aka the "Flying Sperm".
A hundred young Chinese trainee pilots in navy-blue trousers, crisp white shirts, blue ties and marine sweaters look out at the snowdrifts on the empty runway. The atmosphere in the lounge is one of concentration but with an undercurrent of excitement. The students busy themselves filling in logbooks and mapping out routes. Instructors sit on the leather chairs by the gumball machines. You can't smoke here so everyone is pacing.
But the conditions are not good: low ceiling with a crosswind. No one will fly today. It was supposed to clear but this is Moncton, New Brunswick. Here, in the Maritimes on the east coast of Canada, the temperature can go from minus 30C to plus 30C – maybe not in one day, but dramatic weather swings are common.
"It's good for people to learn to fly in 'weather', says Moncton Flight College principal and CEO Mike Doiron, "It's one of our usps versus 'blue-sky schools'." Or not learn to fly in weather in the case of Tang Li, 20, from Guangxi in China. He is supposed to graduate in May but says, "The weather has not been so good so I'm delayed. I came last April and should be finished in March but can't leave until I log my 200 hours."
Moncton Flight College (MFC) has been training pilots since 1929. Four years ago it was down to 60 students but in the past two years new contracts with Air China, Air China Cargo, China Eastern, Xiamen Airlines and Shenzhen Airlines have boosted the student population to 300 on both the Moncton and the neighbouring Fredericton campus.
By this time next year MFC will have 450 students, two thirds of them from the world's booming aviation nation, China. The Chinese student pilots are sponsored by their airlines for an 11-month training at a cost of €53,000 that includes board and lodging. The students are then expected to serve 15 years with their airline. There is such a need for pilots in China that students just a year out of Moncton are already flying as first officers.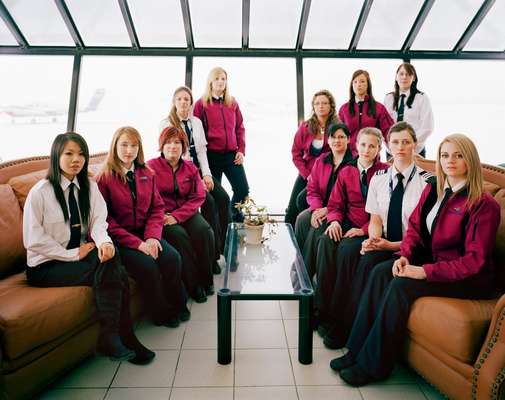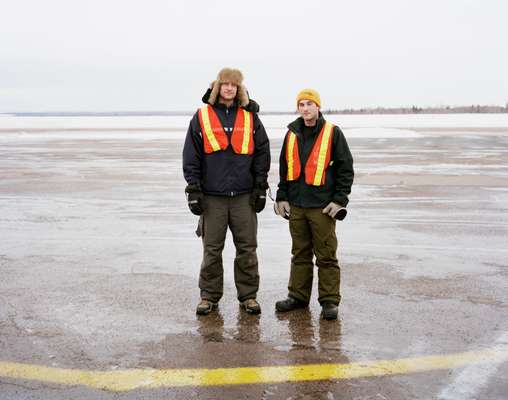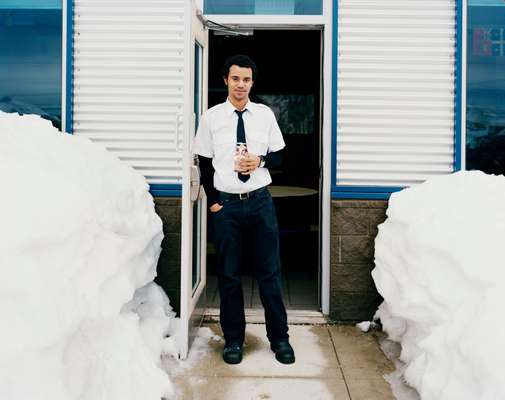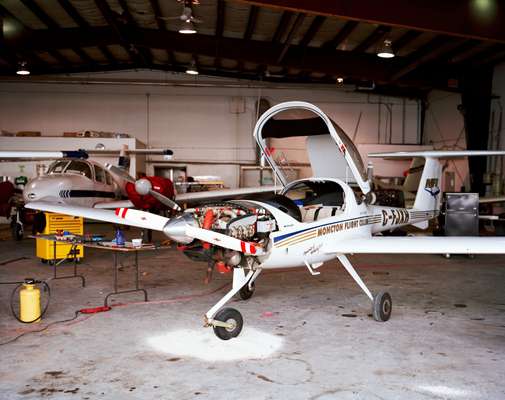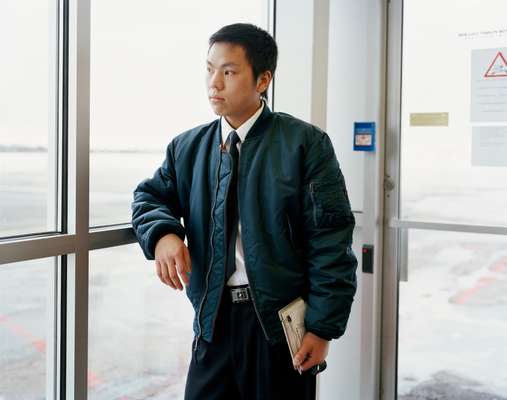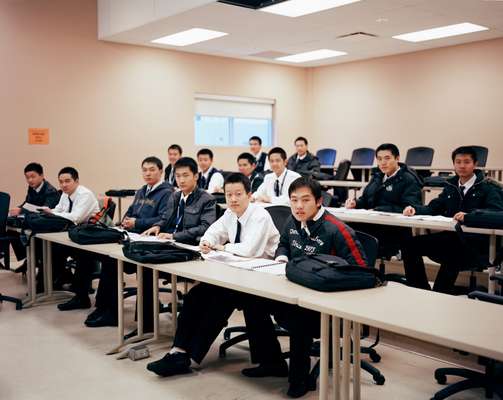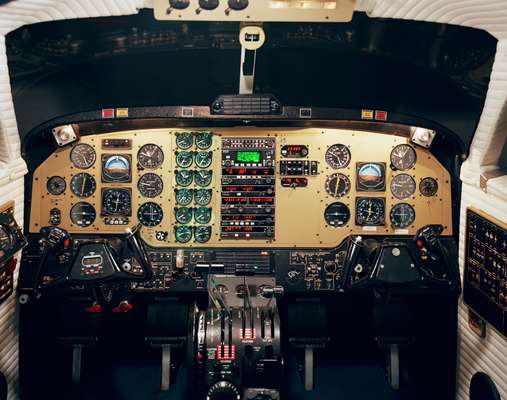 Doiron says, "A lot of Chinese students will still go to the States for training because existing Chinese facilities can't handle the approximately 1,200 pilots they need to train a year. We are probably only talking a very small percentage of international students compared with the States. After their training here, the Chinese students will go back for six months of specialised training on the planes they will fly for the airlines."
Moncton, a former shipbuilding town and railway hub, has hit the news only once in recent times when planes were diverted here on September 11. Otherwise, it's known for lobsters, great beaches, call centres and for its outdoor recreational activities. There is not a lot to do here in the winter unless you play hockey.
For the young students who come here from Beijing or Shanghai aged 18 and 19, the biggest culture shock is the lack of people. Flight instructor Lindsay Savage says, "When the Chinese students first come they are amazed by the space and how the food is presented in the supermarkets. They go and take pictures."
Helping the Chinese students adjust to the ways of Canada are husband and wife catering team Linh and Duc Luong, both Vietnamese boat refugees who ended up in nearby St John in the 1970s. They are on contract to cater for both campuses and cook a traditional Chinese menu seven days a week. The Luongs buy their ingredients from China and have become substitute parents for many of the homesick Chinese boys.
The hallway outside the cafeteria is lined with world maps with pins stuck in to represent where the students come from. You can smell the sweet and sour sauce and steaming dumplings. Linh Luong is having a late lunch with Wen Tao Giai, 22 and Nann Zhang, 23. Both are graduating and, like all of their fellow pilots, dream of flying the Airbus A380. Wen Tao Giai puts his arm around Linh and says, "She's our mother."
Still, the challenge of being in a foreign land is nothing compared to the challenges of learning to fly. Students must log 200 hours of flying time to get their commercial pilot's licence (to fly the big planes – the Boeing 777 and the Airbus A380 – pilots must train for years and log an absolute minimum of 5,000 to 10,000 hours before they sit in the captain's seat.)
In addition, students have to complete 700 hours of classroom training that includes learning English, aerodynamic physics, meteorology, navigation and avionics classes. Students must also train for 55 hours on various simulators as well as on a fleet of 30 planes including eight Cessnas, 22 Diamonds, four Seminoles and one King Air.
Mastering the English language is critical to flying anywhere in the world. It's the language used for all radio calls. Mongolian student Bayasaa came to MFC because conditions here are similar to flying in Mongolia. He plans to fly for national flag carrier MIAT in Mongolia when he graduates this April (because the airline has a reputation for cancelling flights, its nickname is Maybe I Arrive Today). Bayasaa says, "Mongolia has the same problem as China: a shortage of pilots. English is not my first language and I had trouble in the beginning but the environment is all in English so you learn."
After just one week of ground instruction, students get in the plane with an instructor. Sitting in a Diamond DA20-C1 Eclipse named the Spirit of Sackville (a two-seater that the students refer to as the "sperm with wings") instructor Sarah Facey takes me through the first flight routine. She checks the wings for ice, points out the axe in the back in case we crash and have to break through the fibreglass window. She checks the oil gauge, throttle, alternate air, engine gauge and wing flaps. She puts on my headset and says, "Do not touch any red or black buttons." I don't point out to her that every button in front of me is either red or black.
Once we are up, Facey hands over the controls. The steering throttle is very sensitive and moves the plane if you barely touch it. I ask her to take back the control but she insists I continue flying. Students typically fly solo after 17 hours with an instructor. Student Tang Li describes his first time in a plane: "It was windy and the plane was shaking. After we finished, I thought it was not very comfortable. Oh, I was alive! The next time, I did turns and took off and tried to land the second time! My instructor helped me and maybe I had good luck. I think I can fly very well. Now I have many Canadian friends and we'll have a party after I pass my commercial flight test."
Moncton Flight College's accident rate as of late 2006 was 1.6 accidents per 100,000 hours of operation. There has been only one serious accident in the past 10 years, which happened when a student miscalculated a landing and ended up in a ditch. Considering the inherent dangers of flying and the seriousness required of the international students and instructors, the atmosphere at Moncton is relaxed. A bulletin board in the students' lounge is filled with photos of students being doused with ice-cold water after their first solo flight (in winter no less). Everyone here seems to be having a ball.
"Flying is a huge adrenaline rush," says Alexandra Owen, one of Moncton's 15 female students, who wear maroon jackets. "Everyone here is doing what they love to do. We're super pumped!" So too are the bullish CEOs of airlines in developing nations that are finally getting captains in their cockpits.