Qatar: in the running / Global
Gulf champions
Qatar may be small, but with a GDP of €46bn it has the money to pull off minor miracles. Its latest plan is to become one of the world's leading sports nations and to host the 2016 Olympic Games. The motivation is simple: to promote brand Qatar.
After capturing the world's attention with his skill and impeccable sportsmanship, Qatar's plucky judo champion takes his place on the podium. From Cairo to Canberra millions watch as the young hero lowers his head to have the gold medal draped around his neck. He stands erect, a lone tear running down his cheek as the national anthem "As Salam al-Amiri" fills the stadium.
There are a lot of people who have that dream every night in Qatar, the Gulf monarchy with an ambition to change the sporting map of the world. Not just because it would finally like to win a medal, but because Qataris believe that sport could help them alter their national "brand" image, and to overcome one of the problems of being a very rich oil and gas state – an over supply of obese young Yasmins and Mustafas. That's also why it hosted the Asian Games in 2006, became a key destination on the tennis and golf championship circuits, and is set to bid for the 2016 Olympics.
Dr Thomas Flock, a softly spoken German, understands the dream more than most because he is paid to make it reality. Flock runs the elite sporting academy Aspire (Motto: Aspire Today, Inspire Tomorrow – and judging by his demanding demeanour, perspire in between) on the dusty outskirts of Doha, the Qatari capital.
Opened in 2005, Aspire has the largest multi-sport indoor sports dome in the world, the only boarding school in the Arab world, and scores of football pitches, volleyball courts, swimming pools and running tracks. Beyond creating elite sports people, Aspire is central to a campaign to get Qataris of all ages into their track suits.
"We are running at capacity; we have thousands of people coming through here every month," says Flock, who joined as director general from the Olympic Centre in Munich where, during his tenure, its athletes won more than 80 Olympic medals. So one for Qatar shouldn't be out of the question.
His office is in a wing of the Aspire building that's as large as a cruise liner. Sitting in his office lounge on a canary yellow chair he explains what he wants to achieve. "Our vision is transforming talent into champions and generating a stronger sport culture through our community programmes that cover all ages and genders." Allowing himself to drift briefly away from corporate speak, he ­explains what this really means. "We need role models; we're looking for a Boris Becker or a David Beckham and with hard work we will achieve it one day."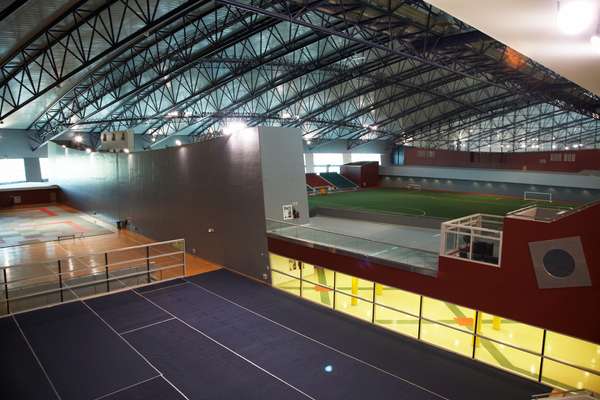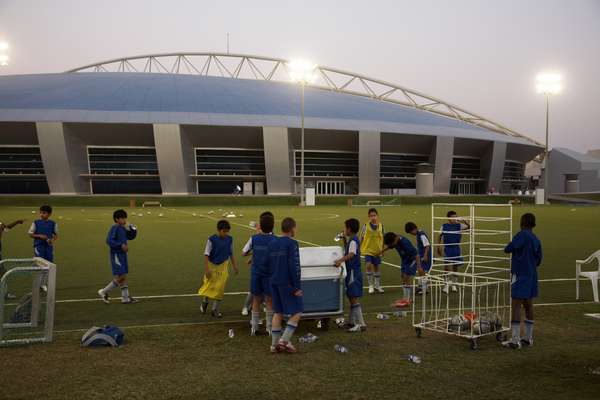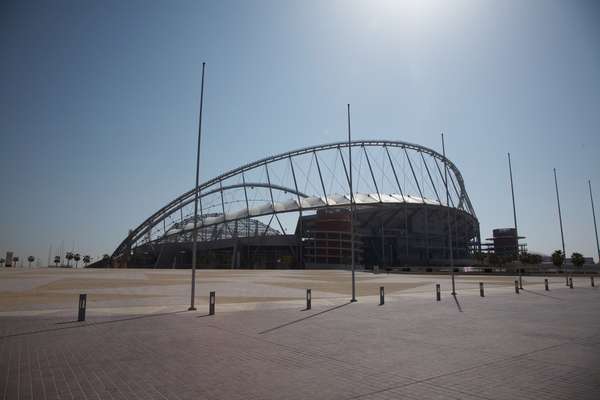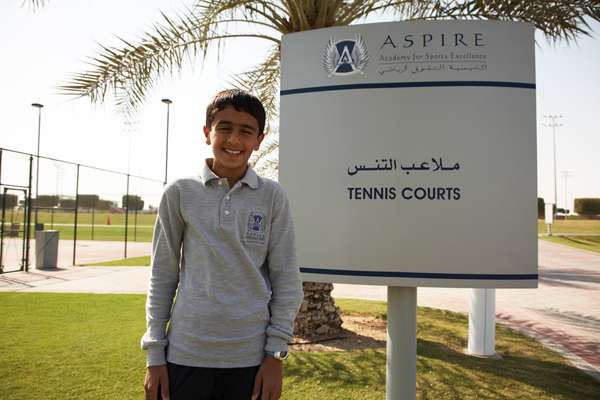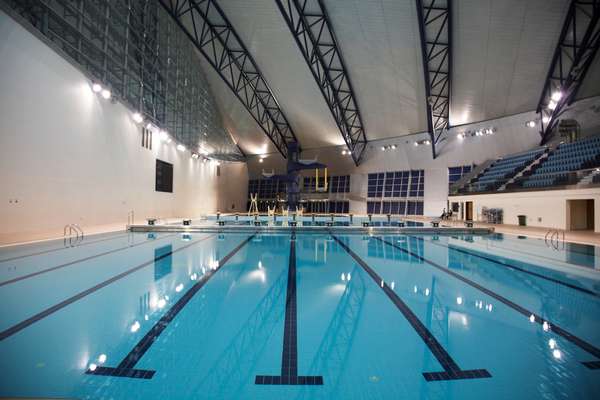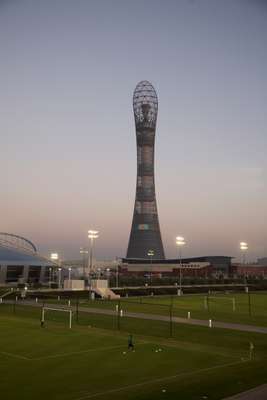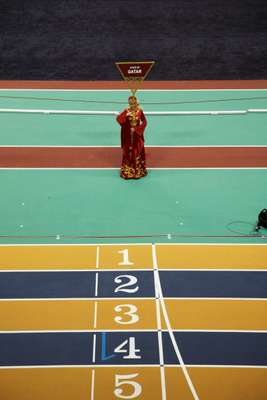 At the heart of Flock's mission are the Aspire students. There are currently 210 of them: 70 per cent are Qataris, the rest the children of Arabic expats living in the state. Aspire runs a talent-identification programme to find these children, who then start at the school aged 12 – and the first students will graduate this year.
Once you are in, everything is free. "This is not an economic model," says Flock. That they have a blank cheque to run the place explains why they have not had to go hunting for sponsors or open more branches throughout the Gulf –there's simply no need to generate income.
We join the students in the canteen for lunch. The walls are covered with signs that warn of "portion distortion" and to "vary your veggies". The exhortations are needed. A sample of 500 Qatari children in 2007 found 30 per cent were obese; other reports suggest that 70 per cent of Qatari women and 50 per cent of men are too chunky. You certainly see some dishdashas puckering at the seams in the nearby Villaggio Mall as people wander about eating Dunkin' Donuts.
The boys we meet fit in with Flock's game plan. Mohammed Nasser Khinji, 13, explains how they "try to make something for us and for Qatar" and talks with confidence about his ambitions to become a tennis star. All the boys seem buoyed with pride about life at Aspire.
Not all of the children board, but if they don't bed down here the timetable can prove gruelling. Training starts at 07.00, and then there's a tough bilingual academic schedule and prayers to fit in. But this timetable helps Aspire turn out boys who can be mini ambassadors for Qatar. "At all times they are conscious that they represent Aspire and Qatar," ­insists Flock.
Of course, no game plan comes without a few wrinkles to iron out, and one of these is important when you want to host the Olympics: where are the women? There are no girls among the students at Aspire and it's unlikely that there will be for some time. The government, sporting federations and Aspire want to improve the situation but the women's sporting movement is in its infancy.
Melanie Longdill is a sports scientist from New Zealand based at Aspire trying to get girls into sport – and with some success. But she flags up just a few of the problems she faces: fathers who cannot come and watch their daughters compete because it would be seen as wrong, and a culture that prohibits young girls from playing outside. But she is amazed at how fast things are improving.
"We started these talent centres last year and girls are pressing their parents to let them come. We've an 85 per cent retention rate among the girls who attend." Aspire is blacking out all the windows on its pool so it can be used for female swimming sessions.
The other problem is that Aspire has come under fire for a programme it runs in Africa that brings young footballers to Qatar on a scholarship scheme. There are now 20 of them. The fear that these children are being exploited (fuelled by the trend of fake football agents trafficking children out of Africa to non-existent sports academies) has caused enough concern for Sepp Blatter, the president of FIFA, to pay a visit – and lend his support to the school. Aspire is considering opening an Academy in Senegal or Ghana.
With such a small native population (of roughly one million residents, perhaps only 20 per cent are Qatari), there's a need to recruit the best people for the job, whether that's banking or soccer. Qatar also sees nothing amiss in granting citizenship to sportsmen who can add prestige to the Qatar "brand".
Flock, while keen to hear the Qatari national anthem echoing around an Olympic stadium, says he would be happy if any of the boys found success – no matter what shirt they were wearing. "We want to make Aspire a brand, and if we win a gold medal for Algeria or Jordan, or any other country, it will do as much for us as if they win it for Qatar." He almost seems to mean it.
Name: Mohammed Abuwatfa (left) and Abdallah Al-Afifi. Both men are residential educators who live in the academy to take care of the boarders. Abuwatfa, a Palestinian, has played in the Qatar national volleyball team. Name: Mohammed Nasser Khinji, 13. Khinji, a Qatari, wants to be a professional tennis player. He has travelled to Spain, France and Tunisia with Aspire. Name: Gamal Abdelnasir Abubaker, 14. Abubaker's family is Sudanese but now lives in Qatar. He is a long jumper. Name: Zayat Mohamed, 17. Mohamed is from the Comoros Islands and is a sprinter. His ambition is to run for Qatar. Name: Abdulla Talib Afifa, 17. Talib plays football and also practises skeet ­– one of the shooting disciplines. Name: Ahmed Massoud Al-shoria, 15. Ahmed's parents are originally from Egypt, but his family now lives in Qatar. He is a pole vaulter.