Close to home / Lisbon
Best in class: Lisbon
A grocery store with a heart, not to mention the highest-quality produce.
It's mid-morning at Prado Mercearia and co-founder Marta Fonseca is weighing flour for the cake of the day she's about to bake. A few feet away, store manager Carlos Duarte is speaking to a regular customer who is asking a favour: could he leave his house keys at the shop so a plumber can pick them up later? Just then, farmer Adolfo Henriques arrives to deliver a basket of figs, fragrant and ripe.
Prado Mercearia, which opened in Lisbon last year, is the lively neighbourhood grocery store we'd all love to have on our street. It stocks produce ranging from fresh bread and handmade cheese to dried goods and sustainably sourced fruit and vegetables. It also doubles as a café, with a small table by its large window and cushions on its stone steps for those who want a snack or light lunch.
Thursday is a good day to shop at Prado because it's the day both Henriques and Rita Neiva Correia of Hortelão do Oeste make deliveries. Hortelão do Oeste is a family farm some 35 minutes' drive outside of Lisbon. It grows more than 200 types of tomato and more than 20 sorts of aubergine, and Neiva Correia's boxes of fresh vegetables are always a riot of colour. "My brother was a chef and he wanted to experiment with different types of vegetables so we started planting a wide variety," she says. "The flavours are intense because we never use greenhouses to force growth, and only pick produce when it's ripe and we are about to make a delivery."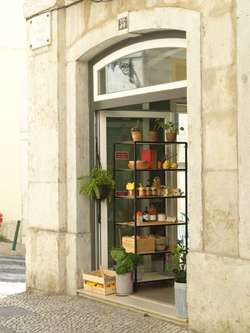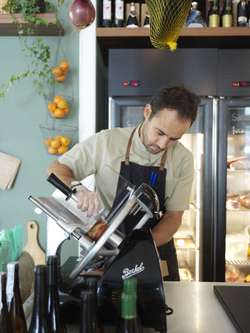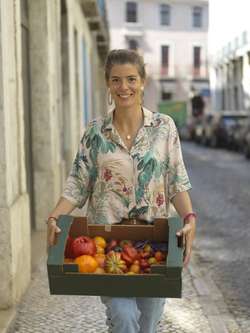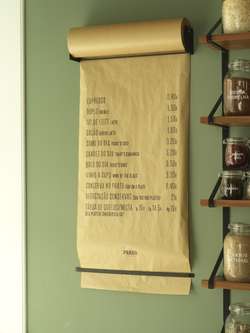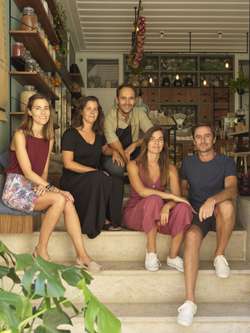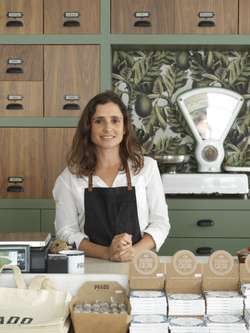 The farm is typical of the suppliers the shop works with. "I'd say 95 per cent of our products are Portuguese and we aim to buy seasonal and organic as much as possible," says Duarte. "Our criteria for suppliers is that they are small, local producers. We prefer handmade rather than highly processed products."
Prado means "meadow" in Portuguese and the design of the shop reflects its name, with sage green walls, wood fittings, a green-and-white-patterned tile floor and plenty of plants. Its ethos is based on a traditional grocery store but interpreted in a contemporary way.
"We know our customers by name and the things they like," says Duarte. "Our counters are low, in the old style, so we can have contact with customers without a barrier. We sell dried goods and spices by weight and we try to avoid plastic as much as possible. All our packaging is made from plant fibre and completely compostable."
The shop also provides a valuable service to the community. It's situated in a rapidly gentrifying area popular with tourists, where many other shops have been pushed out by rising rents, while others have reacted to market pressure and refocused on tourists' needs. "There are still local people living in this area and we wanted to help keep the neighbourhood spirit alive," says Fonseca. "We used to live here and we knew that a good grocery store was something that was missing."
"It's great to have a store like this here," says Carolina Teixeira, a regular patron. "The staff are friendly and the products are great. It makes it easy to be a responsible consumer. I don't have to go searching for seasonal or organic produce; it's all here and it has been really well chosen."
Fresh Vegetables
Sweet, colourful organic tomatoes and baby aubergines that are almost too pretty to cook.
Benefício Ginja
Produced to fair-trade standards, this specially blended, typically Portuguese cherry liquor is released in a limited series of 100 bottles, each of which is numbered.
Goat's cheese
These piquant rolls of homemade cheese from farmer Adolfo Henriques are tasty as an appetiser, served with bread or as part of a main.
Wine
The team offer a good selection of natural and organic tipples sourced from around the country.
Treats
Don't leave without sampling a slice of homemade cake and a coffee as you take a break on the shop's sunny steps.
Report card
Smartly designed and well stocked with produce from small suppliers, Prado Mercearia avoids any hipster connotations thanks to a focus on community needs. Although bread, fruit and vegetables command a small premium, other prices reflect an average resident's salary (a coffee is €0.80). Add in staff who are on first-name terms with customers and it's no wonder that the shop is a hit.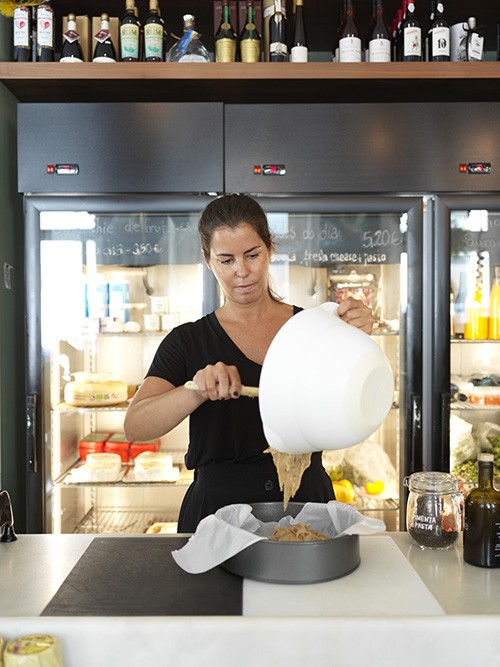 The shop was founded by triplets Marta, Marisa and Tânia Fonseca and Tânia's husband, Isaac Almeida. The quartet also founded neighbouring Prado restaurant in 2017 and the Lisboan holiday apartments in 2016.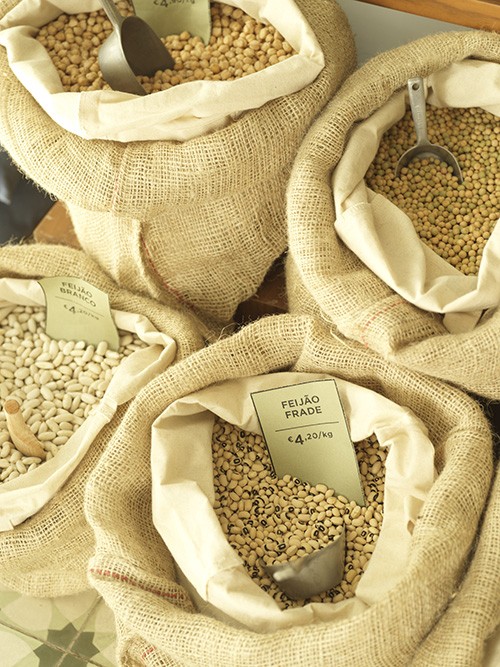 A contemporary version of the traditional grocery store, stocking seasonal produce and doubling as a small café. It offers homemade cakes, sandwiches and light lunches, plus coffee, fresh juice, beer and wine by the glass.
The shop is located in the historic heart of Lisbon, at 37 Rua das Pedras Negras. It's a residential area facing pressure from tourism and gentrification and a subsequent loss of independent businesses.