At the front / Global
Editor's letter
When our editor in chief sets out for a jog around a city, his brain is whirring even faster than his legs. Here he reflects on urban projects in London and Zürich that have stumbled at the first hurdle.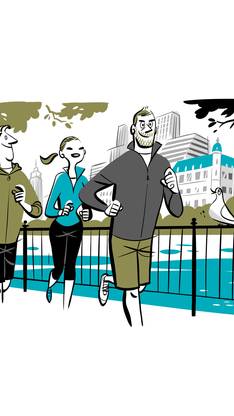 Let's start the new year with a gentle trot around town. You don't need to go head to toe in running gear but if, like us, you want to cover maximum ground, it wouldn't hurt to tie up your trainers good and tight and don a few layers of merino, alongside various wind- and waterproof laminates. As we zigzag around the city we'll say hello to a few locals, stop for a quick refuel at the 3.5km mark, pause when we see a smart new addition to a high street and soak up the elements that make the city tick. As this is part aerobic exercise, part social study, you might want to bring a pen and jotter for recording observations. And while you're allowed to bring your phone for taking snaps, you're forbidden from using any map functions – sometimes it's good to get lost and use your internal compass.
As we set out from Midori House in London I want you to look up, look sideways, be courteous of others on the street and interrogate everything around you. Baker Street is a good place to start: it's in the midst of a massive facelift that has seen pavements widened, lanes narrowed and trees removed. When it was announced that this busy north-south thoroughfare was going to be turned into a boulevard for two-way traffic, becoming a more civilised streetscape, it was welcome news. Several months ago the diggers arrived and pallets of paving stones were lined up on the side streets. Before long the main intersections had been levelled off, trees had disappeared and a few new lampposts had been installed. While the traffic is still one way (it's due to go two-way by early spring), the work is pretty much finished and follows a design language we've seen play out in other parts of London: bald and barren.
I'm not sure why the trees couldn't have been saved, as they would have added some much-needed texture to a street environment that is very smooth, very grey and lacking punctuation points. It could be that some greenery will be added at a later stage but for the moment, Baker Street feels like a barren canyon. If the idea was to make the street more pedestrian-friendly, planners have failed: the lack of a natural canopy makes it feel unwelcoming. A bigger vision might have planted mature trees down the middle of the street; the whole stretch would have become a more elegant affair for strolling, shopping and dining. Unfortunately it falls short and fails to go those extra few metres that make all the difference for regeneration projects.
On the doorstep of monocle's Zürich outpost, an urban plague of another kind is making the streetscape a less friendly place to wander. Like so many cities that have been keen to innovate on the urban-mobility front, Zürich has allowed various bike and e-scooter schemes to establish a foothold on the pavements. The result is less than appealing as it's left streets cluttered with toppled scooters and abandoned bikes. Moreover, who's using these cheaply made modes of transport? Is a lawyer really jumping on a scooter to shuttle between meetings or are they more for tourists who want to find out what a Zürich ambulance looks like on the inside? In the space of a year the city has already seen some share schemes disappear from the streets and I'm hoping the scooters will prove to be a similar gimmick of the sharing economy that fails to stick.
As cities strive to figure out how to get more people from A to B swiftly and safely, they need to put more emphasis on walkability, rather than concerning themselves with electrified mobility tunnels (no thank you Mr Musk) and crowd-funded wind-powered rickshaws. There is very little point in trying to encourage people to move around under their own steam if we're not creating well-shaded boulevards and lanes where people have the ability to dash about at speed or move at a more leisurely pace. It's better to master the basics of good city building rather than trying to be overly clever with asymmetrical transport schemes. If you have further thoughts on better mobility, drop me a note at tb@monocle.com. In the meantime, cheers and thank you for your support.