Food & drink / Global
Food
&

drink
Briefing
We visit a jamón joint in Madrid, Norwegian café-cum-hotel in Tokyo and Parisian grocer par excellence.
For a man wielding a sharp knife, Emilio García Ortigosa cuts a charming figure. The 39-year-old bounces between the rooms of his inaugural restaurant, stopping only to embrace patrons or monitor the wood-fired oven. Having once presided over the national association of jamón cutters (really), Almería-born Ortigosa has carved out a career as one of Spain's foremost cured-ham slicers. With the opening of Ferretería he wants people to open their minds (and mouths) when it comes to paper-thin pork.
"For years I've worked with artists, musicians and talented chefs, marrying the different tastes of jamón to melodies or artworks," he says. "I've always strived to challenge the notion that there's only one taste to jamón."
Before Ferretería opened its doors in September, Ortigosa joined forces with businesswoman and art collector María Antonía Escapa, taking three years to restore a hardware shop dating back to 1888. The wooden cabinets, gilded fixtures and vintage tools now provide a backdrop for the front bar, where a jamón clamp in the shop window entices passers-by.
A steady stream of shared plates illustrate Ortigosa's cutting style. "I cut to break the fibres and the muscle rather slicing straight through them, which results in distinct flavours," he says. To expand palettes, he pairs finely cut slices with portions of ginger, wasabi or sesame.
Downstairs a vast dining hall offers various 11-course menus. Overseen by head chef Alfredo González Segovia, Ferretería's food offers Spanish staples such as croquettes filled with cecina (air-dried ham) and marinated sardines.
Spaniards' shared love of jamón is legendary yet its pervasive presence on starter plates hasn't necessarily deepened understanding about its possibilities. Ortigosa's mission is to challenge those limits and, judging from the crowds, many seem willing to join him.
ferreteriabyego.com
When Norwegian café, cocktail bar and design shop Fuglen opened in Oslo in 1963, its founders probably weren't pondering an outpost in the Tokyo neighbourhood of Asakusa – yet that's where it opened in September. This new chapter (there's also been a branch in Tomigaya since 2012) is a collaboration with Japanese capsule hotel NineHours and forms part of a nine-storey building designed by Akihisa Hirata. Fuglen, which occupies the lower two levels, was created by designers Wakiko Fukuda and Peppe Trulsen.
"We wanted to maintain our vintage look in the newly built clean space," says Fukuda of the mid-century Norwegian couches, tables and stand lamps (all for sale). Adding to the ambience is a spiral staircase with a touch of leather on the balustrade, Biri-straw wallpaper and plenty of natural light. On the third to the ninth floors are 183 sleeping pods with views over the low-rise surroundings. "We have a lot of guests from upstairs," says Keiya Takahashi, Fuglen's shop manager.
The space is new but Fukuda is embedded in the community. "We chose materials that will age well to become part of Asakusa," she says.
fuglen.com
From small acorns grow mighty oaks, goes the cliché – and this bijou spot in Dalston shows that itsy spaces can have rangy ambitions too. Founder Bob Ritchie sticks to a haul of 36 wines that sit beautifully beside mains of butternut squash gnocchi, swordfish or pig cheek with celeriac. There are no acorns on the menu but expect big things.
sapling-dalston.com
Owner-chefs Norma Listman and Saqib Keval describe their restaurant as an "intersection of Mexico, India and Ethiopia", referring not just to their backgrounds but to the flavours they draw on for their daytime-only service. Standout dishes include esquites (maize salads) cooked in coconut milk, and prawns rubbed with house-made masala.
masalaymaiz.com
"We don't sell tomatoes in winter," says Delphine Plisson, a Parisian food-firm owner who quit a career in fashion to reinvent the city's alimentation générale. "We want our customers to have the joy of the first mushroom of autumn or tomatoes in summer," she says. Her pledge to support seasonal small-scale producers is evident on the shelves of her new food hall in the Marché Saint-Honoré. The line-up showcases top-notch independent brands such as cornichons by Maison Marc, beers brewed in Paris by Bapbap and yoghurt from the nearby Ferme de Viltain.
lamaisonplisson.com
Nosey isn't a flattering adjective but if the subject of your enquiry takes some sniffing out, as a decent wine might, it can be a good thing. "Wine subscriptions usually offer the bottles that make the biggest margin, not the best ones to drink," says Marta Maia who set up this Porto-based subscription service to challenge all that. Nosy recruits industry veterans (a master of wine here, a critic there) to pick their three bottles every month, which are then sent to subscribers. Maia's contention? That snobbiness subsides if the wine on offer is good enough.
nosywineclub.com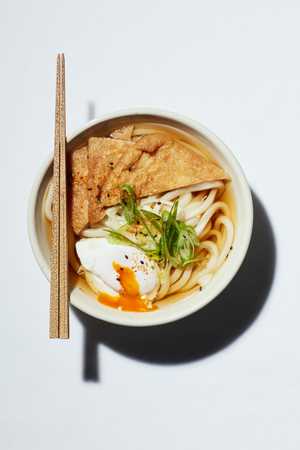 Udon with poached egg and fried tofu
Recipe —
midori house
Ingredients
15g dried kombu/dried kelp
15g dried bonito flakes (or use organic instant dashi powder)
11/2 tbsps light soy sauce
1 tbsp mirin
2 tsps light brown sugar
1/3 tsp salt
4 nets of frozen udon (recommended) or 400g dried udon
4 eggs, for poaching
4 spring onions, finely sliced diagonally
4 sheets of thin fried tofu (abura-age), each cut in half, then the halves cut diagonally to form a triangle
1 tbsp soy sauce
1/2 tbsp brown sugar
1/2 tbsp mirin


Shichimi togarashi (Japanese seven spices mix)
Soak the kelp in a large bowl containing 1.5 litres filtered water for at least 30 minutes, or preferably overnight.
Pour the kelp and water into a saucepan set over a medium-low heat. Once it reaches just below boiling point, remove the kelp and discard. Add the dried bonito flakes and cook over a low heat for 4 minutes.
Place a fine sieve over a large bowl. Drain the dashi stock.
Season the stock with the soy sauce, mirin, sugar and salt. Set aside.
To poach the egg, crack it in a small cup and gently drop it in the middle of a pan containing 200ml of boiling water. Cook for 2-4 minutes, until the egg white sets but the yolk is still very runny. Remove the egg with a slotted spoon and place into a bowl of cold water. Repeat for the other 3 eggs.
Cook the udon noodles according to packet instructions.
While the noodles are cooking, heat the dashi broth.
Drain the noodles, divide between 4 bowls. Then add the dashi broth, fried tofu, spring onion and poached egg.
Serve with shichimi togarashi.