Print / Greece
Headline act
We visit a Greek newspaper staying healthy in an industry that many thought was dying. The cure? Better reporting, smarter stories and plenty of supplements.
Despite a perception that the public is spending less on newspapers, Athens-based Kathimerini has Greece's highest circulation. The secret weapon that's made its revenues spike? A bumper supplement-stuffed Sunday edition, which has a circulation about four times higher than the daily.
There's an appetite for the paper's mix of reporting and humour. Every afternoon in the newsroom, cartoonist Elias Makris pulls up a chair in front of a blank sheet of paper and picks up his pencil. "It doesn't matter that you've done it before," he says. "Each day is a new challenge. Knowing that you did a good job yesterday won't help today." As one of three in-house cartoonists at the centre-right liberal daily, he's had to sketch something new every day even when topics that dominate the agenda, such as Greece's financial turmoil, have been constant for a decade. In some ways this is what the paper has had to do in the face of economic adversity not just to stay relevant but to survive.
Kathimerini, which translates into English as "daily", is owned by Themistocles Alafouzos and this year celebrates its centenary. Much has changed but satirical cartoons are one of the few features that have endured on its pages. "During all the Grexit uncertainty, people were constantly bombarded with news and petty political commentary with little thought behind it," says Alexis Papahelas, Kathimerini's executive editor. "Many people got fed up and switched off their TVs or stopped reading newspapers altogether. But humour has never been more important to our readers than now."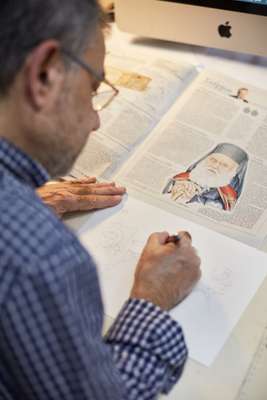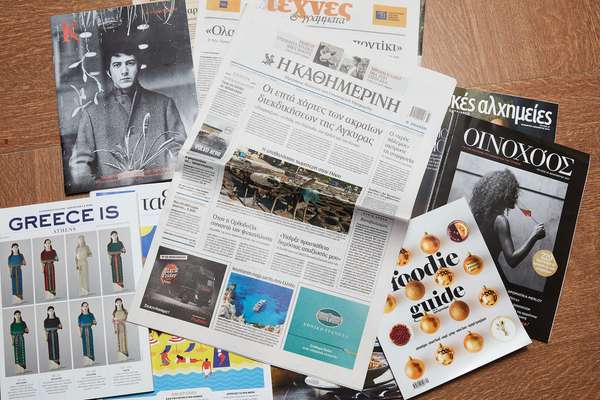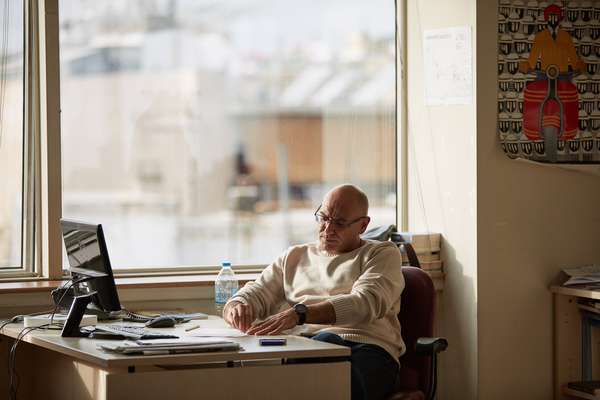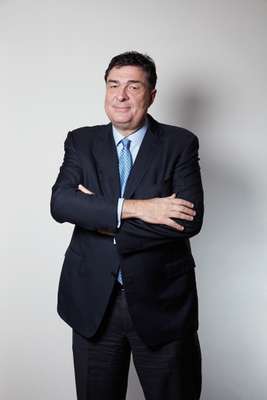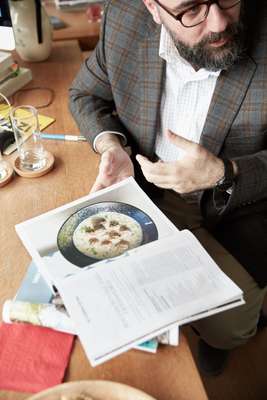 Papahelas's time at Kathimerini began in 1988: he was the paper's correspondent in Washington for a decade before returning to Greece to work for rival paper To Vima. He became Kathimerini's executive editor in 2007. It was a tough time: the financial crisis soon battered all sectors of the Greek economy, including its newspapers (which were also challenged by the industry's shift to digital).

"Running a newspaper in Greece at the moment is like being the captain of a ship in the perfect storm," says Papahelas, hosting monocle in his fourth-floor office. His ship's crew is 200-odd people strong and its impressive army of supplements is one of the main reasons that it's been able to navigate such choppy waters. Rather than simply batten down the hatches and just cut costs, Kathimerini has instead added a slew of new titles: free magazine Greece Is launched in 2015; refreshed titles Sweet Alchemies and Taxidia followed afterwards.
Meanwhile the publication is also considering adding a paywall to the website to increase revenue. Other ideas include an offer whereby the paper will get a travel service to create custom itineraries for subscribers. "We needed to reach our readers through other vehicles," says Papahelas. "We had to provide people with positive, uplifting stories because nobody else was doing it."
Perhaps no other supplement does that better than K magazine, the paper's longest continually running insert. "We recently did a story on the young Greeks reversing the brain-drain; the ones choosing to stay in the country, despite the odds," says K's editor Dimitris Rigopoulos. Largely picture-led, the magazine covers Greek and international feature stories with a focus on culture and entrepreneurship. In recent months K secured interviews with the likes of Isabella Rossellini, Paul Auster and Fernando Botero; a recent edition explored the little-known – but burgeoning – Greek rugby league.
One floor below, Angelos Rentoulas and his team take care of the food supplements – a lure for hungry readers. Gastronomos is a magazine founded on a commitment to celebrate the food culture of Greece. "We dedicate one of our annual themed issues to our favourite local food and drink products and we also host awards to honour the producers," says Rentoulas. The magazine dispatches its reporters around the country to write about the nuances of Greece's lesser-known regional cuisines and is packed with recipes created in collaboration with well-known chefs.
Not all innovation has come by way of launching or rethinking the paper's titles: new distribution models have also proven to be vital. Vogue Greece is the latest addition to the portfolio (as part of Condé Nast's licensing model), taking the overall supplement count to 11. After its launch as a supplement this March, it will a few days later be sold as a standalone at the periptera (kiosks).
The paper has also begun to publish and edit custom-made magazines for corporate and luxury clients: in-flight travel magazine Blue in collaboration with Aegean Airlines, hotel Grande Bretagne's GB and Costa Navarino Stories are all part of Kathimerini's portfolio. "The travel sector in Greece is one of the few that has been growing steadily, so there's always an appetite for content there," says Giorgos Tsiros, who edits the paper's range of travel publications. "We often get more requests than we can handle."
Papahelas splits his time between running the newspaper and reporting. He has interviewed figures such as Barack Obama, Bill Gates and Bashar al-Assad. "I could never stop reporting," he says. "I make sure to meet people from all walks of life." His office overlooks the expansive Renzo Piano-designed Stavros Niarchos Cultural Centre on one side, with its futuristic suspended roof and Athens' run-down port of Faliro on the other. "For me the Niarchos park is a symbol of what Greece can achieve. But when I look to the waterfront it reminds me of our untapped potential," he says before turning his thoughts back to Kathimerini. "We've got fewer people working on more things but we're definitely up for the challenge," he adds with the conviction of a seasoned sailor determined to make it through rough waters.