Logistics / Global
Making the move
What raises last-mile delivery from perfunctory hand-off to attentive art? Three leading lights of logistics reveal all.
The rise of internet shopping has been great in a lot of ways, not least because we can now buy anything we want with the click of a button. Unfortunately the experience is often less than enjoyable, from crumpled and squashed packages to unhelpful delivery men. For businesses, deliveries present even more problems: how to maintain a high level of service and incorporate environmental concerns without compromising on speed? The good news is that there are solutions out there. Be it Dutch cargo bikes that pull their weight, a US company you'd trust with your Monet or the Japanese giant showing the world what attention to detail really looks, monocle meets three firms with a fresh take on the last-mile conundrum.
---
1.


Urban Arrow
The product designer
When it comes to delivering goods in a crowded city with traffic, one-way streets and poor parking, bikes are unbeatable. The Dutch have long used boxy bakfietsen for the school run but these days they are also increasingly used by businesses who need fast and reliable last-mile transport.
"It's quicker, more flexible and the costs are much lower," says Jorrit Kreek, ceo and co-founder of Urban Arrow, one of the Netherlands' premier cargo bike brands. "It's also planning: with a bike you can really plan how long it takes to get from A to B because you're never stuck in traffic." Founded in 2010, Urban Arrow sells a range of cargo bikes optimised for the needs of various businesses: a modular one customisable to carry anything from pizzas to filming equipment; standard models with volumes ranging from 150 to 700 litres; and three-wheelers for heavier cargo, the largest of which accommodates two pallets and 2,500 litres. All have battery-powered electric-assist pedals and are designed to feel professional.
"We wanted to make something so you can pull up at work next to a bmw and still feel you have a cool bike," says Wytze van Mansum, the industrial product designer behind Urban Arrow. "The practicality of a cargo bike but not the aesthetics from before." Urban Arrows are also constructed to carry more and ride more comfortably than other cargo bikes. "The weight distribution is much lower so it's more stable," he says. "Plus the Dutch upright position is better: you can put your feet on the floor and you have better vision around you."
Crucially they are emissions-free. "Since [the Paris climate conference in] 2015, we really saw an increase in investments in bike infrastructure and companies are more aware the bike is a sound alternative to the vans they're used to," says Kreek. But are they still useful if you don't have an extensive network of bike lanes, as in the Netherlands? Kreek thinks so. "You don't need loads of infrastructure. In Paris and London, for example, bikes often use the existing bus lanes."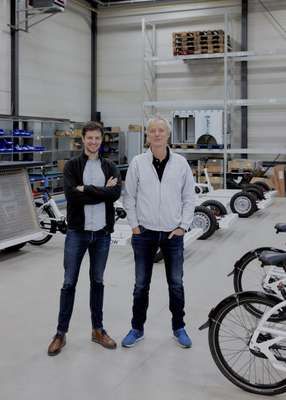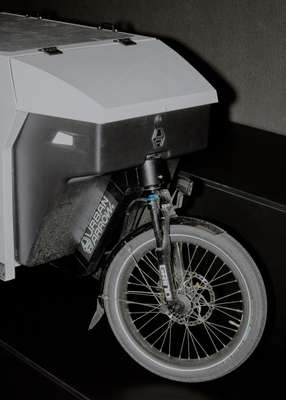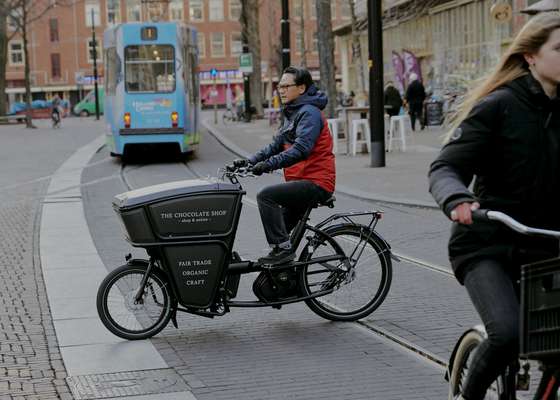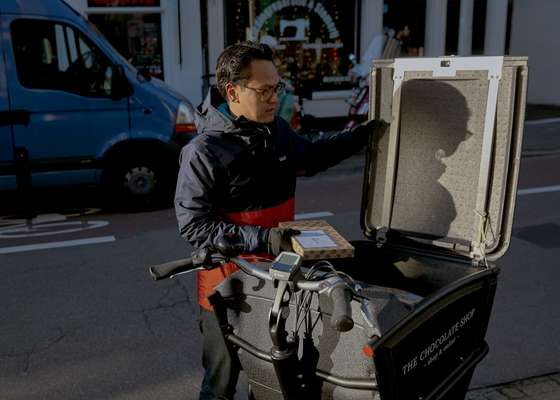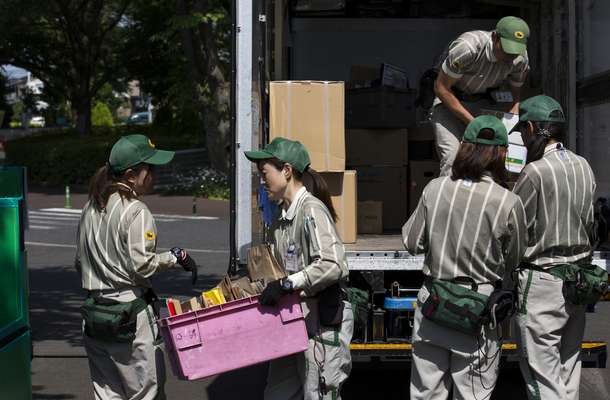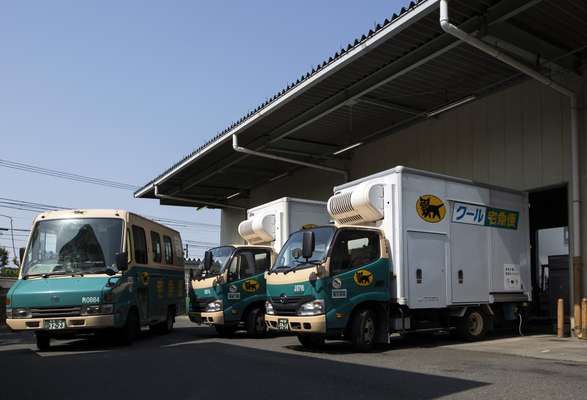 The company is clearly on to something. Half its bikes sell abroad, everywhere from Germany to the US, where it recently appointed a specialised sales agent. Revenue last year was predicted at about €20m and although it won't release exact sales figures, it aims at 15,000 annually by 2020, when the cargo bike market is estimated to be worth $1bn. But that's just the beginning: Kreek thinks escalating urbanisation and e-commerce means the industry's growth will be exponential. "By 2020 the market for light vehicles and small vans will be worth $3.5trn," he says. "That's our main competition so that's huge potential for cargo bikes to create an alternative to those mini vans."
urbanarrow.com
---
2.
Yamato Transport
The all-rounder
Yamato Holdings, Japan's biggest name in parcel deliveries, is driving its green-and-tan trucks deeper into Asia. With its move into Burma in mid-2018, the Tokyo-based company is trying to connect its network of distribution centres in Japan with its warehouses and lorry depots scattered throughout China, Hong Kong, Taiwan and five Southeast Asian countries.
It's a good time to be expanding into Asia's fast-growth economies, where rising incomes and speedy internet connections are boosting e-commerce. Now comes the hard part: building its Ta-Q-Bin brand of home-delivery services into a regional market leader.
In Japan, Ta-Q-Bin will take your suitcases to the airport, skis to resorts and golf clubs to the links, and even transfer Wagyu steaks from farms. Couriers are exceptionally polite and rarely miss the two-hour delivery window. Anything that needs to be refrigerated stays properly cold, no matter how remote the locations or steamy the weather. Around Japan, Yamato's black cat logo is so ubiquitous that takkyubin has become a generic term for sending packages. The business is a huge money-maker, pulling in revenue of ¥1.2trn last year, roughly 78 per cent of Yamato's ¥1.54trn total. The company also has long had a presence in Europe, although mainly handling logistics for Japanese companies.
To replicate its model across Asia, Yamato is relying on a hi-tech logistics system that can figure out the fastest route by air, land and sea, speed containers through customs and organise the complex hand-off at airports and harbours. You wouldn't want to bet against a company that manages to deliver more than 1.8 billion packages and 1.4 billion pieces of mail in Japan every year. The company is already demonstrating its astonishing efficiency across borders, delivering, say, sea urchins caught off the coast of Hokkaido to restaurants in Hong Kong and Singapore by dinner time the next evening.
Since moving into Shanghai and Singapore in 2010, the company has signed deals with Siam Cement in Thailand, GD Express Carrier in Malaysia and Aye International Group in Burma. The alliances give Yamato instant on-the-ground expertise and legitimacy. The company is also setting up local training centres for the army of polite, uniformed drivers who will be the face of the brand – a major reason for Yamato's success in Japan.
kuronekoyamato.co.jp
---
3.
Robert Sabo
CEO, Elite Anywhere
The specialist
Sabo is the CEO of Elite Anywhere, a white-glove delivery and logistics company that works with designer showrooms, high-end furniture manufacturers and private individuals to transport precious and outsized cargo. Clients include Art Basel, 1stdibs and Joybird. The California-headquartered company has more than 200 employees and revenue last year of $12m.
Why did you found Elite in the first place?
There was a need among furniture manufacturers, who are our focal point, for better representation: a white-glove carrier that can handle the last process of their transaction and be an extension of their business, so that customers would have the same experience when they are at home as they would in a furniture showroom. It was intriguing to me to be the finishing touches to that experience. My family owned a traditional moving company and there's a lot of techniques and professionalism in those firms that don't always come with a b2b delivery company.
Amid a sea of white-glove delivery companies, what's Elite's USP?
We're not just "white glove" when we put the furniture in the room: it happens from the moment we receive the piece in our warehouse, when we're photographing it and updating the client. We have warehouses and do distribution, so handling not just one element allows us to dominate. We also always make sure we have the right teams: whether it's hanging a chandelier or appliance installations, we use multi-talented experts. It's not just delivering a sofa, it's the way you deliver it and present it. We try to have qualified and presentable staff that can answer any question when they do an installation.
What are the biggest challenges facing last-mile delivery companies?
The tech side behind the experience. Companies that aren't willing to invest in tech are going to fall behind, particularly the communication aspect of it and giving customers exactly what they're expecting from the beginning. We're living in a kind of Amazon world where people expect up-to-date information and fast delivery. So the challenge is to be quick, transparent and continue to build a supply chain around our company but without bringing our service levels down. That's what our customers love, that personal touch; we definitely don't strive to be like Amazon.
eliteanywhere.com