Scallops / Scotland
Net worth
A scallop farmer on the far-flung Isle of Skye shows that healthy profits and a happy ecosystem can coexist.
MONOCLE reaches Sconser, on Scotland's remote northern Isle of Skye, late on a dreary Thursday afternoon. A van emblazoned with the image of a scallop is parked outside a white-washed house on a slope overlooking Loch Sligachan – it's a sign that we've reached the right place. Yorkshire-born David Oakes greets us warmly. He started as an engineer and diver before a swift change of stroke. "I had to get away," he says with a serious look. "I always wanted to be near the water, to farm the sea."
David made the permanent move to Skye in his early twenties and soon hit upon the idea of farming scallops. "It took years of trials: different methods [searching for] different spots." But from failure came understanding and in 1988 he requested a Crown Estate lease from the local government office. After a lengthy process he was given a patch of water close to his home. "We had to prove that our intervention was going to benefit the natural habitat of the bay, that we were going to be caretakers of the ecosystem," says David. The area remains open to anybody for passage – and fishing – but his prized scallops must not be disturbed.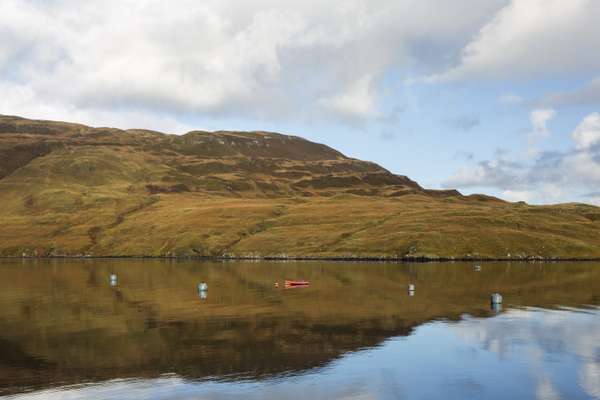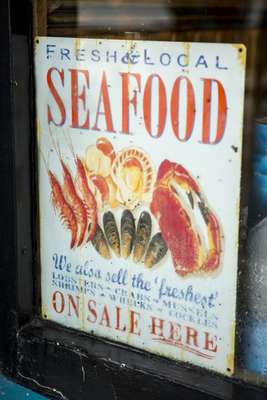 The next morning we head to the shore to meet David's son Ben, who is busy unloading bags of fresh shells – 350 at Ben's best guess. He's just helped his father to unzip his heavy wetsuit. Ben's first stop is Portree (the island's biggest town) and a restaurant called Dulse & Brose. "Everything is locally sourced; it is our responsibility to help sustain these businesses," says head chef Peter Cullen, as he cracks open one of the scallops in his kitchen. The rest of the orders will reach restaurants all over Skye, from smaller venues to Michelin-starred Lochbay in the nearby settlement of Stein.
What sets Sconser scallops apart is the manner in which they are cultivated. Firstly, David dives in to shift young scallops from the deeper water off the coast into the shallows; left in their natural habitat they are subject to predators and unpredictable conditions. The change in setting also provides access to more light and nutrients. Once they're large enough they are dived and moved again – hence the "twice-dived" term seen on menus.
"We make sure we don't overcrowd our allotment and we allow enough time for the scallops to grow at their natural pace – our intervention is minimal," says Ben, now ensconced in an armchair in the lounge of the family home. Scallops take up to seven years to grow to their optimum size, which makes supply and demand a balancing act. New customers are often turned down in favour of keeping existing clients stocked up.
With the Scottish shellfish industry valued at £177m (€197m), David has no hesitation when asked if there would be room for other prospective farmers to get involved: "Absolutely." He thinks that what keeps others from entering the scene is the unreliability of the job: the layers of bureaucracy are numerous and ever-changing and the working day is entirely dependent on the weather. But what worries David and Ben most is not red tape – it's the sea.
"One of the main changes in the past few years has been in the temperature of the water; we usually oscillate between 13c and 10c, summer to winter," says Ben. Last year, by early October the temperature had dropped down to the average December figure. Granted, colder water means happier (read bigger) scallops. But what David sees is yet another sign of the weakening of the Gulf Stream, which should be tempering the colder water that comes from melting ice further north. "In the long term we all know that this is not good news," says David gravely.
But David's isn't the only food-focused firm thriving in this Scottish outpost. From the Isle of Skye Distillers' gin to the Isle of Skye Sea Salt Company, Sconser Scallops is one of a growing number of start-ups using environmentally friendly methods with success. Ben's own effort is next: a line of skincare products made of locally harvested seaweed. "There is so much potential on Skye," he says, before acknowledging the fact that mobile-phone reception is far from guaranteed. "It might not be the easiest spot to work from but the sense of community is priceless; we are very lucky to be able to count on it. I wouldn't live anywhere else."
sconserscallops.co.uk