Hospitality / Spain
Set for a second act
An architectural gem in Palma has been revamped as a stunning cinematic hotel.
God flicks a switch in Palma de Mallorca. Grumpy grey clouds suddenly jostle into position and the rain starts. It pounds on the roof, coursing down the newly repaired tiles. It falls in crashing sheets into the former palace's inner courtyard and blasts the garden's old sturdy-trunked trees, depositing leaves like little canoes onto the surface of the pool. Inside, the thunderous kerfuffle barely registers with architects Jaime Oliver and Paloma Hernaiz, partners in work and life. After 18 months on this site – and just over three years since they first visited what was then a messed-up, patched-up, down-on-its-luck building – they are on the cusp of handing over the project to its Swedish owner. And then Can Bordoy, the city's latest upscale design-empowered hotel, can open for business. And while it's nerve-wracking with hundreds of details still to check, there's one thing that they can be sure of: the once leaky roof looks like it's fixed.
Oliver and Hernaiz now run their practice, Ohlab, from Palma de Mallorca. They were based in Madrid for six years but found themselves commuting to the island with such regularity that they decided to flip: Palma became the HQ city and they could jump on a plane to Madrid and beyond when needed. For Oliver it was a homecoming to the city of his birth and the couple's arrival here has heralded a period of creative and commercial success that has brought projects, awards and recognition. New work includes a low-energy-use apartment building on Passeig de Mallorca – the island's most prestigious central avenue – with vast solid walls, terraces and gardens that celebrate communal space. "The wood blocks on the façade are in a pattern designed to optimise sun shading," says Oliver.
Then there's their glamorous work for the jewellers Relojeria Alemana, such as the shop on the Born retail strip, with its high sheen and beguiling mirrored surfaces – a play on the notion that luxury is an unreal reflection of yourself.
The Ohlab property that first really caught people's attention – and kick-started Hernaiz and Oliver's trajectory to success – was a much more modest affair. Casa MM is a simple white house made up of four sections, each angled to use – and, in summer, defeat – the sun. Built just outside the city for a retired couple, it has won numerous awards. The clever angled design means that it is self-sufficient for water – it collects enough in the winter to last all year –and the owners have never used the air-conditioning or heating. "There are lots of interesting projects here – and of such good quality," says Oliver. "That surprised me. The clients we had from abroad rarely wanted to come to Madrid; they all want to come to Palma."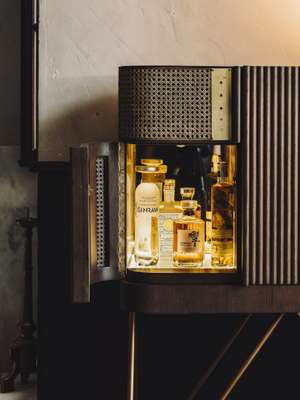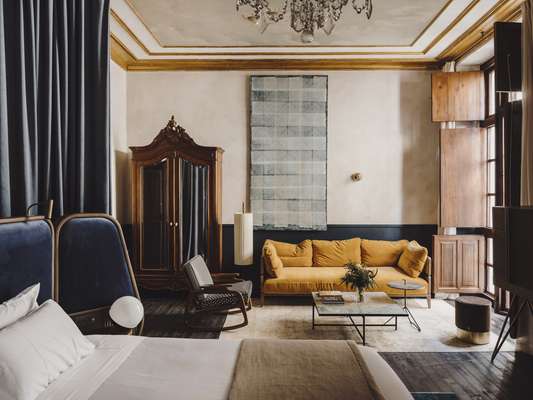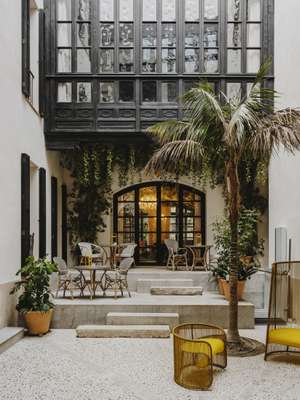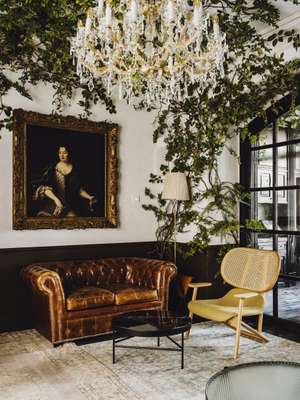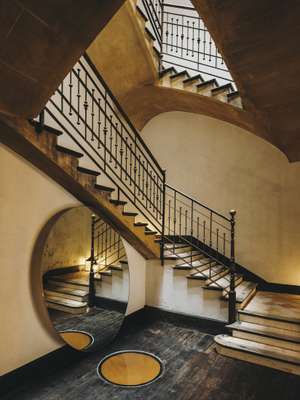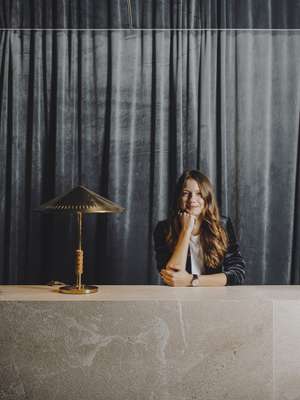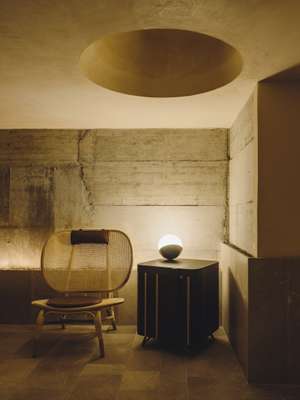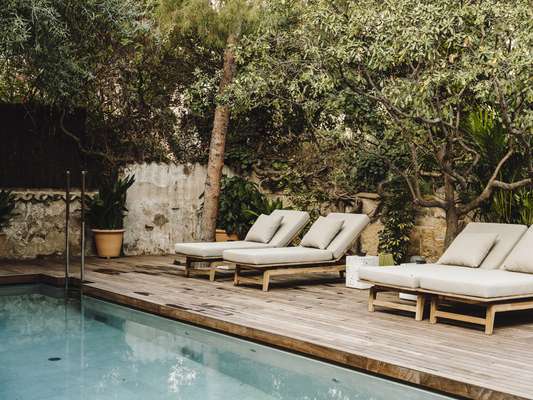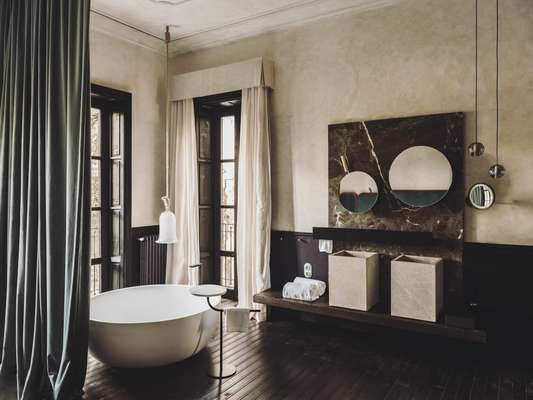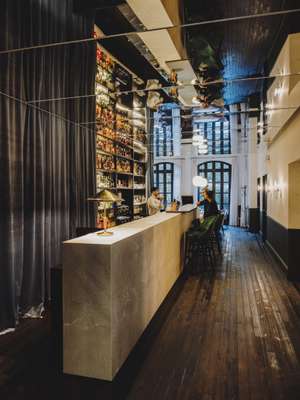 But the star today is Can Bordoy, which sits on a narrow lane in La Lonja – once the grandest part of town and now a mix of galleries, restaurants and homes. The building has a grand heritage but Hernaiz and Oliver wanted to reflect its evolution in their design. "The main façade is from the 12th century but there were numerous renovations through to the 1970s," says Oliver. "It's had many lives. We love mongrel dogs – in Spanish you say mil leches [thousand milks]. When you have no one mother but drink the milk of a thousand mothers – that's this building."
Hernaiz says that as soon as they saw Can Bordoy, "we believed in the magic of the building". So the pair set about persuading the owner, Swedish property developer Mikael Hall, that they should leave evidence of its past lives: keep the garden slightly wild and unkempt, resist screening off the neighbours and use furniture and fittings that would present the property less as a hotel and more as a grand house and garden (finds from Paris, Copenhagen, Istanbul and antiques shops in Mallorca – as well as wardrobes from Hernaiz's late mother's house and chairs from Hall's house – were all given a home here). Hernaiz and Oliver also persuaded Hall to create 20 rooms instead of the 41 initially planned. Oliver says that their shared ambition was to "make the best hotel possible". Unusually they brought on graphic designer Rafa Roses from the start to create everything from the logo, signage and stationery to the menus.
Let's have a look around. Coming in off the street you enter a small courtyard that's open to the elements. From here you catch a glimpse through the windows to the garden beyond; before Ohlab there was a solid wall here that blocked the view to the vegetation. Climb a few stairs and you'll find yourself in the reception-cum-bar (the same long counter caters to several functions, depending on the time of day). It certainly doesn't look or feel like a standard lobby: a rich curtain conceals back office, lift and booze (when it's not in use). There's also a flourish here: a mirrored ceiling – an echo of Hernaiz and Oliver's jewellery-shop work – that draws your eye to the garden beyond with its wide terrace.
On this floor there's also a library lined with botanical prints and, here and there, tendrils of faux plants that clamber across the ceiling – it feels as though the garden is ready to seize the house if your back was turned. Downstairs is a monastically restrained spa with an Ayuverdic treatment room and a disguised entrance back up to a swimming pool.
But it's in the bedrooms that Ohlab's work blossoms. Upon seeing the grand scale of the rooms, Hall had one instruction to the designers: "You cannot build any boxes in these spaces." They settled on a very scenographic solution: huge, dramatic curtains. In one room these can be pulled on a circular rail to completely envelop the bed; in another they separate the bath and washing areas from the bedroom. Here you might spot one of those wardrobes donated by Hernaiz but you'll also see large new statement pieces from shops such as Gebrüder Thonet Vienna, including the Hideout seat by Front (with its enveloping wings) and the same company's Promenade sofas.
The owners' story:
When Mikael Hall started looking at buildings in 2012, Palma had still not shaken off the effects of the financial crisis. There was a sense that, while the city "had potential", it was still slumbering. "There were a few good hotels and all these abandoned medieval palaces," says Hall. He wanted to hunt one down to develop. When he first saw Can Bordoy it was the secluded garden that blew him away – cool even on a hot summer's day. In 2014 the owner, needing to raise funds, told him that the building was going to auction, "but that I still had a chance to buy it first. Within a week I had signed the contract." And the choice of Ohlab for the architecture? "They won the project because they are ambitious; it was just more exciting to do the project with them."
There are bird-inspired Yanzi lights from Artemide and more seating from Italian brand Baxter. Ohlab designed super-wide beds for every bedroom and included cocktail cabinets with built-in radios tuned to three select stations. Now there's even talk of launching a Can Bordoy furniture line. And then there are large-scale paintings by Pedro Oliver, Jaime's brother, an artist with whom he and Hernaiz regularly collaborate. Pedro created the works used here in response to what he saw at the house.
Walls inside the house might have been replastered but they have not been reduced to memory-free smoothness: lines, cracks and indentations have been allowed to stay. There are even glimpses of the wall beneath here and there. Windows were fixed or replaced but they feel authentic too: Ohlab commissioned replacement panes made to mimic the imperfections of handmade antique glass. "It's obvious that we are doing a new thing," says Oliver. "But we are doing it over the existing layers." He also reveals that, fearing that the replacement stained-dark floorboards might look too fresh, he would carry a nail in his pocket on site visits and sporadically bend down to scratch the wood.
The outcome of Ohlab's work is cinematic: Can Bordoy is a set that easily conjures up the "grand house and garden" feel that they were aiming for. They have eschewed the usual Mediterranean design tropes and daringly created the sense of a house waking up from a long slumber. It's as though white sheets covering the furniture in many a film have been whipped away as the crunch of the owner's car is heard on the gravel drive. It's a brave building – and one that's ready for more scenes to be played out within its walls and under the shade of its trees.
ohlab.net; info@canbordoy.com; +34 971 439 728