We consider the loss of Cairo's Maspero Triangle and dabble with dance. But first up: Miami finds the art in parking, Swiss gallerists have a Highland fling and Lewis Hamilton drives his point home.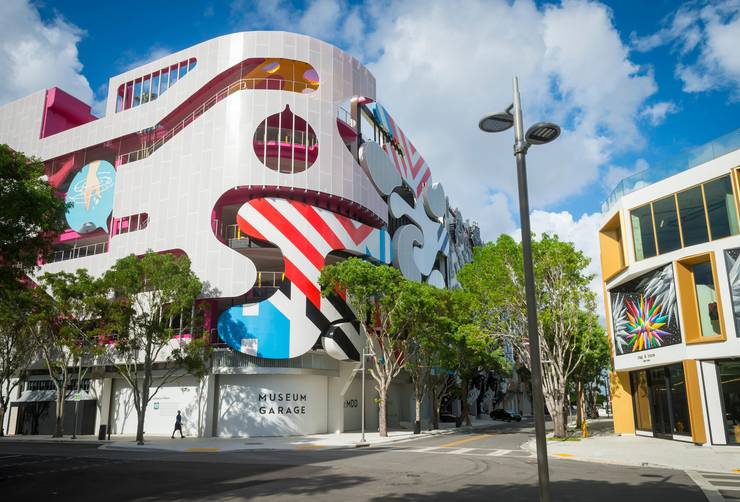 Quick fire: the triple whammy
Outside the lines
Frustrated drivers trying to park in Miami should aim their cars toward the Institute of Contemporary Art. In front of it is Museum Garage, a multistorey carpark with pop art-inspired cladding, designed by architecture practice Keenen/Riley in collaboration with five international studios.
Aside from the 800 parking spaces it has a lending library, garden and playground. The Museum Garage is also offering retail spaces on the ground floor: an enticing assortment for a mixed-use development and an excellent spot to park your business.
The Braemar Games in Scotland features caber-tossing, hammer-throwing and impractical attire. What connection could Swiss gallerists Iwan and Manuela Wirth have with such pursuits? After opening their new hotel, the Fife Arms, in the village the pair are helping fund a Highland Games Centre. The link might help sweep in a few guests when the games arrive: spectators are British royals and members of the upper crust.
Formula One champion Lewis Hamilton knows about winning but when he made a pit-stop at Midori House, he explained the importance of failing well too: "It's the failure that spurs you along," he told The Bulletin with UBS on Monocle 24. "It lays the foundation that you build on." Getting fit this year means a few bumps in the road, it seems.
Check-out time for hotel gimmicks
by Josh Fehnert
At their best, hotels can ensconce us in a neighbourhood, wine us, dine us, titillate us and tell tales – in short, they can transport us. Unfortunately the over-blown millennial-minded marketing bumf around some newer openings is peddling a cosmos of garish gimmicks that transport us to somewhere far less appealing.
A recent press release for a hotel mentioned the kind of increasingly odd amenities that our editors have clocked. These included the potential to sponsor a bee (great), teak water bottles (finally), sparkly hotpants (is there any other kind?), intimacy kits (in the excitement these were listed twice) and tights (available in black or caramel – yum). There's even an adjustable emergency engagement ring (though if anyone proposes to you here, run). This particular short-on-irony promotion also noted that the hotel's self-dubbed "trendy" vending options would include alcohol, which was "planned for the coming weeks". Right. You'll need a snifter after all that.
Hotels can change communities but these trivialities undermine that mission. But I'm being a little unkind, po-faced even. Perhaps it's all just a bit of fun. The broader point is that everything within a hotel is a sentence in a wider story. An artfully knurled light-switch (rather than a cheap plastic one) sheds light on the designer's attention to detail and investment in the guest's experience. The fact that the in-room crockery comes from a local maker is a commitment to the community and an on-premises shop can showcase a hotel's values.
For all its fancifulness, sponsoring a bee is a harmless diversion. That said, missing the opportunity to speak to guests more meaningfully and engage (rather than irk) them may sting hoteliers in the long run.
Opinions: Musical musings and displacement theories
1.
Bust a move, fix your fitness
Health policy is finally changing its tune – one we can all dance to.
by Robert Bound
Across the world a creative kind of common sense may be shimmying or pirouetting to a health service near you. Singing, dancing, making and listening have finally been recommended in a proposal by the UK health secretary Matt Hancock, in order to phase out an over-reliance on medication. The UK-wide move echoes a highly thought of local initiative in the independently run town council of Frome in Somerset, while larger ones in capitals including Ottawa have been generally welcomed across the board.
But the temptation toward smart-arsery stops at the sight of real and encouraging signs: music has been used to relieve symptoms of dementia, while in the London borough of Lambeth dance classes are used to treat psychosis. In the town of Hull, the Royal Philharmonic Orchestra works with stroke sufferers. Improvements in mental and physical health have been reported.
The latter idea may be the rub. An oft-quoted 2010 survey from the Public Library of Science shows citizens with strong social bonds were half as likely to die during the study's seven-year period as those with weak links to those around them. It raises the question: which art form is best for you? Nine hours of Wagner isn't going to cure irritable bowel syndrome but maybe we've been right all along: karaoke is always the answer.
2.
Toil and rubble
As Maspero Triangle is razed, we must ask: what price progress?
by Jacob Wirtschafter
Only the developer and architects were happy when Cairo's Maspero Triangle was reduced to rubble recently. The aim of the Egyptian government and investors is to develop the Nile-side area in the city centre as modern housing and retail. Redevelopment of the 35-hectare zone, built in the 19th century, is a priority for authorities pursuing a "slum clearance" agenda. Another is a mooted new administrative capital planned for a currently desolate spot in the desert, some 45km east.
Maspero's ramshackle streets were a crowded maze of mud-brick and plaster housing for rural migrants and the urban poor. Much of the conservation effort focused on the loss of architectural heritage, even though this pocket of the city never boasted the same number of landmarks as Bulaq to the north or downtown Cairo to the east. But beyond the buildings there is a human tale unfolding among the 4,500 displaced families who were strong-armed out and offered meagre compensation for their complicity.
Lamenting the lost neighbourhood leaves out one ray of hope: Foster + Partners, which won the competition to design the masterplan for the area. Its all-green space and mixed-use buildings intend to accommodate some of the original residents in newer and better-quality housing – at a price. Done properly the renovation of downtown would keep some of the Egyptian creative class in central Cairo and prompt investment.
This city-centre effort also shows that Cairo itself is still important to the government's economic plans. That's even as construction drags at the new administrative capital, which continues to divert investment from a city that sorely needs it.