Architecture / Global
Architecture
Briefing
Rehab cabins and a giant urban sofa.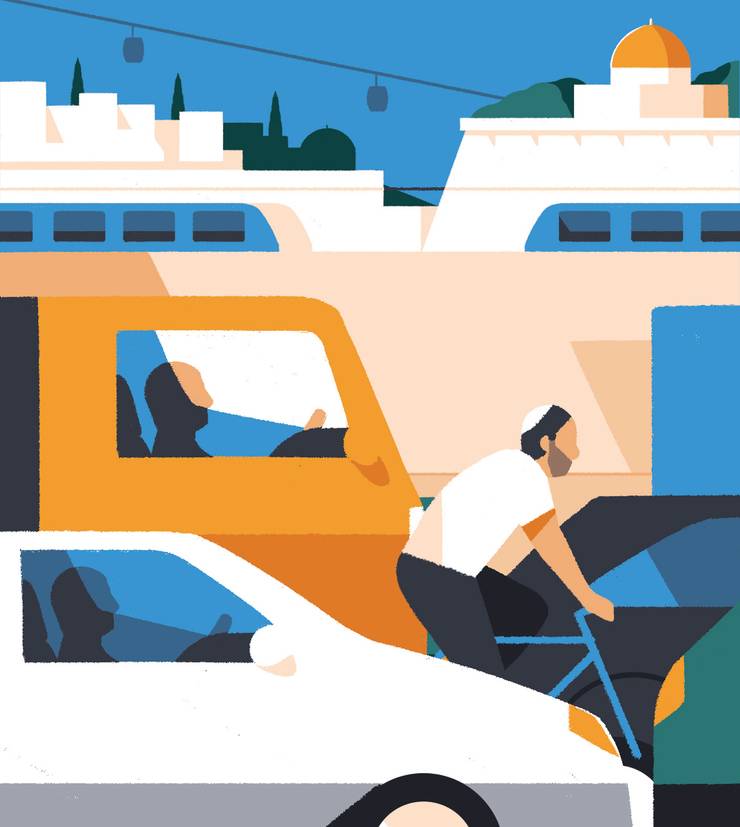 Let's fix: Jerusalem's congested transport
Israel
The problem:
Jerusalem's booming population and record tourist numbers have put a strain on the city's streets, causing extreme levels of congestion. Though the government says that it's keen to dream up a clean, green fix, its plans to build a gigantic cable-car system above the Old City – to cut the number of tourist-carrying buses on the roads – are being criticised.
What went wrong?
Jerusalem's light-rail system, which was completed in 2011 and is still expanding, is lauded. But other public-transport networks have failed to catch up. Architects and citizens are speaking out against the cable-car proposal: many of them believe that it has not been fully thought-through and argue that it will simply shift the congestion to its station stops.
Monocle fix:
The proposed cable-car system has its merits, such as low construction costs and carbon emissions while offering speedy passage to and from tourist sites. However, there's little evidence that it will reduce congestion. Also, the cost of its maintenance would be high and the cable-car system will add unwanted noise and visual dissonance to the city. The solution therefore, is to take a step back and see how individual transport projects get synchronised within the bigger picture. Sadly for town planners here, there is no easy fix, but a smart solution would certainly set a benchmark for other historic cities dealing with similar issues.
---
Immersed in a secluded forest a short walk from Norway's largest hospital, these wooden cabins are designed by Oslo firm Snøhetta to be restorative spaces for recovering patients. The tilted and irregularly shaped structures are built and clad in oak; large floor-to-ceiling windows offer visitors a direct relationship with the abundant nature that surrounds the cabins. "We tried to get rid of whatever would remind patients of a hospital room," says Snøhetta's Nicolai Ramm Østgaard. "By unwinding in the cabins, recovering patients will experience the psychological benefits of leaving the hospital's premises."
Making a stand
by Nolan Giles
Furniture tradeshows are proliferating: in 2018 about 300 events were marketed as international design fairs. That's a fair few more events for designers, architects, buyers and journalists to attend than in previous years. For the week-long industry extravaganza that is Salone del Mobile, which takes place in Milan in April, major furniture firms will spend up to €1m on scenography alone for stands that cover a tiny portion of what is available at Fiera Milano. Design Brands are spending more than ever to get in front of their customers.
Recent conversations with industry insiders point to confusion over how best to navigate the melée of international furniture fairs and maximise their investment in marketing. Some smaller companies say that it's smarter to bank on one regional trade event where they have easier access to a focused buyer. Stockholm Furniture Fair's offering, for instance, might seem monotonous – due to the uniformity of the minimalist designs on show. Yet for US interior designers, currently overwhelmed with briefs for ever-popular open-plan offices; practical Scandinavian design available here is a perfect fit.
But it's fair to say that April's upcoming Salone del Mobile remains the best bet for brand recognition. Viewing furniture company stands recently at Paris's Maison et Objet and Köln's IMM trade shows, the key differentiator between the bad and the good comes down to the respect paid to the intelligence of the audience. Designers and architects want to be challenged and inspired – so why not recruit challenging and inspiring designers to fashion your stand? At IMM, Knoll gained a fresh perspective from working with Rotterdam-based architecture firm OMA to design the display for its Bauhaus reissues. It was the fair's most impactful stand.
The town of Uppsala in Sweden has used smart architecture to reinvigorate its retail precinct with a long glass, quartz and terrazzo outdoor "sofa". Designed by Swedish architecture firm White Arkitekter, this massive piece of urban furniture stretches along a shopping street and into the town's main square. It has been a huge success since opening to the public last year and has drawn crowds back to the area; its wide, undulating form has proven to be a popular place for weary shoppers, knitting groups and performance artists alike.
Designing a building that does justice to one of the greatest modern composers is a daunting task. It is even more challenging when that composer lives next to the proposed site, his family commissioned the project and the bill is footed by the country where he is a national icon.
When designing the new Arvo Pärt Centre in Estonia's Laulasmaa, Madrid-based architecture firm Nieto Sobejano Arquitectos rose to these challenges by taking inspiration from the Estonian composer's seminal composition, Tabula Rasa. "The project was conceived from the beginning as a dialogue between music, architecture and nature," says architect Enrique Sobejano. The result – not unlike the 1977 composition – is an unconventional freeform piece. The integration of nature was a key factor: the building blends into the surrounding pine forest of the Estonian outback.
The modernist structure also houses Pärt's extensive archive of manuscripts and diaries, his personal library, a chamber-music hall designed by the Barcelona-based acoustic specialist Higini Arau, a cinema and a lecture room.
Q&A
Mario Tsai
Founder, Mario Tsai Studio
Hangzhou, China
The success of Mario Tsai's minimalist furniture designs reflects China's creative ascent. Tsai and his small team are bridging the gap between European and Asian design, forming successful collaborations in both continents.
How did you break into the European market?
I had an exhibition at the Stockholm Furniture Fair in 2016, in its "green house" category. From here I met furniture companies, such as Menu, Ferm Living, Woud and Northern. I was able to start taking commissions from there.
Why do you think those brands like your work?
They often don't look at the background of the designers they work with – they're more concerned with the work itself. Other European countries still silo styles of designers based purely on their nation of origin.
How would you describe your signature style?
I like to say "use less, design better".
Subtropical Brisbane's urban vernacular consists of timber and tin-roofed colonial homes, known as Queenslanders, and rather drab apartment blocks. Architect Liam Proberts, of Bureau Proberts, set out to reimagine the latter when building Walan, a new high-rise, by looking to the design of the city's older housing stock. Inspired by the Queenslanders' verandas, Proberts added shaded outdoor areas to every apartment, improving ventilation and reducing the need for air-conditioning. Shade is provided by "the shroud", the building's most triumphant feature. The louvered-aluminium shield is almost invisible from inside but lends the exterior a magnificent sculptural façade.