National treasures / Nice
Best in class: Nice
A shop that proves ordinary objects can have extraordinary power.
Happening upon Trésors Publics in Nice's Old Town is like finding an oasis in a desert. It's all too easy to get lost in the area's maze of winding alleyways, where one lookalike souvenir shop after another disgorges its counterfeit contents into the street. If you're lucky, you'll stumble into the medieval square of Place Rossetti where, from the corner of your eye and down another of those narrow paths, a red sign emblazoned with a large exclamation mark will command your attention.
This exclamation mark forms the "i" in Trésors Publics, which is a riff on the name of France's national tax office (the typographic flourish, the work of graphic designer Florent Giambagli, allays any potential for claims of copyright infringement). "Any French person will get the reference instantly – and any tourist will at least still be able to pronounce it," says co-owner Antoine Bourassin, who opened the shop in 2017 with his husband, Nicolas Barbero.
To say that French culture and heritage are important to the Côte d'Azur natives is an understatement. Before an object can earn a coveted place on their shop's unique shelving it must satisfy three criteria: iconic in design, useful and – most importantly – made in France. Only the Origine France Garantie can officially promise the authenticity of a product making such a claim. To receive this certification, 51 per cent of the product has to have been manufactured in France. In the face of this stipulation, Bourassin and Barbero decided to set their own standards: every part of every item they stock must be entirely manufactured in France. When they started they carried 300 such products – felt slippers, tins of ratatouille, beeswax candles, Opinel folding knives and more – and that number has now more than doubled, with an average of two new brands being added every week.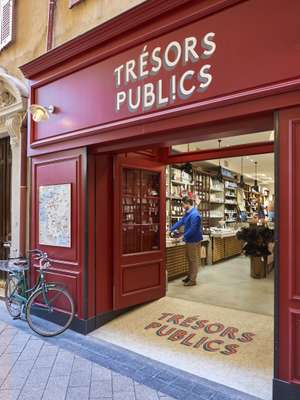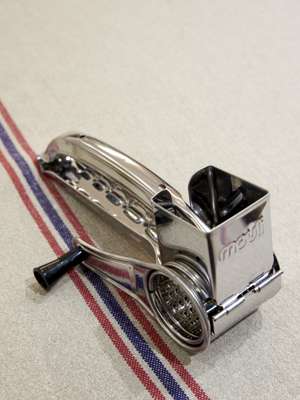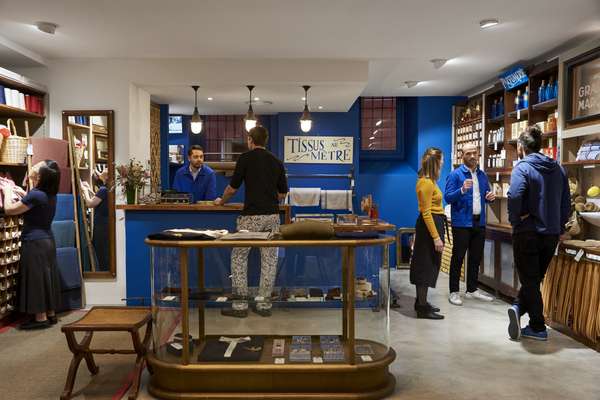 The labels they work with are rarely "new" though. "A lot of new brands approach us asking to be carried in the shop and we say no," says Bourassin, eager not to dilute the offering. Many of their producers have been in business for multiple generations. Trésors Publics is the only shop in the world to carry Ravel ceramic tableware (outside of the Ravel factory itself). "It took a lot of persuasion," says Bourassin, but that's precisely the kind of partnership they're after. Every February the couple drive around France, building relationships with their suppliers. "With the older brands, who often don't even have phone numbers, you have to convince them to take part. It keeps you humble and ensures you act with integrity."
For this duo, it's not a political choice to stock inventory made only in France – it's a sensible one. "France is the most visited country in the world, and we have this real opportunity to show off the best of our nation to people who visit," says Bourassin. "It's not hard to do the right thing. You just have to do it and people will notice." Their values align with the regenerative model of a circular economy, where makers are happy to sell goods that last and users are happy to buy them. "We don't want to be a museum of French heritage," says Bourassin. Instead, in making the effort to seek out heritage companies, they're proving that France's traditional manufacturers are thriving.
Bourassin's favourite item in the shop is the Mouli grater. "It's cheap, it's useful and it's made of metal – I love metal," he says. "And it's for the kitchen: that backstage area of the home where you share secrets with each other over chopping, slicing, seasoning and stirring." He has strong memories of using the utensil as a child with his grandmother. "The same tool, but made in China, is more expensive than the French original," he says. "This one item is proof that for less than €10 you can have something made in France that is useful and well designed." He estimates they sell 10 a day.
Bourassin and Barbero engage in constant conversation with customers, sharing anecdotes. "The concept works because people don't buy stuff – they buy an experience or a story," says Bourassin. "All of these items provide security and comfort." One first-time visitor to the shop takes a bottle of orange-blossom water off a shelf, unscrews the cap and breathes in the aroma. "My grandmother used to put a teaspoon of this in our pancake mix," she says, before darting around the shop, pulling familiar items off the shelves. "These posters are from my classroom. And this toy – my brother got this for Christmas once," she says, revelling in memories.
tresorspublics.com
Moulinex
Mouli grater
A hand-cranked stainless-steel kitchen gadget that's been in use since 1945 for grating chocolate, cheese, hazelnuts and more.
Duralex
Picardie glasses
French schoolchildren play a game based on the numbers on the bottom of these unbreakable tumblers; the one with the highest figure wins.
AOP olive oil
Five kilograms of locally grown olives are cold-extracted to make a single litre of this extra-premium virgin olive oil.
Map of France
Reacquaint yourself with the rivers and regions of the country with a plastic tracing map, a classic geography-lesson tool.
Leatherbound notebook
Favoured by French butchers since 1930, these notebooks contain refillable perforated pages and can even be hand-stamped with your initials in-store.
"Trésors Publics is not just a shop," says co-owner Antoine Bourassin, "It's a project." The shop is a hidden gem that promotes the best of France and has managed to reintroduce an element of authenticity in a touristy area. It exemplifies the idea of serving the common good and acts as an example of what every city needs more of.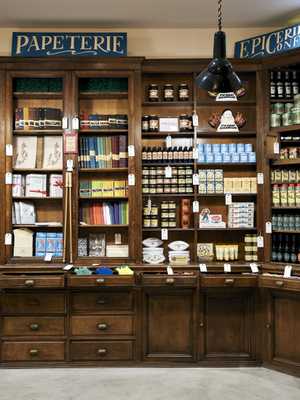 In the heart of Nice's Old Town, six doors down from the 17th-century Cathedrale Sainte-Reparate.
A purveyor of household goods and sundries produced exclusively in France by heritage brands.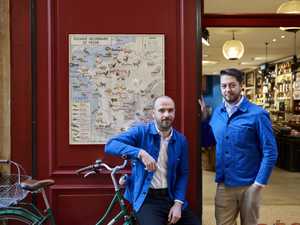 Cannes natives Antoine Bourassin (right) and his husband Nicolas Barbero run Trésors Publics.