Observation 1 / Paris
Express yourself
Learning a language can be arduous but a dramatic approach is finding a captive audience in Paris.
In a classroom on Paris's Rue de Fleurus, a group of students is practising nasal vowels in French. They plunge imaginary daggers into their stomachs and lurch forward to produce the elusive "an" needed to form words such as "enfant". "Use your body," says their teacher, Sylvaine Hinglais. Colombian Marina Perez falters on another phonetic bête noire: "u". "Reach upwards, point," says Hinglais. "Sing, Marina. You are a soprano." The class joins in and applauds as Marina enunciates the elusive phoneme.
The scene is very different from the static pen-to-paper approach employed by many foreign-language teachers. Hinglais is an academic, director and playwright who has developed a method of learning French that uses movement to help memory, fluidity and confidence. Her gestures develop the muscles needed to pronounce French words but also accompany the rhythm and song of the language.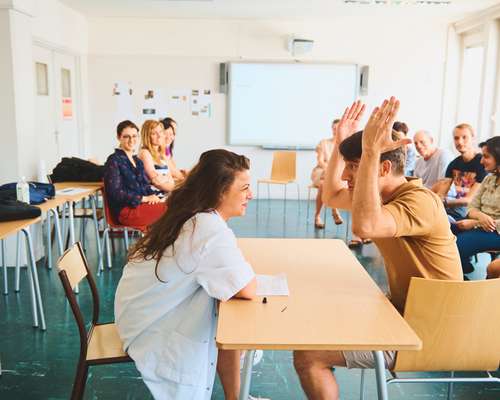 Rather than plodding through stock subjects and vocab, the class study and perform works by the likes of Molière, Sartre and Camus. Hinglais believes that real emotion also helps propel novices to the end of a complex phrase. "Je croyais en toi mais maintenant c'est fini! [I believed in you but now it's over!]" exclaims one law professor from Indiana who strides across the room to practise the verb croire (to believe). "Swim!" says a booming Hinglais with the diction of a life spent on the stage. "Make a circle. That's it – if the gesture is fluid, the words will be too."
Her approach is founded in the belief that language is an expressive art and should be taught as such. "A language is not just an intellectual pursuit," she says. "You can't learn it just by studying grammar, not at all. My method stimulates the intimate process of expressing yourself – your soul, your true identity – through the foreign language."
Frequented by a diaspora of creative foreigners (as well as a fair few visiting students), the course fosters a fierce loyalty among pupils. It attracts everyone from Brazilian dancers to Serbian film directors. "I see each course like a play," says Hinglais. "It is exactly the same principle. We have our cast and we have to foster confidence. Without that you can't achieve anything."
For Hinglais the language theatre is a way to siphon off talent for her theatre company Compagnie Cosmopolite du Pierrot Lunaire; she often draws actors and composers from the ranks of her class. "I have no interest in working with French actors," she says. "I have a profound connection with foreigners."
Her class is a world that venerates their courage and creativity. "Learning a language there is frustration, revolt, anger, nervousness. The miracle is to see people blossoming in the new world of a foreign language."