Food & drink / Global
Food
&

drink
Briefing
New openings and three classic recipes.
Eating meat was starting to look a little unfashionable before the opening of Beefbar on Rue Marbeuf off the Champs Elysées. The wonders start in the art nouveau-style room, listed as a historical monument since 1983, that has been revamped by architecture firm Humbert & Poyet. There are tables in lacquered walnut, velvet banquettes and a glass roof decorated with curly plant-frond motifs. Even the hardware draws a smile: the crockery is made by French porcelain-maker Bernardaud and conceals unusual emoticons on each plate (a steak here, a pig's snout or wad of cash there).
Then there's the food. As the name suggests, meat is the marvel and available in all its forms, from mini-burgers with truffle sauce to Kobe karasumi (salted and dried mullet roe). Behind the restaurant's success is Riccardo Giraudi, who grew up in Monaco in a family that's been importing the finest cuts since 1960 and today sells 90,000 tonnes of the stuff a year. With his father Erminio, Giraudi was the first to bring hormone-free Black Angus from the US and to turn it into a brand. In 2014 the pair also became the first importers of certified Japanese Kobe beef into Europe.
"I'm a creative person. I wanted to educate consumers about new products and offer them a meat menu as a sommelier would offer wine," says Giraudi. Before taking over the Fermette Marbeuf (an iconic Parisian restaurant that's been here since 1898), he had opened spaces in Monaco, Hong Kong, Mexico, Mykonos, Dubai and Budapest. But having a storefront in the French capital is his boldest, and best, move to date.
paris.beefbar.com
In humid Hong Kong it can be tricky to make a crisp croissant or just-so baguette – but it's not impossible. Swiss baker Grégoire Michaud opened Bakehouse last year in Wan Chai and won fans who've proved they're anything but, ahem, flaky. "We just wanted to give people good bread," says Michaud. His top tip? Eat 'em quick. His craft, however, cannot be rushed. After two decades in hospitality the former pastry chef co-founded Bread Elements in 2013 to make bread for hotels. He imports ingredients from France for both businesses and remains faithful to traditional techniques; leaving the loaves to rise for 12 hours is all part of the process.
bakehouse.hk
Cookbook: [Global] "I've worked on many books in my career and always wanted to write my own. Luckily a publisher approached me," says chef and food stylist Aya Nishimura of her new cookbook Cuisiner Japonais, with French publisher Marabout. Nishimura learned much of what she knows from her father, a restaurateur in Kyoto, but studied in London before working as a food stylist for newspapers, chefs and brands (Monocle included). The upshot? Easy-to-make Japanese dishes – most with nine ingredients or fewer – that are artfully shot by Lisa Linder. Nishimura's favourite? Saba sushi.
marabout.com
Petit salé aux lentilles
Recipe 1
Serves 4
Ingredients
For salted pork
1kg pork belly, skin removed, cut into 4 pieces
4 tsps sea salt 1 bay leaf
3 sprigs of thyme
For the lentils
2 tbsps olive oil
½ onion, finely chopped
1 garlic clove, finely chopped
1 stick of celery, finely chopped
1 carrot, peeled and finely diced
250g puy lentils, rinsed
1 tbsp finely chopped flat-leaf parsley
1. Pat each piece of pork dry with kitchen roll and massage with 1 tsp salt. Wrap each piece tightly in clingfilm. Cure the pork pieces for 3 to 5 days in the fridge.
2. Unwrap the pork pieces, rinse off the salt and place them in a large pan. Cover with water and add the bay leaf and thyme. Bring to the boil and then turn down to simmer, skimming the surface from time to time. Cook until the pork is tender enough to poke through with a skewer without much force (about 2 hours). Reserve the water.
3. Heat the olive oil in a pan over a medium heat, add the onion and cook for a couple of minutes. Add the garlic, celery and carrot and cook for a further 2-3 minutes. Add 800ml of the pork-cooking water. Then add the lentils and cook for 15-20 minutes, or until soft but still with a slight bite. Season with salt and pepper.
4. Thinly slice the pork and serve warm with the lentils. Garnish with parsley.
Pissaladière
Recipe 2
Serves 4
Ingredients
1 tsp dried yeast
160ml warm water
2 tsps olive oil
260g strong white bread flour
11/3 tsps caster sugar
2/3 tsp sea salt
1kg white onions, thinly sliced
3 tbsps olive oil
3 sprigs of thyme
60g anchovy fillets, drained, large ones halved lengthways
30g black olives, halved lengthways
1. Mix dried yeast with 30ml of lukewarm water in a jug and leave for 10 minutes. Add 130ml warm water and the olive oil and mix well.
2. Put the flour, sugar and salt into a bowl. Pour the yeast into the flour and mix until the dough comes together. Tip onto a floured surface and knead for 10 minutes. Return the dough to a lightly oiled bowl and cover with oiled clingfilm. Leave in a warm place to prove until it doubles in size (approximately 45-60 minutes).
3. While the dough proves, heat olive oil over a medium-low heat in a frying pan and cook the onions and thyme, stirring occasionally, for 20-30 minutes until soft and a light-golden colour. Set aside.
4. Place a large baking tray in the oven and heat to 250C. Cut a piece of baking paper into a 20cm 3 30cm rectangle. Tip the dough onto a lightly floured surface. Punch the air out of the dough and knead for 1 minute. Shape the dough into a rectangle on the baking paper.
5. Spread the onion over the dough, leaving 1cm of space around the edges. Arrange the anchovies on top in a crisscross pattern and put the olives in the diamonds. Scatter with extra thyme leaves. Remove the hot tray from the oven and slide the dough, including the baking paper, onto it. Cook for 20 minutes. Serve hot.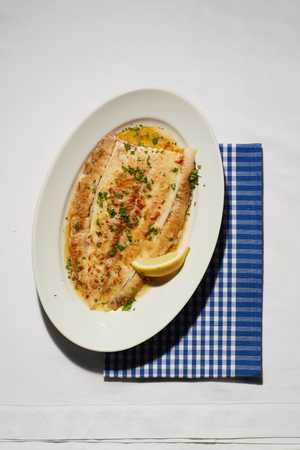 Sole meunière
Recipe 3
Serves 4
Ingredients
4 Dover sole (cleaned and scaled, approximately 500g each)
Salt and pepper
100g plain flour
200g butter
2 tbsps olive oil
4 lemons (1 juiced, 3 peeled and finely chopped with the pith removed)
15g parsley, finely chopped
Extra lemon wedges, to serve
1. Preheat oven to 180C.
2. Prepare the sole: trim around the fin with scissors and remove the skin (use a sharp knife to make a slit at the base of the tail, grip the end of the skin with kitchen paper and press the tail with the other hand, pulling to release the skin). Repeat on the other side. This can also be done by your fishmonger.
3. Season the sole with salt and pepper, then dust with the flour on both sides.
4. Place a frying pan on a medium heat, add 25g of the butter and the olive oil. When the butter has melted, add the sole and cook for 2 minutes on each side until golden. Place on a baking tray and cook in the oven for 5-8 minutes. Repeat for each fish. While the fish is cooking in the oven, make the brown butter.
5. Melt the rest of the butter in a pan over a medium heat until it turns golden. Watch carefully for small flecks of brown and then remove from the heat – you don't want to burn it. Add the lemon juice and chopped lemons. Keep warm.
6. Remove the fish from the oven and move to a chopping board. Using a fish or butter knife, make a cut along the backbone. Lift the half fillet with a spatula and place on a serving plate, then repeat with the other fillet. Flip the fish and repeat, placing the boned fillet over the other to recreate a fish shape. Sprinkle with parsley and pour over the brown butter. Serve hot.
Happy Face pizzeria
London
"The whole building is our love letter to Italy," says Happy Face co-founder (and former Monocle staffer) Paul Noble speaking about the newly opened pizza joint and its cocktail bar, Supermax. Providing Neapolitan-inspired pizza (no sourdough crusts here – instead expect thin-and-crisp perfection) alongside cocktails, the menu at Happy Face is comfortingly compact and fits on a single side of a smallish card. Be sure to sample the parmigiana pizza with a Campari soda followed by the pistachio gelato. "There are other places that are doing very experimental stuff with toppings and dough. We are about the time-honoured toppings – a margherita, a pepperoni – but doing them to perfection," says Noble.
The food may be a lesson in simplicity but the fun flourishes with the design of the restaurant. Design firm Pentagram is to thank for the playful smiley-face logo, which complements the light-hearted interior: all dusty-pink panelling and jade-green piping around a green-marble bar. There are benches for speedy in-and-out custom and a clutch of booths for cosier affairs. It's all tied together with a warm glow from the constellation of Clam pendant lights by Decode.
But there's more. Down a few flights of stairs you will find Supermax, an homage to 1970s Italian discotheques. The cocktail bar is built for good times, a striking marmoreal bar surrounded by a meandering custom-built sofa, while neon lights loom in front of velvet wall hangings. Vermouth is the spirit of choice – another nod to Italy – but this doesn't mean the drinks menu is limited.
The motif that links these two distinct spaces is music: this is, after all, a project from the team behind the nearby Spiritland bar, restaurant and listening lounge for audiophiles. Each aspect of Supermax has been considered to make sure the sound is exceptional, and it isn't bad upstairs either. "We have an incredibly good sound system for a pizza restaurant," says Noble. This love letter to Italy not only reads well but sounds superb too.
happyface.pizza
Sydney's all-conquering Merivale group has a new outpost. Just up the hill from Bondi Beach, Totti's occupies the beer garden of a 1907 pub that's as reminiscent of a Mediterranean taverna as it is an Aussie drinking den. Chefs Mike Eggert and Khan Danis serve starters and sharing plates from the wood-fired oven; bread is made to order and is accompanied by small plates of house-cured charcuterie and Italian cheese. Mains of seafood, sausages and schnitzel are cooked over charcoal and sit on the menu beside bowls of handmade pasta.
At the bar, Sam Egerton pours retro Italian cocktails, a long list of non-alcoholic tipples and more than 50 wines, most from small or organic wineries. All are a fine way to round-off a few hours at the nearby beach.
merivale.com
For a country on the Mediterranean, Lebanon has surprisingly few seafood restaurants of merit – so the opening of Em Sherif Sea Cafe in Beirut's Zaitunay Bay is a welcome one. Head chef Yasmina Hayek has refreshed traditional Lebanese fish dishes, among them kebbet samak – white fish, juicy pomegranate seeds and purslane with onion relish – as well as grilled sea bass shawarma with salty pickles in flatbread.
What lifts the setting from seaside to spectacular is the work of Lebanese illustrator Rana Zaher, whose murals depicting Europa's abduction and a trident-wielding Poseidon are a step in the right direction when it comes to restaurants supporting local talent. "We are seeing more and more representation for creatives," says Zaher.
emsherif.com
After 18 years on Queen Street West, Swan – a treasured Toronto diner – shut in 2015. But the venerable old bird took flight again for restaurateur Jen Agg in late 2018 under the new (and, one imagines, tongue-firmly-in-cheek) name Le Swan. As the name suggests, the menu has been given a Gallic spin: chef James Santon serves bistro favourites such as beef-cheek bourguignon and salad niçoise. But there's no need to get your feathers ruffled: Le Swan still delivers diner specials. A hot open chicken sandwich arrives smothered in gravy and, in eastern Canadian tradition, a miniature mountain of peas.
Le Swan isn't one of those "can I explain our concept" joints. It does hearty comfort food, a fact especially in evidence after 23.00 when, among the restaurant's tufted oxblood banquettes, fondue is served late into the night.
leswan.ca
Coffee round-up
Stavanger, Norway
Long dark winter days lead Stavangerites to lean on caffeine – and a trio of forward-thinking cafés are heeding their call. Upon entering Kokko, one must decide whether to descend or ascend. The former drops to Atelier Kokko, a showroom-cum-Turistforening (trekking association) stocked with Stanley canteens and Fredericia furniture. The latter leads to the Kaffebar. Look up and see roaster Solveig Sundsdal poised over her burnt-orange Diedrich coffee roaster; nothing happens behind closed doors when you have glass floors.
A few blocks away on Klubbgata is Coffeeberry, where the furniture is all mid-century modern, the branding a bit whimsical and the strong drip-coffee served in Figgjo mugs. Across town, Hverdagsgodt is fuelling a renaissance in the Øst neighbourhood. The espresso, smoothie and quinoa salad-slinging café is docked in the Fermenten mathallen, a refreshed former canning factory. It's the kind of oh-so-Stavanger space where one is equally likely to find oneself next to executives pondering petrol prices as shaggy-haired surfers talking about the day's waves at the nearby beaches of Jaeren.
kokkokokko.no; coffeeberry.no; hverdagsgodt.no
Taller Estrella Jafif
Mexico city
On the west side of Mexico City, in the Bosques de las Lomas neighbourhood, this modernist art space and kosher culinary school is always buzzing with activity. Built for chef Estrella Jafif, the white-tiled school – designed by Belzberg Architects from Santa Monica, California – is a popular spot with both the Jewish community and curious guests from other neighbourhoods. Jafif's cooking classes last about three hours and up to 20 people can attend. "There is a huge Jewish community in Lomas," she says. But surprisingly cultural activities were limited. She started the school to open up Jewish cooking to the world and dispel the idea that "kosher food is boring".
Running several classes a week, she teaches how to prepare dishes such as aubergine with almonds and tamarind dressing, and snapper wrapped in grape leaves, weaving her cultural heritage into her food. "I was born in Mexico with a mix of different cultures in my blood – Turkish, Syrian, Cuban – which all share a great passion for food," she says. Luckily for Jafif, Mexico is the natural home for the kind of recipes that she likes to use. "Mexico has a great variety of ingredients, all very similar to my type of Jewish cuisine. They are easy to obtain, fresh and always flavourful."
estrellajafif.squarespace.com