The only French icon for whom a craggy aspect is an asset, Mont Blanc stands alone as Europe's mightiest mountain. To separate the beauty from the treachery, Monocle straps on its crampons and meets the locals who live in its shadow.
Half of the white mountain sits in Italy, where its name sounds like an old-fashioned aperitivo and from where Courmayeur squints up at Monte Bianco's granite angles. Half of the white mountain can be seen from Switzerland's beloved summit, the Matterhorn, where no francs need be tossed into a viewing telescope to feel the thing rearing up and bearing down like a white horse atop a tidal wave. But to the rest of us? To the eyes of the world, le Mont Blanc is all French.
From its southern valley and the town of Chamonix the mountain is a heavy, hunched giant; it looks a range of its own. It looks like, if not the hill on which a god sits, then some sort of god itself. But it also seems – in its rocky, icy, almost 5,000-metres-high way – strangely benign. Eerily so. It is the mightiest mountain until the Caucuses and Europe's highest peak. It is mostly a wind-assisted minus 30c at its summit and treacherously steep. But it does not look like other notorious and deathly giants of rock and ice that seem – like a javelin hurled – to have been thrust upwards, and violently, through the flat and placid plain in a bid to kill the sky. Mont Blanc does not possess the Matterhorn's aspect of a fortress of rock, nor Manaslu's vampiric bite, nor Nanga Prabat's daunting continental bulk, nor Everest's sobering history of valour lauded but more often lost (along with fingers and feet and lives).
Appearances are deceptive. Mont Blanc may appear to adopt the prayerful aspect of a priest, head bowed under a white zucchetto, but to anyone who knows the hill well it is also a thief in a black-and-white mask, running off with the church silver and maybe your life. For all the millions of skiers, climbers and hikers who've fallen in love with the view and the snow and the rock and the flora and the fauna, this hill still kills. Thousands have died on the mountain and about 900 rescue attempts are made every year. Attempts: sometimes people go up and bodies come down. Le Mont Blanc – cosified on chocolate boxes and snow globes and from whose foothills you ski before hitting the raclette-happy restaurants and even more happily cheesy bars of Chamonix – is the world's deadliest mountain. Well, vive la différence.
Lieutenant colonel Stéphane Bozon is blue-eyed and handsome, wiry and alert, and possessed of the rank and temperament to allow his buzz cut to grow out a millimetre or so to raffishly stroke an ear. Bozon is the commander in charge of the busiest mountain-rescue team in France, whose 45 officers respond to serious trouble on the mountain and the large area to which it lends its name. From Vallorcine to Les Contamines it's a little more than the length of one of the most popular winter-sport valleys in the world. "We made 856 rescues last year. That's a lot and that's why – it's not what I want – I have to sometimes sit here by my desk," says Bozon on a rare day at the gendarmerie, waving a sheaf of papers with a smile. "I'm the chief so I can't spend every day up the mountain – I wish I could – but on Thursday I'll be in the helicopter rescuing with my friends."
The Peloton Gendarmerie de Haute Montagne (PGHM) was formed after an incident in 1956 when two climbers were stranded in a storm on Mont Blanc for four days in deep snow at 4,000 metres. A helicopter was dispatched as a last gasp but before pilots were trained for mountains and snowstorms. The Sikorsky crashed in sight of the stranded men, who made it into the relative warmth of the wreckage. "In the end they could save the pilot and his mechanic but the Alpinists had been out for too long," says Bozon. "The French government, after this accident, decided to make a professional system. This story became well known."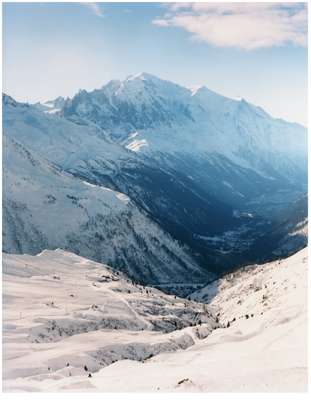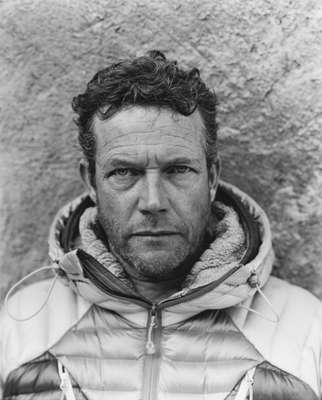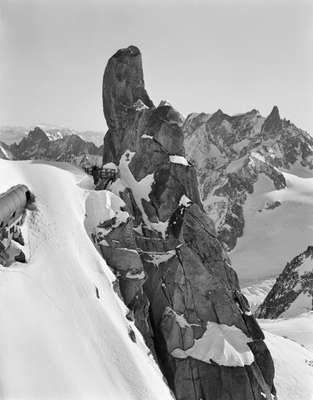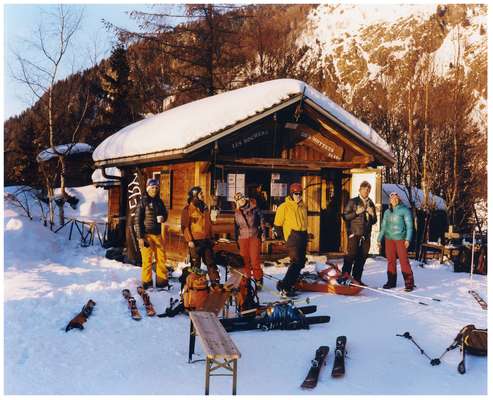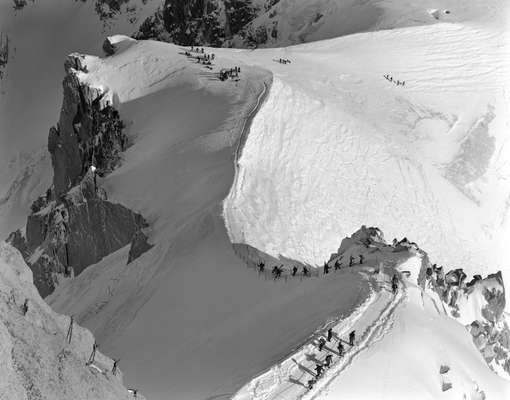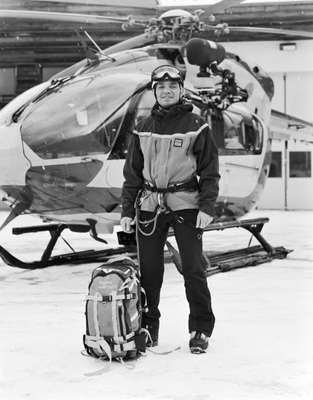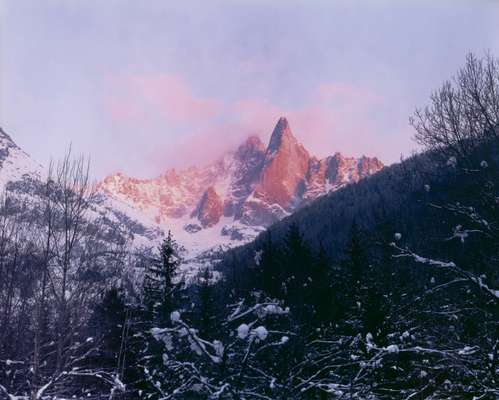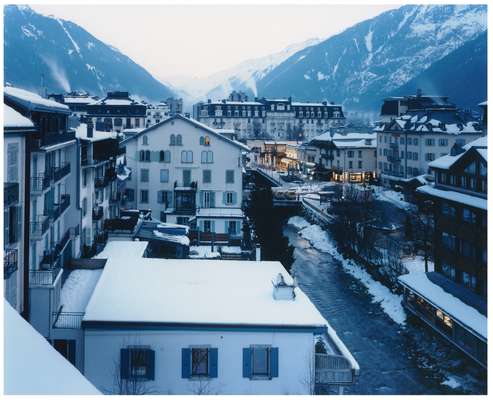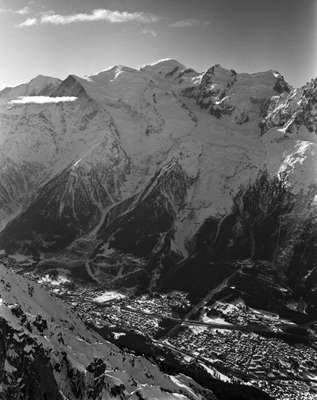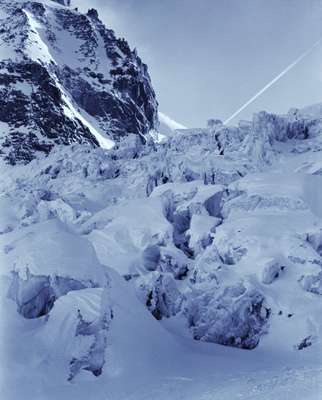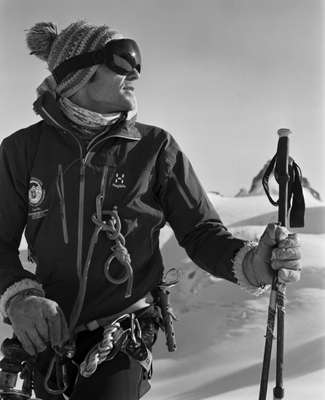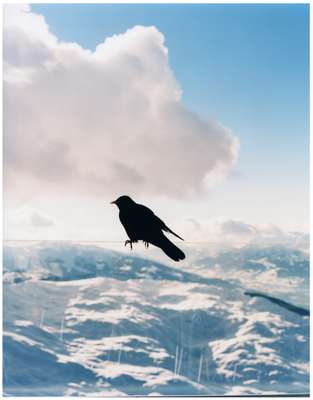 And so, in 1958, the first professional mountain-rescue team was founded here in Chamonix. "We put a statue in front of the gendarmerie," says Bozon and closes his eyes, just for a second. "People from outside don't understand how we climb until we die, they don't understand what we do and why. This is something to do with conquest and something to do with being humble and useful – perhaps it is strange." It sounds like the motto on the world's only honest coat of arms.
Bozon, born and raised in Chamonix, is one of Mont Blanc's key administrators and a man who knows the mountain like few others. He has to make life-changing decisions and have difficult conversations with his team when there is a great storm and they have to tackle the mountain: how do they get up? How do they get down? Can it be done? "We give our lives for others. Some of our friends here have given their lives for others. OK, it's not a problem. I don't think about this," says Bozon with a glance out of the window at the hill. "We have accidents, people die in training; we are not supermen. We have lost many friends. We live with it inside our minds. I don't think about it every day but each year I do. Here, deaths are very particular."
A tour of the gendarmerie includes the kit room bedecked with every sort of rope, harness, crampon, carabiner, radio and cold-weather equipment a rescue team could throw at a mountain. So what does Bozon use most? He holds a middle finger to his temple and confirms with a shrug, "Juste ça – non?"
Three hundred years ago anyone interested in the mountains, in doing anything other than walking around the base of them to get from, say, Besançon to Basel, was considered a nutter or a necromancer. After all, mountains were the haunt of witches, ghouls and other nameless evils. Cities were civilisation and the meadows and rolling hills that abutted them were the place for an appreciation of mild Mother Nature shaped by a pastoral sort of agriculture. Wild landscapes had no attraction until the middle of the 18th century, when scientific inquiry and imperial derring-do met in the mountains. Mont Blanc was scaled in 1786 and mountain fever was created. Chamoniards, local guides, led tourists up to see Mont Blanc from a point on Montanvert, to witness the weather, glimpse the danger, feel the tingle of terror.
Caspar David Friedrich's romantic masterpiece, Wanderer Above the Sea of Fog, defined the spirit of a new age of thinking above the clouds and fashionable people wanted in. The folk music of the field was being drowned out by the Wagnerian orchestration of the mountains and Chamonix was the centre of it. Alpinism – walking, hiking, climbing and, later, skiing – was largely invented around the attraction provided by Mont Blanc's great height and proximity to cities (Geneva is close, Grenoble not far; Turin and Lyon also feel the tug of the gravity of the mountain).
The valley rings with the rattle of chairlifts and the swoosh of skis and so the chamber of commerce – the Compagnie du Mont-Blanc – made a profit of more than €9m last year on a turnover of €100m. Hospitality and history are important: the first Winter Olympics – sans slalom or downhill skiing – were held in Chamonix in 1924, at which Norway thrashed everyone (France came ninth).
Chamonix was a village before Mont Blanc fever took hold but it has become a town to service Alpine tourism. As such, people's lives and livelihoods are almost entirely dependent upon the mountain and its moods. Mont Blanc does things to people; the hill is addictive. The mountain pulls people up and throws them down. Climbers barely survive and go back for a lifetime of more. The greater the punishment, the greater the thrill. Mont Blanc is like an expensive sex dungeon perched 4,810 metres up a hill (underwear optional, overcoat essential). People who love Mont Blanc start to look like a mountain too. Sometimes the range looks like a continental truffle topped with white hair, sometimes like a Mount Rushmore of impossible cragginess (the Rolling Stones made of rolling stones), sometimes it's just a white sheet like a ghost in a faked Victorian photograph. The light. The light is Hollywood's golden age done by God – never more brilliant, never more dramatic, never more changeable. The light is also the dark and it comes while you're looking the other way.
"I grew up in front of Mont Blanc – the mountain was framed by my bedroom window when I was a kid," says Camille Jaccoux. "My father was a mountain guide and we climbed the summit when I was 13 years old and it was very beautiful – but I also know it to be very scary, very risky."
Jaccoux and his business partner Bruno Compagnet founded Black Crows, a ski and skiwear company, in Chamonix in 2006. Black Crows is known and loved internationally for making freeride skis: big planks like the sport's very early designs. But they're made of the latest compounds to suit off-piste adventuring and the tricks and baggy-trousered attitude that snowboarding brought into Alpine sport in the 1990s. Even Jaccoux – a 21st-century businessman who makes money doing what he loves and who will soon fly to Denver for a conference suspiciously close to some excellent skiing – has the air of an old-fashioned man of the mountains. One eye on you, one on the hill to see if it's worth a run in the afternoon. "Our name – Black Crows – comes from the big birds that flock together up on the mountain; it's about being part of something, part of a group," he says. "And it's no secret that there are people who also believe in reincarnation; it's quite nice to think that these birds are the spirits left on the mountain. You might say they are all around us."
Up at 3,842 metres on the wind-blown viewing platform of the Aiguille du Midi, the highest and closest structure to the summit of Mont Blanc, the lifts fail. It's spotlessly sunny and relatively warm in the de rigueur get-up of four or more layers but the power cut forces a silence. We're three quarters of the way up the highest mountain in the Old World and the wind is bitter and the rock is ageless and unforgiving. Wisely there is nothing – no flag or fabric – save for people's scarves, to flap in the wind and remind us mere mortals of nature's force and indifference. But then a girl drops a glove and it bounces and scuds straight off the platform and down into the ravine, plummeting like a bright coin into a dark and depthless ocean trench. For a moment, it is a scene of horror. A black crow croaks from the glass balcony. He's been this way before.