L'étiquette / Paris
Page boys
The new French menswear magazine with a refreshingly different approach.
Marc Beaugé, the droll managing editor and editor in chief of L'Étiquette magazine, is holding his iPhone aloft and scrolling through a WhatsApp thread. He zooms past hundreds of images that he and his colleagues have posted at all hours of the day and night: of vintage Converse moccasins; looks from the Celine men's show held the night before; piped pyjamas; delicate watches; and preppy penny loafers. They are broken up with quips, questions and heart emojis.
Beaugé pauses on a photo of Grecian slippers (rather awkward-looking leather shoes) sent by Gauthier Borsarello, the magazine's other editor in chief (he and Beaugé share the title). "I love these, guys," reads Borsarello's message. The responses are underwhelming. Beaugé: "Yes, [but] are they too cheese?" Loyc Falque, the magazine's stylist: "Vraiment?" ("Really?") Borsarello wins the round: the slippers will appear in the next issue.
We are gathered in one corner of Holiday Café, a coffee shop in Paris's 16th arrondissement, and Beaugé and his comrades are showing us how this new menswear publication comes together. "That's really how the magazine is done," says Beaugé, gesturing to the WhatsApp thread. "We are all busy so that's one way to gather," adds Falque. "Honestly, it never stops: sometimes we text at 1am," says Borsarello. "We do have a meeting at this café from time to time – but we don't like spending much time together," says Beaugé. The group, which includes creative director Franck Durand, deputy editor in chief Gino Delmas and artistic director Marin Muteaud, erupts into laughter, as they do throughout the afternoon. The mirth usually follows a one-liner from Beaugé, whom Borsarello calls the magazine's "conductor".
This easy camaraderie infuses the pages of L'Étiquette but the biannual magazine represents a serious business proposition. Its first issue, released last October, sold 80,000 copies (at €9.90 a pop); number two will hit newsstands in late March. Backed by So Press, an independent Parisian publisher, this collaborative "punk" project by some of Paris's leading creative talents proposes a refreshingly accessible vision for what men want to wear in France and beyond.
On the thick matte pages of its debut issue, cheeky male models sport loose shirts, slim suits or old Stan Smith trainers as they spin chairs on their fingers and flirt with the camera. Shoots are complemented with factual tidbits (say, the difference between moccasins and loafers) that would be boring in the wrong hands but are rendered amusing by Beaugé, and articles about clothing culture, such as an ode to the last denim mill in the US.
An attractive scrapbook of insouciant ensembles, the magazine is a manifesto of what French style means to this group of industry veterans, who maintain a distance from Paris's fashion crowd. Between them they run magazines, clothing shops, vintage showrooms, fashion brands, Holiday Café (where we're currently sitting) and world-leading creative studio Atelier Franck Durand. Their perspective on men's style is distinctive: aspirational but accessibly so, delivered with a grin rather than a pout.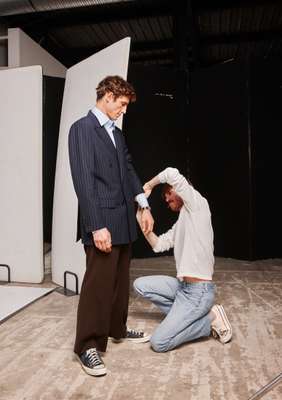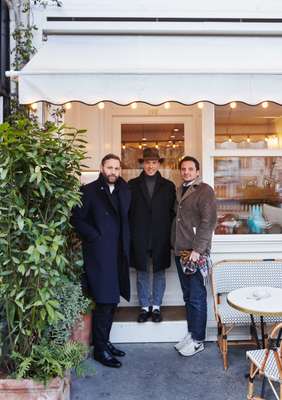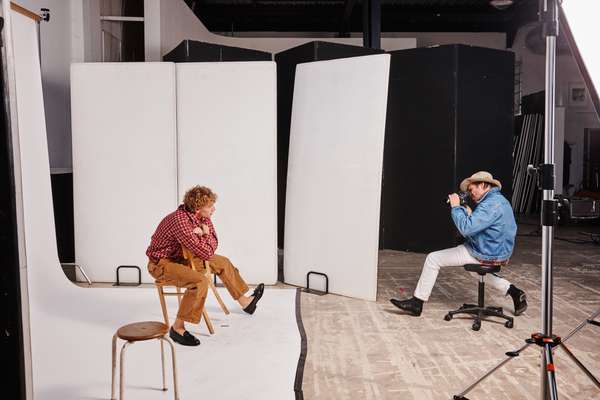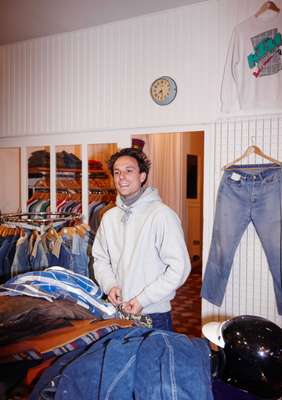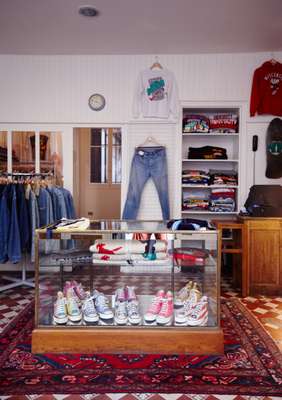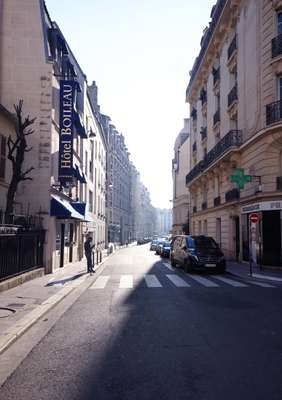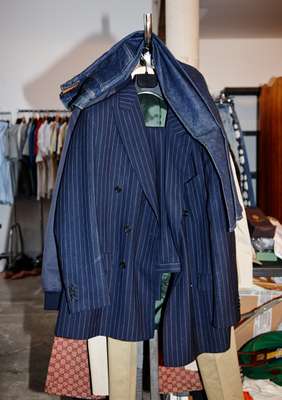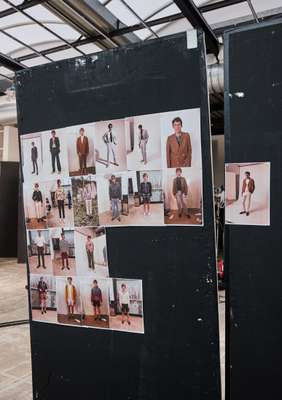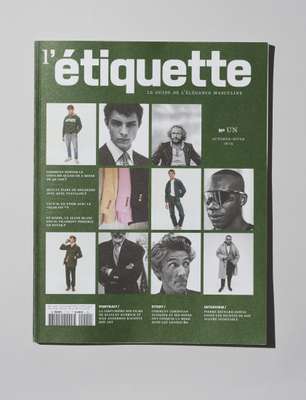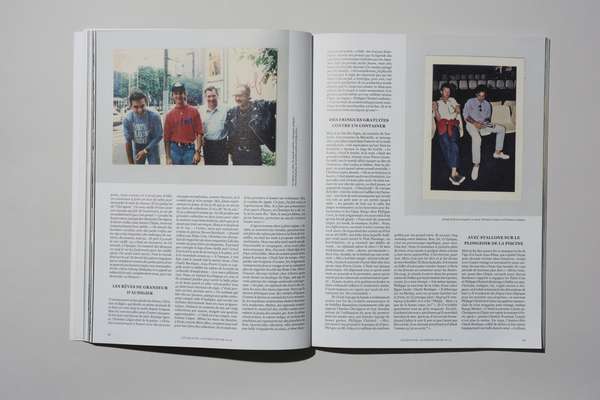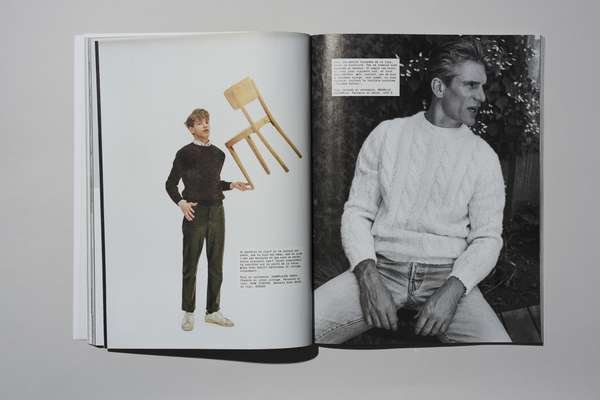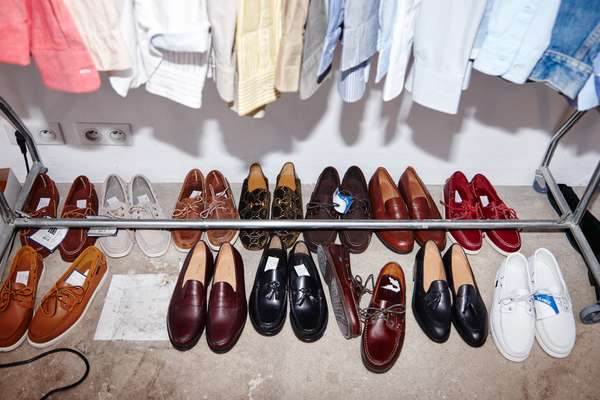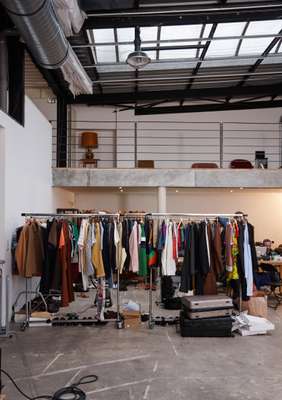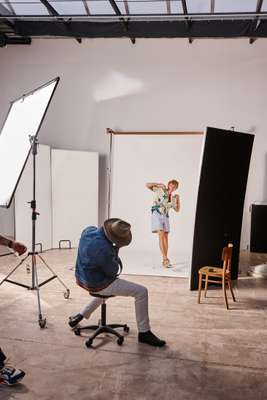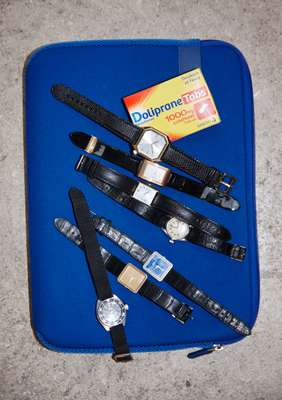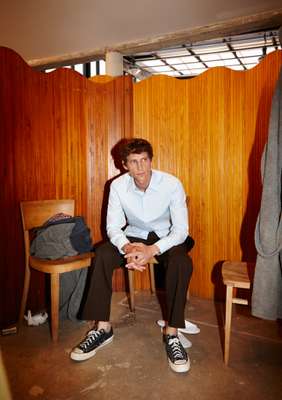 L'Étiquette began as a joke between friends. Beaugé and Borsarello casually floated the idea while out one night in December 2017; the next day Beaugé, who has worked at So Press for many years as the editor of various titles, spoke to Franck Annese, the founder of the publishing firm. "I passed him in the corridor at work and said 'I'm going to launch a menswear magazine, is that alright?' And he said, 'Yeah, go with it, go with it,'" says Beaugé. "That's how it happens in So Press; it's quite relaxed. We have founded 12 magazines over the years [including titles on football and film] so we know how to launch a magazine."
Beaugé and Borsarello's next move was to approach Durand. The trio were already colleagues: Beaugé edits Holiday, a travel magazine (and brand) owned by Durand; and Borsarello, as well as being a vintage-clothing dealer, is the designer for Holiday Boileau, a clothing label linked to the magazine. Most importantly they share a love of high-quality, longlasting clothes.
Their ambitions were clear. "What we really wanted was to finally [be able to find] an easy French style magazine," says Durand, who is more reserved than his colleagues. "Not [something] obsessed with fashion or designer trends; it was more about 'style'."
Here, style means how you carry yourself and throw things together. "There aren't many magazines where guys can really say, 'That could be me, I could wear those clothes,'" says Beaugé. L'Étiquette, by contrast, is "like your stylish friend giving you advice".
It's also unmistakably Gallic. The styling is relaxed, the photography (all by one snapper, Sean Thomas) is playful and the products, a sartorial pick'n'mix spanning Cifonelli suits, vintage Levi's and untucked Uniqlo shirts, are mostly affordable. And there is a worn aesthetic – a scuffed brogue here, a frayed jean there – that chimes with the national culture. "France is like the atelier of the world but we don't spend much money on clothes ourselves," says Borsarello. This frugality, he explains, goes back to the Revolution: "The kings were very dressed up but, in the centuries after we cut their heads off, guys have been discreet in their dress; it's really bad in France to show the money."
He sums up a typical Frenchman's relationship with clothes: "You buy a good shirt from Lacoste, you wear it, you wear it, and when it's dead you do the gardening in it. And when it's really dead you give it to your cousin," he says. "If you think about [Jean-Paul] Belmondo or [Jean] Gabin, they wear their suits a lot: they wear them and stitch them. That's what I love about the French." They are adamant that L'Étiquette's target is neither a foreign reader (all the text is in French and they have no intention of translating it) nor a Parisian flâneur. Instead they have mainstream French folk in their sights: "The guy in the countryside who's not into fashion," as Borsarello puts it. This broader demographic should enable them to generate larger sales; it is significant for a fashion title that half of the sales from L'Étiquette's first issue (30,000 copies from the rest of France; 10,000 overseas) came from outside Paris.
They are confident that men will fork out money for a thoughtful print product. "I think [men will buy magazines] more and more," says Borsarello. "It's like bespoke suits and handmade shoes. The business is growing. Everybody can have everything immediately so what people want now is something that you can't have so easily, that is made only for you."
Their intentions are admirable but there's a reason why the global media landscape is peppered with magazines whose head-to-toe luxury looks bear little resemblance to the outfits men actually wear: advertising. Luxury brands have deep pockets and want to see their products in the editorial pages of the publications they're backing. "Magazines are in a tricky situation because [the industry generally] is going down and you can go on by relying more on advertisers than ever," says Beaugé. "So I think editors have made a choice to be closer to advertisers than to readers. It works in the fashion industry more than in others – but in all types of publications nowadays, people try to get money from advertisers rather than readers."
L'Étiquette plans to do both. This is a passion-driven side-project backed by an independent publisher, so the pressure for results is less intense than it might be otherwise. And while their shoots do feature some luxury pieces among the vintage and high-street jumble, they tend to be individual items rather than full looks.
There is no obvious kowtowing to brands. Somewhat counter-intuitively, this hardball proposition has proven alluring to advertisers thus far. In Issue 1, Chanel's got the back cover and there are ads from Saint Laurent, Berluti and Cartier. "Intelligent brands understand that it's in their interest to have a look that guys want to wear," says Beaugé. "I mean, a Gucci jacket is probably more wearable when you mix it with a vintage thing and a shirt from Uniqlo than if you do the full look." "Advertisers," adds Durand, "are coming in for what it is, how it is – not trying to change the magazine to make it like the others." After finishing our espressos we embark on a tour of the 16th arrondissement. "This is a posh neighbourhood that used to be dead but is now becoming cool thanks to Durand and Borsarello," says Beaugé. We pass by Holiday Boileau, the clothing brand owned by Durand, and by Le Vif, a vintage Americana boutique that Borsarello opened in November.
Inside Le Vif, the guys hit the racks. Borsarello tries on a black jacket with a narrow drawstring waist and asks Falque for his opinion; the stylist is not sure about the waistline ("Un peu snug"). Muteaud dons a camo shirt while Delmas plumps for plaid. Beaugé pulls on a khaki coat and says, smiling, "Gauthier never gives us a discount here. We've tried many times."
Borsarello takes a moment to assess his colleagues' individual styles. "Marc is more classic and everything he wears has a historical reference, like me; Gino likes sporty, boxy fits. Marin is an artichoke: he wears 10 layers because he's always on a motorcycle. Loyc is San Francisco 1970s, like Harvey Milk. And Franck has a uniform: a shirt, Alden shoes and a shearling coat. He likes it classic- classic." Combined, it amounts to an appealing cocktail of looks. And, mixed with a dash of irreverence and a dollop of Parisian panache, out comes a vision of style that will leave men longing to inhabit the pages of their world.