Education / Hong Kong
Too cool for school
Good design has helped the Lycée Français International de Hong Kong make the most of its small footprint.
On a Monday afternoon, as the clock ticks down to home time, a dozen yellow minibuses are parked in the playground of the Lycée Français International de Hong Kong in Tseung Kwan O. Drivers wait to pick up the same primary and middle-school children who, several hours earlier, were running around the colourful space during break time and PE lessons. This multiuse area proved to be a crucial part of why Danish architecture firm Henning Larsen won the commission. "The company thought about the details and the daily usage of the school," says former headmaster Christian Soulard, who was involved in the project from the beginning before relocating to Singapore to become principal of Lycée Français de Singapour. Squeezing both a playground and off-street parking for up to 40 minibuses onto a relatively small site required the architects to elevate the building above ground level. Two of the colourful supporting columns that raise the building off the ground now double as goalposts during football games.
Similar efficiencies can be seen throughout the two school buildings: they have a modest footprint with classroom space for up to 1,150 pupils each, and sit alongside a basketball-court-sized gymnasium, a 25-metre swimming pool, multiple gardens, a running track and even a 300-seat auditorium. "The challenge of designing buildings in Hong Kong is achieving generosity within a very small footprint, so we tried to use every square metre," says lead architect Claude Bøjer Godefroy.
Half-French and half-Danish, Godefroy heads up Henning Larsen's Hong Kong office with his wife. Their 11-year-old son – an informal consultant on the project – is a student at one of the school's other Hong Kong campuses, which are heavily oversubscribed.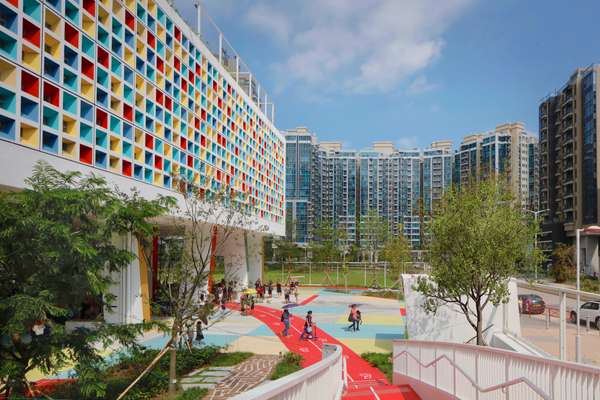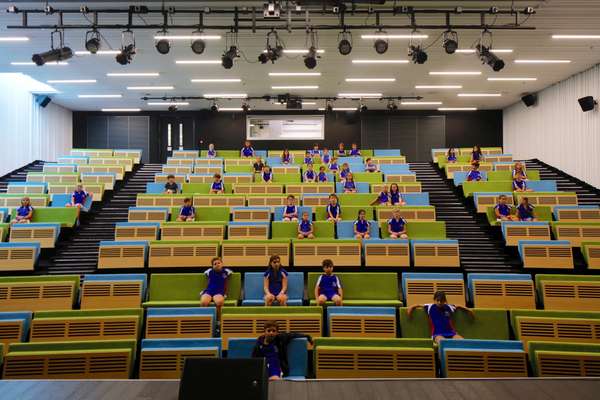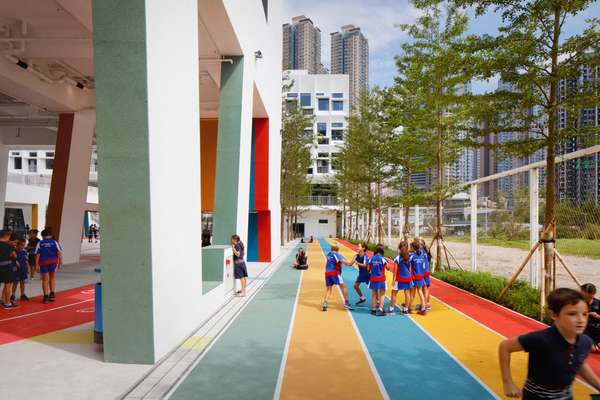 The sharing mindset within the school continues when the school day ends. "The open layout of the ground floor is designed to give access to the premises during the evening and on weekends, when the school acts as a cultural centre for the French community," says Godefroy. The auditorium, for instance, could be used as a cinema during annual French cultural festival Le French May. The school officially opened in September and its arrival is turning Tseung Kwan O – a 1980s-era new town built on reclaimed land – into Hong Kong's latest French enclave (it follows the Frenchification of neighbourhoods such as Sheung Wan and Stanley). The city's French population increased during the 2012 to 2017 presidency of François Hollande and now it's one of France's largest expat communities. For this reason, spaces at international schools are highly sought-after and parents joke about rushing to register new-born babies. The government earmarked five sites for new international schools and Lycée Français International secured its preferred slot, close to the waterfront with a cooling sea breeze.
Environmental considerations – an oft-forgotten feature in modern Hong Kong infrastructure – are integral to the design. A signature south-facing façade that stands above the entrance is peppered with 650 brightly coloured windows that provide mottled sunlight for the gymnasium inside; it's natural illumination that won't blind a budding basketball player mid-jumpshot. Latticed coverings on most of the windows remove the need for blinds that normally mean students spend half the day in the dark. "It's a touch of Le Corbusier," says Godefroy, who cites the Swiss-French architect's climate-appropriate buildings in India as an influence on this project. "His designs work. I wish there were more of these façades in Hong Kong as we have far too many glass buildings."
Parents living in the surrounding 60 and 70-storey residential towers may also recognise design elements from their own childhood. With its white walls, shaded colonnades and natural ventilation, the international school's Tseung Kwan O campus bears more than a passing resemblance to Hong Kong's few remaining examples of postwar modernist architecture, such as PMQ (the former Police Married Quarters), the General Post Office and The Murray hotel, which were designed to work with the city's sub-tropical climate. Godefroy prides himself on taking a contextual approach to architecture and investing in quality materials: ceilings held aloft by bamboo pillars, rubber floors, wool-lined walls and non-toxic paint. He can also take credit for the natural light that pours in through every skylight. "Students learn far better with plenty of light around them," says Soulard. "Studies show that a good learning environment improves students' results."
Feedback so far has been positive and admirers are even flying in from abroad. During Monocle's visit a delegation from Lycée Français de Singapour, also looking at building a new campus, is visiting the site. A session with Godefroy and Jean-Charles Querette, who wrote the design brief, sees the most time dedicated to the sound of the school rather than its shape.
Apparently acoustics are an essential part of teaching that's often overlooked by designers. Godefroy hit the right note in his pitch by bringing along a concert-hall-grade acoustician. Although this extra design consideration cost the school money and ceiling height – more of a concern for the Viking-sized Godefroy than pint-sized schoolchildren – the results have the Singapore delegation purring. An impromptu sound test records levels below a "normal" classroom.
The Hong Kong school promotes a collaborative style of learning, making these quiet classrooms all the more remarkable. Each school year of roughly 100 children occupies a "villa": five classrooms that open via sliding glass doors into a shared central space, so that students can mingle. This common area, achieved by dissolving corridor space, encourages the bilingual school's two educational streams to mix; French and English-speaking students rarely assimilate at other campuses. "The idea was to put them all together to create a naturally bilingual environment," says Soulard, who first came across the villa idea during a stint at a French school in Canberra and worked closely with Godefroy on the implementation. "It had to be an architectural project and a pedagogical project," he says. Getting French and English-speaking children to talk to each other and keep the noise down at the same time might just be the smartest thing about this Hong Kong school.
Parent's opinion:
Swiss-French Vesna Malesevic recently moved from London to Hong Kong with her husband Simon and their six-year-old son Alexander, who started at the Tseung Kwan O campus in January.
What were your first impressions of the school?
That it was way too far from our home – but when we visited we went, "Wow." The sense of space, openness and freedom to run and explore is a huge contrast to most of Hong Kong, which is all about vertical living. We have a very active six-year-old child who loves sport, so as parents it completely seduced us.
What do you like most about the design?
The curriculum being taught is the same as at the campus up the road but this school inspires kids; the environment for learning is incredible. Light pours into the classrooms and we loved the concept of sliding the doors back so kids can explore the communal areas together. It's like a French bistro for children, just without alcohol.
Does it work?
It works for my son – he's super chatty. His birthday party is a great example: when I asked for a list of friends he wanted to invite there were loads of kids who aren't in the same international stream with him.