Confectionery / Spain
Crunch time
Easter and Christmas may be the time for sugary treats but one Spanish town has hit a year-round sweet spot.
"Even in spring, Estepa smells like Christmas." Mayor Antonio Jesús Muñoz is standing on the sun-drenched balcony of his first-floor office, urging us to breathe in the aroma of roasted almond, sesame and cinnamon, a cheery concoction that flavours the gentle morning breeze. "This is our heritage," he says, beaming. "You can even smell it as you drive past on the regional highway."
Perched on the skirt of a mountain, the small white-washed Andalucian town that he represents – which has a population of 12,600 – has spent the past several decades dominating the displays in Spanish sweet shops and biscuit aisles. The bulk of the heavy kitchen work takes place from September to December, with a gentler pace being adopted throughout the rest of the year. At their busiest, Estepeños are focused on mixing, baking and packaging (all by hand) their unique bounty of mantecados, a sort of shortbread, and polvorones, which is similar but with almonds.
The not-so-secret key ingredient – lard – is sourced from animals that graze the olive-grove-rich surrounding farmland. Although the presence of lard as a binding agent might turn delicate stomachs, its use is testament to the small town's resourcefulness. Repurposing a by-product once discarded by farmers is now something that binds together the local economy. It also, of course, works wonders in keeping their delectable baked goods from crumbling.
"It's all because of Micaela Ruiz Téllez, my great-great-grandmother," says Santiago Fernández Alfaro, the fifth generation to lead the town's pioneering biscuit brand, La Colchona. "As a tireless working woman, she was ahead of her time," he says with pride. Fernández Alfaro is describing Ruiz Téllez's trial-and-error efforts back in the 1850s, which turned leftover lard from nearby slaughterhouses into a preservative for Estepa's traditional biscuits (the making of which is said to date back to the 16th century). This ensured that they survived that all-important journey by horse and cart to bigger markets in Córdoba and Seville, putting tiny Estepa firmly on the gastronomic map.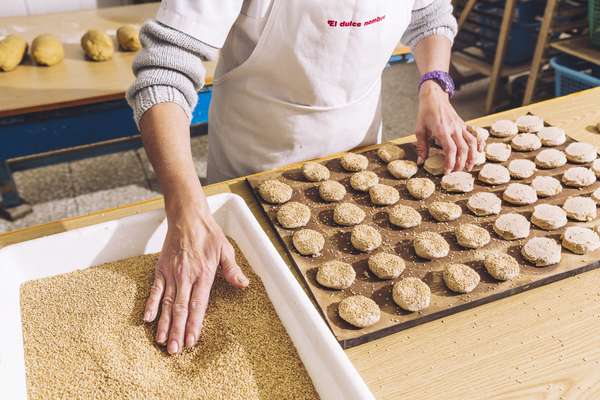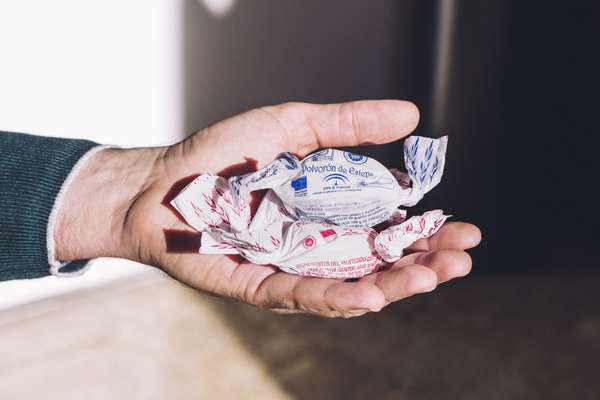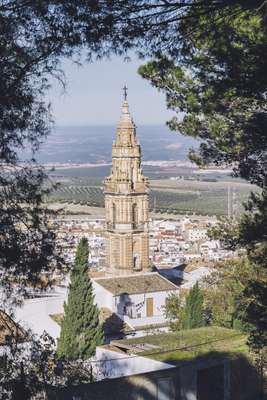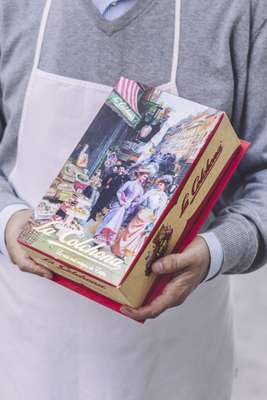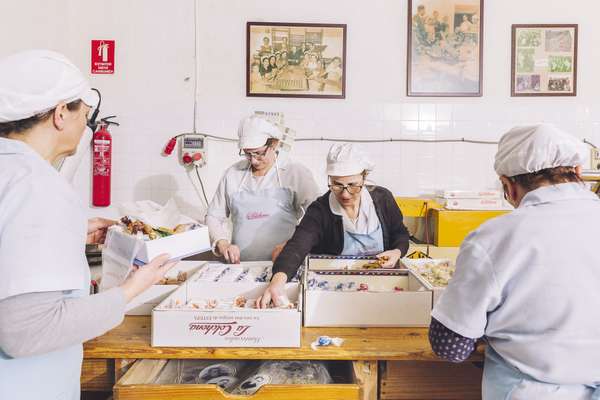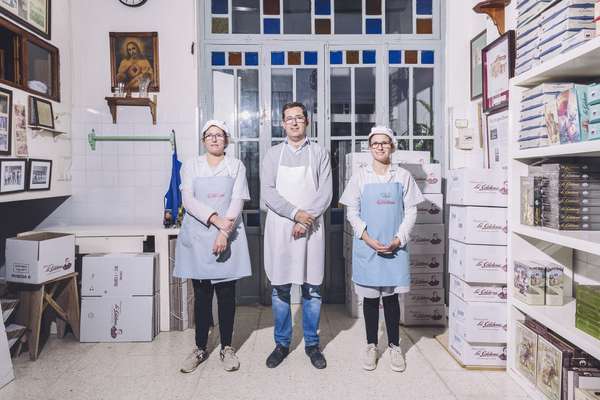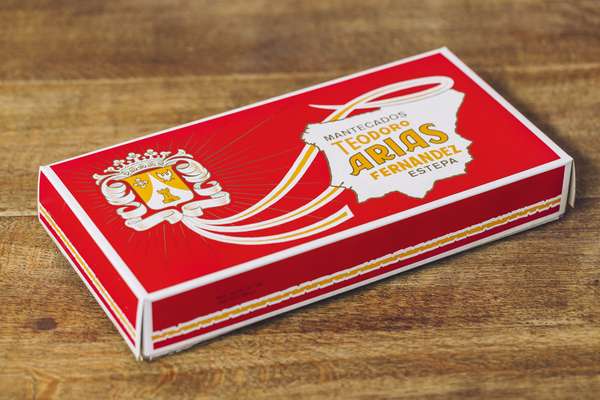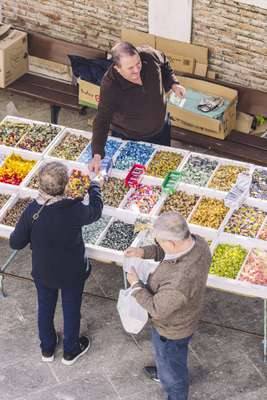 "Ruiz was a commercial pioneer," says Fernández Alfaro, as he walks past three aproned women at a wooden table who are packing polvorones into playfully illustrated boxes. "Before the 1850s, Estepeños simply competed among themselves to see who could make the tastiest Christmas treat; Micaela changed all that by pushing traditional recipes beyond the town's borders." Another boom came in 1992, when the expressway that girdles the town was opened and more hungry tourists started pit-stopping in Estepa for sweet snacks.
Apart from the workforce (mainly women) toiling away in small warehouses, an ancillary packaging sector has also emerged. Then there's the municipal efforts to lure wandering sweet-toothed visitors into the town in the off-season, as well as in the frenetic run-up to Easter and Christmas.
Today Estepa's selection of sugar-filled exports brings even sweeter rewards. Four months of seasonal production generate up to €80m in revenue; there are 22 different producers and the offering has expanded with marzipan and alfajores (a bite-sized almond-and-icing-sugar-covered morsel with Moorish roots). The industry sustains more than 4,500 jobs. In a region known for its high unemployment, it's no surprise that Micaela Ruiz Téllez is immortalised by a statue and is revered by the town like a patron saint.
Standing before a sturdy, still-working relic of a woodfire oven, Balbina Arias is urging us to take a bite from a freshly roasted batch of Spanish biscuits (though we don't need much persuasion). "You can taste the difference," says Arias, who overseas marketing at El Dulce Nombre, which translates as "the sweet name". "It's the way Estepa's olive oil roasts in our woodfire oven – but also in the affection we transmit through the hand-made processes that we learnt from our founder and grandfather."
Arias's family-run firm emerged in 1940 after the Spanish Civil War and today is co-run by her uncle. While many of Estepa's successful biscuit-making businesses have been tempted to upscale facilities, smaller workshops such as Arias's have eschewed industrial expansion for a more artisanal approach. Under this roof the sweets are still shaped and packaged by hand.
The recent mother of twins, Arias dabbled in fashion design before being lured back to the family business. She hopes that her newborns will continue the tradition and run El Dulce Nombre a generation from now.
The rivalry between different producers in such a tight-knit community as Estepa could be fierce. But, in fact, it feels healthy rather than hot-blooded. "We co-exist," says Arias. "There's room for everybody because we all elaborate our sweets in our own special way.
"There's a special feeling of pride in being Estepeño," she adds, offering us what is now the sixth round of tasters from a freshly baked tray. "We carry a sense of joy deep inside, knowing that we are all doing our part to sweeten life a little for the entire country."
Estepa's sweet treats:
Apart from the polvorones and mantecados that are a ubiquitous part of Spain's Christmas fare, Estepa also produces a wider selection of treats. There's the Moorish-rooted traditional alfajores (which differ from the better-known biscuit-like versions popular in Latin America) and the grease-free biscuits olivalmendrados, which are flavoured with olive oil, cinnamon, and sesame seeds. The town also makes turrón (Spain's answer to nougat), chocolate-coated marzipan and the mini ring-like roscos de vino, whose recipe includes a splash of sweet moscatel.