New opening / Los Angeles
Dough with the flow
US baking powerhouse The Manufactory is rising to the occasion with the opening of its vast new LA kitchen and restaurant.
There's an assumption that products that are home-made in small batches are inherently superior, ethically and in quality, to things that roll off production lines. But if your business needs to make some 4,250 loaves of bread and 5,000 croissants a day – and high quality ones at that – you're going to need more than elbow grease to make operations work.
Set inside a huge warehouse complex in LA's arts district – once home to American Apparel's factory – The Manufactory's new site sits within a massive retail-cum-office precinct called Row dtla. "We're at the crossroads between industrial and artisanal; we've decided not to compromise on quality but automating helps with stuff like lifting flour or mixing," says Chad Robertson, head of Tartine Bakery (with his wife Elisabeth Prueitt) and co-founder of this vast new café and bakery. "There is a sense of romance to doing everything yourself by hand – until your back hurts." His own business started as a pint-sized corner-store in San Francisco's Mission District but expanded into an international baking powerhouse: this huge new location (created in collaboration with Chris Bianco, who owns five restaurants in Phoenix) provides both businesses with some space to flex their muscles.
Inside, the high-ceilinged restaurant Tartine Bianco is running at about 1,200 covers a day, from breakfast to dinner (it opened in early February). The location also includes a coffee roaster, a café, a supermarket and a smart restaurant called the Alameda Supper Club. What attracts a lot of customers onto the premises, though, is what they can see (and, most importantly, smell) being made through the floor-to-ceiling windows: bread and pastries on an industrial scale.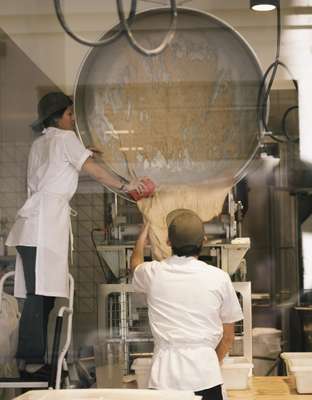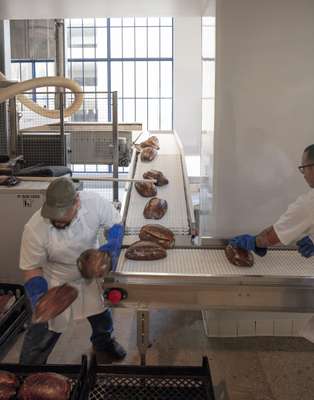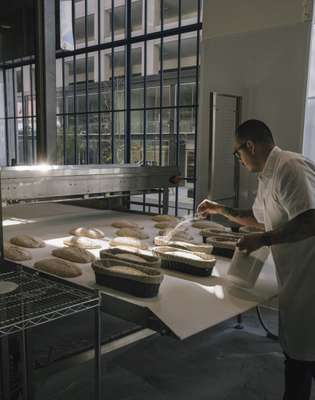 A dozen bakers inside The Manufactory take care of the bread, while another 12 look after pastry – although as business picks up (and the surrounding development's offices get filled) this number is likely to rise. When Monocle visits the team is shaping ciabattas and croissants by hand but all around them, shiny machines are whirring away. There's a mixing bowl for dough that's big enough to contain a cow; climate-controlled proving chambers the size of a minibus; and thermal pit ovens that deliver loaves on belts like suitcases on a luggage carousel.
Every week the team goes through one tonne of flour stashed in a so-called "super-sack" downstairs. This is no run-of-the-mill produce: all grains for Tartine's bread, be it spelt, barley or kamut, are sourced from a specialist in Washington state, where Robertson and Bianco are also involved in a project with the local university to breed plants that can yield not only tastier but also healthier results.
The plan is for some of those grains to be planted in California. However, The Manufactory's ambition has never been to source all of its ingredients in its backyard. An orthodox faith in the superiority of zero-kilometre produce is another myth that the founding duo are hoping to put into perspective. "Ever since we met 25 years ago we've been interested in the politics of food – understanding what sustainable farming really is," says Bianco.
It's not just a case of flatly refusing to fly ingredients in (the wine cellar is suitably stocked with whites from Austria and reds from Italy, for example; the stilton is from Neal's Yard in London). It's also about paying farmers and workers fairly, which is why there are no plans to sell their bread wholesale. Instead these goods will feed into Tartine's own three locations across LA, the catering of some big events, and sales direct to customers in the LA region on delivery apps such as Instacart and Good Egg.
"There is a big slice of people who are still really under-served," says Bianco. "We want to provide them with a clear understanding of the value of food."
Tartine in numbers
300 Total number of staff once The Manufactory reaches its expected production capacity.
1.3 million Kilograms of coffee beans that will be roasted per year in the complex's underground roastery.
6,300 Amount of viennoiserie that Tartine Manufactory can produce in a day.
3,700 Square metres of the Manufactory, making it more than half the size of a football pitch.
7 Components that make up the Manufactory space: the walk-up coffee and ice-cream window, the Tartine Bianco restaurant, a food market, the market's bar, the on-site bakery, a roastery and Alameda Supper Club.