Food & drink / Global
Food
&

Drink
Briefing
Food news from restaurant openings to saucy purchases – and a recipe to boot.
Lazy writers will tell you that all manner of ideas start as "seeds". Not for London restaurant Jolene: grains were the first thought for founders David Gingell and Jeremie Cometto-Lingenheim's bakery-cum-restaurant, which is found on London's Newington Green.
The pair's third venture – after nearby neighbourhood joints Primeur and Westerns Laundry – opened quietly last autumn but is causing a stir for more than its food. In the first sunny flushes of spring, monocle joined the queue for coffee in the light-bathed space, behind a fluffy lummox of a labradoodle and a small caravan of parked prams. The smell of freshly baked frangipane-filled almond croissants and raisin-flecked sourdough loaves mingled with the tang of arabica and the quiet thrum of mid-morning chatter.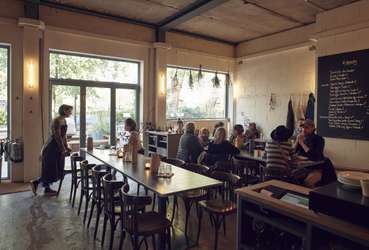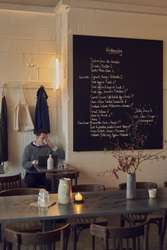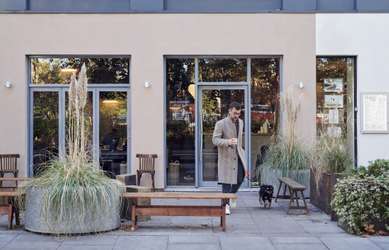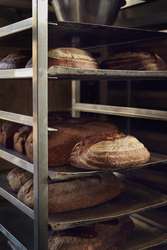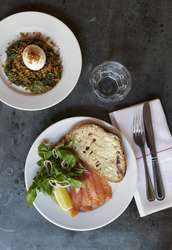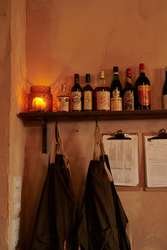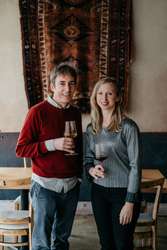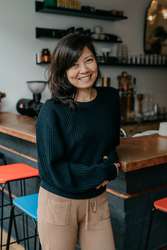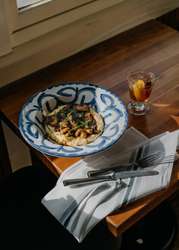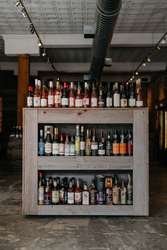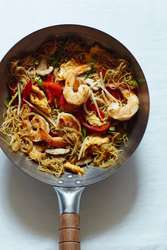 The notion of a neighbourhood bakery had long intrigued Gingell and Cometto-Lingenheim but it was a meeting with musician-cum-farmer Andy Cato (a former member of electronic dance act Groove Armada) that spurred the idea into action. Cato relocated from the UK to Gers in southwest France to grow ancestral grains. He imparted his belief that wheat is healthier when freshly milled, as it contains more essential oils and amino acids than might be found in flour that's been left unused for months. Cato's wheat is milled daily in the kitchen behind Jolene and forms the basis of the bakery's line-up of goodies, which can include blood-orange pastries, apple-and-cinnamon muffins or brioche.
Gingell and Cometto-Lingenheim worked for big operators and in West End kitchens for some 20 years before opening first restaurant Primeur in 2014. Though their pedigree shows, the space is unassuming. "We wanted to strip the restaurant experience down to what's really important," says Cometto-Lingenheim. "We couldn't work for anyone else." But success was never a given. "People thought we were crazy to open Primeur," he says, noting a lack of passing trade, buses or a Tube station. "We'd never done a neighbourhood restaurant before. In Shoreditch or Soho people start going out at 5.30 or 6pm so when no one showed up on our first night we thought we'd made the biggest mistake of our lives," says Gingell. "There was no plan B; we just went for it. We actually had £54 left in the float when we opened," he says with a grin.
Jolene inherited many of its ingredients from the restaurants that went before it: affable staff, natural wine by the glass, low light and a lack of crusty earnestness (but plenty of crusty bread). Cornwall-born Gingell's menu is gymnastic in its use of seasonal ingredients that are fresh, unctuous and moreish. Cometto-Lingenheim, who hails from France's Alsace region, marshals the front of house with wit and Gallic bonhomie. Beyond the baked goods, the breakfast, lunch and dinner selection are etched on a tall chalkboard; items are crossed off as the daylight wanes and candles flicker.
You'll be pleased to hear that the food is almost infallibly good too. On our Sunday visit the menu included pappardelle lamb ragu, chicory-chopped egg and chervil, beef rump, celeriac gratin and turnip tops or pork-collar chickpeas and anchovy – all faultlessly prepared as sharing plates.
Even if you do nothing else that monocle recommends this month, go to Jolene. The seeds of success have been planted and, for Gingell and Cometto-Lingenheim, going against the grain comes naturally.
jolenen16.com
Chefs and partners Jasper O'Connor and Katie Sanderson's peanut rayu (chilli suace) recipe proved such a hit that they decied to sell it full time. Having taken a berth at the Dublin Flea Market, the pair channelled its popularity into the production of two sauces – packaged by Revert Design – that are now stocked in more than 100 restaurants and shops in Ireland. The recipe was overseen by a third partner, Aoife Martinho, in a kitchen in Dublin. "It is an unceremonious mash-up of some Japanese and Chinese classics," says O'Connor. "We added some sweet, salty and savoury elements to pump it up." The result is excellent on eggs and in salads.
whitemausu.com
Estela: [Global] There can't be many still questioning the divine tastes of chef Ignacio Mattos, the talented soul behind New York's Estela (one of Barack Obama's favourite restaurants) and Café Altro Paradiso on Manhattan's Spring Street (beloved by our editors). His cookbook, published by Artisan, defies any quibbling. It's an artfully amassed rundown of seasonal dishes: mussels escabeche on toast, lamb ribs with chermoula and a perception-jilting endive salad. It's the kind of food that made this chef an estela beyond his native Uruguay.
The small but perfectly formed progenitor of Four Letter Word – a coffee shop and roaster that our team leant on for morning sustenance while reporting our forthcoming Chicago travel guide – opened far away in Istanbul back in 2014. With two of the three owners now based in the Windy City, it began roasting its beans stateside two years later. In its bijou outpost on Logan Square, pastries are served alongside pourovers, espresso, drip and Turkish coffee at a clutch of small tables or the long brick bar.
For lunch we'd recommend Big Jones in Andersonville. There's plenty of Midwestern produce but chef and co-owner Paul Fehribach also pushes the taste of the American South, from a Louisiana crayfish omelette to Alabama catfish and grits. He often draws from historic recipes: the brunch menu includes a colonial-era cornbread concoction and a Big Jones Benedict with house-cured-and-smoked ham. The cocktails also take inspiration from the rich sippin' traditions of New Orleans, Savannah and Charleston; try the Sazerac or the Chatham Artillery Punch.
For the evening we recommend drinks in Bucktown in the Red & White wine bar, which is also a shop. Expect a decent spread of natural wines by the glass or bottle, a small but thoughtful menu of cheese and charcuterie, and a few choice plates and mains. The by-the-glass list is short and sweet but the space is welcoming enough to linger longer and while away the hours – perhaps over a bottle or two.
4lwcoffee.com; bigjoneschicago.com; redandwhitewineschicago.com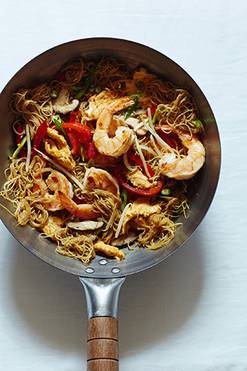 Singapore noodles
Recipe —
Midori House
Serves 2
Ingredients
2 nests or 90g vermicelli rice noodles
2 tbsps peanut oil
2 medium eggs, beaten
2 garlic cloves, crushed
½ tbsp peeled and grated ginger root
6 large prawns, shelled and deveined
1 green finger chilli, finely sliced
½ red pepper, seeded, thinly sliced
1 small onion, peeled, thinly sliced
4 fresh shiitake mushrooms, stem removed and sliced
Handful of bean sprouts
2 spring onions, sliced diagonally
For the sauce
1 tbsp mild curry powder
3 tbsps soy sauce
2 tbsps Chinese shaoxing rice wine or dry sherry
1 tsp light brown sugar
Large pinch of white pepper
For the garnish
Small handful of coriander, roughly chopped
1. Put the vermicelli noodles in a bowl and pour boiling water over them. Leave for 1 minute, until just softened. Drain and leave to dry in a sieve or colander while you are preparing the other ingredients.
2. Prepare the chopped ingredients, ready to be stir-fried.
3. Place the noodles in a bowl, mix the sauce ingredients and pour over the noodles, then toss together well.
4. Heat ½ tbsp of the oil in a wok until hot, then add the beaten eggs and leave until half set. Mix gently to make soft scrambled egg. Tip onto a plate and set aside.
5. Heat the rest of the oil in a wok until hot, then add the garlic and ginger. Stir-fry for 30 seconds, add prawns and cook for 2 minutes, then tip in the rest of the chopped vegetables (except the bean sprouts and spring onion). Stir-fry for a couple of minutes then add the noodles, beansprouts, spring onion and scrambled egg. Toss everything together for a couple of minutes.
6. Place onto two plates. Garnish with coriander and serve hot.