Travel briefing / Global
Invite yourself in
Turn the page for the latest hotel openings and travel news from around the globe. First we're in the English city of Cambridge, where we visit a revitalised Edwardian grande dame.
Scholastic soubriquets aside, there's little to put one in mind of dingy student digs in the lively and light-filled University Arms Cambridge. When you pull up outside, the sandy-hued double-height columns set a grand tone and show the scale of a revamp that saw architect John Simpson revive this Edwardian gem of a building after a fire in 2013. Four years and €93m later, the 192-room affair has been allowed to shine with playful interiors by Martin Brudnizki (he of The Ivy's facelift and London mainstays such as Annabel's).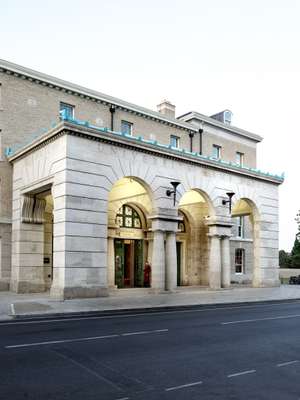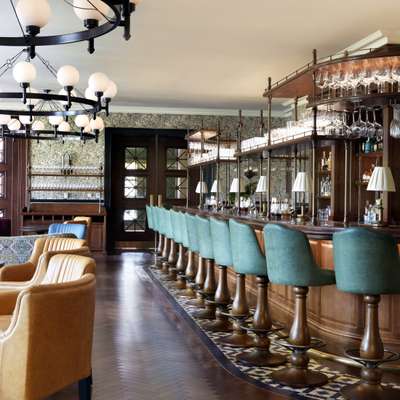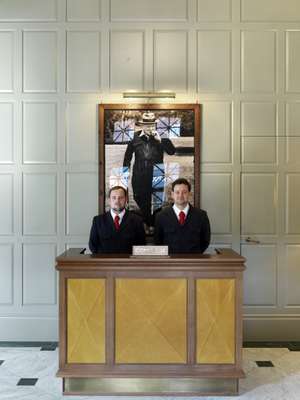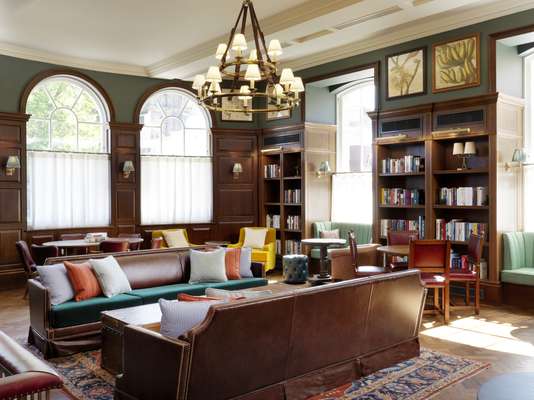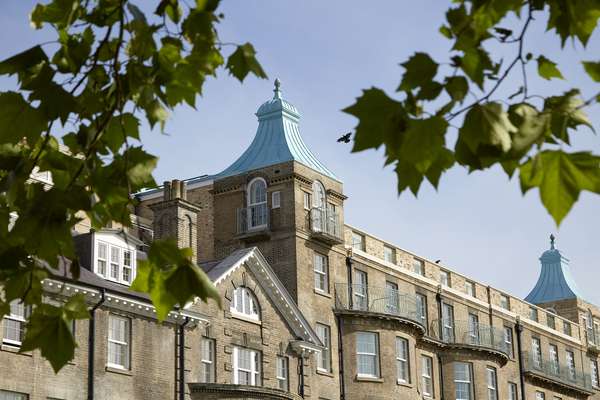 And it works rather well. The new lease of life has artfully elevated the grand old building beyond sub-Soho House mediocrity – a definite danger for anyone gunning for that now-beloved British-with-a-twist take on hospitality. Tack right as you enter then clip across the lobby floor and you'll hit a welcoming wood-panelled library. Next door there's a well-appointed bar and busy restaurant overseen by Tristan Welch, called Parker's Tavern (named after a crow-plagued patch of grass known as Parker's Piece outside). Its generous menu riffs on comfort food from lobster mac'n'cheese to meaty finds from field and fen (and, actually, good British sparkling wine from Kent in the form of Gusbourne Brut Reserve). The guestrooms, however, are the real deal-clincher (though where else you'd stay in Cambridge we're not certain). Beyond the predictable pictures of pastoral scenes – and, yes, the occasional nod to that well-known boat race – there's are pleasing textures to the finishes, prints, throws, beds and sofas that invite you to linger – particularly if you're lucky enough to nab a turret room (907 is the best). Don't just take our word for it: make an educated choice and see for yourself.
universityarms.com
25hours Hotel Terminus Nord
Paris
Hamburg-based hotel group 25hours chose Paris's bustling 10th arrondissement as the home for its first property in a non-German-speaking region. Located in an 1860 Haussmanian-style building opposite Gare du Nord, the new member in the group's growing portfolio draws on the eclectic energy found around the busiest train station in Europe. The design blends Parisian elements – such as a kiosk-style reception area and wrought-iron balconies – with an Africa-inspired colour scheme in a nod to the melting pot of cultures and travellers coming together in the neighbourhood.
"Paris is an accolade for us," says Christoph Hoffmann, founder of 25hours. "It's one of the few big cities left that still radiates adventure, romanticism and authenticity – these are all core values in our approach to hospitality, so it really is an ideal match."
Within the individually decorated bedrooms (of which there are six size categories), bright wallpaper provides a canvas for Kollywood posters, graphic-print carpets, bedspreads made from vibrant African fabrics and Moroccan-style ceramic sinks in the bathrooms. Pops of colour pervade throughout the common areas, from the pastel-hue velvet chairs and floral kilims in Mediterranean restaurant Neni to the heavy green curtains and patterned lampshades in speakeasy-vibe bar Sape. Artist-photographer Alex Toledano's portraits of the community adorn the corridors, introducing guests to the diverse mix of residents who call the area home.
25hours-hotels.com
The cruise industry is riding the crest of a wave and shows no sign of stopping. This spring and summer season sees the launch of Scenic Eclipse, the first ocean-bound ship from river-cruise operator Scenic, as well as Hapag-Lloyd's Hanseatic Nature. The ships are equipped with expedition boats and Scenic Eclipse even has a seven-seat submarine and helicopter. "We want to provide discovery experiences in the world's most exotic and remote destinations," says Colin Downing, managing director of Scenic UK.
The ships mark a trend towards smaller bespoke-expedition cruises. In 2018, cruises of this kind accounted for 1 per cent of the global market but, in the next three years, 28 such ships will head out to sea. These boats, smaller than the average cruise ship, can call on smaller ports and offer passengers a more intimate experience.
scenic.com.au; hl-cruises.com
Q&A
Klaus Kabelitz
General manager, Belmond Cadogan Hotel
London
The end of February saw the opening of Belmond's newest addition: the 54-room Cadogan Hotel in Chelsea, London. Overlooking the verdant Cadogan Gardens, halfway between the fashion-forward Kings Road and stately Knightsbridge, it comes complete with a bar and restaurant headed by Adam Handling. The historic hotel – first opened in 1887 – has been sensitively revamped to reflect its storied history without losing its authenticity: seek out the mosaic lilies designed by Lillie Langtry, the 19th-century actress who used to live here and even has a suite named after her. Its general manager, Klaus Kabelitz, tells us how they've embraced the community and polished the property.
What makes Chelsea such a special place?
I started off in Mayfair on Park Lane and moved up to Knightsbridge before coming to Chelsea, and it's probably the most unique of these areas. I have a feeling that this is where the real London is. Neighbours have been knocking on windows asking if we're open. It's that sort of hotel where people who live nearby come in and make it their own, which is great for our guests. It helps you feel connected to the area and the people.
How have you managed to tie the redesigned hotel to the community and its roots?
There's a long list of famous British people who have lived around here, including Bram Stoker and Oscar Wilde, so the hotel has many stories to tell. We worked with the local bookshop John Sandoe to curate our hotel libraries. Details throughout the hotel nod to the history of the place. Original details – including the mosaics and wood panelling – were brought into today's world and contrasted nicely with the contemporary British-made furniture and artwork.
What do you think sets the Cadogan Hotel apart?
The hotel is small in terms of the number of rooms, but big enough to offer all the services to help guests really feel at home. There is life in the bars and restaurants and, when you're here, you couldn't be anywhere else in the world.
belmond.com
Ready for take-off
Istanbul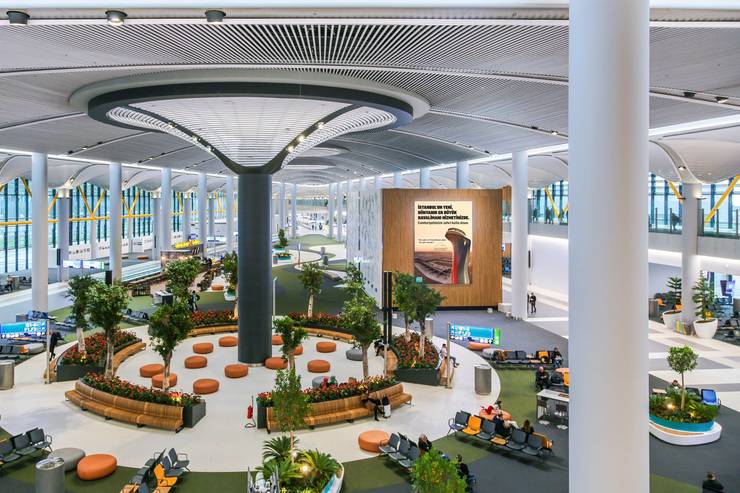 Istanbul's new airport has been built to be the busiest one in the world. Turkish Airlines' success in funnelling passengers through its hub in recent years left the old airfield, Ataturk, bursting at the seams, so the new mega-terminal offers welcome relief. Limited flights began operating here late last year but this year sees the airport come fully online.
The numbers are impressive: the airport will eventually have six runways and 500 check-in desks. Construction costs to date are somewhere north of €11bn. When completed in 2028 it should be able to handle 200 million passengers per year. By comparison, Beijing processed 95 million in 2017.
Among the innovations we can expect: unmanned buggies, baggage tracing in a mobile app, and biometric and facial scanners. Istanbul is investing properly in technology in a bid to show the world how it's done.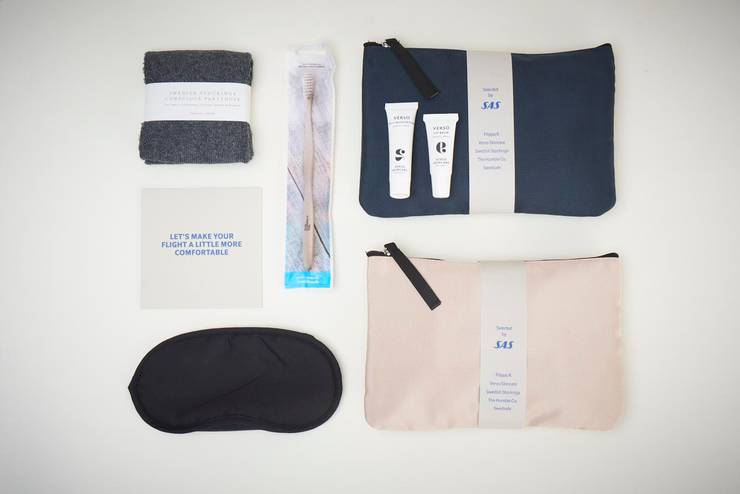 Sas has taken the on-board comfort kit to new heights by championing sustainable Scandinavian design. Stockholm-based clothing company Filippa K designed the sachets and eye masks; the socks are made from recycled materials with environmentally friendly dyes by Swedish Stockings; the Humble Co toothbrush comes with a corn-starch handle; and the Verso cream and lip balm help travellers cope with dry air on board.
sas.se
A decade ago hotels harnessed the Havaianas moment and started commissioning their own takes on the iconic flip-flop (the Fasano in Rio has some very nice black-and-white Ipanemas that await you in your room). But it's a more modest footwear trend that now has hotel owners staring at their feet: the slipper.
Coinciding with the rise of the slider, the plastic slip-on that's been part of the fashion parade for a few years, the hotel slipper has seen its appeal rise. Mr J Bieber, a popular musician, has been widely snapped with white-towelling-encased tootsies. And during a stay in St Moritz's Suvretta House we were struck by the number of guests wearing the hotel's embroidered variety to breakfast. So next time you find a pair by your bed, take them – they're a step into the world of fashion.