Big interview / Paris
Let me be your fantasy
Jonathan Anderson, creative director at Loewe, talks about how he has grown the brand: from taking it outside to taking it slow.
When asked whether he has a particular male shopper in mind when he designs, Jonathan Anderson looks out of his office window on the third floor of Loewe's gracious Paris HQ, ruffles his thatch of dark-blond hair and brings his gaze back into the room. He is wearing his uniform of navy sweater and jeans and he speaks with an intense energy; his eyes are lagoon-blue, his Northern Irish accent lilting. "Not really. I don't think demographic in terms of, 'We need to get millennials.' I think that's just bullshit. You know, young people don't want to be chased by old people, naturally," he says. He pauses for half a beat before adding: "It's kind of a disturbing image anyway." His acid wit is never far away; his boredom with hyped terms and youthful fads is refreshing.
The 35-year-old designer has earned a reputation as one of fashion's most prodigious creative forces via two roles: as creative director of Spanish luxury house Loewe and as founder of JW Anderson, the UK brand known for playing with gender boundaries. (He splits his time between London, for JW Anderson, and Paris, where Loewe's design HQ is located – with the odd trip to its commercial base in Madrid.)
It is in his role at Loewe, a 173-year-old leather-maker owned by French conglomerate LVMH, that he has proven himself a commercially savvy designer who can hold his own in luxury's big leagues. Since 2013 he has had full creative control over Loewe's various branches, from menswear, womenswear and accessories to branding and shop fit-outs – a considerable power that he's deployed effectively. In that time he's transformed a dusty grande dame into a fashionable brand that is cool rather than hot, all thanks to an overarching playful sensibility, engagement with broader cultural concerns – such as modern handiwork – and products with a sumptuously crafty aesthetic. His innovations – including the Puzzle Bag (with its geometric jigsaw-like lines) and tiny purses shaped like elephants – are coveted in fashion circles. And people finally know how to pronounce the brand's name ("Loh-eh-vay").
Right now though, his focus is on men. "I think we have underestimated the power of the menswear consumer for about 20 years," he says, sipping an espresso from a tiny ceramic Loewe cup. "Now you are seeing men shopping on a massive level. If someone was to ask me whether menswear was going to be where it is today, I would never have thought that." His thoughts are backed up by numbers: global menswear sales have grown at a faster clip than womenswear since 2016 and, according to research firm Euromonitor, luxury men's lines will outperform their women's counterparts between 2017 and 2022. Brands from high street to high fashion are salivating.
LVMH doesn't release breakout statistics for its brands but, according to Anderson, Loewe's menswear arm has quadrupled since 2013. He's keen to capitalise. In Paris this January he staged Loewe's first men's runway show (a far bigger production than its usual presentations). With a canary-yellow sculpture by artist Franz Erhard Walther as a backdrop, models wore long patchwork coats, cropped shearling jackets and shirts emblazoned with Marilyn Monroe's face, and carried oversized Puzzle Bags.
Of greater note, this year he has launched Eye Loewe Nature, a permanent line of relaxed men's clothes geared towards the outdoors. The first collection, released in January, features hiking boots, chunky knitwear and canvas backpacks in pop colours. The second drop, with its technicolour-striped duffle coats, water-repellent parkas and fluffy fleeces with bright-yellow piping, hits shops in June.
"I think we still need both realism and fantasy in life," says Anderson. "Ultimately I feel like we live in an age where I can allow for Eye Loewe Nature, which is a product that is function-driven. But at the same time the whole point of the fashion industry – of why magazines exist through advertising and people look to the idea of celebrity through dressing – is actually about fantasy. If we don't have the fantasy then what's the point?" The runway show, with its Marilyn shirts and Walther sculpture, conjured a dreamscape; Eye Loewe Nature brings things back down to Earth. Combined, the ventures are a complementary vision of the brand's current menswear proposition. "We need to have ways in which we can show our muscle," says Anderson. "To show that men's is taken just as seriously as women's."
Part of Anderson's mastery in rebranding Loewe is his ability to constantly drum up stories and thereby ensure the brand remains relevant (in the past he has likened the house, with its various components, to a "mini department store"). In today's fashion industry, every new release from every brand has a "story" – and most are dull. Anderson's genius is in creating threads that are genuinely enticing.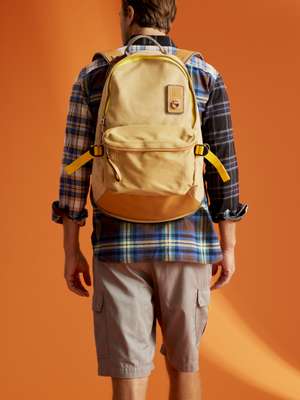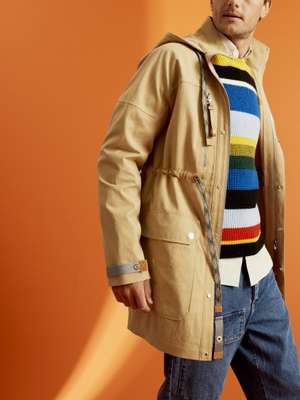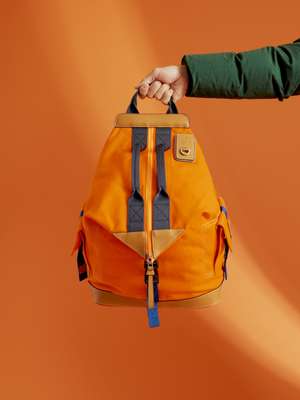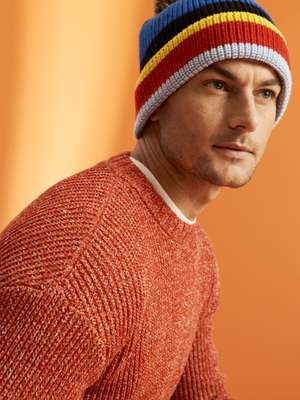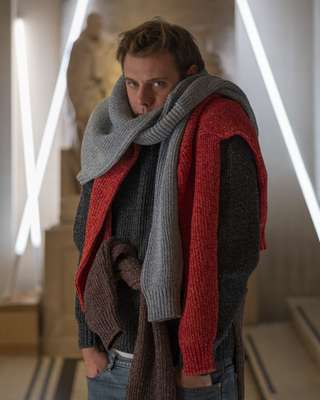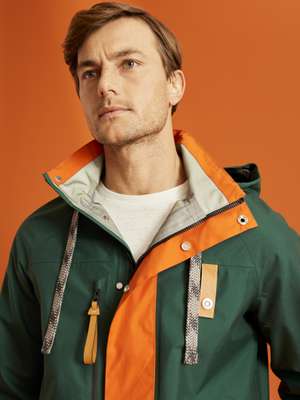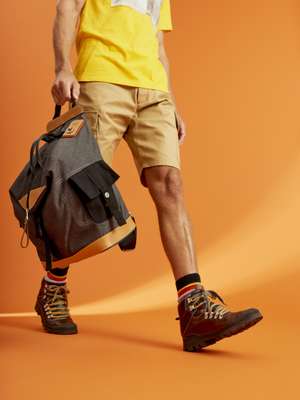 There's the Loewe Craft prize, a unique platform celebrating artisans whose handmade objects – from ceramics to baskets to jewellery – demonstrate a level of "superior aesthetic value" (the winner receives €50,000). There's Paula's Ibiza, a womenswear line based on archive prints from Paula's, a boutique that ruled Ibiza's Old Town from the 1970s to the 1990s. And there's the homeware collection Loewe shows at the Salone del Mobile design fair, featuring pieces (such as Japanese boro blankets) made by specialists from around the world. Modern craftsmanship, and thinking of Loewe as a broader cultural brand that has relevance beyond the runway, is Anderson's schtick.
"When I started working at Loewe I thought, 'How do you build a brand today?' I looked at building different stories so that you're able to engage with different demographics and not talk about the same thing all the time – so it's not just, 'We're a big leather brand,' d'ya know what I mean?" (Anderson often follows a point with a rhetorical "D'ya know what I mean?", the words "do" and "you" melting together.) "A brand cannot sing from the same hymn sheet all the time; we don't consume in that way anymore. So there are these fragments to creating a brand."
Eye Loewe Nature, the latest "fragment", was his chance to do something focused on menswear; it has been in development for two years and is mostly made in Japan. "We had to find a bag factory that could produce bags of a technical scale at the same level that we do leather goods; Japan is incredibly equipped," he says. Yet the seed of inspiration came from closer to home: "I was looking at what my brother buys and thinking, 'How do I have a product that's engaged to the idea of function?' It's not style-driven."
With its rucksacks, parkas and lower pricing (about 40 per cent less than Loewe's main collection – a rucksack is €950; a shirt is €350), Eye Loewe Nature is indeed a more accessible offering. In Loewe's Paris flagship on Avenue Montaigne, an industrial-orange messenger bag is casually slung over a bike. Campaign ads currently playing in mainstream cinemas – a pretty significant investment – show the rather-attainable-looking actor Josh O'Connor riding that same multicoloured bike across rocky terrain.
The whole thing feels lighthearted and unfussy, which is a different face for a luxury brand. And that fits with Anderson's general take on the industry. "Inside the perceived environment of luxury, everything has a certain price point," he says. "And obviously, because we make everything in an ethical way with the best supplier, there is a price point that we can't go below. But at the same time, by using the right components in the right way, you can get a price point that benefits all parties. There has to be this accessibility point to it which is realistic." Loewe was able to make this line more affordable, relatively speaking, because of the materials – nylon is far cheaper than leather – and the different manufacturing techniques.
The fact that it is more affordable, and that its designs don't necessarily look how we expect "luxury" items to look, is notable. "I don't think the term 'luxury' means anything anymore," says Anderson. "I remember that when I started at Loewe, I just didn't believe in the idea of luxury. I felt like it was an alienating system: it was like, 'We have these massive doors and you need to have the balls to cross the line.' Now, I don't think we can be like that. As we can see in political spheres, elitism does not work. So luxury cannot work in that way; it has to adapt."
Anderson expects the line to attract new customers while simultaneously catering to Loewe faithfuls. It should appeal to everyday guys who like good clothes as well as to those with high-fashion tastes. "I think there is a need out there for product that can co-exist inside a 'fashion' wardrobe as a staple, like the Gore-Tex jacket. Product which is a lot more grounded," he says. The collection chimes with a swelling interest in outdoor clothing among urbanites. Such clothes are totems of escaping – from our screens, work, the city – and their prevalence corresponds with a growing desire to get outdoors, whether that's a remote camping trip or merely a brisk walk around the manicured grounds of Soho Farmhouse. "I think something is happening in society where we lack experience because we're so used to consuming something 2D or digital," says Anderson. "So we have never wanted to escape more from the idea of ourselves. The urge to get headspace – or to make things – has never been bigger. If you're having a stressful day anyone can tell you that going for a long walk is a good way to decompress."
Yet there is a message beyond "go for a walk". Loewe has embarked on what Anderson calls a "massive" five-year plan to improve sustainability across its supply chain – from materials to methods of production to distribution – starting with Eye Loewe Nature. Fashion is one of the world's most-polluting industries and "sustainability" has become a buzzword in recent years as brands try to tackle waste issues. LVMH has had an environment department for 27 years, whose work applies to its various brands.
Anderson cautions against thinking there is a quick fix here, in part because many of the raw materials available to brands are lacking on the eco-friendly front. "For example, how do you get zips that are sustainable, that don't use too much plating and are using recyclable plastics? Or knitwear: there are only a few suppliers that do recyclable knitwear," he says. "I think we have a huge amount of responsibility. But if you're going to do something right, you cannot do it overnight. I think this is the dilemma that the fashion industry has at the moment – where you cannot turn it into a PR statement, you have to do it as an internal action. You need to do it bit by bit."
Anderson is a rare designer who relishes being involved in the commercial side of things. When he discusses spending, profit and how to get financial results via a creative process, a certain thrill creeps into his voice. In addition to being Loewe's creative director, he sits on the brand's board of directors – he was appointed director of the board in 2018. (He is also on the board of JW Anderson.) He views financial pressures as fuel rather than hindrance. "I do not see a difference between the commercial and the creative – they have to go together," he says. "There's an addiction within me that has to make a success of something and, as much as things can be a creative success, they have to be a financial success." Being on a board, he adds, "is just a very good moment for reflection on what is going right and what is going wrong. People think of the board as being this elusive control-play. But a board is made up of multiple people and their interest is fundamentally for a brand to work."
His concerns at Loewe have extended to rethinking retail. This April the brand is opening a three-storey London flagship on New Bond Street; it currently has more than 200 shops in 28 countries but the London premises will be just the third (after Madrid and Tokyo) to follow Anderson's "Casa Loewe" prototype. Inspired by an "art collector's apartment", the Casa Loewe shops have a homely-meets-eccentric feel, art-lined walls and flourishes such as in-house florists. "It's this idea that no matter if you're going into a store to shop or not to shop, it is about the experience," he says.
It's a fairly common industry sentiment but the charismatic Casa Loewe shops do stand out. And while Loewe had a smaller Mayfair shop previously, its arrival on New Bond Street, the world's third most expensive retail stretch, sounds a clarion call to customers and competitors.
Anderson is quick to acknowledge that he's been given a rare luxury at Loewe: time. In an age when designers are constantly being swapped between brands, his five-year tenure is ancient. He views his work as a slow burn and uses the Puzzle Bag, released in 2014, to illustrate his point. "I'd never designed a bag before and in the first year it was a disaster," he says. "And it should have been because no one had a bag that shape. When you enter something new onto the market there is a moment where it has to consolidate, where you have to be like, 'This is new, how do you wear it, what's it about?' Then you have the first receptors, then the next flow and to this day the bag grows as the name Loewe becomes more important."
In an industry known for its frenetic pace, prioritising patience feels rather radical. "It cannot be: here is a strategy and it has to make money tomorrow. Because it takes time for the consumer to digest what you are trying to say," he says. "I only work in a small brand within LVMH, and I have been lucky in that there has been time to say, 'Here is five years, we're going to get there.' People are starting to see that you have to reinvest in brands at the beginning and be aware that it's going to be hard. But when you're part of a bigger ecosystem [like LVMH], they can allow that."
Before the designer dashes down Loewe's sweeping marble staircase (that connects rooms in which the new Eye Loewe Nature collection hangs from racks, or models do test shoots ahead of the forthcoming Paris women's show), he has one final remark. "When I joined Loewe I'd never heard of the brand. And I couldn't pronounce it. So if that was me and I'd worked in fashion, we had a long way to go. We've got huge capabilities but we cannot have it happen overnight. I think we are 20 per cent in."
If this is what 20 per cent looks like, and with the way Loewe's menswear is going, Anderson's end game is shaping up to be scarily good. Just don't rush him.
Loewe timeline:
1846 Spanish craftsmen open a leather workshop on Lobo Street, Madrid.
1872 Enrique Loewe Roessberg, a German craftsman, joins the workshop.
1885 He names the venture "Loewe".
1905 It becomes a supplier to the Spanish Royal House.
1963 The brand expands internationally, opening a shop in London.
1972 Launches first fragrance: L de Loewe.
1996 Loewe bought by lvmh.
2013 Jonathan Anderson appointed creative director, replacing UK designer Stuart Vevers.
2014 Releases now-iconic Puzzle Bag.
2016 Unveils Casa Loewe.
2019 Holds first men's runway show and launches Eye Loewe Nature.