My last meal / Tokyo
Naoki Takizawa
The fashion designer who oversees Uniqlo's collaborations and makes outfits for Japan's Empress Michiko, reveals how food – and a herbal remedy – has informed his work.
"My earliest childhood memory of food is making suiton [flour dumplings] with my grandmother to eat in miso soup; I was three or four years old. I also shaved a salted, dried bonito block for soup stock; my grandmother took me to see trains a lot and I shaved to the rhythm of a train on its track. When I was growing up my family ate meals around a low table on tatami mats, my father at the head of the table. He was very strict: during meals there was no TV, no reading.
As a child I was prone to illness and my mother experimented with home remedies. She fed me roasted garlic with egg yolk wrapped in oblaat [edible paper]. I also drank tea that had been left in a glass jar for days until mushrooms resembling jellyfish sprouted. That's probably why I like Chinese herbal medicines; I find painkillers and sleeping pills scary.
I started kendo [a martial art] when I was 10 years old. I loved the clothing and equipment so much that I later had a job at a kendo-gear shop doing repairs. The stuff was beautiful and a lot of it had scratches on the armour or worn patches where the hand-dyed cloth's colour had faded. I was in heaven; the equipment was more beautiful when it had been used. That's also true for kimono or ceramics. I try to bring this element into my own designs.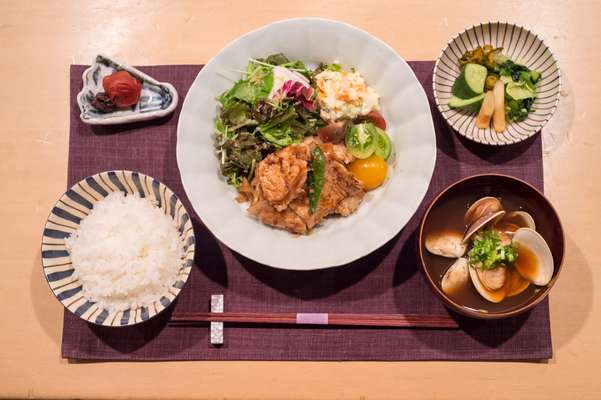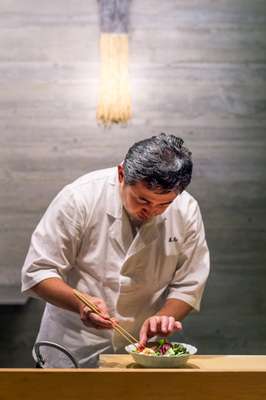 Early in my career at Issey Miyake I worked on the brand's Plantation collection of loose cotton clothing. The concept was similar to Soetsu Yanagi's Japanese mingei [folk-craft] movement of functional, beautiful ceramics and textiles that were often made by anonymous artisans. I like things that aren't perfect but with my own designs I strive for perfection; it's a paradox. A few times customers have told me that my clothes are too refined to actually wear – and they didn't mean it as a compliment.
I started my own fashion label but it only lasted two years. Mainly I have worked for brands or clients: as creative director at Issey Miyake, on designing clothes for farm-machinery-maker Yanmar or train uniforms for East Japan Railway.
When I design outfits for the Japanese empress, she explains the occasion and who will be there and I try to come up with something dainty that makes her happy. The more conditions there are, the easier it is; having too much freedom is harder. Tadashi Yanai, the founder of Fast Retailing [Uniqlo's holding company], has told me that I'm better suited to haute couture. He has had me working on collaborations with Inès de la Fressange and Carine Roitfeld for niche audiences instead of the brand's overall collection.
I go to Paris as often as once a month. Before and after every trip, I try to make it to Yoneka and I almost always order the ginger pork. My mother's ginger pork was my favourite. It's commoners' food, served with rice, umeboshi [pickled plum], miso soup and oshinko [pickled vegetables]. This is what I would eat for my last meal, with green tea. I prefer humble food because I don't like to think of myself as someone in a high position.
The rice and miso soup play an important supporting role; that bears a similarity to my design approach. Consumers usually buy one item at a time – but a designer can't think like that. To make a coat look great, I have to consider the shirt and trousers. Those other elements will bring out the coat's beauty and silhouette.
I would eat my last meal by myself. I would take a look at myself and think about what I'd been through. After all, when you die, you go alone."
Profile
Japanese fashion designer Naoki Takizawa began his career at Issey Miyake, becoming the brand's creative director in 1999. He established his own studio in 2006 and has since created collections for Helmut Lang and Uniqlo. Today the Tokyo native, 58, manages Uniqlo's collaborations, designs uniforms for transport and museum staff and creates original costumes for Japan's Empress Michiko.
naokitakizawa.com
Venue
Yoneka serves upscale but homely Japanese meals and simple kaiseki haute cuisine (multiple courses) in Tokyo's Daikanyama district. Opened in 2012, it seats 28 at a counter facing the kitchen and in two private rooms. Head chef Nobuki Watanabe prepares rice for every customer in an earthenware pot crafted by artisans in western Japan.
18-8 Sarugakucho, Shibuya; daikanyama-yoneka.jp
To eat
Main course:
Ginger-flavoured pork belly and loin from Sangen pigs raised on a farm in Ayase, Kanagawa prefecture; rice from Miyagi prefecture cooked in an earthenware pot; miso soup (made with miso from Nagano prefecture); bonito and kelp soup stock; and umeboshi (pickled plum) from Aichi prefecture.
To drink
Hojicha (roasted green tea)
Recipe
Ginger pork
Serves 4
Ingredients
480g trimmed pork loin, 4mm slices
150g onions, 2mm very thinly sliced
12 shishito peppers (or padron peppers)
2 tbsps rapeseed oil
For ginger sauce
3 tbsps koikuchi (dark soy sauce)
3 tbsps mirin
5 tbsps saké
1 small apple, finely grated
2½ tbsps ginger, finely grated
3 garlic cloves, finely grated
2 tsps sesame seeds
Method
1. Combine koikuchi, mirin, saké, apple, grated ginger, grated garlic and sesame seeds, and set aside.
2. Pour the oil into a large frying pan over high heat. When the pan is hot, cook pork for 2 minutes.
3. When the pork has browned on one side, flip and add onions and shishito peppers. Cook for another 2 minutes on a high heat.
4. Pour the ginger sauce over the pork and simmer for a final 2 minutes. It is ready when the sauce begins to thicken, as the liquid evaporates and the sugars begin to caramelise.
5. Transfer the pork to a plate and serve with short grain white rice and shredded white cabbage. Often this dish is served in Japan as a set menu called teishoku, with miso soup, umeboshi and oshinko.