Tavares Strachan has an unusual CV: not many artists have trained as a cosmonaut.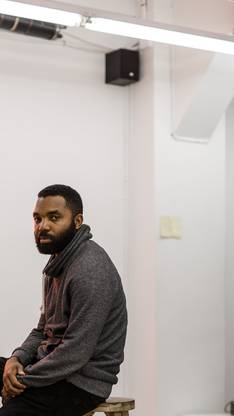 For centuries, art has often been considered the emotional opposite to science's objectivity. Perhaps, though, the future lies in collaboration between the two fields, an idea that artist Tavares Strachan (something of a modern-day Renaissance man) has long been experimenting with. Last December he launched a satellite (in the form of a gold urn) from a Falcon 9 rocket, following a secret multi-year project between Strachan and SpaceX, the spacecraft company founded by Elon Musk. Strachan is also toying with technology as the first artist in residence at scientific organisation the Allen Institute. Here he's been trying to find the connection between his practice and the engineers' research.
In person, Strachan is wiry and self-possessed. He wears an attitude of intense focus like it were a sharp suit. The Bahaman-born artist has worked well beyond the remit of a regular artist, training, for example, as a cosmonaut in Russia, as well as a deep-sea diver. His studio in New York betrays a mind in constant motion. The large industrial-looking space contains evidence of all kinds of creation: there are stacks of canvases, tins of enamel paint strewn across a wooden table and pieces of card with equations about mass and heat written on them.
From climate change to migration, Strachan takes on complex issues in a constant attempt to uncover what he calls "facts hiding in plain sight". Often that means focusing on forgotten people too. "There are so many people who have done incredible things but who live in the shadows," he says. During a site visit to Pittsburgh he was struck by the grand façade of the Carnegie Museum of Art, built more than a century ago. Like many cultural buildings from this period, it's inscribed with the names of great men. "There were obviously no people of colour or women included – which is actually not shocking but is simultaneously still very impressive," he says.
He decided to rectify this and lit up the exterior of the building with neon names of previously invisible characters, as part of his commission for the 57th Carnegie International.
Strachan believes that art can alter the way our minds process our lives. "[It forces] us to think about the grey, about where we overlap and how we're actually the same," he says. "If we spend more time focusing on that as an exercise, we may be able to move some immovable ideas."
The CV
1979 Born in Nassau, Bahamas
2004-2008 Multimedia project "Orthostatic Tolerance" documents his cosmonaut training at the Yuri Gagarin Cosmonaut Training Center in Russia, and his establishment of the Bahamas Aerospace and Sea Exploration Center
2006 Produces "The Distance Between What we Have and What we Want", journeying to the Alaskan Arctic to excavate a 4.5-tonne block of ice, then FedExing it to the Bahamas for display in a solar-powered freezer at his childhood school
2009-2010 Massachusetts Institute of Technology artist in residence
2018-present Allen Institute artist in residence