Retail / New York
Texans in town
Dallas's department-store stalwart Neiman Marcus and leading fashion boutique Forty Five Ten have rolled into the Big Apple with huge new spaces. It's a bold move when bricks-and-mortar openings are a risk.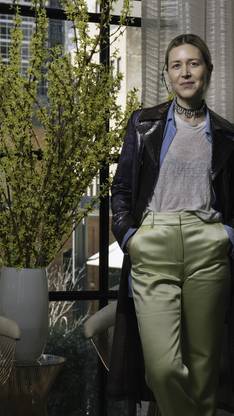 They say everything's bigger in Texas and that seems to include the ambitions of its fashion retailers. Dallas's venerable, century-old department store Neiman Marcus, and its most cutting-edge concept store Forty Five Ten, have both just opened new locations in New York's Hudson Yards, an ambitious, vertically integrated development on Manhattan's west side at the end of the High Line.
Neiman already has more than 40 stores spread across the US but its new three-level complex, its first outpost in the Big Apple, is a major undertaking. The same is true of Forty Five Ten's Hudson Yards venture; the "second flagship" (the first being in Dallas) is an emblem of the brand's growth. Taking into account the Miami and Aspen stores opened last year, Forty Five Ten now has twice as many shops as it did less than a year ago. "We've always been the best in Dallas," says recently appointed company president and chief creative officer Kristen Cole (pictured). "But now we have a strategy to really become the best boutique in the US."
In New York that talk is being backed up by an impressive physical space. Spread across five different stores of Hudson Yards, Forty Five Ten's glass-block façades were designed by New York studio Snarkitecture, and the colourful interiors owe a heavy debt to 1960s Italian architecture collective Superstudio. Museum-quality contemporary art will be displayed while visitors browse and shop within art installations, including an area designed to play with people's sense of perspective as if they were inside Alice in Wonderland. Forty Five Ten's approach to buying clothes is as striking as its store design; to hear Cole tell it, Dallas is an unsung fashion capital, whose ethos she's bringing to Manhattan. "People who've never been to Dallas have no idea," she says. "It is the most fun market in the world to buy for; our edit is really bold and fashion-forward.
"Customers are not afraid to spend money and they want the loud and beautiful pieces. We carry more than 400 designers – from established brands such as Rodarte, Marc Jacobs and Proenza Schouler to emerging brands such as Alyx, Eckhaus Latta and Monse – and they love working with us because we buy the pieces no-one else buys." Forty Five Ten takes this approach because, as renowned fashion consultant, former Barneys fashion director and Dallas native Julie Gilhart puts it, "Texas has a culture of being bold. Nothing is impossible and, in many cases, women make their own rules. One of my favourite examples was a woman who would buy Azzedine Alaïa leggings and tops for workouts at the gym." When Cole says that Forty Five Ten's Hudson Yards edit will be based around "show-stoppers" and that it won't be "the all-black selection you sometimes find in New York", she's getting to the heart of what's different about Texas fashion and retail habits – and it's hard not to conclude that it stems from the source of shoppers' money. Put crudely, you might say the difference between fashion and retail on the East Coast and in Texas is old money versus oil money.
While contemporary New York wealth comes from many sources, the city's high society still carries a legacy of Vanderbilts, Rockefellers, and other quasi-royalty, along with a certain sense of propriety. People who live opposite Central Park don't exactly hide their wealth but they do show it in a way that suggests they'd prefer not to appear vulgar. Texas is different. The economy has been based on oil for generations (even with the recent rise of technology) and oil people are not known for their shyness. It's a business full of big, sometimes brash characters, many self-made, who wear their success loudly, and with pride.
This is reflected in the clothes they and their families buy but that doesn't mean that Texan fashion people are unsophisticated – the opposite, in fact. Gilhart notes that Texan shoppers can be "daring and experimental". Cole says, "Our clients are interested in pieces that are coming straight from the runway." And Tom Ford (himself a Texan) told us last year that he flies sales people and tailors to Austin in order to provide select clients with at-home service.
So if fashion retail is booming in Texas, even as shopping increasingly goes online, why are Neiman Marcus and Forty Five Ten taking the risk of opening big new stores away from home and oil money (and in New York, whose retail struggles have been well documented)? "We're expecting 23 million people to visit Hudson Yards in a year – and in addition to the locals, I'm sure a lot of them will come from Russia, China and elsewhere," says Cole. "Our website is already set up to sell internationally so this gives everyone a point of reference when they leave the store."
This idea, of a splashy physical store functioning partly as a driver of online sales that will ultimately happen on someone's couch many miles away, is echoed by Neiman Marcus. Robert Hughes, senior vice-president of retail experience, East Coast (even the job titles are big in Texas) says the company's "digital-first mindset" is one reason they "see a lot of value in having a physical presence in a fashion capital like New York. Many customers buying luxury goods want to see an item in person before purchasing." Like Forty Five Ten, Neiman hopes physical stores will lead to online purchases.
While boosting e-commerce is the intention behind the physical growth of both stores, the expansion strategy for Forty Five Ten's owner, Headington Companies, goes beyond sales of any kind. Headington, a Dallas-based firm whose money comes from oil and gas – and that recently bought another luxury retailer, Tenoversix – "owns a lot of things, including a lot of real estate", as Cole puts it. And retail, much like restaurants, she says, makes for good anchor tenants. Headington owns a significant chunk of downtown Dallas's Main Street, which it developed by buying buildings around Neiman Marcus (in effect, the area's original anchor tenant) and securing good quality food, beverage and retail tenants. All of which worked to push up the value of the properties.
Cole confirms that for Headington, part of Forty Five Ten's value in Dallas is its role in elevating an area where Headington owns properties, and although the same model doesn't apply to New York ("it isn't our real estate") it still "really wants Forty Five Ten to be a premier brand and top of the class in terms of experience, as part of our portfolio".
When you look at it that way, Forty Five Ten's expansion into a high-profile market like New York increases the brand's cachet, making it a stronger anchor tenant in other markets where Headington may have real-estate interests now or in the future. It's a different way for a fashion retailer to generate revenue and a whole new take on the idea of bricks-and-mortar retail.
Forty Five Ten:
Years in business: 19
Shops: 6 (in 5 states)
Designers carried: 400+
Size of Hudson Yards shop: 1,500 sq m (spread across 5 storefronts on 1 floor)
Neiman Marcus:
Years in business: 112
Shops: 43 (in 20 states)
Designers carried: 1,000+
Size of Hudson Yards shop: 17,500 sq m (spread over 3 floors)
For more on Forty Five Ten, Neiman Marcus and the regeneration of Texan retail, see our Expo in the closing sections of this issue.