Stockists / Global
The directory
Embrace Hong Kong's enchanting neighbourhoods with our guide, covering everything from the city's burgeoning art scene to its harbourside delights.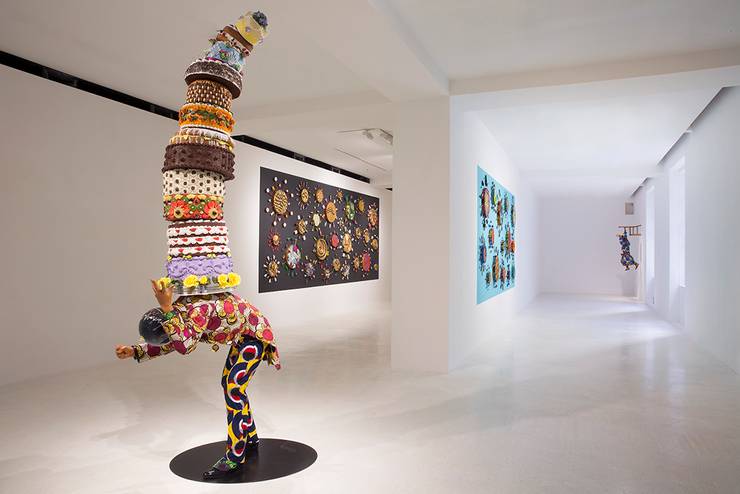 With the seventh edition of Art Basel in town from 29 March, we thought we'd give you a little more to see while you're in Hong Kong. Seeing the "other side" of the city used to require a hike up to the hills above Hong Kong island but now it's just as much about heading across the harbour to Kowloon. This overlooked and often overcrowded part of the city – long dismissed by island dwellers as the "dark side" – is rolling out more and more reasons to visit. Neighbourhoods such as Prince Edward and Sham Shui Po are on the up and the evolving West Kowloon Cultural District is on the doorstep of the new high-speed rail link that shuttles back and forth to mainland China. Kowloon is fast improving and Hong Kong island, where Art Basel will take over the Convention and Exhibition Centre, is learning to share the spotlight.
Calendar
18 March — 1 April: Hong Kong International Film Festival: This festival has been going strong since 1976. This year's highlights include a tribute to Chinese cinema trailblazers, the Asian premiere of Berlinale winner Synonyms and the retrospective of this year's Filmmaker in Focus, Sammo Hung.
hkiff.org.hk
21 — 24 March: Taste of Hong Kong: Four days celebrating Hong Kong's food scene with tastings, workshops and live cooking sessions hosted by top chefs. There's also a gourmet market where you can pick up a tasty souvenir or two.
hongkong.tastefestivals.com
29 — 31 March: Art Basel Hong Kong: Historical and contemporary art meet at this annual showcase representing 242 leading international galleries (half of which have spaces in Asia) at the Hong Kong Convention and Exhibition Centre. Don't miss Hong Kong-based Galerie du Monde's presentation of two major postwar Asian art movements – Fifth Moon Group and One Art Group – which will include works by Liu Kuo-Sung and Kwok Hon Sum.
artbasel.com
29 March — 1 April: Asia Contemporary Art Show: Haven't had enough art? Then head to the Conrad Hong Kong for a show featuring more than 2,000 pieces of contemporary art by emerging and mid-career artists.
asiacontemporaryart.com
City guide
Stay: Rosewood Hong Kong: The city's changing hospitality landscape can easily be glimpsed on a stroll along the Tsim Sha Tsui waterfront, where Rosewood has just opened its first Hong Kong hotel on the Kowloon side of Victoria Harbour. The 413-room hotel is a homecoming of sorts for the Cheng family, owners of Hong Kong property company New World Development, which acquired the US hotel brand in 2011 – especially as it's located on the site of the company's former headquarters. Art plays a prominent part in the spacious interiors designed by Tony Chi; a Henry Moore sculpture greets guests on arrival while nautical elements showcase a blend of the city's Chinese and British colonial heritage in the common areas. Standouts include salons on each floor that provide a semi-private place to mingle before heading out or turning in for the evening. Reserve a corner suite for the best views of Victoria Harbour.
rosewoodhotels.com
Eat: John Anthony: Descend into this spacious Causeway Bay basement restaurant to taste chef Saito Chau's modern take on traditional Cantonese classics, such as roast pork (char siu). Whatever the hour, the airy interior and well-stocked bar by design studio Linehouse provide a lovely place to linger.
johnanthony.hk
Drink: Armoury: Stand on the porch and sip a cocktail while Soho's busy nightlife beats outside. Nestled inside the Tai Kwun cultural complex, the Armoury backs onto a former police parade ground, which has become a popular square for space-starved Hong Kongers to mingle during the city's clement spring weather. Peckish patrons can nibble on Thai bar snacks courtesy of David Thompson's Aaharn restaurant.
taikwun.hk
Shop: A Beautiful Store: Located above Prince Edward's blooming flower market, this shop stocks Asian homeware that fits neatly into a Hong Kong-sized home or a visitor's suitcase. Unstructured womenswear staples come courtesy of the boutique's own label Light as well as fellow "Made in Hong Kong" brand City Goats, which both suit the local style and temperate climate particularly well.
194 Prince Edward Road West, Kowloon
Visit: Pedder Building galleries: If you're in the mood for culture but pressed for time, head to the Pedder Building: a historic nine-storey colonial-era edifice in the heart of Hong Kong's Central district that is home to some of the city's best commercial art galleries, including Gagosian, Pearl Lam, Simon Lee and Lehmann Maupin.
12 Pedder Street
Coffee: % Arabica: Japanese coffee afficionado Ken Shoji founded his first % Arabica in Hong Kong in 2013. This lovely speciality coffee shop has since expanded around the world but he has not forgotten about his adopted hometown. Order a coffee-to-go from his Star Ferry Pier branch before making the scenic harbour crossing.
arabica.coffee
Need to know
1. Still training: Hong Kong's new high-speed rail link whisks passengers to Shenzhen and its beach resorts in less than 15 minutes. Arrive at the station with plenty of time to spare because ticketing and passport control can be a bit of a faff.
2. City canvassing: Don't fret if you miss art month in March and the roaming cultural caravan that is Art Basel. Come April there is still plenty to check out, from the growing number of international galleries at H Queen's in Central to the grittier neighbourhood of Wong Chuk Hang.
hqueens.com.hk
3. Highly debatable: Pro-democracy politics and protesting keep Hong Kong in the news. Curious international spectators can head down to the City Forum in Victoria Park, where a live televised debate on the issues of the day is staged every Sunday at midday.
Watch this space
1.
M+: This museum has finally sprung out of the ground after years of talk, countless delays and subterranean construction. The Herzog & de Meuron-designed contemporary-art museum is beginning to take shape on the Kowloon side of the harbour, although don't plan on seeing Uli Sigg's donated collection of Chinese art anytime this decade.
westkowloon.hk/
2.
Victoria Dockside: Hong Kong's iconic Intercontinental Hotel closes this year for a renovation before reopening under its original name, The Regent. By that time next-door neighbour Victoria Dockside will be fully open for business, with a K11 shopping mall and the aforementioned newly minted Rosewood hotel. Add in the Avenue of Stars, as well as a revamped Museum of Art, and the Tsim Sha Tsui waterfront becomes a destination for far more than looking back at its glitzier rival across the water.
hk.art.museum; ihg.com
3.
The Mills: The former cotton-spinning mill from Hong Kong's booming textile-producing heyday of the 1950s has been transformed into a fashion incubator and bustling retail hub. The final piece of the jigsaw is a new art gallery called the Centre for Heritage, Arts and Textile. Its fashion-themed exhibitions, such as Welcome to the Spinning Factory!, weave together contemporary art, design, technology and heritage.
themills.com.hk