Dog-gone Brexit, food made for Instagram and ridiculous waist-high lanyard scanners – it's no wonder we're debating forgiveness.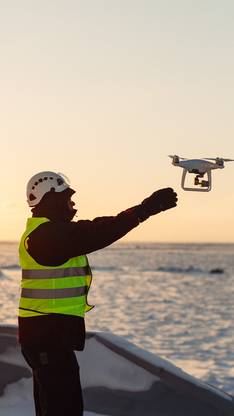 Earning your wings:
Andrew Mueller in Finland
Every journalist knows that the job includes unpaid labour as a photography assistant: toting tripods, minding bags, holding and folding discs for reflecting light. Drone-catching was new to me though.
Helena Kardová from Monocle Films brought a drone along on our 10-day assignment aboard the Finnish icebreaker Kontio. My contribution to the aerial photography was to hold the drone aloft before take-off and field it on return – not without its challenges on an icy deck in temperatures close to minus 30C. The results, which are entirely due to Helena's piloting skills, are worth it.
Japanese trading firm Itochu has relaxed its dress code: employees are now asked not to wear suits on two days of the week. To avoid a sartorial free-for-all, stylists from department stores have been offering guidance. Evidently staff could use a spot of pampering too: in February barbers from Milan's 115-year-old Antica Barbieria Colla flew in to give employees trims and wet shaves.
"Creating an angry queue of stooping Scandinavians is surely not the warmest way to welcome visitors to your event"
Design editor Nolan Giles at Stockholm Furniture Fair
From Paris's Maison et Objet to Milan's mighty Salone del Mobile, the surprises you find on the furniture-fair circuit are not always examples of good design. In an arena where the smartest new works in the world of interiors come together with the more-often-than-not terrible trade-hall design and way-finding systems, patrons, used to working in well-refined settings, often find themselves in confusing and comical situations. This was certainly the case at February's Stockholm Furniture Fair, where entry to the event required the luminaries of Swedish design to perform an undignified stoop to pass a lanyard through a waist-high scanner. Creating an angry queue of crouching Scandinavians is surely not the warmest way to welcome visitors to your event.
Eagle-eyed readers may have read about German newspaper editor Michael Angele, whose essay Der letzte Zeitungsleser (The Last Newspaper Reader) we serialised in The Monocle Winter Weekly. It is the tale of an Austrian author who schlepped 350km across western Austria and Switzerland to find a copy of NZZ newspaper. More broadly it is about the cost of our shift from reading on paper to the endless scroll of the internet.
"On the one hand the internet is the grand narrative of the world – on the other it's not good for us as readers because it's immaterial," says Angele. "It's because all that information isn't present in a newspaper that it's important. A newspaper isn't just to give you information – it's for reading, which is something completely different. It means you can discover something that you hadn't thought about before." Daily newspapers may not be long for this world but there's still a skill to getting readers to turn the page that can't be recreated online.
Opinion: Human frailty and beastly Brexit
1. Pardon us
By Robert Bound
After enjoying Schloss Elmau's famous Bavarian hospitality (sauna, champagne reception, three-course dinner and a couple of digestifs in the piano bar) during a monocle readers' getaway, it was time to interview a senior representative of the Vatican in front of a slightly boisterous audience. Fortunately, the subject was to be the nature of forgiveness.
What has happened to contrition, apology and the quality of "sorry" now that we have evolved texting thumbs and swiping fingers, yet also suffer from a thin-skin syndrome piqued by exposure to online outrage? Monsignor Paul Tighe, secretary of the Pontifical Council for Culture, is an unflappable Irishman who talked about the practicalities and doctrine of forgiveness and how the Church itself has had to become just as adept at apology as anyone. The crowd quizzed the man in the clerical collar, who missed a beat only when someone wondered if we're allowed to get pleasure from forgiving those who trespass against us. The Monsignor wouldn't call it pleasure, exactly. The evening continued, as God would have wanted, in mysterious ways.
Poor old Pudsy the poodle and Timon the tabby have been watching the UK news with interest. And they are wise too. In a time of frustrations for every citizen, Pudsy and Timon haven't been getting the attention they need from Mrs May and her colleagues (and we're not just talking a lack of tummy tickles and gentle ear rubs).
The animals are facing an uncertain future – at least if they have ambitions to visit their Greek cousins in Athens or Helmut the Alsatian at his home in Stuttgart. The reason? Pet Passports. While it's complicated enough for them to nip across the Channel now, it seems certain that, in a post-Brexit world, their nightly prowls and daytime walkies could be restricted.
The Great British bulldog might be happy to spend its days plodding around Downing Street but have a heart and ensure that Pudsy and Timon can enjoy walkies – and a pee – on the continent.
Looks aren't everything
By Ed Stocker
Enough candy floss-tinted "millennial pink"; enough with the dishes heaped with ingredients included for their popping colours. A creeping Instagramisation of the New York dining scene in the past couple of years means plates often seem produced for how they look when snapped from above and filtered for maximum saturation. Yes, they can often be things of beauty, heaped with stunning watermelon radishes and accented with micro-greens or a smear of tahini paste. And yes, they're often plated on the most soigné ceramics this side of Brooklyn. But the food often looks much better than it tastes, with aesthetics given the nod ahead of the tingle on your taste buds. Simply put, they're trying to do too much – an assault of salt, sugar or fat – while following the mid-century rule-book of restaurant design.
This mini tirade means no disparagement to the wider NYC dining scene and all its bountiful offerings but too many new players are going for tried and tested, safe formulas. It's a little bit boring. Can someone also tell food PRs to stop using the term "fast casual"?
Which is why you should opt for one of New York's plentiful institutions that isn't doing all of the above. We're talking about honest food. Sounds like a nifty little marketing soundbite? Not quite. Rather, lovingly prepared dishes that are about simple food, done to the highest standard. No bells and whistles, just top ingredients and flavours.
Look no further than Taverna Kyclades in Queens (where presentation definitely isn't a top priority but the fish is perfectly cooked). Or the old-school wood-panelling and intimacy of Locanda Vini e Olii in Clinton Hill, Brooklyn, housed inside a former pharmacy. The duck is a winner and, even better, there isn't an Instagram influencer in sight.
Some choice titbits picked up by our editors, bureau chiefs and correspondents for stories in this issue.
As we found out on an ice-breaking ship, at minus 30c, it takes about 10 minutes for the lithium battery in an iPhone to freeze.

The number of journalists killed in the line of duty since 1992 is 1,337. We hope that the figure doesn't rise.

It took 36 hours of constant work to lay the foundations for Switzerland's Tamina Bridge, which towers more than 200 metres above a gorge.

The €80m biscuit industry in Estepa, Spain, employs more than 4,500 of the town's 12,600 inhabitants.

It can take up to 10 years to create a new watch movement. Some mechanical watches include more than 2,000 components.