Style news / Global
The spring manifesto
With the arrival of longer days, it's the perfect time for a wardrobe edit – so let us introduce the brands, products and looks to savour this year. While we're at it, we'll put you in the know with the latest news from the industry.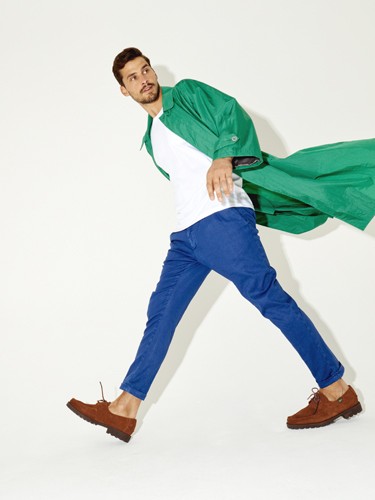 1.
Clothing/Germany
Polyploid
Isolde Richly, Berlin-based founder of this unisex brand, is keen to keep production local. Japanese fabrics are turned into clothes in Japan; European fabrics are sewn into garments in Germany. Her coats are knock-out.
poly-ploid.com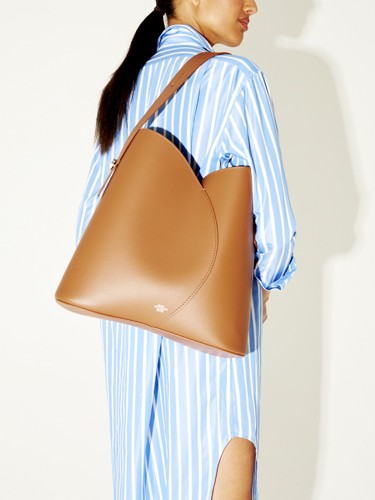 2.
Accessories/Italy
Object Particolare
"Object Particolare is about stripping a product of all the noise and distractions and exposing just what is essential," says Petra Langerova, who co-founded the Milanese bag brand in 2018 having left high-powered positions as head of design at Everlane and Gap. Langerova's minimalist carriers are designed for daily use (they're resistant to spills and easy to clean) and the latest collection features sculptural calfskin models.
objectparticolare.com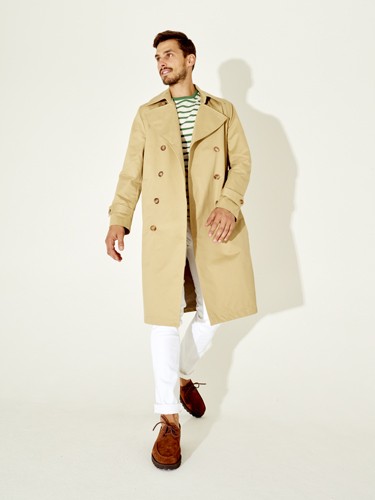 3.
Menswear/Global
We asked five of our favourite buyers, "What new brand have you bought this season?"
Kasper Hostrup, Goods, Copenhagen
"We've bought only one new brand this season: a Danish label called Sunflower (coat pictured). It was created by industry veteran Ulrik Pedersen. It has a lot of pieces we felt were missing from other brands."
Alberto Monti, Agiemme, Como
"I chose Rowing Blazers because it's modern and fun compared to other brands inspired by sport."
Vince Lai, Uncle Otis, Toronto
"We're the only store in Toronto that stocks Japanese brand Sage de Cret. Its creative director, Kimitoshi Chida, has fabrics made for him so that he gets the right silhouette."
Rie Tamaki, ST Company, Kiryu, Japan
"While their design is playful, Doublet does not compromise on quality fabrics and manufacturing. Some clothes are compressed in an instant-noodle cup. They become wearable after you soak them in hot water for three minutes."
Marc Llorens, Rendez-Vous, Toulouse
"We've started stocking RDV o Globe, a small Japanese brand. They make amazing trousers with an exaggerated volume. For women's my pick is Sara Lanzi, based in Rome. It's a mix of Japanese style with Italian colours."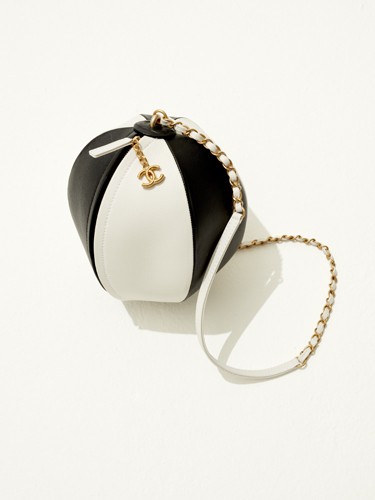 4.
Womenswear/France
Chanel
For Chanel's spring/summer 2019 show last October, the late Karl Lagerfeld turned Paris's Grand Palais into a beach. The luxury industry is built on selling dreams and no-one did this better than the Kaiser: during his 36-year tenure at Chanel he built a cruise ship, a Rajasthan palace and a rocket, all inside the Grand Palais. His beach-backdrop show saw models walking on sandy shores with waves lapping at bare feet. They wore fringed straw hats, beach-umbrella-striped blazers and dresses emblazoned with tiny parasols. They also carried drawstring bags or calfskin carriers reminiscent of beach balls (pictured). The collection, out now, is highly desirable and defiantly aspirational. Karl wouldn't have had it any other way.
chanel.com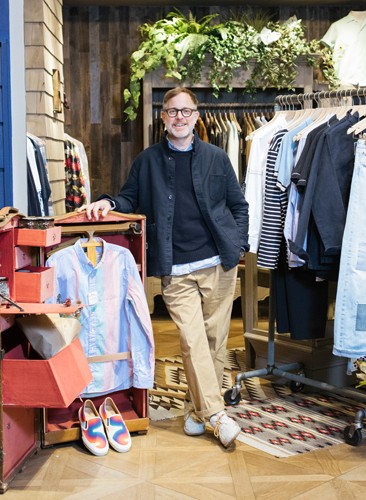 5. 
Menswear/New York
From back to front
Bruce Pask used to work behind the scenes but, thanks to social media, he's now a smart fixture on Bergdorf Goodman's floor.
By Hamish Anderson
Photography Ben Sklar
Menswear buyers used to be hidden behind the scenes but some have acquired a significant level of influence due to a growing online presence. Consider, for instance, that the first letter in B Store – Bergdorf Goodman's new shop-in-shop – stands not for Bergdorf but for Bruce.
The man in question – Bruce Pask (pictured) – is the New York department store's menswear director. Now people want the clothes he wears as much as the ones he sells. "My style is understated but particular," he says. "I get messages on Instagram all the time asking where I got certain pieces." Pask can now direct people to B Store, his shop in Bergdorf's men's store. "It's highly curated and very prescriptive," says Pask, who chooses every item.
The stand, which is influenced by the general stores of the Old West, focuses on exclusive collaborations with brands including Gitman Brothers, Craig Green and Margaret Howell. "I have reference pictures from shops in the 1800s, 1900s," says Pask. "The idea was, 'If you need it, we have it.' That's what we're doing here."
Inspiration also comes from further east. "I love how it feels to be in Japanese speciality menswear shops," says Pask. They gave him a belief that a shop should be idiosyncratic. Perhaps that ethos is a way forward for department stores, which are often sterile. If choosing what clothes to wear is about personal expression, choosing what to sell should be too.
Pask's picks:
Le Mont Saint Michel chore jacket
"The French company has been making them for many years. Traditionally the colour would match your profession; a baker would wear beige so the flour didn't show."
Closed double-pleated khakis
"I was interested in a pant that had more volume. I asked for pocket bags that were deeper and wide legs with a little taper."
Craig Green quilted chore jacket
"This is an iconic chore jacket in Green's signature quilting. I've worn one with a bow tie to a black-tie event, or casually with a T-shirt."
To mark 50 years in business, cult Italian fashion brand Aspesi has upgraded its retail offering with a new flagship in Milan's main shopping district, just off Piazza Filippo Meda. The label's understated no-logo style – focusing on highly wearable looks for men and women, ranging from sturdy field jackets to smart-looking silk shirts – fits well into the two-level space designed by local studio Dordoni Architetti. The interior is an interplay of materials and colours, mixing hardwood flooring and inlaid stone with walls in shades from grey-green to pink, while a central skylight illuminates an enlarged photograph of a forest scene by David Benjamin Sherry. It's no-fuss shopping at its best.
aspesi.com
7. 
Footwear/Global
Lace-ups, Oxfords and Derbys
Step out in style this spring with a pair of smart lace-ups. JM Weston (pictured, on the far left) has a new artistic, culture and image director. Olivier Saillard was formerly a museum director but, if his first designs for the French heritage shoemaker are anything to go by, he's found his calling. Church's (pictured, in the middle) is always a winner when it comes to sharp Derbys. Korbinian Ludwig Hess (pictured, on the far right) founded his bespoke footwear brand in Berlin in 2017. Prior to that, he worked for Rudolf Scheer and Sons in Vienna, where he learnt how to make a bespoke shoe, including analysing the customer's gait and the condition of their shoes. "This informs our choice of leather," says Hess. His skins include oiled nubucks and scotch-grain leathers.
jmweston.com; church-footwear.com; klh-massschuhe.com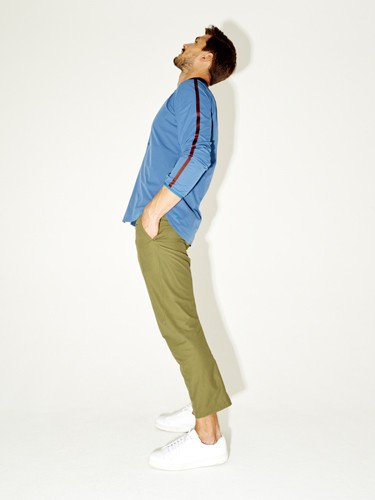 8. 
Menswear/Japan
Descente DDD
Descente is revered for its high-performance line, Allterrain, and for Descente Pause, its fashion-forward collection. Now, in a bid to attract a new sort of customer, the Osaka-based company has released a more affordable casual line: Descente ddd. Its debut spring/summer collection launched at the new Descente Tokyo flagship store in Shibuya and includes a water-repellent lightweight anorak, a stretchy jacket and a seamless pair of knitted shorts.
descente.com
Jacket and trousers by Descente DDD, trainers by Church's
In December, Japanese fashion brand Aton opened its first shop on a backstreet of Tokyo's Aoyama district. "We're not a mainstream brand so this quiet off-the-beaten-track location suits us," says director Yasuharu Kuzaki. Fukuoka-based architect Koichi Futatsumata gave the space a simple yet strong identity – to mirror Kuzaki's clothes – with polished concrete floors, logwood-dyed purple curtains and a Brazilian-wood counter.
aton-tokyo.com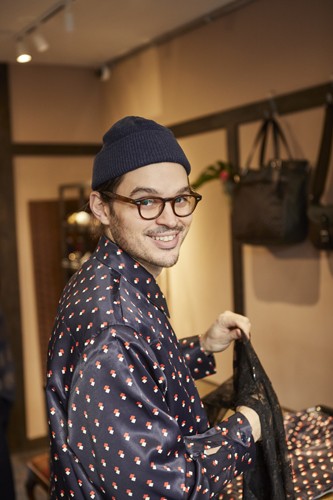 10. 
Retail/Global
Off the grid
Fashion retailers are cottoning on to a new trend: shoppers who love to visit quiet, hard-to-find locations to find their threads.
By Grace Cook
Photography Nick Warner
Woburn Walk, a tiny stretch of low-rise shopfronts, is a quaint passage that seems far removed from the nearby traffic of Euston Station in central London. Illuminated with Victorian cast-iron street lamps, it looks like something from a Charles Dickens novel and is populated with an array of businesses (a wedding-dress shop abuts a tandoori takeaway).
Now it's also home to Japanese menswear retailer Nepenthes, which in February opened a two-level space with an underground basement brimming with niche brands such as Needles, Engineered Garments and South2 West8. The shop, Nepenthes' first bricks-and-mortar venture in Europe, was opened to celebrate the company's 30th anniversary.
Like Nepenthes' Manhattan outpost – in the decidedly out-of-the-way Garment District – Woburn Walk is a surprising location. There is little else to attract fashion-conscious customers to Euston; the space was apparently decided upon because founder Keizo Shimizu stays in a hotel nearby whenever he visits the UK capital. The area is his London home so opening a shop there seemed natural – and a remote location has its perks. "Rents in the traditional prime retail locations do not make any sense from a business perspective and are totally unrealistic for independent brands," says Monica Paolini, co-founder of womenswear label Sea NY, which opened its first outpost on Manhattan's Canal Street in December; it's the first designer store to open on a street famed for its fake goods.
It's about more than cheap rents though: obscure locations appeal to shoppers who want a sense of discovery. "How often are you pleasantly surprised in general retail today?" says Jay Gordon, founder of US concept store Bodega, which recently opened inside a supermarket in Los Angeles. "The whole concept is that the shop is hidden in plain sight." Once inside the supermarket, shoppers can buy fabric softener and cereal before heading upstairs to Bodega to purchase Comme des Garçons shirts or Common Projects trainers. "Consumers are looking for more of an experience," says Gordon. "It's somewhere you want to take your friends to."
Paolini agrees. "There is a culture of sameness in prime locations," she says. "It erodes the individual character of our cities. Customers feel more connected to the experience of the brand when more effort is required to get there."
Q&A
Dominic Purvis
Co-founder, L'Effet
London
Last year Dominic Purvis and Ulrike Pohl founded L'Effet, an app that offers a guide to the best shops in London. Partnering with brands as diverse as Roksanda and Huntsman, this shopping aid is aimed at luxury-buying Chinese tourists.
MONOCLE: What is 'L'Effet'?
Dominic Purvis: L'Effet is an app to help travellers find interesting independent shops when they travel, especially smaller luxury retailers that are unique to places like London. We also reward shoppers: with a membership number entered at the point of sale, they can claim Asia Air Miles or get cashback on purchases.
M: Why did you launch it?
DP: The idea behind the app was a response to the interest in independent luxury brands among Chinese travellers. Using technology to make shoppers feel in the know was a logical solution; we are always on our phones so why not make use of them?
M: Who is it aimed at?
DP: Asian luxury customers, especially mainland Chinese shoppers. We are introducing them to experiences you can't get online, like visiting Connolly's townhouse, or being fitted for a suit at Huntsman.
M: Will you expand to other audiences?
DP: The app and our curated mix of retailers works for a wide range of travellers. But we have spent so many years in our previous jobs marketing to Chinese audiences that for now we are sticking to what we know. Our aim is to establish our London network and then roll it out to other global destinations. We will also add more languages.
l-effet.com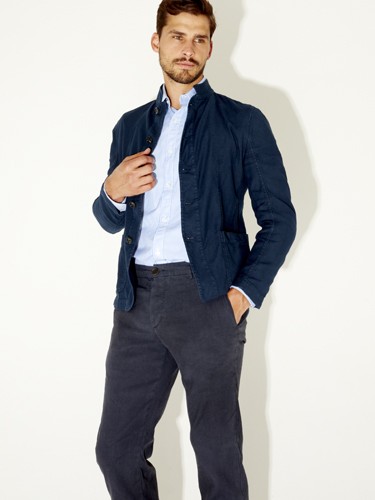 11.
Menswear/Austria
Weber + Weber
Vorarlberg-based men's tailoring brand Weber + Weber Sartoria produces collections rooted in its national heritage. Pieces include traditional Austrian jackets and gilets crafted from boiled wool jersey, which is naturally water repellent. Working with family-run manufacturers is key to producing quality clothing, says co-founder Christian Weber. "Smaller firms take care doing things; they have a reputation to uphold."
weberweber.it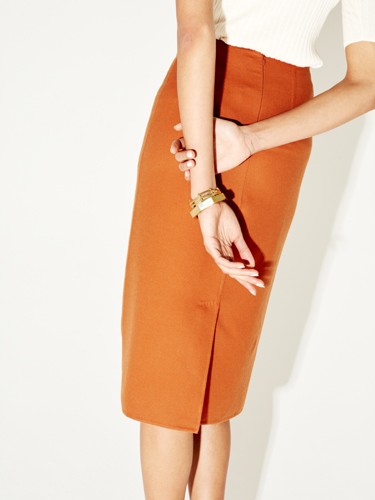 "It's really important to me to celebrate UK industry and support the phenomenal skills of our craftspeople," says Leonie Branston, founder of handbag and jewellery label Ferian. The brand was launched in 2016 after Branston – formerly a womenswear designer for Calvin Klein – moved back to London from New York. Her bags are produced in the West Midlands, while the architectural jewellery (pictured) is wax cast and hand finished in Hatton Garden.
ferian.co.uk
Skirt by Agnona, bracelets by Ferian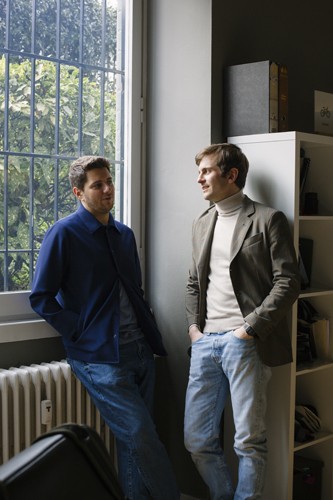 Could Traiano be the suiting brand of the future? A lengthy commute was the starting point for this young Milanese company, which produces relaxed suits in high-performance nylon. "I was travelling back and forth to the US for my undergrad studies and I was looking for an aeroplane outfit – something comfortable but elegant," says founder Filippo Colnaghi. "There was nothing even close to what I was looking for. So I began to develop prototypes."
Traiano is where the worlds of sport and tailoring collide: shirts, blazers and trousers are crafted from stretchy Biella nylon then digitally printed with patterns that mimic wools and plaids. "You can wear one of our shirts for an entire day – work in it, travel in it – and it will not wrinkle. You can even throw our suits in the wash," says Colnaghi. "We're trying to exploit this fertile ground for innovation and update an industry in Italy that has been unchanged for more than a century."
traiano.com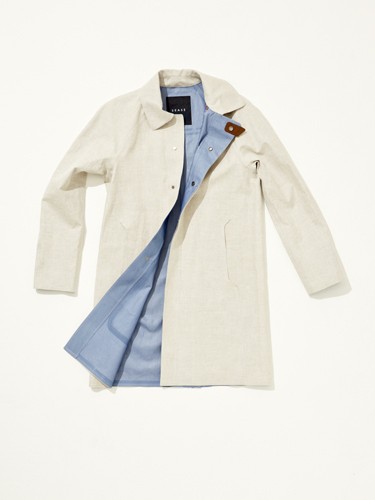 This Lifetime trench from Milanese outerwear firm Sease is waterproof, breathable and windproof. Made in Italy from Italian textiles.
sease.it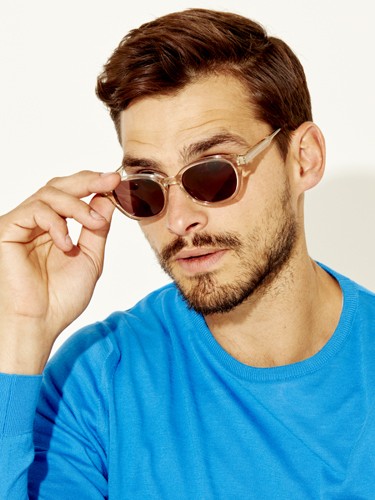 15. 
Eyewear/Portugal
Poente
New Portuguese eyewear brand Poente has deep roots. Bernardo Romão, its 26-year-old Lisbon-based owner, hails from a family where making smart-looking spectacles has been a pursuit since the 1930s; his father runs eyewear label Paulino. For Poente's shades and spectacles – assembled by hand in a factory outside Porto – Romão sources acetate from Italy's Mazzucchelli and lenses from Carl Zeiss Vision.
poente.pt
16. 
Outdoorwear/Tokyo
Elevated design
And Wander is bringing style to mountaineering. Now ideas for scaling the firm are looking up.
By Kenji Hall
Photography Miwa Togashi and Yuhki Yamamoto
Keita Ikeuchi and Mihoko Mori, the co-founders of Tokyo outdoor brand And Wander, are the first to admit that you wouldn't wear their clothes to scale the world's highest peaks. But they didn't launch their brand in 2011 to cater to hardcore mountaineers. Instead they wanted to please people like themselves: city dwellers who need technical gear for hikes but also care about looking good on the mountain. The products from Ikeuchi and Mori – both former designers for Issey Miyake – go against the conventions of outdoor wear: button-down shirts, jackets with reflector stitching, suede Paraboot ankle-high boots.
The firm has a growing presence in Japan – including a shop – and in March the brand was bought by Anglobal, a Tokyo firm that owns the Japanese rights to labels such as Margaret Howell and Sunspel. Ikeuchi and Mori will stay on as creative directors.
MONOCLE: How do you envision your clothes being worn?
Mihoko Mori: We design clothes and gear that we want for ourselves during weekend trips to the mountains in Nagano or Hokkaido. We don't climb 6,000-metre or 8,000-metre peaks; we prefer 2,000 metres or 3,000 metres. We don't need boots for Everest. We take samples on hiking trips and afterwards we talk about what changes are needed.
M: What's been challenging for you as a small outdoor brand?
MM: Our background at Issey Miyake was in high fashion. We worried that people would think of And Wander as a fashion brand with an outdoor theme, rather than an outdoor brand.
Keita Ikeuchi: We were careful not to prioritise the fashion market. If people thought of us as a fashion brand we might not be taken seriously.
M: Where are the clothes made?
KI: We prefer to use factories in Japan: we can meet the people behind the manufacturing and it's easier to explain what we want. We've used workwear factories in Okayama, for instance. We want to contribute to the industry here.
M: Will that change as you grow?
MM: It's better to manufacture some things overseas – taped seams for waterproof jackets, for instance.
KI: There aren't many factories in Japan that make down products. We wonder whether they will be able to handle our orders as we expand.
M: You have just sold And Wander to Anglobal. Why?
KI: It was difficult to take the next step in building the brand with the resources we had. We have 10 people. Mori and I were juggling administrative work, design and manufacturing. The administrative side was taking up so much of our time, we had less time to devote to product design. We've done things in our own way but to grow we need to hire experienced staff and adopt a more proactive PR strategy.
MM: With Anglobal's support we can buy textiles and materials in larger volumes and plan our collections further in advance, rather than worrying about the risk of a big investment.
M: How much of your business comes from overseas?
MM: Overseas sales are about 3 per cent of overall sales. Paris is a big market.
KI: In Japan we cater to the outdoor market and the fashion market but overseas we focus on fashion retailers. We haven't been to outdoor-industry exhibitions yet; that comes next. Overseas we're seeing more brands blur outdoor wear and urban fashion. The convergence is from both directions: fashion brands making outdoor clothes and outdoor brands teaming up with fashion designers.
andwander.com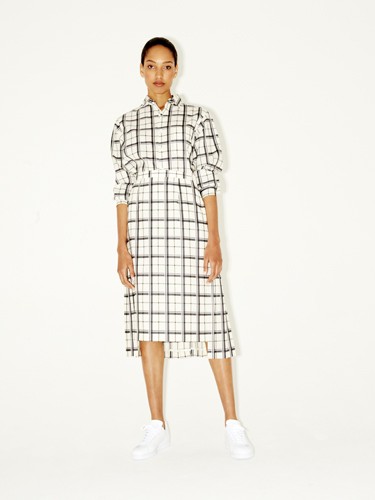 17. 
Clothing/Japan
Wellder
Wellder is a brand-new Tokyo label launched this spring/summer season. But the designer behind it, Noriyuki Shimizu, is experienced: the 42-year-old previously designed for Japanese brand Name after working as a pattern cutter for several fashion houses. Wellder is owned by Clip Clop, a Japanese firm that also owns first-rate labels Auralee and Kaptain Sunshine. Its first collection of men's and womenswear is made entirely in Japan using exclusively developed fabrics.
wellder.jp
18. 
Grooming/Global
Sustainable skincare
Sustainability is a growing concern in cosmetics but, while there are plenty of women's options, there is a dearth of products for men. Here are three brands with eco-friendliness at their core. Mühle (Germany) Best known for being a shaving company but its associated skincare range is big on sustainability. Its vegan products use ingredients including sea buckthorn. Fueguia 1883 (Argentina) This cologne brand forages every ingredient from Patagonia. Saal & Co (Austria) Launched in 2015 and based in the Tyrolean Alps, Saal & Co's products are made using ingredients such as witch hazel and are packaged in recyclable aluminium tubes.
fueguia.com; muehle-shaving.com; saalskincare.com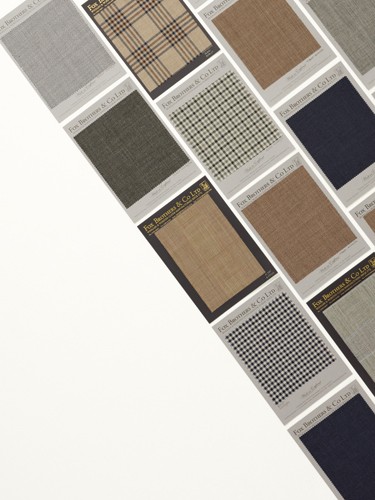 19. 
Fabric/UK
Fox Brothers
"History is woven into every metre at Fox," says Douglas Cordeaux, managing director of Fox Brothers cloth mill. Opened in 1772, the mill in Somerset has a storied history: Winston Churchill's chalk stripe suit was made by Henry Poole using Fox flannel. "Our signature flannel is world renowned and worn by business leaders, Hollywood legends and those that love wearing a suit," says Cordeaux.
Recently Fox has been supplying cloth to new brands keen to inject life into tailoring. "Working with young tailors is key: they are the future," says Cordeaux, citing the mill's relationship with Roman label Giuliva Heritage Collection, which uses the principles of Italian men's tailoring in its womenswear products. Such partnerships are key to the mill's relevance. Fox is currently working on replacing nylon oil-based fibres in performance wear with natural materials such as wool. It's also enlarging its collection of lightweight summery fabrics in order to cater to the milder weather caused by climate change.
foxflannel.com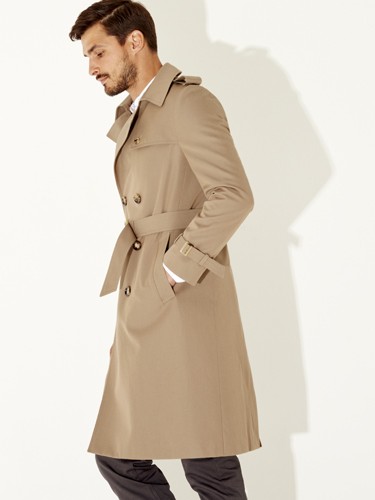 The radical reinvention of Celine under Hedi Slimane continues. The designer removed an acute accent, raised hemlines and added a menswear collection. Now a new shop template is being rolled out: a sharp mix of oak, stone, stainless steel and concrete. There is a big push in Japan: a refurbished Tokyo flagship (for men and women) and two menswear-only shops in Tokyo and Osaka. "Japan has always been an important market for Celine," says spokesperson Rina Matsunuma. "Hedi Slimane appreciates the way Japanese customers understand his work." It's time to let the clothes do the talking.
celine.com
21. 
Clothing/France
Lafont 1844
When Louis-Marie de Castelbajac, son of acclaimed designer Jean-Charles de Castelbajac, found a Lafont jacket at a secondhand shop, he was mesmerised. He contacted Lafont, which was founded in 1844 and is thought to have invented overalls, and proposed his vision of turning it into a French Levi's. February saw the launch of Lafont 1844, a 15-piece line of jackets, overalls and T-shirts, with details such as cuffs with reflective fabric. "It was important to be loyal to the philosophy of Mr Lafont," says De Castelbajac. "His fuel was creating the most functional, durable, comfortable pieces."
lafont-1844.com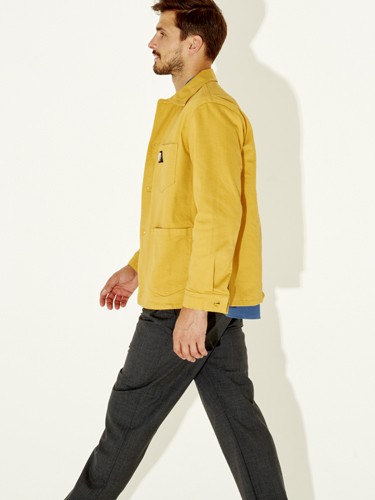 22. 
Menswear/USA + France
CHCM X Arpenteur
New York's chcm boutique was Lyon brand Arpenteur's first US stockist. Now, fittingly, they have collaborated on a French-made capsule. "I'd given them some of my own clothes a few years ago," says chcm's Sweetu Patel. "And we'd talked about reworking them." The collection includes a bright chore jacket, knee-length rain poncho, and band-collar popover.
chcmshop.com; arpenteur.fr
23. 
Retail/France
The Next Door
Nicolas Ivars opened The Next Door, an agenda-setting shop in Avignon in 2006. More than a decade on he's teamed up with Antoine Floch and Olivier Migda, the pair behind menswear tradeshow Man, to bring The Next Door to Paris.
"For the three of us, Paris needed a new destination shop," says Floch. "It was important for us to bring our communities together in a common space." Their venture, which opened its doors in the lively 10th arrondissement in January, is a bold bricks-and-mortar statement. Designed by local studio Bonsoir Paris, the impressive three-storey space features concrete floors, pristine white furniture and an upstairs gallery to showcase temporary installations.
Its brand selection runs from high-fashion heavyweights, such as Comme des Garçons, Maison Martin Margiela, Marni and Visvim, to sportswear favourites including Nike, Adidas and exciting New York brand Adsum. "We want to target as many people as possible and be open to various types of customers," says Floch. "A 16-year-old kid can buy a Stussy T-shirt at the same time as a 40-year-old bank manager discovers Japanese brand Sacai."
thenextdoor.fr
Round-up
From sustainability to embracing new factories, thoughts on manufacturing
Econyl: the fabric changing the approach to sustainability
by Grace Cook
Traditional nylon is one of the largest polluters of all fibres used in the fashion industry; it is made using oil and releases tiny particles of plastic into the ocean when washed. So in 2011 Italian nylon producer Aquafil launched a subsection dedicated to sustainability that started testing ways to transform waste plastics into fibres at a dedicated plant in Slovenia. That business is now booming.
"We have so far collected more than 20,000 tonnes of discarded fishing nets from the sea and repurposed the waste into sustainable textiles for fashion brands," says Giulio Bonazzi, president and ceo of Aquafil. The company partners with divers to recover the ocean waste and its most noteworthy product, "econyl", is a nylon-like fibre spun from fishing nets and plastics. This 100 per cent recycled, chemical-free yarn is so popular that it has become something of a brand in itself: the econyl-certified care label is becoming a coveted tag. "We've made trainers with Adidas, swimwear with Speedo and worked with fashion houses such as Stella McCartney and Richard Malone."
Bonazzi is convinced that developing such materials will ensure the company's survival in years to come. "Millennials are much more concerned with the amount of waste our planet is accumulating. It's no longer enough to invest in advertising. Brands need to demonstrate that they are providing real solutions to the problem."
Japanese cosmetic production
by Junichi Toyofuku
In February, Shiseido, Japan's biggest cosmetics brand, announced that it would be building a ¥40bn (€317m) factory in Kurume, Fukuoka. Due to open in 2021, it's the latest move in Shiseido's plan to strengthen its "Made in Japan" brand: the company is investing ¥170bn (€1.3bn) to build three new Japanese factories (including the Kurume facility) and improve the capacities of three existing sites.
Between 2015 and 2017, Japan's cosmetics exports enjoyed an annual increase of more than 20 per cent. In 2018 its exports amounted to more than ¥350bn, with Hong Kong and China its top markets. Shiseido has contributed handsomely: its global sales increased by 8.9 per cent last year, helped by massive growth in China and Asia Pacific. "One of the key drivers behind the export growth is an overwhelming influx of visitors from overseas," says Masayuki Sakaguchi, managing director at Japan Cosmetic Industry Association. The economics is simple: tourists discover brands in Japan, become fans and then buy the products in their home countries. The 2020 Tokyo Summer Olympics will be a further boon.
High-quality Japanese production is also a key part of the equation. Other cosmetics firms are taking note: Kose invested ¥6bn into expanding its Gunma factory in 2017, while Albion reportedly pumped ¥10bn into its Kumagaya factory. "The power of the "Made in Japan" brand won't decline," says Sakaguchi.
Moving from Portugal
by Antonio Roig
Portugal is a manufacturing powerhouse but is it becoming a victim of its own success? Antonio Roig thinks so: this year, he moved production for his menswear brand Mews from Portugal to Spain.
"Producing garments in Portugal is exhausting," he says. "Orders are always subject to delays or unauthorised changes in design or fabrics. Factories say 'yes' to all specifications at first and, at the last minute, say, 'It's not possible for us to make it like that.' The factories lack attention to detail and the prices are becoming crazy. So many brands are moving production back to Europe from Asia – it's not that competitively priced to make there now – that the Portuguese factories are getting full. It's becoming harder for us to work with them as we have smaller production numbers. "The next step for Mews is to take a step back. We are relocating all our manufacturing to Spain, in ateliers that can offer excellence on a small scale. It's important to have control of the production. Spanish production is limited in comparison with Portugal. Most of the factories that are big work with retail monsters like Inditex, owner of Zara. Small brands don't have access to those factories. Our factories are located in random places. We make Goodyear-welted shoes in Mallorca, leatherwear in Ubrique and shirts in Madrid.
"Our challenge now is to open up the factories' eyes in terms of what can be done with design. They are used to manufacturing traditional garments; we need to get them to embrace new methods and techniques to move things forward."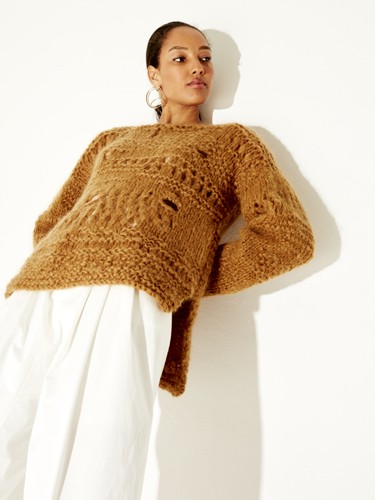 24. 
Womenswear/South Africa
Frances VH X Leandi M
"South Africa produces the highest-quality mohair in the world," says Frances van Hasselt, founder of Frances VH, which creates handwoven, ethically made mohair rugs. Having grown up in South Africa's arid Karoo region on a farm that owns one of the world's oldest mohair studs, she is extremely familiar with the yarn. Her latest project is a women's knitwear collection produced in collaboration with local designer Leandi Mulder. The jumpers and vests in bright pinks, pale yellows and dusty browns are inspired by the colours and landscapes of the Karoo, and the people who live there. The collection aims to celebrate traditional craftsmanship and help support a local supply chain: it was made by hand in the Eastern Cape using the finest kid mohair.
francesvh.com
Hairy issue:
Mohair (fibres from angora goats) was once a lucrative industry but it took a hit last year after videos from Peta showed animal cruelty taking place on mohair farms in South Africa. Brands such as Ralph Lauren stopped using the material; some retailers banned it. South Africa produces 50 per cent of the world's supply of the fibre. Mohair South Africa has pledged to take action against the guilty parties and is developing an animal welfare code to prevent acts of cruelty. Farmers such as Van Hasselt are keen to stress that malpractice seen in the Peta videos does not happen everywhere. "Our team place great care into looking after our goats," she says. "Buying mohair from farms certified for sustainability could well be a gamechanger."
Spring offers a chance to wear new outfits – just don't call it 'layering'
by Peter York
If wildlife is worried by the unpredictability of weather and the blurring of seasons, it's nothing compared to the sheer agony experienced by designers and logistics people in the rag trade. How can they be expected to do an orderly offer of looks for spring if they don't know what it is any more? And how can you do menswear looks for spring with a straight face?
The correct response to this breakdown of sartorial certainties is the adoption of the "cut-up principle" in wardrobe choices. This goes way beyond the Prada-and-Primark combinations currently favoured by thinking men the world over. It involves wearing different structures from different seasons and clothes of different weights: a heavy coat on top of a thin jumper. You could dress as a new-generation Democratic congressman. What would that involve? Something between Robert Kennedy and Bruno Mars; are you with me?
Dressing using the cut-up principle means choosing your clothes from the back of the wardrobe as well as the front: clothes that you aren't used to wearing together on the same day for the same gig. So, for instance, on a day that might warrant olive cords and a nice woollen jacket, you could substitute a touch of the early autumn Merchant Ivorys (white-linen suits) with a pale linen jacket and an over-enthusiastic Mondo Bongo shirt instead of a polite one.
Just imagine the kits in one of those how-to-dress-like-a-proper-gent manuals and change things around. Think about getting it wrong. But not wildly wrong, you understand, not menswear-catwalk silly – just the kind of evolutionary questioning that's subtly liberating. Something that makes traditional formality more comfortable.
Another example: while trainers should remain unthinkable for grown-ups – the plain sort and the silly special editions too – black canvas plimsolls go well with a nice tweed suit. And for work in the modern sofa-culture world, introduce some focus and formality with suits so ostensibly dark and serious that no-one notices they're made from 1960s wonder materials until they get really close. I've got a navy double-breasted blazer that's actually unlined and made of plastic bags.
The only terrible thing about this cheerful prospect of finding new get-ups to wear without spending any money is the terminology – those awful menswear-language tropes. I've avoided "layering" and "teamed with" so far but it's been difficult. Thank me for this later.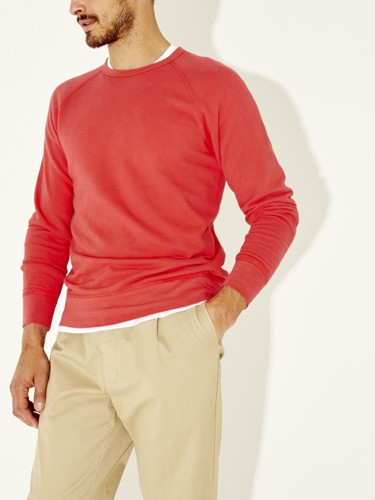 25. 
Menswear/USA
Alex Mill
Alex Mill, the shirt brand founded in 2012 by Alex Drexler (son of former J.Crew ceo Mickey Drexler), has been relaunched. Its new offering of menswear and – for the first time – womenswear is designed by J.Crew alumni Somsack Sikhounmuong, comprising easy, affordable pieces.
alexmill.com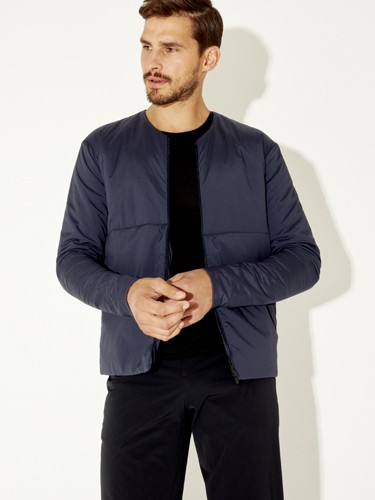 26. 
Clothing/Germany
Aeance x Konstantin Grcic
This all-German partnership between Aeance, the Munich sportswear brand, and industrial designer Konstantin Grcic is a snug fit. It evolves Aeance's signature performance gear into tailored ready-to-wear clothing. "Grcic applied the processes behind industrial design to fashion," says Nadine Baier, who co-founded Aeance. It's their most sustainable collection yet, using more than 90 per cent recycled fabrics, and everything is produced in Portugal.
aeance.com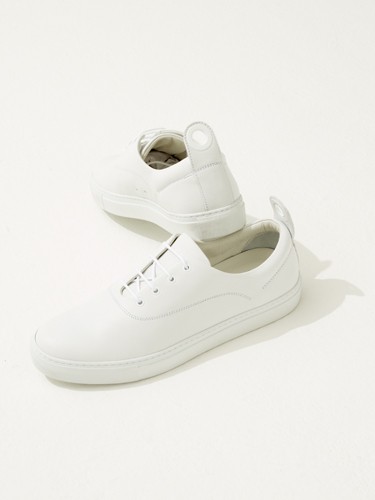 27. 
Footwear/Austria
Fateeva
Elizaveta Fateeva is no stranger to fancy footwear having designed shoes at Lanvin, Jil Sander and Raf Simons. But she is aware of the limitations of working for big brands. "There are a lot of limits and compromises," says the designer, who launched her label in 2017. The Viennese brand produces a tight range of minimalist, unisex trainers, each crafted from a single cut of leather.
fateeva.net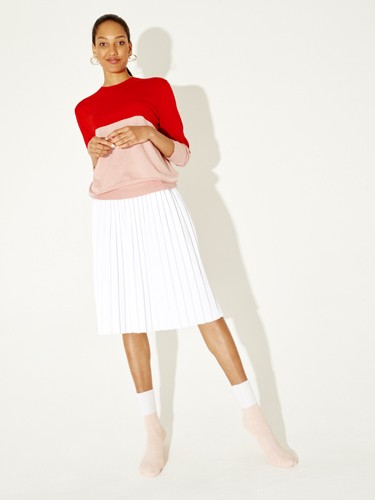 28. 
Womenswear/Spain + USA
Bielo x La Garçonne
"We set out to create a small and smart wardrobe of day clothes," says Josep Puig of this new collaboration between Bielo, his Spanish knitwear label, and US retailer La Garçonne. The result is a 10-piece womenswear capsule of polo shirts, pleated skirts and sweaters in sorbet shades. The collection is intended to introduce Bielo to a US audience.
Bielo, which primarily makes menswear, was founded in 2015 in La Llacuna, a remote town an hour's drive from Barcelona. Puig's parents have run a knitwear factory in the town since 1986. Today it produces sweaters for the likes of Marni and Joseph. Bielo's products are produced during the quieter periods of the factory's production schedule. "No-one would ever expect to find an internationally established knitwear manufacturer hidden among these tiny streets," says Puig. "dhl couriers often wind up lost trying to find us."
bielo.co
Stylist: Kyoko Tamoto
Hair & Make-up: Sam Basham
Models: Tiaan Kotze & Lauren Borgers