Briefing / Global
Cities
Briefing
Athens' outgoing mayor shares advice for his successor and Montréal's shops start talking the talk.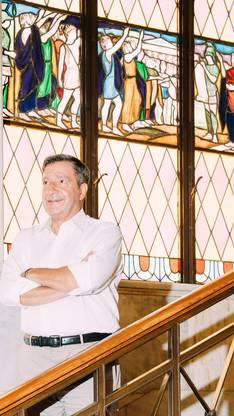 Q&A
Georgios Kaminis
Mayor
Athens
Georgios Kaminis has been the mayor of Athens since 2011. Ahead of the city's municipal elections – for which the former professor of constitutional law has chosen not to seek re-election – he tells MONOCLE about his biggest victories and the challenges that lie ahead for his replacement.
MONOCLE: You took office as the country's financial crisis kicked off. How did you go about cleaning up the finances of the municipality?
GEORGIOS KAMINIS: My first term was dedicated to the fiscal consolidation of the municipality, which had huge debts. I needed to restructure, which included letting go of staff. We also reduced our debts by nearly 50 per cent – from €220m to currently below €90m – and turned the deficit of €48m to a surplus of €27.5m.
M: How did you go about revitalising neighbourhoods?
GK: We don't have the basic tools to trigger growth in the city and can't really create economic incentives for businesses. So we took integrative approaches everywhere, partnering with everyone. We find spots that are in deep crisis – on the point of becoming ghettos – and we do urban acupuncture. Our urban-regeneration plan ranged across 70 categories, from crime prevention to boosting entrepreneurship.
M: Could you give us an example?
GK: When we took office the neighbourhood of Kypseli was dark. Now it's flourishing. We renovated and opened municipal buildings with EU funds and we're giving them back to the neighbourhood. The residents participated in the revival project of the Municipal Market of Kipseli with more than 400 proposals.
M: Athens was at the forefront of the refugee crisis. You mobilised mayors through the Solidarity Cities initiative that called for collaboration. What did it achieve?
GK: Although it was a symbolic gesture because [the mayors] didn't have so much power, we showed that cities can take a stand in opposition to their country's unwelcoming policies. A notable example was the mayor of Gdansk, who welcomed refugees while the country's authorities built walls.
M: What challenges lie ahead?
GK: We created a new model of governance for the city – one based on working with all the assets of society. But whenever you change a mayor or minister in Greece, the incoming one starts all over again. I look forward to meeting my successor and showing him what he can do because he will inherit a new administration and realities.
Plus points:
1. Unesco names Athens emerging cultural city, 2017
2. EU calls it European capital of innovation, 2018
It's good to talk
Canada —
language
One of the biggest hurdles to adapting to new life in a foreign city is the language. That's why Québec has launched an initiative that pairs recently immigrated small business owners in six Montréal boroughs with university-student language teachers who offer French lessons at the newcomer's place of work.
The initiative, which has been running for a few years now, is set to expand as Québec's provincial government has granted CA$450,000 (€299,000) to roll it out it across Montréal. So far there are no plans to add English to the mix but other Québec centres may follow suit in teaching French.
---
Breathe easy
Copenhagen —
transport
Copenhagen lord mayor Frank Jensen's plan to ban petrol and diesel cars in parts of his city will be no surprise to anyone familiar with his campaign to be on the frontline of the fight against climate change. He's hosting The C40 Mayors Summit, a city-led climate-action conference, later in 2019. "Governments should give their mayors the power to make regulations on this," he says. "Mayors around the globe are handling [climate change] every day because it's already a reality."
He's also committed to making Denmark's capital carbon-neutral by 2025. "It's very ambitious but we're on the right track."