Defence / Global
Defence
Briefing
Airbus gets a much-needed military order while Canada's navy searches for more seamen (and women).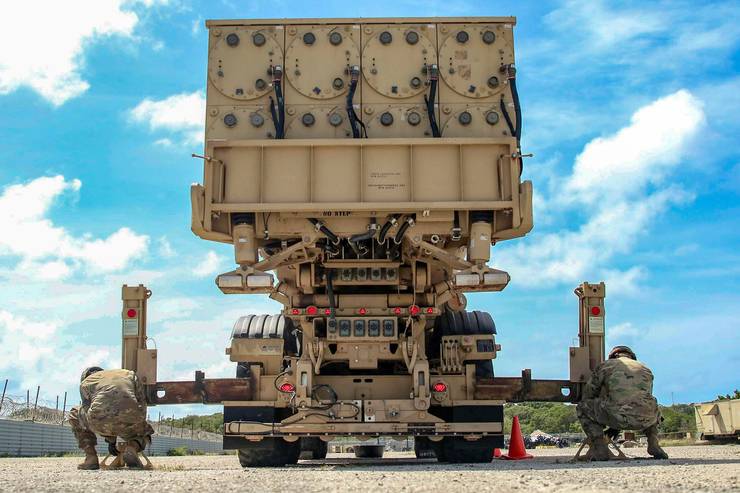 Line of defence
israel —
missiles
The US's Terminal High Altitude Area Defence (Thaad) anti-ballistic missile system has proven as capable of attracting controversy as it has of bringing down warheads. In 2017, China pulled out of a trilateral summit with South Korea and Japan in protest at Seoul's plans to host a Thaad battery (the weapons were eventually deployed).
A new deployment of the Thaad system to Israel – initially as part of a month-long drill – is likely to provoke comparable resentment among regional players. The Thaad system in question, from the US army's 11th Air Defence Artillery Brigade, joins an already formidable array of Israeli air-defence weapons, including the Israeli-built Iron Dome and David's Sling systems, and the joint Israeli-American Arrow. The question that's obviously prompted is what the Thaad can do that the others cannot.
"It's part of a multi-layered system," says Yossi Mekelberg, senior consulting research fellow with the Middle East and North Africa programme at Chatham House. "From Israel's perspective, the battlefield has changed a lot. The problem is now mainly rockets and missiles: low-flying, high-flying, short-range, medium-range, long-range. And they can come from Gaza, from Hezbollah in Lebanon, or Hezbollah and Iran in Syria if they can establish themselves there, or from Iran directly."
Israel's air-defence needs are not in doubt: Hezbollah alone is estimated to have some 100,000 missiles stationed on Israel's northern border. But it's Iran that may be the intended audience for Thaad's arrival in Israel. "It's symbolic as well as practical," says Mekelberg. "If it was purely practical you wouldn't have to announce it. It's a direct message to Iran that the US is behind Israel."
It also seems a direct message to Iran's other regional rivals – and, therefore,Thaad's potential market. Thaad has already been sold to the UAE; deals are also in progress with Oman and Saudi Arabia.
---
Protection plan
Germany —
Aircraft
The German ministry of defence is upgrading its military planes with newer models. Though both Airbus and Boeing are competing for the €10bn order, Airbus is expecting a large part of it – and has already won an order from the government for three new jets. Another generous order from the Germans will give the company's military branch a welcome financial boost at a crucial time.
In February, Airbus agreed to build next-generation military aircraft together with French-based Dassault as part of a deal struck between Germany and France aimed at strengthening European defence independently of Nato. "If Airbus's military division is struggling then this endangers its co-operation with Dassault," says Torben Schütz of the German Council on Foreign Relations. "This contract from the German government is quite crucial."
---
In the basket 02
Deep dive
Who's buying and who's selling? We keep you abreast of the most significant recent defence deals.
In the basket: 1 Akula-class nuclear-powered submarine
Who's buying: India
Who's selling: Russia
Price: $3bn (€2.7bn) for a 10-year lease
Delivery date: By 2025
This will be the third nuclear-powered submarine that India has leased from Russia. The first, INS Chakra, is already in service; the second is due for delivery by 2021. International treaties will preclude the new vessel  – INS Chakra III – from carrying nuclear weapons, however. But India's home-built INS Arihant, and the soon-to-be-commissioned INS Arighat, do have such capacity.
---
Canada's inability to procure a fleet of brand new fighter jets has been well publicised but it's the armed forces' failure to recruit human talent that could really cause problems. While the airforce is short of pilots and mechanics, a dearth of sailors is plaguing the navy. Commodore Steve Waddell is director-general of naval strategic readiness and says that, at any given time, it's anywhere from 10 to 40 per cent short of its sailor target, largely due to on-shore opportunities and low unemployment.
But the navy better get creative about recruiting. A pillar of Justin Trudeau's 2017 defence policy was to ensure that the military can operate multiple missions at once – and it'll be hard pressed to achieve that goal if it can't bring more sailors onboard.