Luxury / Mexico
Domestic bliss
Luxury fashion in Mexico used to be European – but rising womenswear stars are redressing the balance.
The streets of Mexico City's upscale Polanco neighbourhood are named after legendary thinkers, statesmen and writers. Many are European names with a Spanish twist: one road is called Jorge Bernard Shaw, and Calle Sócrates bumps into Carlos Dickens. If the street names are meant to suggest a sort of imported class, the same is true of the shops on Avenida Presidente Masaryk, Polanco's equivalent to New York's 5th Avenue, with façades bearing names such as Salvatore Ferragamo and Brunello Cucinelli. This has long been the shape of luxury consumption in Mexico. But the opening of Lago, a concept store focusing on Mexican labels, on Masaryk in late 2017 suggests that a fresh idea of luxury is coming to the fore (other new independent boutiques have opened too).
"When I moved here from Barcelona 11 years ago I was surprised by what fashion had to offer – and not in a good way," says Sandra Weil, a designer whose locally made label now has several shops in Mexico City, including one just off Masaryk. "Back then you couldn't find any concept stores or brands; the only place people could go was Louis Vuitton." European heavyweights have long dominated the luxury landscape here – and they continue to succeed. Brands such as Prada are opening multiple shops; others, including Loewe, are entering the market at a rapid clip.
The robust state of the luxury sector is partly attributable to a boom in high-end shopping-centre construction – more than 100 have been built in the past 13 years – as well as a tendency for wealthy Mexicans to shop closer to home. "Since the last election in the US, people are thinking twice about saying, 'Oh I'll just buy it in New York,'" says Karla Martínez de Salas, editor in chief of Vogue México. Discussing Donald Trump's anti-Mexico rhetoric, she adds: "It's like your abusive boyfriend: at some point, when someone has insulted your country so much, you say, 'Why am I going to Miami and buying Gucci there, versus making sure Gucci does better here, helping the local economy?' People are more inclined to support designers who are investing in Mexico." This also means shoppers are increasingly keen to fill their wardrobes with pieces from homegrown labels.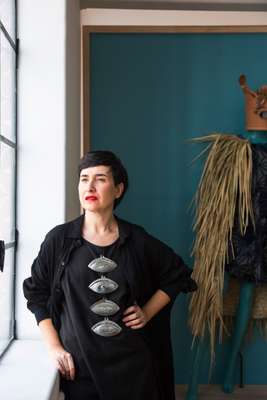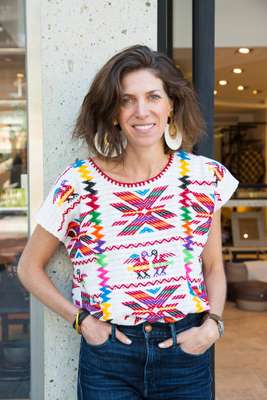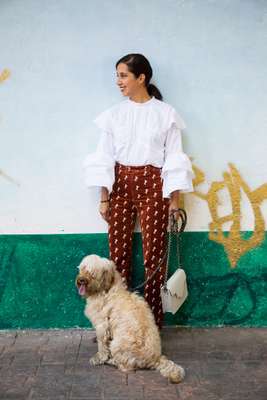 The fact that Mexicans are reducing their shopping sprees to the US is no doubt affecting the bank balances of luxury retailers in cities such as Miami, LA and Dallas. Meanwhile, the flow of tourists coming the other way continues to rise. Mexico is the number-one foreign destination for Americans, who are being joined by an increasing number of visitors from further afield: tourism hit record numbers in Mexico in 2017 (and again in the first quarter of 2018). Visitors don't tend to come for the shopping (except those from Brazil, where luxury products cost more than in Mexico) but, of course, they end up shopping too and they want things they can't get elsewhere. "For example," says Martínez, "Sir David Adjaye was in town for a month and he said, 'My wife wants to go shopping, where should I send her?' That's always a good opportunity to show people local designers."
To find those designers you skip big department stores in favour of smaller boutiques. Cañamiel was the city's first concept store to focus on domestic talent. "When I started [in 2011], people didn't know about local designers," says owner Nelly Navarrete. "It was difficult for us to convince them that if you buy a Mexican brand you'll be the most trendy girl at the wedding." That was eight years ago but "for the past six years we've been a destination", she says, noting that customers have become more aware of Mexican labels.
Crucially, notions of luxury have evolved: "Mexican culture is aspirational," says Navarrete. And it has traditionally associated luxury with conspicuous consumption: wearing the "right" label and clothes that are conventionally sexy or elegant. The new boutiques present a broader idea of luxury and their customers are a mix of Mexico City natives looking for fresh ideas and tourists in search of something unique. At Cañamiel you can certainly find "sleek, tight pieces that make you feel more woman-like" (which is how Navarette describes the clothes from Alfredo Martínez). Yet there are also designs with edgier silhouettes and pieces from brands that coax new ideas from traditional Mexican codes (such as Paulina Ortega, whose colourful tops are based on the serape, a traditional shawl). Independent boutiques cater to what Weil calls "a cosmopolitan woman who likes to have the dress that nobody has. That's luxury to me: to stand out."
In a city where the wealthy often send drivers to Prada to pick up clothes set aside by a personal shopper, visiting these boutiques in person presents a different experience. Lago is flooded with light and lined with plants, while Cañamiel feels more contemporary-art gallery than shop. "People come to us because we create an experience," says Navarette.
Consumers want their fashion to come with a narrative that runs deeper than a celebrity's Instagram feed and that narrative goes to the roots of Mexico itself. Designer Carla Fernández works with some of Mexico's 60-plus pre-Hispanic communities to craft modern pieces that riff on traditional clothes and are made using ancient techniques. "When I go to Italy and show them the leather fretwork, they just faint," she says. "They caress it. They cannot believe these skills exist. And, of course, Europeans don't have indigenous groups that still produce a textile the same way they did thousands of years ago."
You can see this new enthusiasm for Mexican design during an afternoon at Lago. Customers wander in from Max Mara and Gucci, stopping to browse homegrown brands including Carla Fernández and 1/8 Takamura. Lago's owner, Regina Barrios, also organises Caravana Americana, a biannual design show with about 100 mostly Mexican labels that sells clothes, accessories, furniture and homeware. "I focus on people who are doing something different and could have a chance to be respected internationally," says Barrios.
"In Mexico we've always consumed Mexican food, we watch Mexican films and the museums have Mexican art, but we haven't been as strong with Mexican designers," says Fernández. "But now Mexican luxury is looking to Mexican culture. Sometimes you start looking inside and truly believing that you have amazing things."
Mexico City address book:
Lago
Multibrand concept store.
310 Avenida Presidente Masaryk, Polanco lagodf.com
Cañamiel
Multibrand concept store.
Park Plaza, 540 Avenida Javier Barros Sierra, Santa Fe canamielmx.com
Carla Fernández
Standalone shop by Mexican designer who works with artisans from across the country.
200 Álvaro Obregón, Roma carlafernandez.com
Sandra Weil
Feminine womenswear that's made in Mexico.
185 Avenida Emilio Castelar, Polanco sandraweil.com
Caravana Americana
Biannual bazaar celebrating fashion and design.
Various locations caravanaamericana.com
Palacio De Hierro
Flagship of large multibrand department store.
222 Avenida Moliere, Polanco elpalaciodehierro.com