Design / Tbilisi
Making amends
Rather than erase all evidence of Georgia's Soviet past, the country's architectural community is keen to preserve its history and give the once-foreboding buildings another – happier – lease of life.
Earlier this year Tbilisi's mayor convened a meeting on the fate of his city's Soviet mid-century apartment blocks, known as khrushchovkas (a reference to the premiership of the USSR's Nikita Khrushchev). The buildings are no longer wanted by the Georgian capital's government. Yet while these small, typically crumbling quarters can trigger memories of harsh times under a dictatorship, some citizens have come to cherish the apartments' spacious courtyards and family-oriented design. Now people are calling for their repair rather than their replacement, pointing to a significant shift in attitude: Georgians are learning to appreciate their nation's Soviet-era architecture.
Helping turn the tide is a keen emerging architectural community. In October last year, in the neighbourhood of Gldani, known for its neglected Soviet towerblocks, some of its members staged the first Tbilisi Architecture Biennial in independent Georgia (the last one took place in 1988). The aim was to forecast the future of the capital's cityscape while considering its Soviet past. Blueprints, photographs, poetry and artwork adorned the dilapidated walls; crowds moved around nodding in approval in between sips of beer. "The awareness of preserving these buildings is becoming present in society today," says Tinatin Gurgenidze, one of the biennial's four co-founders. "But we've lost a lot of buildings. It's like the new government is trying to erase the past."
The building that originally sparked much of this conversation, and the one that conservators use to illustrate the new life that hides in old spaces, is the now widely photographed Bank of Georgia HQ. Designed in 1975 by architects Giorgi Chakhava and Zurab Jalaghania, it served as the Ministry of Highways until 2006, long after the USSR's collapse. It's a quixotic structure: a blur of Russian constructivism, brutalism and Japan's postwar metabolism. It's been immaculately preserved by its new owner and its fantastical shape has become the poster-child for the odd and strangely enchanting modernist architecture of this city. Most importantly, it's very well used. The overlapping blocks on its façade create multiple terraces for communal use. Come breaktime, bank employees gather for coffee and cigarettes, reposing on outdoor chairs and sofas. One terrace even has mini-golf.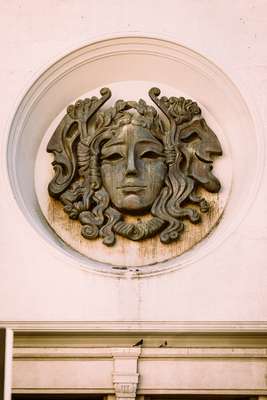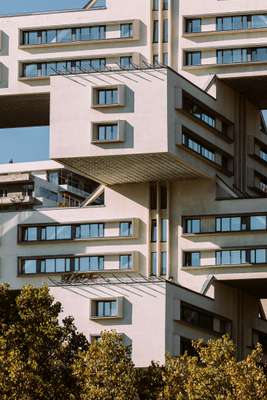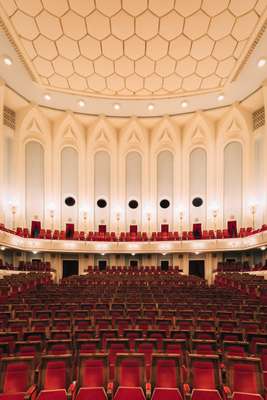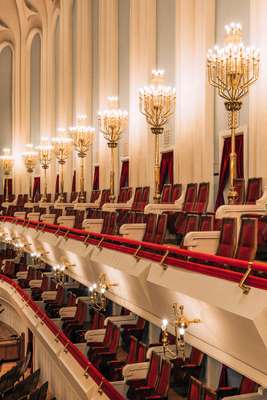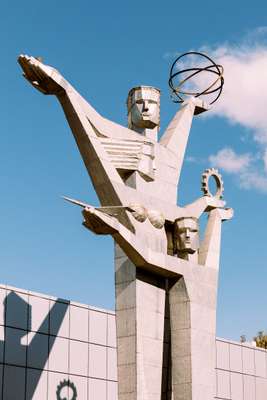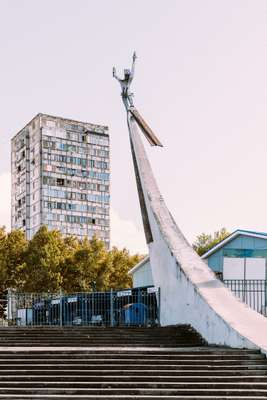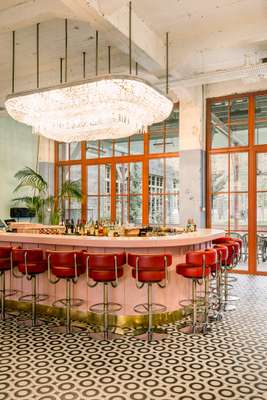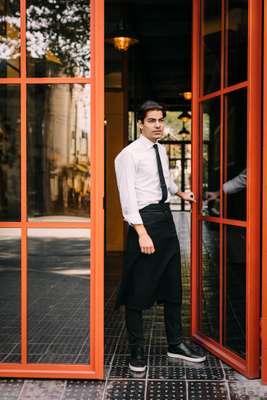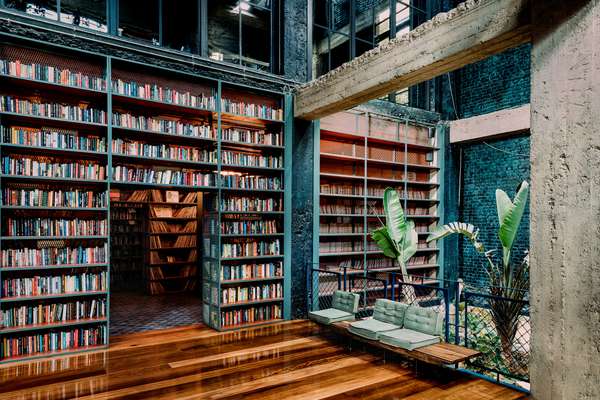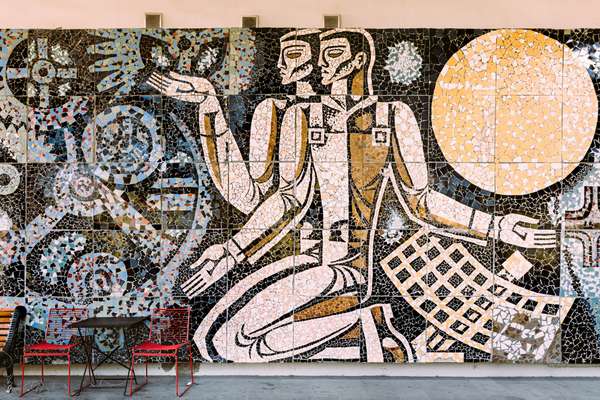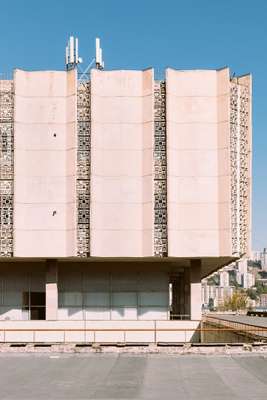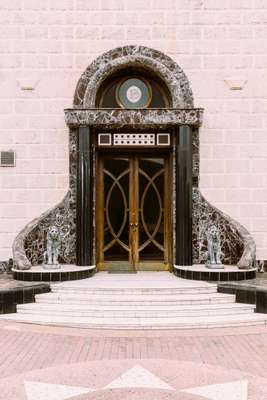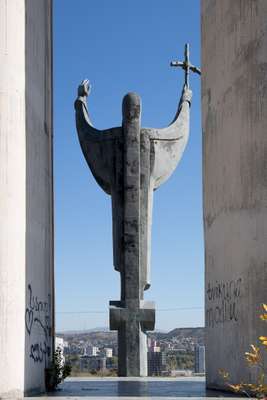 Restorations such as this are often funded by private companies or charities; the government rarely has the money or the will to get involved. "The government needs to do more," says Teona Kakhidze, who helps runs the Kakhidze Music Center in the heart of new Tbilisi. Named after her father Djansug Kakhidze who founded the space, the 1980s concert hall would likely be a pile of rubble now had it not been for the charitable Cartu Foundation, part of Georgia's Cartu Bank, which funded a restoration in 2010 (including €1.7m for an organ). Leri Medzmariashvili, who designed the building with Murtaz Chachanidze, is now 83. He sports a fearsome grey moustache and shows us around with the contented air of a man whose work is done. "We wanted to create something that reminds you of classical music," he says of the concert hall's style, a post-modernist wonder featuring neo-gothic turquoise arches, retro ornate brass lamps and marble reliefs of buxom goddesses.
Further south, not far from Tbilisi's old town and overlooking the Mtkvari River, sits another grand Soviet structure undergoing a reappraisal. Victor Jorbenadze's Wedding Palace (also known as the Palace of Rituals) was completed in 1984 and took inspiration from Le Corbusier's curvaceous Notre Dame du Haut in Ronchamp, France, earning him the nickname "Jorbusier". Even though the USSR was secular, people still yearned for ceremony; Jorbenadze's building is one of the grandest "wedding palaces" that mushroomed across the Soviet Union to cater to these spiritual cravings.
As Monocle drops by the palace for a visit, many couples are perusing the space and considering it as a possible wedding venue, dazzled by its sci-fi stylings. Younger generations – who have often been more liberally educated and are less embittered by a past they can only experience secondhand – are the most fervent embracers of Soviet architecture. Alexander Bagration-Davidoff, a photographer and journalist, has staged several raves in abandoned Soviet buildings across Georgia with a view to espousing a new, positive meaning to the architecture. "Georgia is fighting against its history.
The architecture is the one good thing that we got from the Soviet Union but people destroy it like it's nothing," he says.
An example of the positive effects that the repurposing of these buildings can have is apparent at the recently opened hotels Stamba and Rooms. They're both housed in a former 1930s printing press in Tbilisi's upscale Vera neighbourhood. The old complex has been transformed by entrepreneur Temur Ugulava over the past three years, helping to rejuvenate the city's nightlife.
On a Saturday night in Stamba, a group of smart young patrons recline on blue banquettes and drink Moscow Mules from copper mugs. They interrupt each other to greet friends, cousins or colleagues with a kiss on the cheek. In Tbilisi everyone seems to know each other. Among the crowd is Bagration-Davidoff. "Nobody builds like this anymore: even the concrete is different from that time," he says, admiring the fine old bones of the building. He adds that historic spaces must be directly engaged with if they are to be appreciated in a modern light; Stamba and Rooms are the first spaces where young Tbilisians can do just that (outside of his raves, of course). History is unapologetically on show here, with concrete pillars and an imposing original façade. But any connotations of communism are dispersed by the tasteful reinterpretation of the space – the grit looks charming beside banana plants and Danish Carl Hansen & Søn chairs.
Ugulava could have opted for a shiny new building but it would not have had the same effect. To create an authentic experience he wanted an environment with cultural and historical significance to his country. For better or worse, the Soviet period is an inextricable part of Georgia's identity; to reappropriate a Soviet building properly is to come to terms with the past and thus celebrate the future. The Georgian government is still struggling with this idea but with positive examples set by the likes of Ugulava, there are sure to be more intrepid individuals addressing and reimagining the nation's architectural history.
Touring Tbilisi:
Thinking of planning a visit to the city? It's at its most charming (and clement) in late spring and early autumn – and visiting the capital's architecture highlights is simple. Sights such as The Chronicle of Georgia and ExpoGeorgia are open to the public and within a short taxi ride of one another. For more private locations, including the apartment blocks of Gldani and the Wedding Palace, guides such as Brutal Tours can open many doors.
For the best food and bars – and a dose of 19th-century Tbilisi – head to the historic centre that's directly south from Rustaveli Avenueinstead.
brutaltours.com