HQ audit / Wetzlar
Picture perfect
Both highly practical and visually arresting, Leica's handsome home reflects its status as a visionary presence in the photographic field.
Entering the vast Leitz Park development, an impressive concrete campus of Bauhaus-inspired buildings on the outskirts of the German town of Wetzlar, the first thing you notice is Leica's assembly facility. With its curving front shaped to resemble a lens on one side and binoculars on the other, and a string of rectangular windows replicating the perforations in a roll of film, it is an unusual building to say the least. But it is also a fitting headquarters for the pioneering camera and lens brand. "The beginning of Leica was a revolution," says managing director Andreas Kaufmann. "It's in our DNA to do things differently."
The company was forged in the early days of photography, when cameras were a cumbersome affair involving curtains, stands and large plates of glass. Struggling to lug all the kit around, asthmatic mechanic and hobby photographer Oskar Barnack saw an opportunity. In 1914 he revealed the Ur-Leica, a lightweight camera small enough to fit in a coat pocket. By 1925 Barnack's employer, microscope maker Ernst Leitz Optische Werke, was making models based on his design. Leica was born.
---
Design/architecture
Clinical but purposely so
In 2014, exactly 100 years after Barnack's initial prototype, the company moved its factory to Wetzlar – the town in which its very first cameras were produced and just an hour's drive from Frankfurt. In Leitz Park, Leica sits alongside three similar businesses: a cinematographic lens maker and two optical component producers. All four are majority-owned by Austria's Kaufmann family through their company ACM (because it is privately owned, it doesn't release revenue figures for any of its brands). Leica's HQ is key because it's where the majority of the manufacturing (and repairing) is done.
"It has its origins in city architecture," says Marcel Koch-Mehrin, head of office at Frankfurt's Gruber + Kleine-Kraneburg, which designed it. "Leitz Park is the meeting point for employees and guests and combines the different buildings. Nevertheless, each one also has its unique architectural elements and design. [Leica's HQ] supports the company's culture. Every detail and material is of high quality, and the office is arranged as an open space that encourages dialogue."
This focus on connectivity has not gone unnoticed by employees. "It's easier to find direct access to colleagues [than in the old factory], which simplifies communication," says Edgar Hardt, part of Leica's customer care team. "The building is cleaner, brighter and more open. The only disadvantage is that there's no way to open the windows and the forced ventilation sometimes leads to drafts."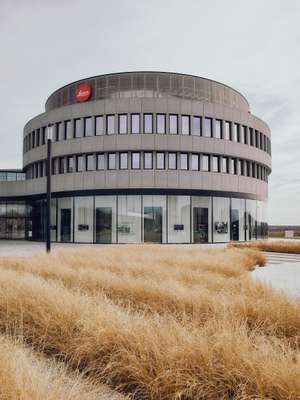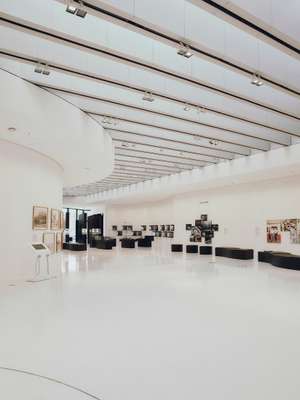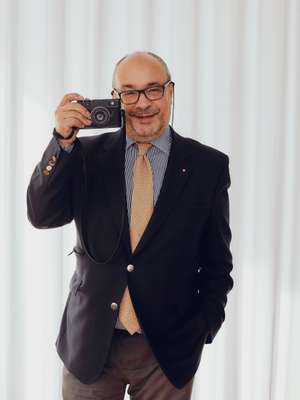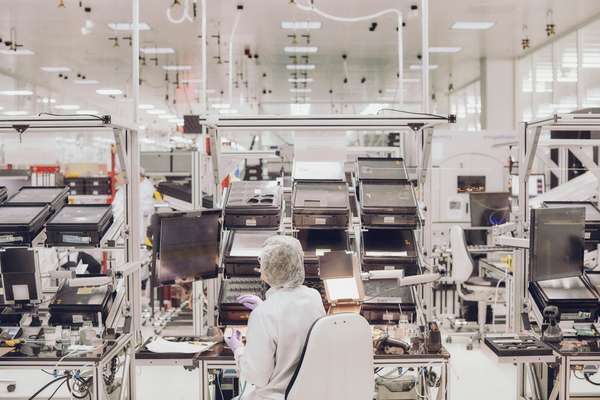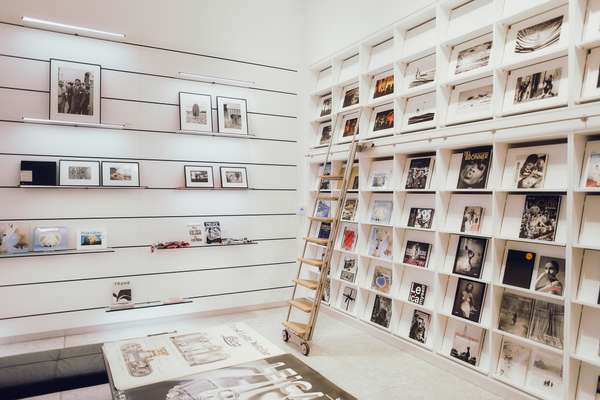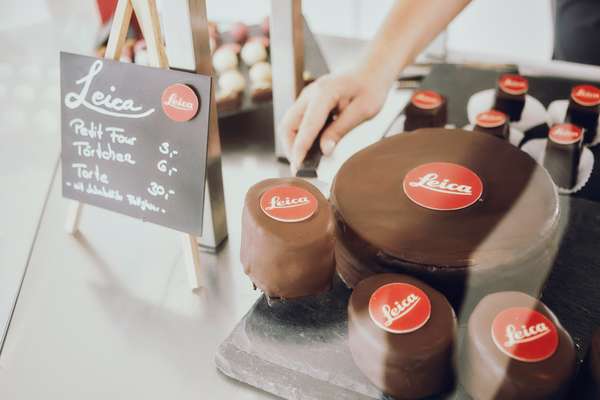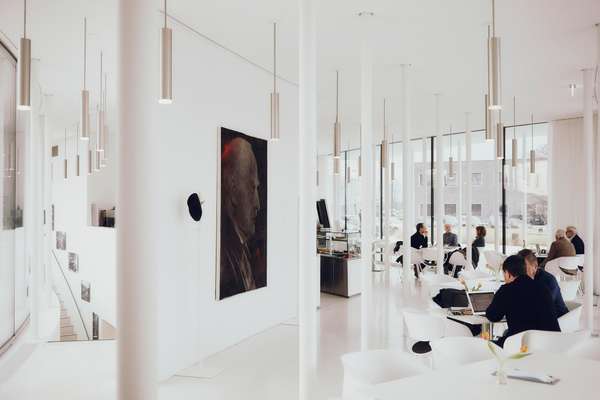 The studio's heavy use of concrete may not be the most aesthetically pleasing choice but it does help the building's green credentials. Thanks to geothermal tubes under the carpark and solar panels on the roof, the complex can generate most of its own power sustainably, while water running through pipes in the building's walls, ceilings and floors cools it in summer and heats it in winter.
Some 800 Leica employees work in the complex, meticulously assembling binoculars, cameras and lenses by hand as well as repairing faulty equipment sent in by customers. The lighting is bright and clinical, not exactly cosy but perfect for the precision work being undertaken.
When working inside these "clean rooms", staff must don hairnets, overshoes and white Leica-branded lab coats to prevent contaminants from coming into contact with their meticulous endeavours. Filters in the ceiling refresh the air every three seconds, using negative pressure to keep dust out. Different sections are divided only by glass partitions, giving the whole space the slightly impersonal feel of a warehouse.
It's a huge change from the company's previous premises but its employees seem to like it. "The old premises were smaller and more familiar but I prefer it here," says Wetzlar-born Ines Kühn as she affixes Leica's iconic circular red logo onto the front of a camera. "Everything is so new."
In numbers:
1,200: People working at Leitz Park 
12: Number of Leica customer-care centres worldwide 
100: Work orders received by Leica's customer-care unit daily
5: Days taken to repair a Leica camera by the company's customer-care department
16: Leica Akademie photography schools worldwide
Office furniture
Function over form
Next to the camera and binocular assembly section is the customer-care centre, one of 12 worldwide and the largest of its kind in Europe. "We receive about 100 work orders every day, some of which will be on cameras and binoculars dating back to the 1930s," says Sven Kupfer, director of the 70-person division.
Such painstaking repair work naturally requires a highly ergonomic workspace. The chairs are specialist dust-repellent laboratory models designed by German brand Bimos and were chosen through employee testing and a vote. Desks are lit by adjustable aluminium Waldmann lamps and, unlike in the assembly facility where workers rotate positions constantly, repair staff have their own desks where they are allowed to pin up personal items, making the space feel slightly less sterile. One long-time employee has pinned up his paper work-pass issued in the 1960s.
The space contains immense storage units, built to store thousands of items, some of which remain for up to 30 years. "Last year we got a call from a man who had moved house in Munich 20 years ago and thought he had lost his camera during the move," says Kupfer. "He remembered that he had actually sent it to us for repairs. We still had it and returned it to him. He was so happy he gave us flowers."
---
Canteen
Communal dining on the menu
Workers from the factory and the offices gather at lunch to enjoy plates of slap-up German fare at bustling tables in the cafeteria next to the main building's entrance. This light-flooded space is glass-fronted, letting diners look out over Leitz Park's jumble of concrete buildings and manicured central courtyard as they tuck into hearty servings of herring in cream sauce and breaded cutlets. On the walls are large black-and-white portraits of dedicated Leica fans, including the singers Seal and Gregory Porter. It's an elegant addition that adds a touch of levity to the space.
---
Activities
Expanding the brand
In many ways this is a highly specialised, no-frills sort of office: you won't find a gym, crèche or after-work bar here. Yet Leica has gone to great efforts to attract visitors from outside. The cafeteria is open to the public, for example, while the entrance to the factory hosts exhibitions of photos taken with Leicas and has a display area showing camera models through the decades. Across the courtyard is a museum, a sizeable gallery space displaying work from prominent Leica devotees of the past century, including Henri Cartier-Bresson, Joel Meyerowitz and Bruce Davidson. Other attractions include the on-site Leica Akademie (the oldest photography school of its kind), the 3km Leica nature trail through adjacent woodland, an enormous shop and an on-site hotel.
"Brands nowadays create their own 'brand world'," says Kaufmann. "When you go to Stuttgart, for example, you visit Porsche World or Mercedes World. The brand is always a face to the customer." For staff, having visitors join them for lunch or observe them at work through a viewing window onto the factory floor isn't always a welcome distraction. But it does add a sense of the immense know-how and history behind this company, surely a point of pride for anyone working here.
The verdict:
This HQ's well-thought-out design is a reflection of the perfect German efficiency demonstrated within. It may seem quiet and clinical but it's hard to imagine it being anything else given the nature of the company's work. The whole Leitz Park development is a good example of how brands can successfully integrate a formal working environment with an entertaining visitor experience. However, the sheer amount of grey concrete on display is in stark contrast to the surrounding landscape; more trees would help create a more inviting area.