Hotel / Italy
Refined retreat
An old family pile, stripped back to reveal its former glory, starts a new chapter as a hotel.
Deep in Salento, on Puglia's southernmost tip, lies Gagliano del Capo, a small sun-worn town surrounded by vast expanses of dusty olive groves. The town's central piazza is a modest affair, populated with cafés and the grand Palazzo Daniele, a green-shuttered stately home that has just opened as a nine-room hotel.
Guests arrive at a colossal wooden door, complete with a stately lion-head knocker and the Daniele family's crest engraved in pale stone above. The entrance is a reliable indicator of the faded grandeur inside. The neoclassical palazzo was built in 1861 and has passed through four generations of owner Francesco Petrucci's family. Together with his friend Gabriele Salini, Petrucci has spent the past couple of years transforming Palazzo Daniele into the newest addition to the GS Collection, which includes Salini's Rome-based hotel G-Rough. "We want our guests to feel like they're in an authentic place," says Salini. "It's not enough to just stay in an amazing hotel; we want to create a connection to local people and hidden places around."
Petrucci spent his childhood holidays in the palazzo but was unsentimental when it came to getting rid of its fussy furnishings. He enlisted the help of Milanese design duo Ludovica and Roberto Palomba to pare the palazzo back to its most elegant details, stripping the walls while restoring the delicate frescoed ceilings and terracotta-coloured mosaic floor (also emblazoned with the family crest). Careful observers will spot details linking the building to its past as a family holiday home: one room, for example, still has a height chart scrawled on the wall with the measurements of the Daniele children pencilled in.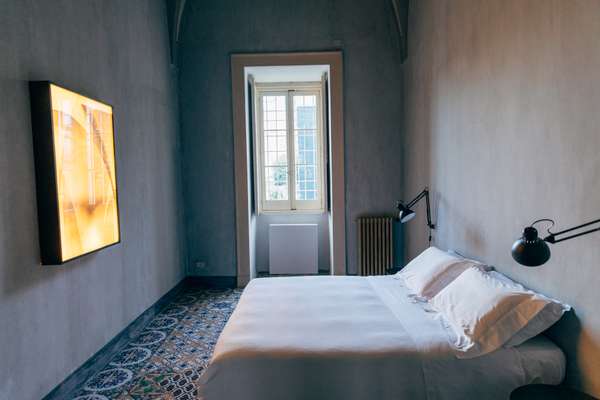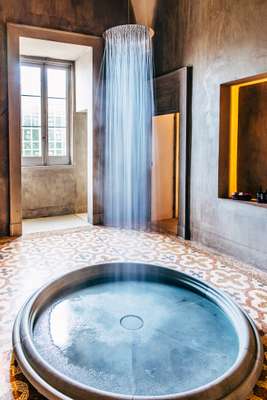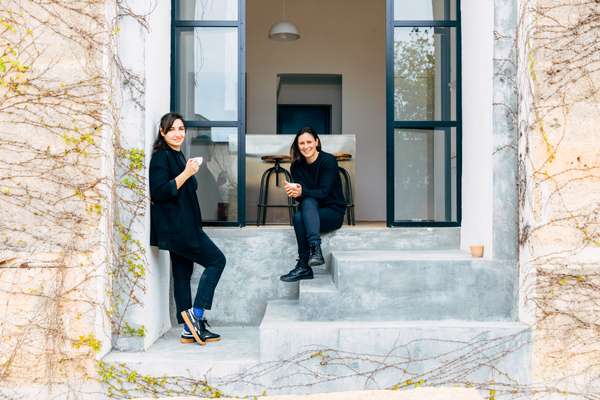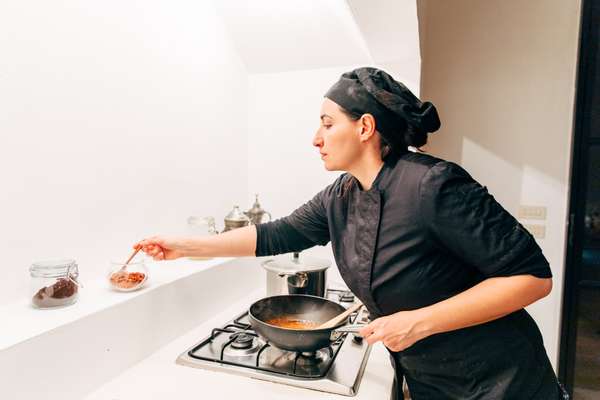 Petrucci has kept an apartment for himself within the building and is on hand to share his insider tips on the surrounding area. "My home was too big for me alone," he says. "As a result I've always hosted friends and family, artists and creative people. It doesn't feel like I've converted it into a hotel; I just opened it to a larger group of people."
A lawyer by profession, Petrucci is a keen art collector and in 2010 founded Capo d'Arte, a non-profit organisation dedicated to promoting contemporary art in Puglia. The organisation hosts an annual art festival across Gagliano del Capo, which has featured the likes of Yang Fudong and Matteo Montani. The owners were keen to make contemporary art a central feature of the hotel and had artists create site-specific works, including lightboxes by Roman artist Simon D'Exéa and a rain shower installation by Andrea Sala. These arresting pieces are positioned amid various grand portraits of Petrucci's ancestors, which reinforce the aristocratic elegance of the setting.
The palazzo is made up of two wings surrounding a central courtyard and features a walled garden containing lush orange and lemon trees, as well as a pool – vital in a region that regularly reaches more than 30C in the summer. During these months, the thick stone walls and soaring vaulted ceilings are a godsend when you're looking for respite from the heat.
The breezy beach is within walking distance, as is the Canale del Ciolo, a picturesque coastal ravine where bathers can take a dip in the clear blue waters of the Adriatic and admire the magnificent views of the jagged cliffs along the Salento coast. "There are so many beautiful small towns and villages close by," says resident manager Elisa Rossi, who comes from the nearby city of Lecce. "We're going to start offering day trips where we go from place to place in a vintage car sampling local delicacies."
Puglia is known for its seafood and the hotel's chef, Salento native Federica de Giorgi, knows how to showcase it at its finest. "The fishmonger on the piazza is the best place to buy fish," she says. "It's all so fresh, most of it is caught just a few miles from here on the same morning." Her no-frills specialities include Puglian sea octopus with potatoes; cuts of local beef with negroamaro sauce; tubettini with scorpionfish; and lemon linguine with thyme and prawns.
Despite the cultural and culinary richness of the area, Gagliano del Capo and its surroundings have remained largely off the tourist map. The arrival of Palazzo Daniele, however, looks set to revive this sleepy part of the world, giving visitors a taste of traditional Pugliese hospitality in a sumptuous setting.
Coffee: Central Bar, Gagliano del Capo: Just opposite Palazzo Daniele, this simple café looks out onto the town's piazza and is the perfect place to sip on a caffè al ghiaccio (coffee on the rocks).
Via Margherita di Savoia
Lunch: Taverna del Porto, Tricase: Make sure you're hungry – chef Giovanni Ingletti serves generous plates of creamy seafood spaghetti and fried sardines at this family-run seafront restaurant.
tavernadelporto.com
Dinner: Bros, Lecce: Tuck into plates of savoury seafood and ricotta at this refined dining spot in the heart of Lecce, cooked up by young chef Isabella Botí.
brosrestaurant.it
Browse: Tessitura Calabrese, Tiggiano: From damask tablecloths to towels, pick up some traditional woven fabrics at this inviting family-run shop.
tessituracalabrese.it
Buy: Arôme de Cacao, Corsano: Sample caramelised hazelnut truffles and classic praline gianduja at this master chocolatier in Corsano.
aromedecacao.com
Museum: Museo Faggiano, Lecce: A maze of underground chambers that house 5,000 archaeological artefacts spanning more than 2,000 years of history.
museofaggiano.it