Education / Madrid
Repeat after me
An inspiring school with high ideals created a space in which its pupils could foster their own creativity. No wonder so many of its alumni have become designers.
"Curiosity is a motor of creativity," says principal Luis Jerónimo Andrades, as he strides through Colegio Estudio's wide, art-adorned corridors. Sprawled across the floor, dozens of well-behaved preschoolers are clutching pencils, scribbling on paper and chatting among themselves. "An appreciation for art, creativity and reason has been a pillar of this school since it was founded," says Andrades. "During the years of the Franco regime, which was ideologically opposed to co-education, we separated the boys and girls only when inspectors appeared at the gates." This school has a unique model, Andrades says, but its staff have always found a way to make it work.
Separated from the distant silhouettes of Madrid's skyscrapers by a vast swathe of parkland, this private alternative school has always been an outlier. Founded by Jimena Menéndez-Pidal, Carmen García del Diestro and Ángeles Gasset in 1940 (in the aftermath of Spain's devastating civil war), its unique educational model has endured for almost 80 years.
Pupils aged three to 18 seem to populate every imaginable space between sturdily built columns and beneath angular concrete beams. Around the edges of a plant-rich interior patio, a class of six-year-olds is immersed in a game of hide and seek. Interplay between the considered design of the campus and the school's creativity-infused curriculum is a fixture of daily life. Little wonder then that Colegio Estudio has cultivated some of Madrid's most accomplished architects, graphic designers and artists.
But first there's the jumping. Beneath the central gymnasium's high-slung, zig-zagging concrete beams, laser-focused 14-year-olds wait for their teacher's sonorous command of "Un, dos, tres" before propelling themselves from trampolines and somersaulting onto padded blue mats. Some manage three-point turns in midair. Such acrobatics might contrast with the school's romantic ideals but sport – from early-morning runs around the perimeter fence to a fiercely fought tradition of basketball – has always been given equal footing with humanities. "We do these saltos [jumps] every day," says a girl as her classmates spring into action to fulfil the teacher's request to tidy away the equipment. Instead of tilting towards authoritarianism, discipline is taught through teamwork and the pursuit of perfection in physical feats.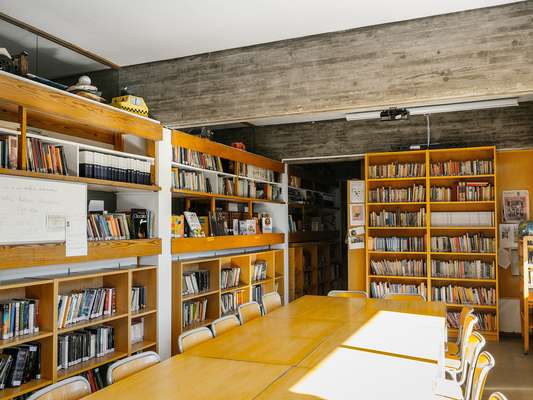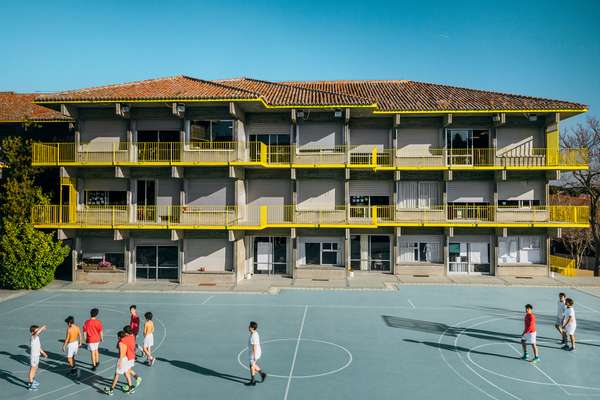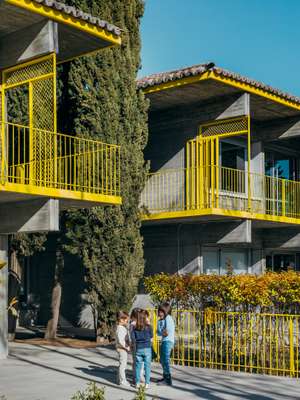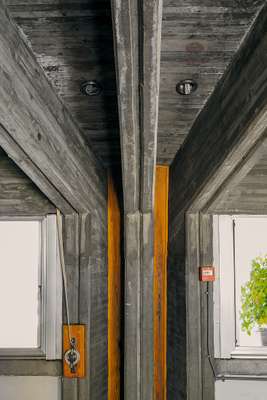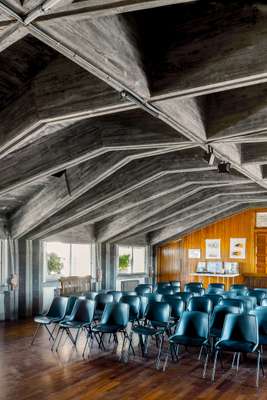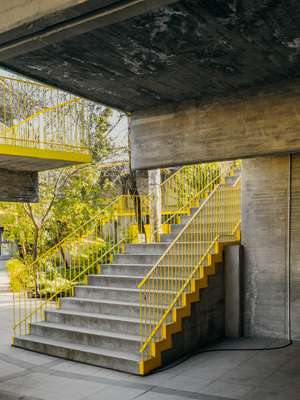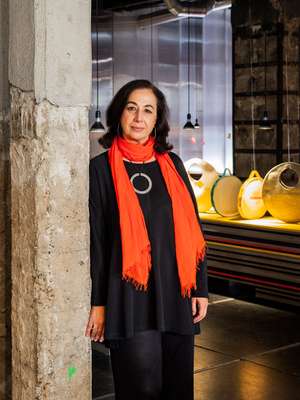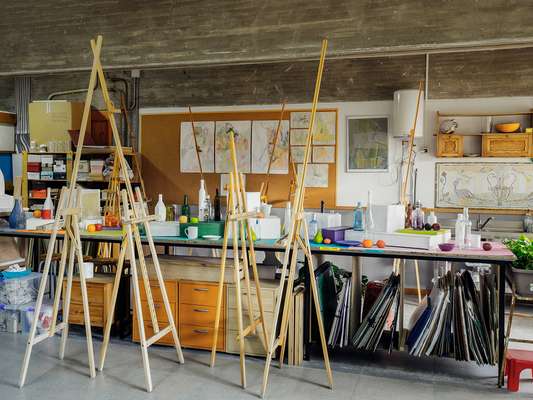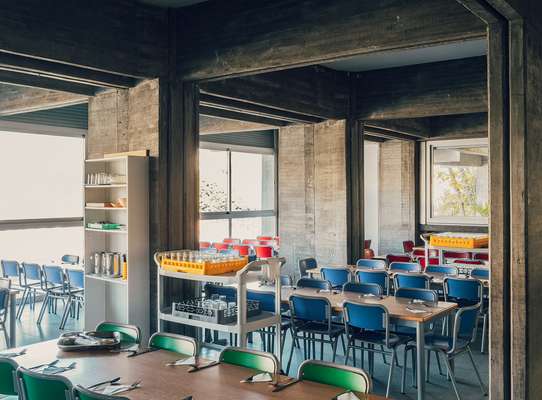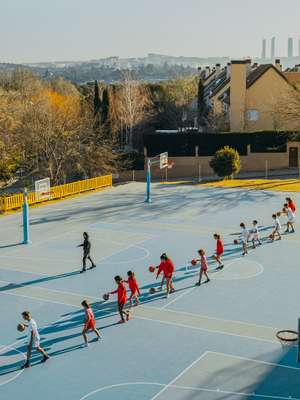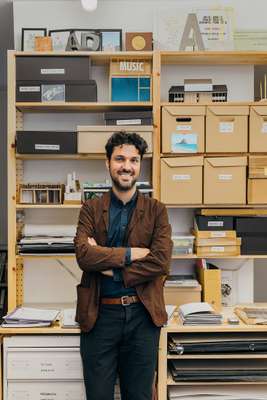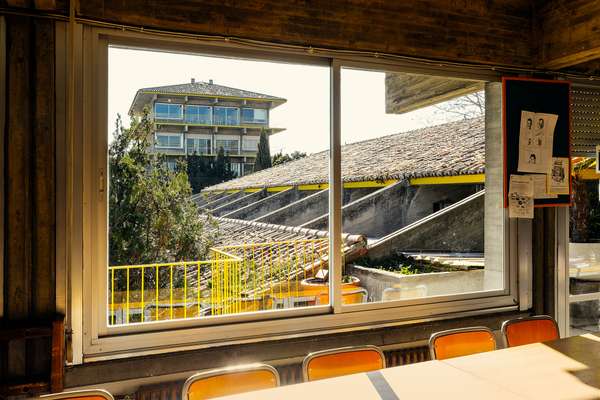 Plenty of other quirks puzzle outsiders: the los curritos (puppets) that chatter about ethics, the secular school's Auto de Navidad Christmas performance and the number of former students who have become teachers. A "tree of values" is pinned to one wall, its leaves displaying words such as nature, companionship, confidence, strength and sincerity. "I was taught that success isn't about being more powerful or occupying the highest-paid position but comes from expressing a collaborative spirit and making a contribution," says mathematics teacher, and Colegio alumnus, Laura González Casteleiro. "Alumni teachers are drawn back to the school in the belief that such values are worth continuing."
The school's methodology is part of its mythology. The three female founders were dismayed by the brutal, nationalistic fervour promoted by Spain's newly consolidated regime. Convinced that the nation's children (and their progressive parents) needed an alternative, they sought to revive The Free Institution of Education. The independent Spanish school, founded in 1876, rejected religious and political dogma and is celebrated as a predecessor; its educational approach focused on creating a dialogue to teach students rather than relying on rote learning. Gallery visits and mountain-climbing excursions were prioritised over textbooks.
For its first 25 years, Colegio Estudio was based in a US-owned building in the centre of Madrid. However, in the 1960s, parents pooled together to buy a plot of land on the outskirts of the city and commissioned iconoclastic architect Fernando Higueras to design an environment that would enrich the school's ideas.
One of Spain's unsung visionaries, Higueras, who died in 2008, was exploring constructivist, rationalist and organic architecture as early as the 1950s and 1960s. "He eagerly accepted the commission," says photographer Lola Botía, also his partner. "As one of the school's earliest students, he felt a debt of gratitude." The commissioning of Higueras was aided by a close relationship with Colegio Estudio co-founder Jimena Menéndez-Pidal. "Winning Spain's national architecture prize in 1961 also helped," adds Botía.
Completed in 1966, Higueras's new campus combined the traditional architectural vernacular found in small Spanish villages with sinuous, almost skeletal structural forms creating spectacular interior spaces, such as its split-level dining room and small theatre. The design put functionality at its core: huge windows let in natural light and broad corridors double as additional learning spaces or makeshift galleries.
"I became an architect because of Higueras," says José María Churtichaga, another alumnus. "Even from the early age of five I was fascinated by the school's built environment." Describing days playing on the external terraces connected to the classrooms, he recalls a constant sense of adventure and freedom. "We felt like we were discovering the wider world through the reduced realm of the school." Churtichaga went on to work with Higueras and was later contracted by the school to refurbish the central gymnasium. "A school isn't just a collection of classrooms," he says. "For us the school was its own small world."
"Education is a sort of reproduction where tradition has a way of curtailing invention," says architect Victor Navarro. "Colegio Estudio was different: we were given room to write our own script." His Madrid-based studio Langarita & Navarro (which he co-directs with Maria Langarita) won the Emerging Architect Special Mention award for the esoterically designed Red Bull Music Academy in Madrid, a wooden village within a warehouse. Higueras's unorthodox yet pragmatically designed school is an early source of inspiration. "It's a fantastic structure," says Navarro, grabbing a pencil to sketch how elongated slits in verandah roofs let sunlight shine directly into classrooms. "The patios, the ubiquitous vegetation: there was a real sense of spectacle," he says. "It's no wonder that so many graduates have gone on to dedicate themselves to design."
"We all realise how much we learned there, how fortunate we are," says Guillermo Sáenz Escardó, president of Adanae, an independent alumni association committed to keeping alive the school's spirit; more than 1,500 former students are members. "We were taught to find a way to make the world a little bit better," he adds. It's an ideal personified by generations of designers who studied at Colegio Estudio, each determined to leave their mark on Madrid.
Accomplished alumni:
Miryam Anllo Vento
Graduated: 1974
Graphic designer, gallery owner, founding member of Dimad, Madrid's Association for Designers
"Equality was in the curriculum: boys and girls took sewing and cooking classes together. I remember handing out rosquillas [doughnuts] and teachers mixed passion with professionalism. Higueras's design was so modern; you felt the coherence between the container [the building] and its content [the teaching methods]. I remember my days at school like a film, with a mixture of magic and nostalgia."
---
Adrián Carra
Graduated: 1977
Professor, Madrid School of Design
"We used to run into the woods and swim in the dam nearby. As I got older I realised how much we lived in a world apart. It says a lot about the founders' resolve that they were able to create a refuge for progressives during the dictatorship. The building was awe-inspiring; I knew every nook and cranny. We never felt like we were in an oppressive space. It's important for young people to be exposed to nature, art and culture; it makes them more permeable."
---
José María Churtichaga
Graduated: 1983
Architect, CH1QS architects, designer of Madrid's iconic Cineteca
"The school was often more idealistic than pragmatic. I've always thought that Colegio Estudio didn't produce many political leaders because it frowned upon ideas of cut-throat leadership, preferring to cultivate more balanced people with empathy instead. With the focus on values rather than prices, graduates were more primed to become impresarios than economists. As a practising architect, I deal with all levels of society, from a migrant worker on the construction site to policy heads in the mayor's office. Colegio Estudio taught me how to relate to all people."
---
Victor Navarro
Graduated: 1996
Architect, Langarita & Navarro
"The school impacted nearly every facet of my life. I remember forming friendships during three-day excursions to national parks, compulsory philosophy classes and a year-long theme "no-one lives alone", which translated into activities such as helping the elderly to cross the road. Everything was connected: the school focused more on building a community than on individual excellence. The teaching methods were like a chorus line: each generation perfecting the tone but always staying loyal to the lyrics."