Fashion / Tokyo
Staying in step
Tokyo is one of the world's most fashionable cities – why does its fashion week lack global clout?
Tokyo Fashion Week (officially Amazon Fashion Week Tokyo, after its chief sponsor) coincided with the arrival of spring this season. The sun shone, temperatures nudged up and cherry blossoms obligingly appeared. This was good news for Paris-based brand Koché, whose designer Christelle Kocher had taken the risky move of holding her evening show on the open rooftop of Tsutaya, a multistorey music, film and bookshop on a pulsating Shibuya crossing. The sounds from the street below rose up as models strutted along the runway and the crowd included familiar faces, such as supermodel Ai Tominaga, United Arrows & Sons creative director Motofumi "Poggy" Kogi and pink-haired Instagram starlets Ami and Aya. The show contained elements from Koché's recent outing in Paris, with the addition of a new Pikachu-emblazoned collaboration with Nintendo and an ending that featured the classic 1961 song "Sukiyaki". The weather held and it felt like a Tokyo fashion moment.
More than 50 mostly Japanese brands showed during the week, 14 of which were appearing for the first time. There were satellite events, parties, talks and dozens of runway shows, three of them fresh from Paris Fashion Week. And yet the event seemed to make little impact on the city or the wider fashion world.
Here is the crux of the Tokyo Fashion Week conundrum: how does arguably the most fashionable city in the world have such a low-profile fashion week? Distance is one factor; timing another. Tokyo's spring fashion week comes at the end of a long New York-London-Milan-Paris cycle so international buyers and journalists are few and far between. Even Japanese buyers and editors attend sporadically as they juggle runway shows with low-key press-room previews for popular Tokyo labels that don't show, such as Undercover.
Matters are not helped by the absence of some of the biggest names in Japanese fashion – Sacai, Yohji Yamamoto, Issey Miyake and Comme des Garçons among them – who opt to show in Paris instead. For many Japanese brands, showing in Tokyo is a step on the journey towards "graduating" to shows in other cities: Tokyo-based label N Hoolywood now shows in New York, while Anrealage and Beautiful People present in Paris. Tokyo's runways can't compete for prestige and column inches.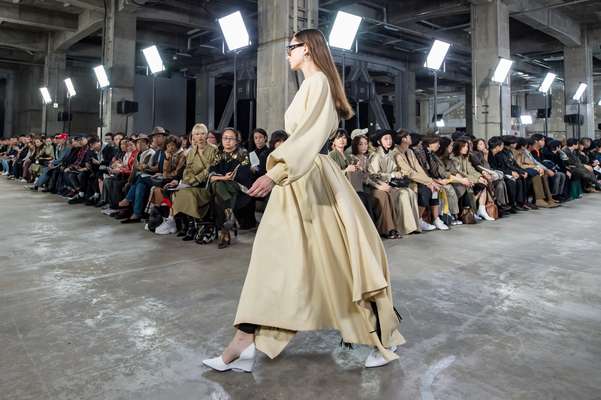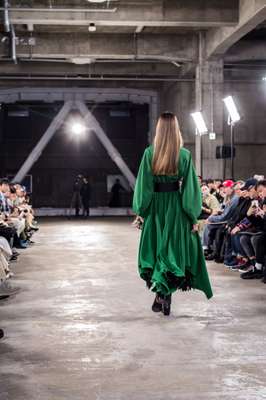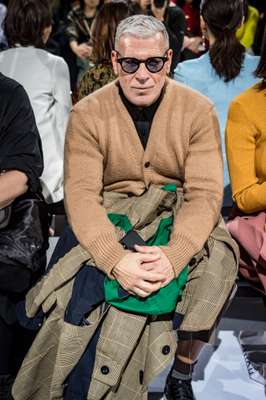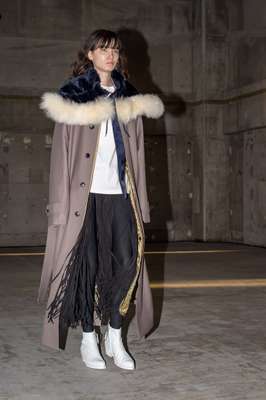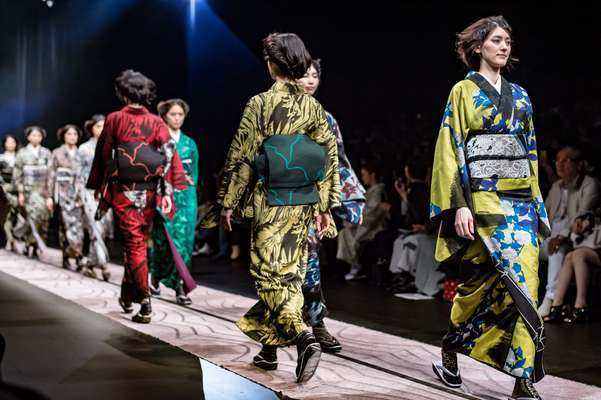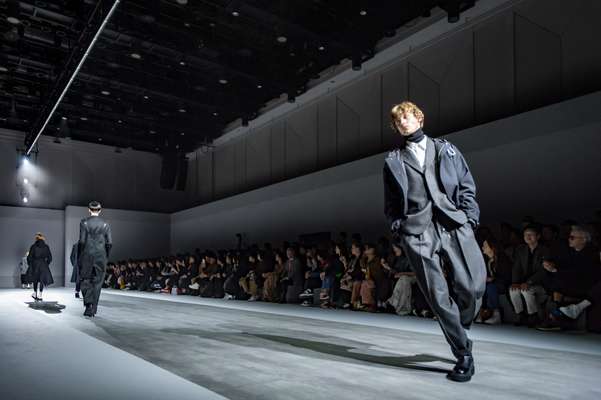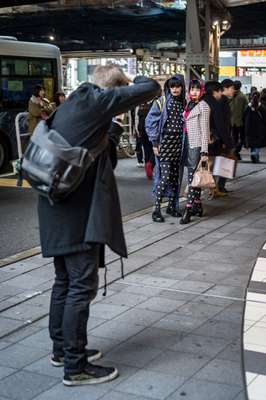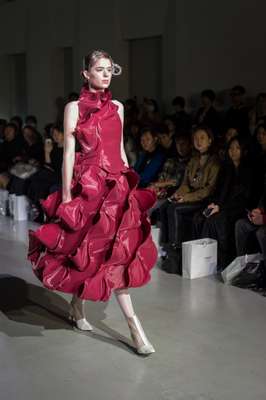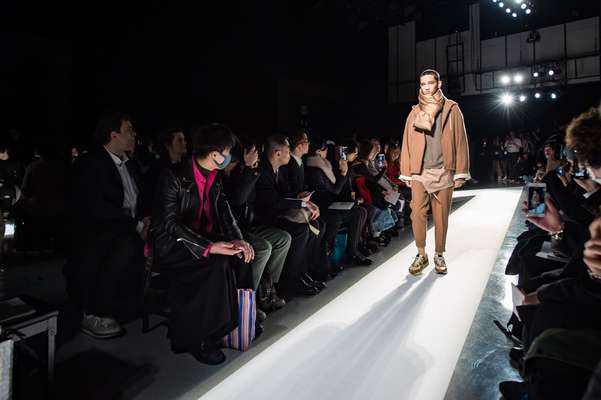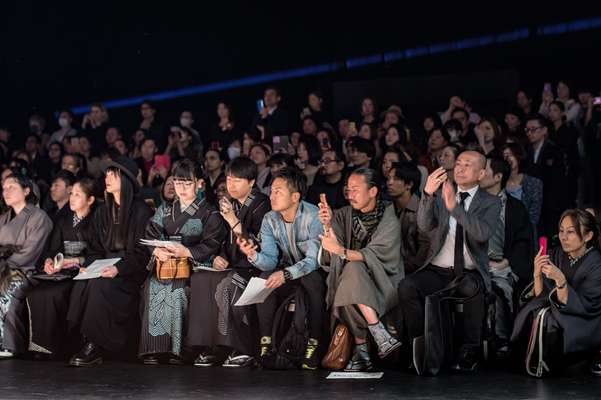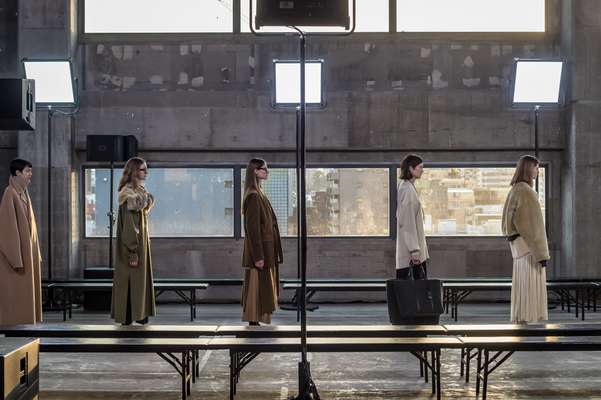 It wasn't always this way: the line-up for the first Tokyo collection in 1985 is a roll-call of legendary names, including Yohji Yamamoto and Issey Miyake. But the event fizzled out as the superstars of Japanese fashion migrated elsewhere, mostly to Paris. In 2005 the government took action and – together with the textile industry – set up the Japan Fashion Week Organisation to run an official biannual event. Initially the government stumped up cash before Mercedes-Benz sponsored the event for five years; three years ago, Amazon stepped in.
Yutaka Nakamura, senior director of the Japan Fashion Week Organisation, takes some brands' preference for other fashion weeks in his stride. "We understand that the decision of where to show a collection first is about business and getting maximum exposure," he says. "What we're hoping is that we can find the next Sacai here." He says that what Tokyo Fashion Week lacks in big brands and celebrity appearances, it makes up for in new labels and fresh discoveries. "Our aims are to nurture young design talent, to promote the Japanese textile industry – which is a huge advantage for domestic designers – and to collaborate with the music and art worlds to show Tokyo's unique culture," he says. "We want to make Tokyo different from other fashion weeks."
Kelly Wetherille, Japan-based correspondent for fashion-trade publication WWD, says that the event would be helped by a more rigorous selection process and a broader Asian focus. "The likes of Sacai, Yohji Yamamoto and Undercover are not going to come back to Tokyo," she says. "I feel like there's no way that Tokyo can position itself as an alternative to Paris. The only way Tokyo can make a niche for itself is if it is known as the place where the young, edgy, upcoming Asian brands come to show. You might not get the department stores as much but you would get cool boutiques and select shop buyers coming here."
Wetherille believes that making Tokyo a pan-Asian event would attract an international audience. "At this point in the year, buyers and press have already spent a month out of their offices," she says. "They've spent their budget, they've done the whole circuit and they don't have money or time to go to different Asia fashion weeks." Buyers, she says, might be more tempted to come to Asia if they knew they were going to see the region's strongest labels in one hit.
There is also an argument that Japan's wearable understated labels don't suit the flashy runway format. Tokyo brand Auralee, which has won a loyal following for its restrained designs since its launch in 2015, recently won the Fashion Prize of Tokyo. Its reward? A show at Paris Fashion Week. "I felt very nervous about winning the award," says Auralee designer Ryota Iwai, fresh from his first presentation in Paris. "Auralee is not really a brand that lends itself to a runway show but the award showed me that it was OK for all the different kinds of brands to coexist."
Hirofumi Kurino, one of the most influential – and elegant – figures in Japanese fashion and a member of the Japan Fashion Week committee, argues that Tokyo can set itself apart from other cities by playing to its strengths. "Each Fashion Week has its own role," he says. "Tokyo is not about mega brands. The key words are creativity and quality. It would be difficult for brands like Auralee, that have quality at the front and centre, to make an impression in Paris or Milan – but Tokyo offers a great opportunity."
Kurino says that Japan has another asset that other fashion centres lack. "People talk about creativity in Paris but 'Made in France' hardly exists these days. Japan has the advantage of being a country that still manufactures things. Its capability to produce and its commitment to quality are both hugely positive factors." The success of designers such as Masayuki Ino, whose brand Doublet became the first non-European label to win the €300,000 lvmh prize when it bagged the award last year, shows that there is an appetite for what Japan has to offer.
It's a shame that the event doesn't get more international coverage as there are some terrific shows and great brands to be seen. Womenswear label Hyke showed one wearable look after another, combining elegance and practicality. Naomi Kurahashi's label The Reracs put out a strong line-up of skilfully constructed winter staples in quality fabrics that needed little embellishment. Yu Haneishi – formerly of Visvim – showed the urban appeal of technical fabrics with his new label Anei. And off the runway, international visitors couldn't get enough of the impeccable styling on Tokyo's streets.
Kurino sees that there is work to be done for Tokyo to reach a bigger audience and urges ambitious young designers to learn English so that they can succeed overseas. "If you live in Japan, you're like a frog in the well knowing nothing of the great ocean. We're so blessed with everything and people don't feel the pressure to speak English; they really should." He believes that Japan's capital should have a fashion week to match its reputation for style. "It has to become a destination," he says. "It's not yet. We have to work hard to visualise the creativity and quality that only exist in Tokyo."
Brands you might have missed:
Cinoh: Tokyo label offering wearability and playfulness.
Noma TD: Easy outdoor wear in soft quilt, fleece and flannel.
Postelegant: Overcoats and trouser suits in beautiful fabrics.
Mistergentleman: Ideas galore at this well-styled streetwear label.
Rainmaker: Kyoto brand with tactile fabrics and assured tailoring.
What to see
Ask the buyers
Best in show at Tokyo Fashion Week.
Rie Tamaki
General manager
ST Company
At: Hyke show
"I've been too busy going to previews to see other shows but Hyke is a favourite in our company, so we all came to show our support. I've been to see previews for Doublet and Mister It, which we're stocking for the first time. We do go overseas but I feel that there are many undiscovered Japanese talents and this week is a great chance to see them."
---
Harumi Sugimoto
Women's creative director
International Gallery Beams
At: Cinoh show
"It's not easy but, as long as time allows, I try to go and see fashion shows in Japan and abroad. Year after year I feel that Japanese designers are expanding their presence. Japanese brands are essential to fashion retailers like us. Although we get a sense of the collection by seeing and trying the clothes at the previews, we also like to feel the mood of the brand through the styling and presentation on the runway. Clothes look more powerful on a model, so watching runway shows and presentations help us to discover new brands."
Rei Shito
street style
The globe-trotting street-style photographer's take on Tokyo Fashion Week
A regular in Tokyo's most fashionable spots, Rei Shito is the Japanese capital's premier street-style snapper. She started out in Japan's fashion publications but made her name with her blog, 'Style from Tokyo'.
Doing the rounds:
Tokyo's Fashion Week marks the start of a mini Asian fashion circuit. At Seoul Fashion Week, established names show as part of the Seoul Collection and young labels are supported by Generation Next. Seoul is now a luxury powerhouse: Chanel's first standalone flagship, designed by Peter Marino, recently opened in Apgujeong.
Much of the international interest, however, focuses on what people are wearing on the streets outside the Zaha Hadid/Samoo-designed main venue, Dongdaemun Design Plaza. "The area, already a downtown landmark, becomes all the more crowded with street photographers, aspiring designers and curious onlookers," says Seoul-based journalist Lee Hyo-won. "Street fashion is the heart and soul of Seoul Fashion Week. The plaza area and the long entryway to the street become the most important runways during the event."
More buyers from Europe and the US are attending in recent years. Lee's label of choice is Münn, by Han Hyun-min. "It focuses on craftsmanship in a market that is saturated by street looks and sporty styles," she says.
Next up is Shanghai Fashion Week – and it's a marathon, with 75 shows spread over 13 days. The event, launched in 2003, provides a platform for young talent, native designers working overseas and international names hoping to impress the hugely powerful Chinese market.
The official Mode Shanghai trade fair runs at the same time, along with six other showroom events boasting 1,200 brands from more than 30 countries. Expect the week to continue to grow.