Before toasting a cup craze and scouting the best penknife, we appraise Finnish fondness for fraternities and Russia's yen for national pride.
Finnish fraternity clothes:
Mad hatters' beer party
Finland's students regularly gather en masse in Helsinki for episodes of committed drinking. When they take to town, the academics wear brightly coloured overalls dotted with sewn-on patches, each representing a different boozy episode (if you can remember, you weren't there). The reason? Such carousing results in spillages, tumbles and ruined eveningwear.
Each fraternity has its own colours and on certain occasions students wear ylioppilaslakki: fetching white caps. Those studying at one of the city's technology universities, for example, don hats with a black tassel. Finns take their drinking very seriously; such exertions require the correct garb.
A funny way of showing it:
The Tale of Cross-eyed Lefty from Tula and the Steel Flea is a Russian short story in which the tsar's gunsmiths are challenged to outdo the intricacy of a British-made mechanical flea. They make shoes for it, thereby proving the superiority of Russian engineering. Russia has form for using its mechanical feats to score political points. In March the central bank issued a five rouble coin bearing an imprint of the infamous bridge that links mainland Russia to annexed Crimea. For nationalists, the coin celebrates derring-do and ambitious engineering (the bridge is 19km across). For everyone else it glorifies one of Russia's worst violations of international law: Crimea's annexation in 2014. For an even more egregious nose-thumbing look no further than state broadcaster RT's new-year gift to other media outlets of a chocolate sculpture of Salisbury Cathedral. Shoeing fleas seems quaint by comparison.
Some facts unearthed by our editors, bureaux and correspondents during the making of this issue.
1.
Margrethe Vestager, European commissioner for competition, likes knitting elephants. She puts the eyes on just before she gives them away as she can't bear the thought of them being able to see while they're sat in a dark cupboard.
2.
Up to seven times a day nhk, Japan's public broadcaster, airs Rajio Taiso, aka radio exercises, which millions of Japanese follow. 
3.
While some 30 per cent of vehicles in Norway are now EVs, in smaller and wealthier Switzerland the figure is just 3 per cent (which suggests that the Swiss could up their game). 
"It is as much about being secretive as it is about protecting the condition of one's tome. That extra cover protects the dust jacket that protects the book"

Asia editor at large Kenji Hall in Tokyo
You can usually get an idea of what the residents of a city are reading by taking a few short journeys on public transport at rush hour. Not so in Tokyo. On the Japanese capital's crowded trains and buses it's impossible to know which titles are being devoured by commuters: bookshops wrap new printed works in a special protective sheet of paper known as a bukku kabaa. It is as much about being secretive as it is about protecting the condition of one's tome. That extra paper cover protects the dust jacket that protects the book.
"It's interesting how everyone just accepts the act of multiple layers of wrapping," says Takashi Kuroda, who heads Tokyo publisher Shinchosha's book-design division. "It's Japanese culture."
Darlings of design
by Chiara Rimella
Is there a specifically female form of creativity? It's a question that each wave of feminists has ridden to shore countless times, only to end up back at sea.
The work of the 33 women featured in Victionary's Design(h)ers seems to suggest that their output is as varied as their cultural context, client base and personal inclinations, whether it's a preference for minimalism (Lotta Nieminen) or unabashed maximalism (Hattie Stewart). At heart this book is an overdue and commendable effort to celebrate the work of women in graphic design. But some of the dots do join to create a bigger picture. There's lots of loud colour and bold geometry, and plenty of playfulness. Perhaps it's the work of the all-female team who compiled and edited this volume but if there's an overriding theme that emerges from these pages, it's this: consistent daring.
In her foreword, Roanne Adams, founder of creative studio RoAndCo, says that only 12 per cent of creative directors in the industry are female; perhaps women have to experiment more than others. But if the designers making great book covers – or on monocle's own art desk – are anything to go by, women in design are blazing a vivid new trail.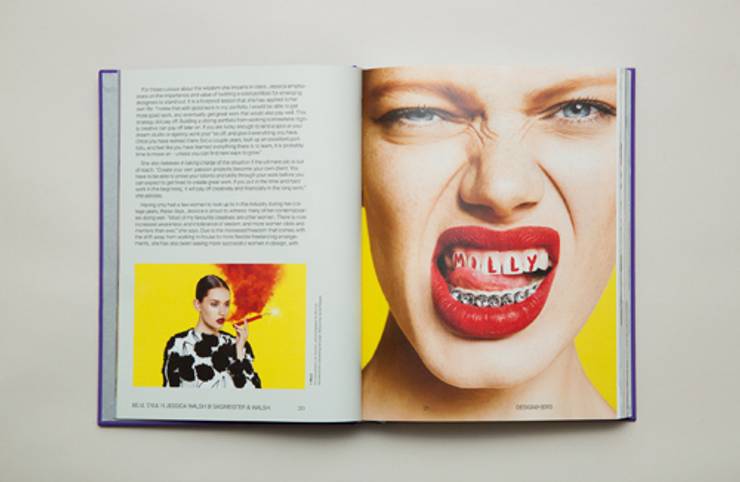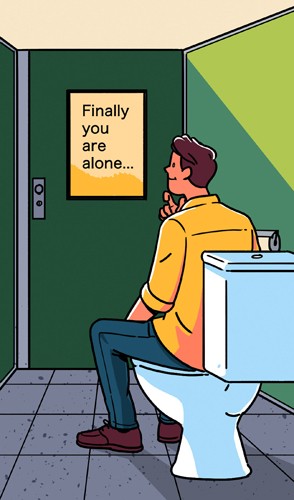 Spending a penny:
Speak to exhibitors preparing to display their wares at any major international fair and many will tell you that they are spending thousands to build stands that resemble pop-up cathedrals. But there's no doubt that many of those attending a tradeshow find these enormous displays exhausting. At The London Book Fair, however, one exhibiting nation attempted to attract punters' attention in a much smaller space: the toilet.
Latvia, which had a fine pavilion, cleverly bagged precious advertising space in the loos of London's Olympia exhibition hall. "Finally you are alone," read the posters hanging on cubicle doors. "But there is a space more tranquil than this: come and lose yourself in the silent space at the Latvian National Stand." We sincerely hope that Latvia has found itself flush with orders.
1.
Keep up with keep-cups
by Jamie Waters
Last month I felt a minor thrill when I noticed that trendy Shoreditch café Allpress had released a keep-cup: a rubber coffee cup boasting handsome chocolate-and-tan colour-blocking that mimic the company's disposable cardboard models.
If I was happy for my flat white to come with a side of corporate branding, I could have had my pick of options at our office. From tech giants to architecture firms, reusable coffee cups were last season's Christmas gift of choice; in that respect they're the new totes. They're a smart choice of giveaway: they tell everyone you're eco-conscious, but also that you are woke.
Their success chimes with a shift in which being green has gone from hippie to hipster. As often occurs when something gains traction among a young, cool crowd, it's impossible to determine whether the popularity of keep-cups is attributable to people's legitimate concern about a cause or just the desire to be trendy. But if the result is less rubbish does it really matter?
2.
Making the cut
by Simon Akam
Not to put too fine a point on it, Victorinox and Opinel penknives characterise the distinction between French and Swiss culture rather well. The origins of both are Alpine: Opinel in Gevoudaz in Savoie, Victorinox in Ibach in the canton of Schwyz. Both started as family businesses in the 19th century too. Yet Victorinox is all Swiss-German; in a word, precise. Meanwhile, Opinel is all joie de vivre but somewhat less reliable.
I came to this conclusion after I lost my Swiss army knife and opted for an Opinel replacement. The difference was radical. Victorinox (now the sole maker of Swiss army knives) makes blades that are functional and indestructible. Opinel's, while beautiful, are of questionable utility – if yours gets wet, it will rust. The preventative is oil but a knife lathered in WD-40 is a poor accompaniment to food. An Opinel, for all its elegance, is arguably an instrument designed to slice camembert once – and once only.