Moonstar / Japan
Bouncing back
With its new rubber shoe designs, footwear company Moonstar has both rediscovered its manufacturing pride and found a new fan base.
Kenta Matsunaga, a soft-spoken category designer at Japanese shoe brand Moonstar, turns up for our meeting in Chelsea boots. At least, that's what they appear to be; closer inspection reveals that they're made of canvas with a rugged, rubber, wraparound waterproof sole. At Moonstar's headquarters in the southwestern city of Kurume, Matsunaga's team is expanding on canvas-and-rubber shoe design with its Made in Kurume and Shoes Like Pottery offshoot labels: they're playing with everything from hi-tops and old-fashioned gym sneakers to deck shoes and duck boots. Every shoe is designed in-house and made at a factory built on the premises in 1907. "We recently experimented with a canvas chukka boot covered in rubber," says Matsunaga. Seated next to him, Sotaro Yamada, chief designer, chimes in. "It was too complicated and costly – but we're still trying."
Matsunaga's design team is made up of just six designers, two product planners, a supervisor and a salesperson. It is a small unit within a company that has 880 employees, sells 500 kinds of shoes and earns ¥37bn (€292m) in annual revenue. But in the past few years the Made in Kurume and Shoes Like Pottery lines have done more than any others to restore pride in the company's old factory and manufacturing roots; they have also introduced the historic shoemaker to a fashion-conscious global audience.
Matsunaga toured the factory soon after joining Moonstar in 2008. "I remember how impressed I was on my first visit," he says. We're standing in the sunlight, staring at the building's saw-toothed roof and corrugated metal walls. It's one of the few places in the world where workers still make plimsolls by hand using a process invented in the 19th century: vulcanisation. Inside, vents, wires and scaffolding crisscross in a dizzying tangle. Along one of several production lines, workers stretch red canvas over a foot-shaped mould, brush on glue and attach the soft rubber strips, toe-caps and soles. "The rubber comes from Moonstar's own facility next door," says factory manager Kiyoteru Takahara.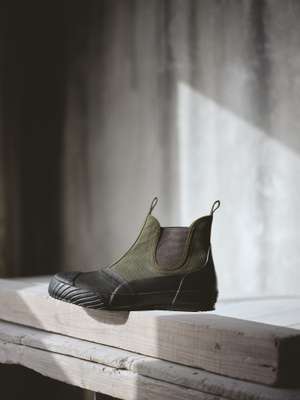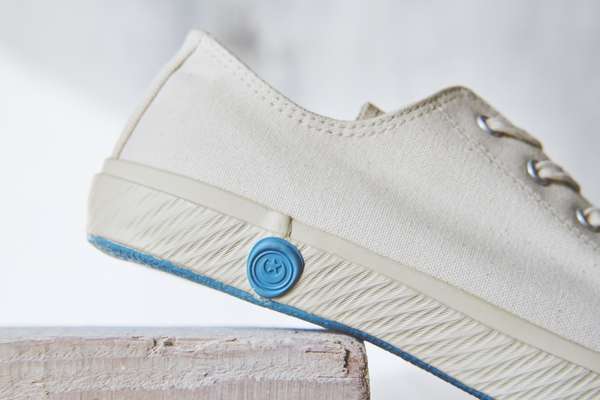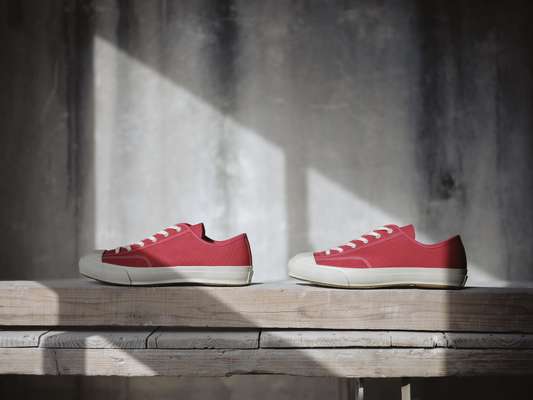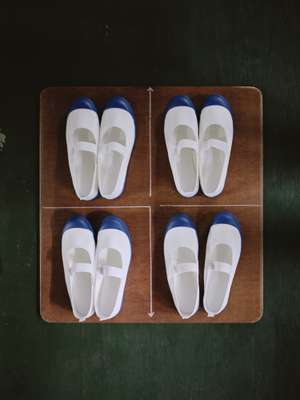 At one end of the building, a rack of shoes, 150 at a time, is pushed into one of four large kilns and baked for more than an hour. This is the key vulcanisation step that keeps the rubber from getting brittle in winter and gooey in summer, and is the secret to the foot-hugging comfort.
A decade ago, few at Moonstar shared Matsunaga's enthusiasm for the factory. "Hardly anyone thought we should be showing the inside of a dirty factory; they were embarrassed about it. But a small group of us said, 'No, it's very cool!'"
Founded in 1873 as a custom-maker of cloth split-toe tabi socks, Moonstar began producing rubber in the 1920s and, soon afterwards, rubber-soled footwear. The company's shoe empire expanded until rising production costs became a threat to growth. By the 1980s, Moonstar had shifted most of its production of affordable, mass-market shoes for children and seniors to factories overseas to cut costs.
Matsunaga and three other young colleagues worried that the Kurume factory's days were numbered and devised a plan to save it. In 2010 they designed a shoe with a vulcanised rubber sole (calling it Shoes Like Pottery because of the baking) for an exhibition about the manufacturing process. "It was just supposed to be a storytelling tool," he says. Yet so many people asked about it that Matsunaga's team persuaded Moonstar's higher-ups to launch Shoes Like Pottery a year later.
Matsunaga unpacks the shoe that got so much attention. It has a plain cream top and bright blue sole – a minimalist reimagining of low-cut sneakers. Matsunaga believes the shoe benefited from rising interest in mingei folk art and handcrafted products among young Japanese. "There's almost an absence of design; it's very primitive," he says. It's also very comfortable thanks to a vulcanised footbed developed for Moonstar's most popular product: uwabaki, the plimsolls worn indoors by teachers and children at nurseries and schools. "Our speciality is making shoes for schoolchildren. If a shoe doesn't fit right it doesn't just affect a child's feet but also the entire body," says Yamada. "We never put fashion first."
Matsunaga and Yamada often dig through the firm's archives, giving old models a fresh update. The Gym Classic is a nod to a Moonstar athletic shoe from the 1960s. Testing can last months. "We have staff wear the shoe around. We fuss over where to put every stitch and get feedback from the factory's quality-control staff," says Yamada.
Moonstar has never spent on advertising for Made in Kurume or Shoes Like Pottery. Yet nearly 200 lifestyle shops, fashion retailers, cafés, bookshops and ceramic shops around Japan now sell the shoes to consumers in their twenties and thirties, a crowd Moonstar never had much success with previously. Overseas fashion labels including Studio Nicholson, Phillip Lim and Sunspel, plus Japan's own Beams, have approached the brand for collaborations.
Moonstar is hoping that the brand can reach a bigger global audience – overseas sales are only 4 per cent of the total – as Japan's market shrinks. The old Kurume factory is now running at full capacity. It's even become a central part of the company's marketing efforts, says Matsunaga. "The factory is our inherited fortune. For a while, we took it for granted."